What comes to your mind when we say QR code? You must be thinking about making online payments by scanning a code using a QR code scanner app. But that's not the only thing QR codes are useful for. Currently, QR codes are being used to quickly access a huge amount of data and information in various industries.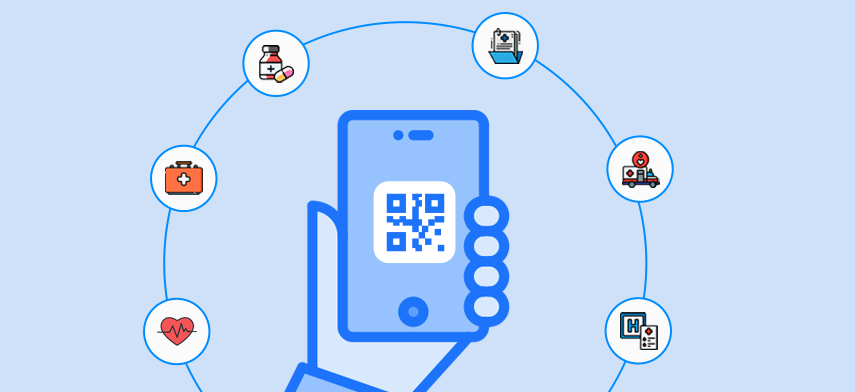 Today, we will explore how QR codes are helping healthcare providers to improve their service and enhance patient outcomes. Many healthcare organizations have already started using QR codes, while others plan to introduce it in the near future.
How can QR Codes Enhance the Care Delivery Process?
Here is what can help.
1 QR Code In Healthcare Marketing
QR codes are ideal for any marketing effort. Healthcare providers like doctors, clinics and hospitals can use QR codes to grow brand awareness and market their services.
For example, you can include a QR code on brochures and leaflets distributed by your hospital or clinic. When patients scan the code, they can be directed to a landing page, videos about your institution or other patients sharing their stories. You may also link the code to a video providing a walkthrough of your medical facility and its equipment.
QR codes enable you to offer marketing materials at the patient's fingertips. It can make a huge impact to increase your appointments, profit and reputation.
You can include QR codes on a variety of marketing materials such as-
Newsletters and flyers

Emails

Print advertisements like magazines and newspaper

Online advertisements

Billboards and other community display tables

Medical publications and journals
2 Patient Identity Management
Patient identity management is crucial for any healthcare provider. Wrong identification can lead to serious consequences like improper diagnosis, patient risks, medication errors and testing errors. Ultimately, it can affect the patient outcome and reputation of the healthcare institution.
QR codes can aid healthcare providers in effective patient identity management. Important information can be linked with the QR codes on patient wristbands. Healthcare providers use a QR code scanner app on their smartphone to get access to the patient information.
All sorts of patient information can be linked to QR codes. From admission to discharge, you can store every data and access them using a QR code reader. The process is effective, fast and doesn't require caregivers to go through piles of papers just to identify patients.
The wristbands can also be linked with patient history to enable doctors to provide quick service. They even come helpful when healthcare staff is not able to contact family or friends of a patient in times of emergency.
3 QR Code in Hospitals
QR codes can help hospitals on several grounds. It can reduce medical errors, enhance administration, save time and allow doctors to concentrate on their patients. Studies have shown that the current E.M.R regulations are having a negative impact on doctors.
One study by Annals of Family Medicine found that doctors spend more than half of their time on E.M.R. That means less time is available for patients and doctors are more likely to face issues like burnout.
QR codes enable hospitals to streamline and leverage the patient management system. It can help hospitals treat patients better and reduce administrative burden. You can also improve the time efficiency and cost associated with each patient by providing ready and instant information through QR codes.
Doctors, nurses and healthcare providers are already used to mobile devices and don't need any extra time or effort to use QR codes. They can easily simplify patient management and enhance patient outcomes by integrating QR codes in their workflow.
4 QR Code in Medical Clinics
Just like hospitals, medical clinics and doctors with independent practices can also benefit from QR codes. You can link QR codes with your health management information system to streamline workflow and save time. The same can also be used to provide patient education and offer information about your services and procedures.
You can place QR codes on prescriptions, medical records, lab results and anywhere patients need more information. QR codes can also be made to store information on doctors, their availability and specialties. This way, your patients don't have to keep calling for scheduling appointments. You can program the QR code to directly lead them to your website for making appointments.
QR codes are also ideal for engaging patients while they are waiting for their turn. You can place the codes on posters or leaflets to help patients access information on various diseases and treatments.
5 QR Code for Patient's Health / Medical Information
You can provide all sorts of medical information to patients through QR codes. For example, you can set up QR codes on different procedures and place them near your registration desk or waiting room. Patients can use their QR scanning app to read the codes and load helpful resources instantly. A patient waiting for treatment for influenza can scan QR codes and get all the information he needs to care for himself.
In the same way, you can provide a pregnant woman with caring tips and diet information. QR codes can go a long way to enhance patient education and make the process simpler. Doctors will also need less time with each patient as he or she can get all information by scanning QR codes.
You can also program QR codes to contain your address, phone number, website and other details.
6 QR Code for Information to Customers
Smartphones have become an integral part of our lives. We use it every day to book tickets, order food, check social media, make appointments and what not! Your patients also fall in this category and are avid smartphone users like a regular person.
This aspect lets you use QR codes to hand out health information and details about procedures. In fact, 38% smartphone users in the USA say that mobiles are essential to access health information.
You can use QR codes in unlimited ways to engage patients or offer information. For instance, you can put up QR codes in the reception area to share information on doctors, procedures and more. You can also hand out leaflets with QR codes that lead patients to your ER wait times.
If you are a dentist or have independent practice, you can use QR codes to direct patients to your website or a form. It will help patients to schedule appointments or book procedures easily.
QR codes are also useful to provide tips and instructions to patients who have undergone surgery. They can scan the code on their record to get answers to common questions and other information on post-surgery care.
The ways you can use QR codes are almost endless. You can also tailor them to suit your means of delivery easily.
7 Drug Safety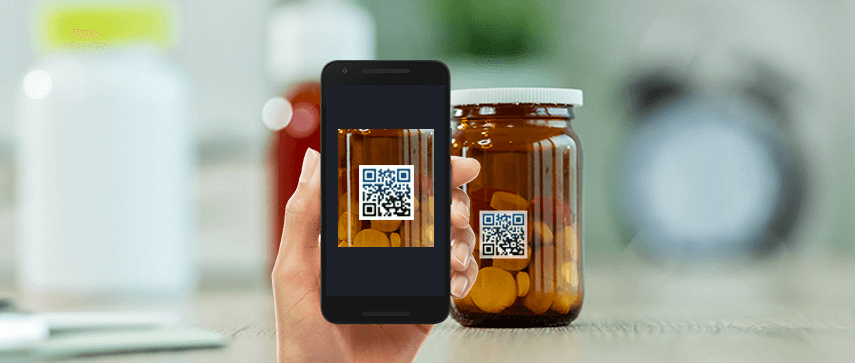 QR codes go a long way to ensure drug safety and proper administration of medication to patients. You can now scan medication information into a record instantly using QR codes. The process makes medication administering quick and simple, allowing caregivers to save time and errors. As a result, you can improve patient outcomes and the delivery of care.
QR codes can also help caregivers in medication administration. You can use QR codes to display important information on medicines such as expiry dates, composition and more. All this information will appear on your smartphone for extra convenience. You can also store patient-specific instructions like dosage and allergy information and display them in real-time.
QR codes are also becoming popular to prevent counterfeit medicines. Researchers in China have come up with 3D ingestible QR codes to fight the global menace. You can laser print QR codes on polymer sheets and stick them on tablets and capsules. Patients can then use a QR code scanner app to check the authenticity of the said drug.
8 Medical Equipment Information
Proper functioning of medical equipment is crucial for the effective delivery of care. Hospitals and clinics use a range of medical equipment and devices over their daily course of operation. QR codes enable the equipment operators to do their job in less time and effort.
Important information about the equipment can be linked with the QR code displayed on the machines. Operators can use a QR code scanner app to scan the code and get access to manuals, operating instructions and even videos about the equipment.
The process enables caregivers to learn about medical equipment in a short time. They don't have to waste time going over lengthy manuals and can do their job efficiently. Healthcare institutions can also store data on maintenance and other details and link them to QR codes.
Final Thoughts
QR codes have proved to be beneficial for several industries. It was only a matter of time before the healthcare industry too found benefit in the use of QR codes. Now QR codes are slowly becoming an indispensable part of effective healthcare delivery, patient management, drug administration and even healthcare marketing. If you are a stakeholder in healthcare, consider adopting QR codes to streamline your workflow, improve patient outcome and save time and cost.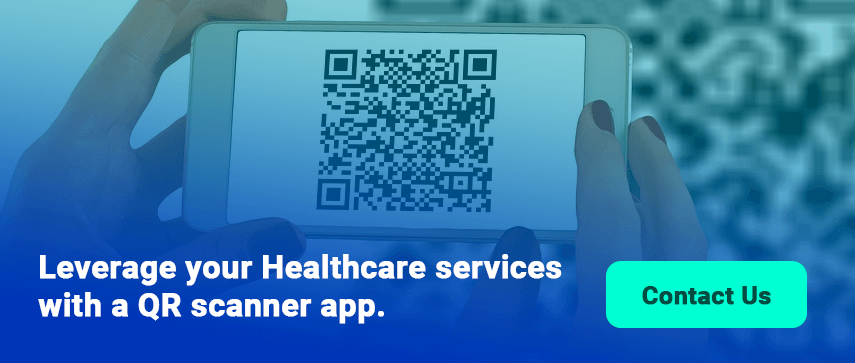 Author's Bio

Shailendra Sinhasane (Shail) is the co-founder and CEO of Mobisoft Infotech. He has been focused on cloud solutions, mobile strategy, cross-platform development, IoT innovations and advising healthcare startups in building scalable products.