Today's IT leaders are focusing on implementing robotic process automation (RPA) across core infrastructure domains. RPA offers several benefits to businesses, such as eliminating mundane rule-based tasks, streamlining business workflows, reducing costs, ensuring business continuity, and improving operational efficiency.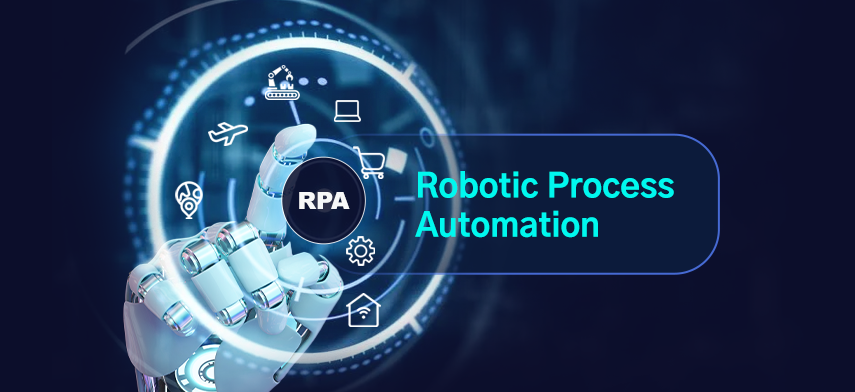 To get the most out of robotic process automation, businesses need to understand its nitty-gritty, including RPA in IT operations. That's why our experts have come up with this insightful blog that will help you explore this concept in detail. Let's explore it in depth.
Table of Contents
What is Robotic Process Automation?
Robotic Process Automation is one of the forms of business process automation that strives to imitate human actions associated with digital systems. It automates high-volume routine tasks using the combined power of artificial intelligence (AI), machine learning (ML), computer vision, and automation.
The transformative technology builds and deploys software robots keeping business logic at the forefront. Also known as software robotics, these bots complete the tasks by observing, understanding, and implementing the process accurately.
So, how does RPA work exactly? To understand this you need to have a brief idea of how the bots operate in particular. Here are the steps they follow.
Observe human digital actions,
Understand what's presented in the application's graphical user interface (GUI) or any digital system, and
Then help to execute a specified digital task by simply combining either user interface interactions or client servers, or connectors to mainframes, or APIs.
The metaphorical software robots have their own virtual workstation for each robotic instance as all business processes take place in a virtual environment only. They utilize mouse as well as keyboard controls for the autonomous execution of high-volume digital tasks.
RPA bots can operate with any digital system or application continuously, in a much faster way, and complete the task precisely as compared to human resources. They can be your in-house digital workforce. You just need to show them how to complete a task, then let them do the same.
Robotic Process Automation Use Cases
Robotic process automation is a kind of practice that follows defined strategies and procedures to automate computer-based repetitive tasks at your workplace. It can be used in thousands of areas and sorted according to various industries like BFSI, IT, telecommunication, healthcare, retail, legal, customer service, compliance, etc.
RPA can handle all computer-based front-office as well as back-office operations, including data entry, data extraction, data reconciliation, data reporting, system integration, analytics, and communication with other digital systems.
Leveraging computer-vision technology, RPA bots can understand any document, generate machine-readable text from images or pdf files and move data to another system. It also extracts invoice data from the system and validates it against various vendor sources.
A classic robotic process automation example is the single-click installation of a complex software system. Some other examples include quote-to-cash automation, digital threat detection automation, automated testing, and product update automation.
What are the Three Types of RPA?
The three types of robotic process automation (RPA) are – Assisted Automation, Unassisted Automation, and Hybrid Automation. The two primary types of Robotic Process Automation (RPA) – Assisted Automation and Unassisted Automation – are specifically designed to enhance and optimize business processes. By combining these two RPA types, businesses can form a powerful Hybrid Automation that maximizes the strengths of both types of RPA.
Each of these RPA types offers unique benefits, and organizations can choose the best option to meet their specific needs. Let's understand these RPA types in detail.
RPA Type 1: Assisted Automation
Known as attended automation, the software robots perform tasks along with the human workforce. The bots run on the user's desktops and help them complete a process in less time.
For example, in the eCommerce sector, a customer care manager can perform multiple tasks by deploying assisted automation. With the help of RPA bots, he/she can cater to the requirements of multiple customers at a time. Here, the bots work like their representative; they solve customers' queries and ask for guidance as well to a customer care manager if needed.
RPA Type 2: Unassisted Automation
Known as unattended automation, software robots perform tasks without human intervention. They are being programmed to work with other digital systems and complete high-volume tasks from start to finish.
For instance, with clearly defined rules, processes, and structured data, any business can deploy unattended automation to complete the data processing tasks in the virtual environment. A robotic process automation bot can take data from one system and pass it onto another where it's needed.
RPA Type 3: Hybrid Automation
Known as AI-assisted bots, hybrid automation allows to complete back office as well front office operations with the help of human workers and RPA bots.
For example, in the case of customer-facing scenarios, businesses can take the help of humans and the digital workforce together to handle customer needs during real-time interactions.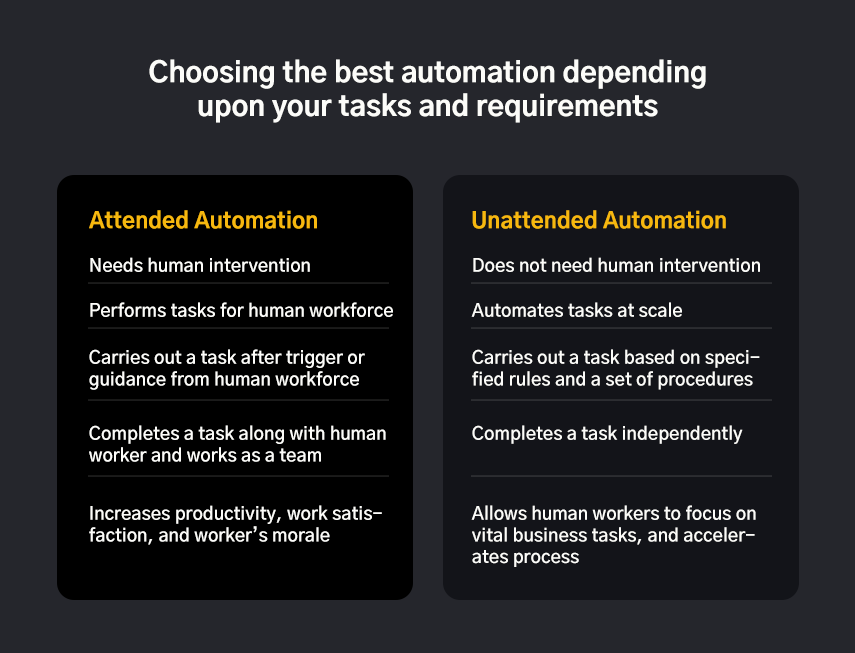 What are the Benefits of Using Robotic Process Automation for Your Business?
There are various business benefits of robotic process automation. We have combined the most important ones to give you a better idea.
1
Higher Accuracy
You can create as well as deploy your own customized bots as per the specified rules and procedures. By ramping up or down the intensity of your digital tasks to match the volatile demands of the market or customers, you can perform tasks with higher accuracy. This helps reduce manual errors and delivers accurate results.
2
Consistent and Faster Performance
RPA focuses on ease of use by reducing human dependency without compromising on quality. You can complete a specific task at a much faster rate with the help of RPA bots as they are scalable, responsive, and perform tasks consistently based on a defined set of rules and procedures.
3
Increased Satisfaction
RPA bots help the human workforce focus on valuable, creative, and innovative business tasks such as solving customer queries rather than navigating through the system. In fact, they offer workers the needed assistance to handle front-office tasks. This decreases manual errors/rework, speeds up customer handling, and increases productivity as well as satisfaction.
4
Reduced Costs
One of the most important benefits of RPA is that it is easy to implement. Put simply, RPA bots lower the costs associated with human resources, i.e., compensation, administrative expenses, etc.
5
Compliance
You can take advantage of robotic process automation to perform processes compliant with government and regulatory requirements. RPA bots reduce human interaction with sensitive data, thereby securing your business data.
6
Accelerate Digital Transformation
With RPA in place, you can modernize your legacy systems and automate the core business processes, allowing your business to move towards digital transformation.

How Does Robotic Process Automation Differ From Intelligent Automation?
Both technologies can work together as RPA Intelligent Automation. They can utilize each other's strengths and help businesses automate repetitive tasks. They are related to each other but are completely different in reality. Intelligent automation (IA) is the best for optimizing processes, while robotic process automation is most suitable for a structured data-based ecosystem.
IA is the next evolution of RPA and uses a broader automation approach to automate business processes. It offers a holistic solution to accelerate digital transformation. It makes use of artificial intelligence and analytics to automate tasks and help businesses implement automation at scale. IA is adaptable to any business workflow and operations. What makes it more important is its ability to integrate with other digital systems, tools, and modern technologies.
RPA, on the other hand, is one of the important pillars of IA. RPA stores the data as well as enables automation to encourage interoperability and agility. It helps you optimize rule-based and simple tasks. RPA bots strictly follow predefined processes to avoid complexities later in time. The right RPA applications enable businesses to reduce the time to market while delivering top-notch quality products and services.
How to Implement Robotic Process Automation at Your Workplace?
To get started with the robotic process automation journey, you need to have visibility into your existing operations and process flows in the first place. Identifying unnecessary steps or any bottlenecks can help you determine and establish a proper process that needs automation.
You have to build a solid foundation and prepare your team to get the tasks done through RPA bots. You should take into consideration the following steps to implement RPA:
1
Understand Your Needs
Implementing automation takes time, i.e., RPA deployment using UiPath takes 1 or 2 months. So you need to check the complexity of your workflows, processes, and team size involved for a particular task and then determine what functional area needs to be automated. You have to make a list of your requirements before proceeding with automation.
2
Plan and Strategize
This step includes setting up your goals and preparing a value-driven strategy for your RPA project. For instance, hiring experienced UiPath developers & defining their roles and responsibilities, analyzing your existing workflow or processes, usage of adjacent RPA tools, timeframe, etc. A detailed plan will let you establish a simplified workflow and help you address any bottlenecks before the actual RPA implementation.
3
Set up a Center of Excellence
Now, you need to set up a designated area for developing, building, and managing your RPA project. At this stage, you need to set the expected timings, instructions, or rules to complete a particular function. Consequently, you can also improve existing processes and make them more understandable for your team as well as customers. Set up governance and control criteria so as to measure the results.
4
Choose Your Technology Partner
Select the most popular robotic process automation tools like UiPath, Automation Anywhere, Dialog Flow, and other technology platforms needed to automate your processes. You can partner with trusted robotic process automation companies that can help you with automation from design, development, testing, and deployment.
5
Prepare Your Team for Automation
Prepare a core team to get accustomed to automation and complete daily tasks. Define processes and criteria to complete a particular set of operations. Educate your team about the transformed business processes and provide training to work in collaboration with software robots. You can communicate all your new business workflows with your team or associated stakeholders to work cohesively.
6
RPA Implementation
Make your robotic process automation project live across all your designed departments and oversee bots' performance and measure the level of automation. It should be as per your set governance and regulation criteria. You can analyze results to improve the process in the future and achieve your business goals.
A Look at Evolving Robotic Process Automation Market Landscape
Robotic process automation is here to complement routine tasks, thereby freeing up employees to work on other vital business functions and helping them increase productivity.
The robotic process automation solution came into the limelight due to its versatility, scalability, security, plus adoption by global brands like AT&T, Walmart, Deutsche Bank, American Express, etc.
The global RPA market size is expected to reach a whopping USD 23.9 billion by 2030 at a CAGR of 27.7%. Experts believe that hyper automation will be a major contributor to this upliftment. Some other essential drivers of the future of RPA include
Optimization of digital transformation strategies with the adoption of RPA tools in the workplace by most businesses.

Capability to automate diverse routine tasks even in a complicated unstructured ecosystem.

Address gaps in system integration and tackle remote desktop automation.

Adoption and integration with other emerging technologies like AI, Cloud, etc.

Higher demand for RPA solutions from the BFSI sector.

Increased focus on reducing the burden of human resources in sectors like healthcare.
Increased use of robot-based solutions in large enterprises.
There is a huge market potential for robotic process automation across various industries and functional areas. The technology can be a digital spine that connects all enterprise applications.
Conclusion
Robotic process automation is no doubt an evolving market. Its integration with new-age technologies like AI/ML, AR/VR, metaverse, big data, etc., will surely solve complex issues and speed up business processes with utmost efficiency.
To build RPA-based products and solutions for your organization, you need people with the right mindset, expertise, and experience along with smart technology stacks in place. Depending upon your experience, you can prioritize the functional areas for improvement and enable a seamless experience for all.
Mobisoft can expose your business to a robotic process automation service suite that can help you capitalize on potential opportunities. Connect with our automation experts now to deploy robotic process automation at scale in your organization.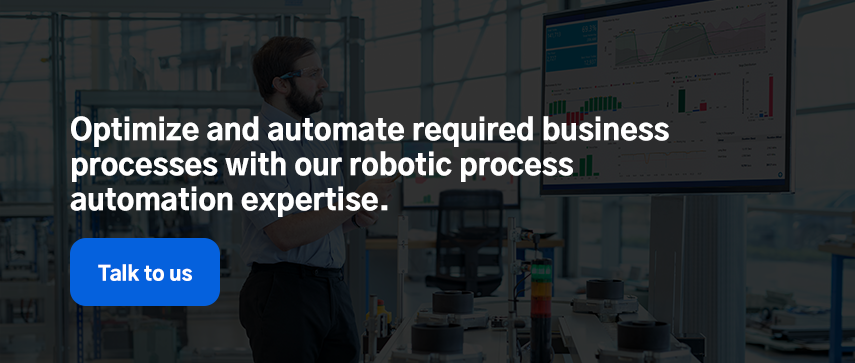 Author's Bio: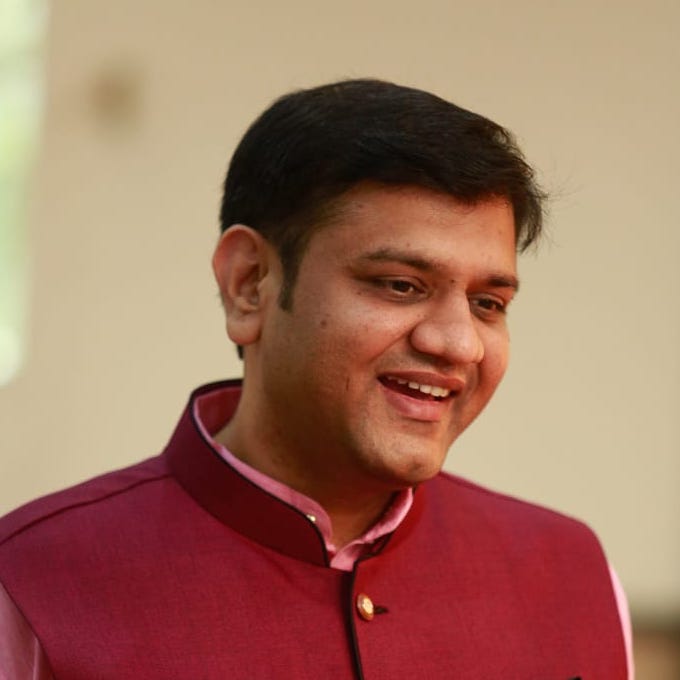 Pritam Barhate, with an experience of 14+ years in technology, heads Technology Innovation at Mobisoft Infotech. He has a rich experience in design and development. He has been a consultant for a variety of industries and startups. At Mobisoft Infotech, he primarily focuses on technology resources and develops the most advanced solutions.