We now live in an age of on-demand expectations, and we don't really like delay that much. Increasing customer expectations mean better customer loyalties, but it is often difficult to achieve. Understanding customer preference is one of the right steps in this regard. We will talk about how small businesses can use a delivery management software to ensure that they can meet and exceed customer expectations better.
The Rise of the On-Demand Economy and What it Means for Businesses
The on-demand economy has also affected the delivery business which was till now restricted to a small scale. However, e-commerce and mobile apps are again responsible for its explosive growth- whether we are buying a laptop or ordering dinner, there are several delivery companies that don't even need us to walk out of our homes.
MNCs and big businesses have made huge investments to upgrade their systems and develop a huge delivery fleet to make timely deliveries. The problem is, it becomes difficult for small businesses with limited resources to match the performance of the big names. They stand a chance to lose out on customers as the competition has crossed borders and expanded globally.
This has led many delivery businesses to change the way they work, take the help of technology to cut extra steps in their workflow and offer better service to clients. To meet the on-demand culture, companies are adopting on-demand delivery management software which simplifies the whole delivery process.
You can also improve your operational management with access to real-time customers, orders and drivers data. Soon you can see an increase in your profits and reduction of costs. It helps you develop a strong relationship with your customers increasing their satisfaction through quick deliveries.
Benefits of Delivery Management Software for Small Business
A delivery management software (DMS) is the centerpiece of your delivery business. It comes with endless benefits which are necessary to survive in the present day competition. You can solve all the pain points in last mile delivery and empower your delivery boys and drivers with everything they need.
Streamline Processes and Automate Workflow

Many retailers still use pen and paper and error-ridden spreadsheets to manage and keep track of their delivery activities. The process creates room for miscommunication and needs manual entry of information at several steps.

With a modern DMS, you can cut down on the number of steps in your delivery process and automate the workflow. With the mobile extension of DMS, you can achieve superior integration with other critical solutions and streamline the entire delivery management.

It's essential to have a centralized system like DMS to provide increased visibility to your delivery team into their daily operations.

Real-Time Tracking of Drivers
Even if you have ten people team making deliveries, it can be challenging to always monitor their whereabouts. But with DMS, you can get real-time information about your drivers based on their mobile's GPS and features like accelerometer and distance proximity.

You will always be able to track them and get accurate driver data through the system. Detailed information like total distance traveled and time taken for deliveries will be available to you. It also removes any chances of manipulation as traditionally drivers would self-report their mileage or working hours for reimbursement.

Improved Communication with Delivery Fleet
Automating your workflow through a DMS also enhances the communication with your delivery boys. You no longer depend on pen and paper to take down orders or make calls or send someone to notify the drivers. As soon as an order is recorded, the system passes down the information to the responsible delivery boy.

They know what to deliver and exactly where without relying on written down addresses or word of mouth. Everything they need to know is available on their mobile, and they directly receive a notification.

You create better collaboration between the driver and the delivery support team with real-time data and an effective communication channel.

Delivery Route Optimization

Most companies depend on their drivers to work out the route of their deliveries. Generally, they would cover all the drops in a specific location and move to the next zone.

But this system is really ineffective and leaves room for errors and delays. DMS is powered by the algorithms that provide the best route based on, traffic conditions, driver availability, and location proximity. The route is displayed on a GPS map both to the driver and to the admin in charge of the DMS dashboard.

Route optimization helps drivers make more deliveries in less time in a smart way meeting your business objectives effectively.

Efficient Order Management
DMS is going to make your life easier by improving your order management with end-to-end visibility of the delivery operations.

Your delivery team can use the interface to schedule deliveries and pick-ups and assign responsibilities to the drivers.

You can maintain a complete overview of all orders without needing to scan hundreds of spreadsheet entries. The system is also configured to track any potential delay in case of scheduled deliveries and on-demand orders. You also get instantly updated when a delivery is fulfilled leaving no room for any mismanagement.

Enhance Customer Communication
With a DMS, you can keep the customer in the loop with instant notifications for the entire delivery lifecycle. It's a professional approach and much needed in this day of high customer expectations.

For example, when an order reaches the intended warehouse, the system automatically notifies the customer that he can expect the order next day. These messages sent during transit and delivery notifying customer the expected time and day of delivery so that he can be present at home.

You can also directly ask feedback from the customer without depending on your delivery boys and have it sent as text. Your customers will love the attention and appreciate the extra effort you put into improving your communication.

Increase Customer Satisfaction and Retention
You need to deliver your products on time if you want to stay in business in this on-demand economy driven by ever-increasing customer expectations. Now customers are not ready to wait between placing an order and taking a bite on their pizza, and it all rests upon your shoulders to make the process as quick as possible- that is the way to customer satisfaction which ultimately increases customer retention and loyalty.

Small businesses in the e-commerce business are now competing with companies around the globe, and you need a DMS to help you achieve a quick delivery time. With comprehensive data, work automation, route optimization, and enhanced communication you can successfully meet delivery times and stay above the competition.

Reduce Dependency on Delivery Aggregators
Most retailers depend on delivery aggregates to make timely deliveries and fulfill customer expectations. But they eat up a part of your profit which you could keep in your own pockets with a DMS.

We already discussed how it can help you make the delivery fleet more efficient by reducing delivery time. You can also have a good grip on your operations using the order management feature and improved driver data and tracking.

You can become self-sufficient with a DMS and carry out all deliveries yourself with the same efficiency and standards of a delivery aggregator. So why would you still keep paying them for something you can take care of by yourself with a simple software solution?

Insightful Analytics
A business cannot improve itself unless it tracks its performance and finds out the areas of concern. A modern DMS powers you with complete historical data of all orders, customers, and drivers in the easy to grasp visuals.

You can track any information you want to find patterns or trends in your delivery operations to form insights which ultimately help you make informed decisions. With the help of analytics, you will be able to identify seasonality, peak hours, and predict delivery needs in the future.

The feedback will help you manage orders and improve your operations and marketing campaigns.


Save Money and Time
All these discussed benefits help you save time and make deliveries faster. By automating tasks, you don't need to depend on making manual entries which would save salaries of employees responsible for that task. The system also eliminates the human error and delay, if any.

By making faster deliveries, you can increase your customers and revenue, in the end, pushing your profit margins higher.

DMS is the way to go!
Wrapping Up,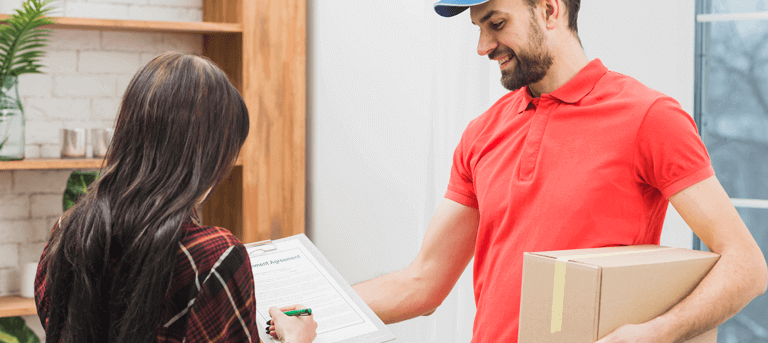 It is beyond doubt that delivery management software for small business can really match up your service with the leading names in the industry. You can offer the same level of efficiency and top-notch delivery experience provided by Amazon Prime to its members without running into a huge investment.
You will get a completely paperless approach to your delivery management with an adept delivery team which fulfills all orders on time. A reliable DMS can also be customized to meet the specific needs of different businesses and industries whether you deliver pizzas or washing machines!
You can go for our custom delivery management software solution you want to streamline your delivery processes and meet the on-demand expectation of your customers.
Author's Bio

Nitin Lahoti is the Co-Founder and Director at Mobisoft Infotech. He has 15 years of experience in Design, Business Development and Startups. His expertise is in Product Ideation, UX/UI design, Startup consulting and mentoring. He prefers business readings and loves traveling.