The healthcare market faced drastic changes since the onset of 2020, the pandemic year. Software development in healthcare including patient monitoring, remote monitoring, health education, and remote patient-provider communication experienced a sudden boost in the last few years.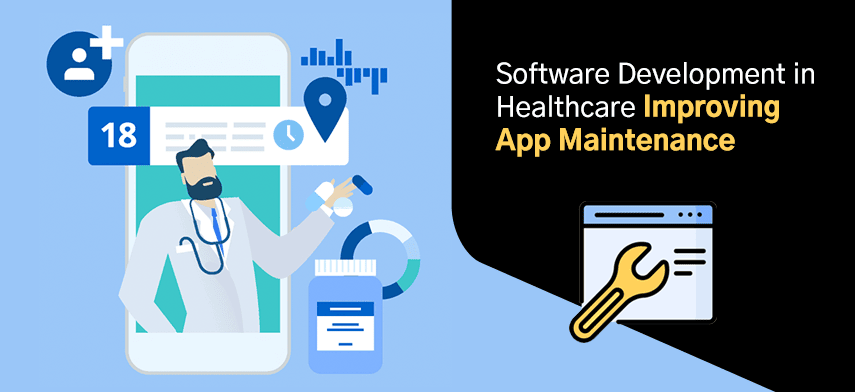 The result due to this boost pushed healthcare professionals, organizations, and facilities in strategizing a way to integrate healthcare app development services for their solutions. Meanwhile, simply just developing a healthcare app becomes irrelevant when maintaining software services aren't implemented. This paves the way to integrate healthcare app maintenance, helping applications and healthcare providers track the numerous bug fixes, improvements, and app updates. Whether your business has a healthcare application or planning to create one, make sure to introduce management of software maintenance in your strategies.
Let's take a look at the healthcare app maintenance guide.
Healthcare App Maintenance for Healthcare Organizations
Software development in healthcare and management of software maintenance for healthcare apps combined with the development process increases app lifespan. Mobile app software and support maintenance are essential across all applications, regardless of the type of business. The process of software maintenance services involves updating the applications for stabilizing and securing them for a long duration.
Every mobile and web application goes through the management of software maintenance and app development services, especially healthcare applications. Maintaining software improves customer experience and improves the business revenues and outputs.
Types of Healthcare App Maintenance
Software development in healthcare has risen the need for application maintenance at an increased pace. Let's look at the types of app maintenance that are necessary.
1
Emergency Application Maintenance Services
The emergency application maintenance is performed when the app in question experiences unforeseen disruptions during functionality. Before software maintenance and support, there may be certain errors affecting the organizational substantial reputation. Emergency healthcare application maintenance comes in handy during such occurrences.
2
Adaptive Maintenance of Applications
Mobile applications are always surrounded by an ever-changing environment and atmosphere. The software development in healthcare has integrated adaptive healthcare app maintenance to sustain mobile app functioning even with environmental changes. This app maintenance service is required to modify the business's mobile applications to run as the changes happen externally.
3
Corrective Maintenance
Software development in healthcare follows certain steps to restore failed healthcare app development by identifying, isolating, and rectifying the final results. Here, corrective app maintenance helps healthcare software in correcting every error to restart its function normally.
4
Preventive App Measures
There are unexpected disruptions when the healthcare applications are in running progress. While performing preventive application maintenance or providing mobile app support, healthcare providers reduce the risk of failure in the long run for mobile healthcare applications.
5
Perfective Application Maintenance
The perfective app maintenance for healthcare functions to modify the application once it has been launched. This app maintenance type improves maintainability for healthcare providers and enhanced the performance of the application by preventing major faults from massive errors.
These five types of healthcare application maintenance services remove individual types of errors at every stage during the healthcare custom software development process. business es these days are known for heavily investing in hiring healthcare app developers to improve their application lifecycle.
Essentiality of Healthcare App Maintenance for Maintaining Software
Despite being a crucial component, healthcare app maintenance sometimes isn't considered significant by providers. Here's a list of pointers that make healthcare app maintenance important for businesses.
1
New application updates
Mobile healthcare applications require regular up-gradation to improve features, functionalities, user experience, and more. Mobile app support and maintenance ensure proper testing and quality assurance and minimizes the potential risks of app functionality failures. It is necessary advice to keep providing updates for the operating systems with advancements in tools and technologies for the longevity of the healthcare application.
2
Identifying and fixing bugs
Healthcare applications are often involved with outsourcing IT teams and custom healthcare software development services. Hence, many times, unresolved errors and bugs become a major reason behind the app's failure to conduct proper functionalities. This can end in a poor user experience. To avoid these situations, software development in healthcare requires rigorous app maintenance services for changing the hardware, platforms, frameworks, and even the app up-gradation versions. This is why mobile app maintenance becomes essential in reviewing the code quality of an application for tracking bugs and other functionality-related issues to fix them before it affects the application's operations.
3
Ensures app stability on app stores
App store rules and regulations are always changing like every other platform. Mobile app developers need to be more cautious when developing healthcare applications to meet these app store protocols. With healthcare app maintenance and support services, your business can keep an eye out for the major app releases and upgrades to keep your organization in the market. App maintenance services ensure that your app is stabilized and runs seamlessly even after its launch on the app store.
4
Reduction in downtimes to improve application revenue
As we evolve towards a fast-paced community, downtimes are becoming common in software development in healthcare services. Healthcare app maintenance integration acts as a savior for applications when facing huge revenue losses due to downtimes in the market. App maintenance detects the downtimes instantaneously while preventing loss of revenue side by side. This improves business productivity and enhances efficiency. This maintenance service applies to all on-demand doctor app development services.
5
Guarantees security from cyber attacks
Applications with security problems are prone to cyber threats and cyberattacks. Mobile applications get outdated as technology improves even with top encryption and security tools. With healthcare app maintenance, businesses find it essential to incorporate regular checks on health information security and data protection. Healthcare mobile app developers keep themselves updated regarding the latest security protocols to strengthen app security and support.

Best Practices for Maintenance and Software Development in Healthcare
Simply integrating healthcare app maintenance will not be of significance unless the right practices and protocols are followed.
1
Continuous Healthcare App Update
Competing and keeping up with the latest trends need to ensure smooth software development in healthcare. This can improve the possibility of healthcare app development to be updated continuously. this can help the healthcare apps to run smoothly and ensure a better user experience. These practices can be implemented with pharmacy or medical device management apps as well.
2
Monitoring healthcare applications of businesses
Solving errors and bug fixes on the healthcare application can ensure growth and bring better business revenue. These are possible with timely healthcare app maintenance monitoring as it helps to check lags, comments, responsiveness, and more of the application while improving the functionalities.
3
Document management strategy
Businesses must ensure everything is in place before implementing app maintenance strategies. Custom healthcare software development services can ensure a better app maintenance strategy and list down the process before maintaining a mobile application.
4
Scheduling on-time app maintenance services
To avoid delayed app maintenance, it is suggested to have scheduled and on-time services to resolve minor faults and errors in the application before they turn into major problems. Scheduling app maintenance on time can ensure better business performance from applications in the long run.
Final thoughts,
Software development in healthcare for applications isn't as big compared to smooth performance for revenue generation. This involves improving ROI. We hope that this blog can help you understand the necessity of healthcare app maintenance. So, hire the best of services with our healthcare app development company for improving your app performance.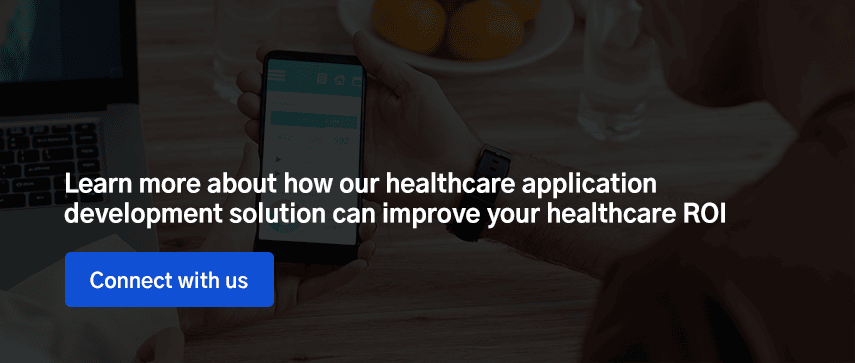 Author's Bio

Shailendra Sinhasane (Shail) is the co-founder and CEO of Mobisoft Infotech. He has been focused on cloud solutions, mobile strategy, cross-platform development, IoT innovations and advising healthcare startups in building scalable products.