Ever since the pandemic, there has been a radical shift in the hiring process as businesses are operating remotely. From recruiting virtually to adopting hiring models such as staff augmentation, organizations are sailing through challenging times adequately. Team augmentations help organizations by hiring technical experts for a specified time based on the requirements of that organization. This process has so far proved to be instrumental and economical.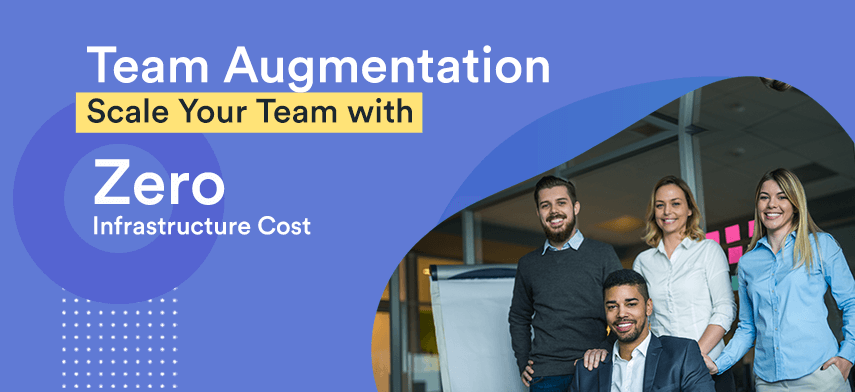 What is Team Augmentation?
For organizations, staff or team augmentation can be an effective strategy to meet the needs of an in-house team of experts by hiring highly skilled professionals temporarily. This outsourcing strategy is often carried out to bridge the gap between talent and business requirements, helping bring in the skill sets needed.
The team augmentation model is a cost-effective outsourcing model carried out in the IT industry that hires talents worldwide to meet the project needs.
How Does This Model Work?
When the business objectives and the skillsets are inversely proportional, the organization reaches out to a staff augmentation firm to bring in a talented pool of individuals to complete the project.
The staff augmentation firm takes care of all the hiring process from the ground up, so the organizations can focus on their projects without going through the hassle of the recruitment process. It further reduces the infrastructure and other in-house costs as the employees will be working remotely without any geographical barriers.
For example, your organization needs designers for a particular project, but your in-house team members lack the right skill to meet the business needs. That's when you reach out to a team augmentation firm. The firm considers every aspect of your requirements and hires experienced individuals within a short span.
What are the Types of Team Augmentation?
There are predominantly two types of team augmentation: long-term augmentation services and short-term services.
Long-term augmentation services:

It is when the business project is for a long duration of time. If there's a lack of talent within the team, individuals are hired remotely who solely work on the project to avoid additional recruitment time and infrastructure costs.

Short-term augmentation services:

Individuals are hired on a short-term basis till the completion of the project. This process is adapted when there are strict deadlines, but there is a talent deficiency within the in-house team or limited staff availability.
The Precise Time for Hiring Team Augmentation Services for Your Project
Technical skills are crucial to develop a product in the IT sector, and when there is a lack of the right talent and the right skill, there will be a delay in the delivery process. To avoid such risks and fill the gap, team augmentation services follow a nuanced approach and find the much-needed talent for businesses.
When your team is working on a product, you can go ahead with team augmentation and hire 5-9 employees with the right skills to scale up and jumpstart another development phase. Instead of scouring the local talent market, you can outsource the process and hire talent from the global market. The right skill set is hard to find locally at times, thus, hiring individuals beyond borders by outsourcing reduces risk.
That's when you can go ahead with the IT staff augmentation and hire experienced programmers to ensure the project succeeds with zero complications.
If you perceive that recruiting professionals and getting them on board in your team is a tedious process, you can reach out to a team augmentation consulting firm. They will ensure that the recruitment and onboarding processes are faster, and bring in top-skilled professionals for your team.
The Process of Recruitment in Team Augmentation
All you need to do is, get on a call with a staff augmentation consulting service and they will guide you from thereon.
Examining project requirements and skills

You need to specify your project requirements, and the skillset needed to handle the project. The staff augmentation companies then search for individuals aligning with your needs. Specifying your requirements in-depth will give them a clear idea of the type of candidate they should hire for you.

Interviewing the candidates

Recruiting is time-consuming, risky, and strenuous. This is when one can reach out to a team augmentation firm. With your specifications and requirements, they take care of all the processes, from providing eligibility tests to interviewing candidates. Thus, it helps to save time and allow you to shift your focus entirely on the project.

Candidates onboarding

Once the candidates are selected after the interview process, you analyze and ensure whether they fit the project needs or not before getting them on board. Once the onboarding checklist is ticked, the individuals are introduced to the company's core values and the team to help them understand the working culture of your project or company.

Providing round-the-clock support

Lastly, the augmentation consultancy companies provide continual support and ensure the smooth functioning of your organization. This round-the-clock support is eligible till the term ends, hence, reducing any pressure on you or the company.
Pinnacle Objectives about How Team Augmentation Differs from Other Hiring Models
One of the popular hiring models is the managed services model that aims to hire professionals on a long-term basis instead of a short-term basis as in team augmentation.
When it comes to pricing under staff augmentation, the professionals are paid for that particular project on an hourly basis or their availability, which is not the case in managed services.

The expense of experts is based on the project's outcome and not on a particular project phase.

The professional is hired to work till the completion of the project and stays committed throughout.

Companies can benefit themselves by outsourcing as it is fixed that the professionals will stick throughout the project and produce a profitable outcome.
You've to think twice before augmenting the team when the project is confidential. Managed services take care of all the IT functions and they are permitted to make their decisions aligning with business guidelines. That doesn't happen with staff augmentation. An individual is hired with a specific skill set to perform a particular short-term project and nothing beyond. The professional does collaborate with the team, but it is short-lived.
The project outcomes remain uncertain. The pricing is based on the skill set rather than the outcome. While both have their pros and cons, organizations outsource based on their business requirements, skills available, and pricing. IT industries adopt these hiring models to ensure the continual and efficient operating of their business. Though organizations go for full-time employees, there are times when outsourcing an external workforce is more advantageous than hiring full-time employees all over again. Depending on the project and the available skillset, informed decisions are made after a thorough analysis of its fundamentals.
Quick Tips for Successful Implementation of Team Augmentation for Businesses
Here are a few tips to ensure your business's success using the team augmentation model.
Analyze and outline business fundamentals

Outline the project requirements, see what skills are required, and determine whether the in-house resources can develop the project using those skills. If you see that they are not aligning to the needs, fill the gap by hiring external resources for the project. Analyze the business fundamentals and summarize what is currently lacking in the organization before reaching out to a staff augmentation consultancy.

Find the right consultancy service

List out the necessary skill sets required for the project and ensure you reach out to reliable consultancy services who can find the right person for the job. Since you're not the one directly hiring, you need to find the right company that understands your requirements well. To ensure the product is developed on time, highly skilled professionals need to be hired for faster delivery and efficiency. It can be achieved by associating with a top team augmentation agency.

The requirement for local or international resources

By hiring external resources, you have the privilege to choose from a global talent pool. Understand the business requirement, analyze the cost, and make informed decisions. Though the team augmentation model is a cost-effective approach, you should weigh the pros and cons and the entire process's cost before making the final call.

Short-term projects are feasible

IT team augmentation is primarily carried out to augment the in-house team on a short-term basis. Choosing short-term projects is beneficial for staff augmentation. If your project is long-term or ongoing, it's not ideal to go for team augmenting. Though you can hire resources for long-term projects, it is best suited and recommended to hire short-term professionals for a set time frame.

Benefits of Choosing Team Augmentation
There are plenty of benefits when it comes to augmenting your team with IT team augmentation services. It is flexible, scalable, and ensures quality and transparency. Choosing team augmentation to scale your business is a recent trend that allows you to hire top talents on a budget. It cuts down other additional costs making it easy to get experienced individuals on board for the short-term.
1
Access to the global talent pool
You can access resources from a global talent pool and not be restricted to the local market. It gives you an edge over carrying out recruitment by your organization. An organization can also improve the skills of their employees by cooperating and learning from the skilled professionals that they hire for the short-term.
2
Transparency and flexibility
You can hire individuals for a short-term basis or long-term basis based on the project needs. However, team augmentation is done on a short-term basis until the completion of the project instead of long-term retaining. Moreover, you pay the vendor a fixed price, and they take care of everything from square one. It is thus transparent and flexible.
3
Ensures top-notch quality
Recruiting consumes time, and it is a risky process too. Quality is not guaranteed. But with IT staff augmentation, you can get the best of the best around the globe without going through the tiresome process of hiring candidates. The entire process is outsourced to the team augmentation companies, ensuring the quality is not compromised. Plus, the entire process is inexpensive. You can deliver the projects on-time with top-notch quality.
4
Reduces recruitment costs
As mentioned previously, the pain of hiring candidates need not be done by your organization. Thus, reducing the cost of recruitment significantly. You need to outline your requirements and the skills needed, and the experienced individuals work with your team for that term. If you're searching for a programmer, you can specify your needs to the staff augmentation consulting services and ensure you get a highly skilled programmer for your project.
5
Cost-effective model
If you hire employees on a full-time basis, there are additional costs such as infrastructure and in-house costs. It gets all the more expensive. Most of the hiring is done remotely, and the professionals work remotely too. You collaborate with them through advanced tools and ensure everyone's on track. It's that simple. Emerging technology trends allow one to interact and communicate in real-time, making it easier for organizations and individuals.
6
Quick access to demands
The employees in your team might fall sick or go on leave for an extended period. When you fall short of resources, you need not go on a hunt to find talents with multiple rounds of the hiring process. It is simplified with staff augmentation. Team augmentation provides quick access to talented resources and meets your requirements to ensure your project doesn't get delayed due to such circumstances. Staff augmentation companies act upon your needs rapidly and ensure the steady functioning of your project.
Conclusion
The team augmentation model is a perfect approach to scale your business with the top talents working with you. It bridges the gap, reduces risk, and expands your workforce with minimal cost. IT staff augmentation services ensure the resources are rightly aligned with your requirements and provide continual team support.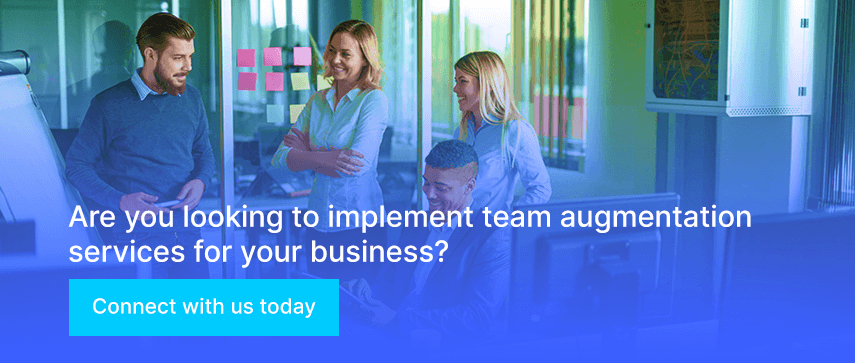 Author's Bio

Nitin Lahoti is the Co-Founder and Director at Mobisoft Infotech. He has 15 years of experience in Design, Business Development and Startups. His expertise is in Product Ideation, UX/UI design, Startup consulting and mentoring. He prefers business readings and loves traveling.