Ever since the pandemic, there has been a radical shift in the IT recruitment process as businesses are operating remotely. Companies are widely adopting hybrid work models and experimenting with various hiring models like team augmentation (also known as staff augmentation).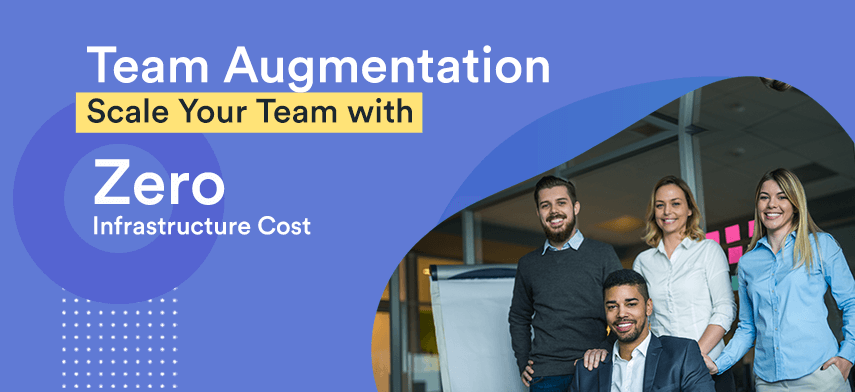 Why? Because it helps business owners onboard the required technical experts for a definite period of time based on their project-specific needs. It plays a vital role in enhancing your in-house capabilities and overcoming technical skill deficits.
This article will give you an in-depth understanding of the team augmentation concept and help simplify the hiring process for your unique software development requirements.
Table of Content
Let's discuss each point in more detail.
What is Team Augmentation?
Team augmentation is an effective strategy to meet the needs of your in-house team by hiring highly skilled professionals from IT outsourcing company. It allows companies to bridge the technical skill gap and augment the software development capabilities on a temporary basis.
Here's an example to understand team augmentation meaning in a better manner. Consider a company that lacks the needed skills to complete a project within a stipulated timeline. In such a case, the company can opt for the team augmentation services offered by an outsourcing partner and add talented members to its team externally.
Also known as the staff augmentation model, it refers to a cost-effective outsourcing approach followed by IT organizations worldwide to hire experienced technology specialists in order to meet their business-critical needs.
When to Use Team Augmentation
Here are a few scenarios in which companies can use team augmentation and augment their in-house development capabilities.
When you need to extend your in-house competencies
When it comes to starting a new project or launching a product quickly, you need to enhance your existing capabilities and add outside team members. And that's when team augmentation can help.
When you need to bridge technical skill gaps
Your company has to handle multiple projects at a particular time. Many of these projects demand varied skill sets and expertise. Augmenting your team can help you meet those specialized skills in the best possible way.
When you need to expand your team size quickly
Team augmentation can be your go-to option to find and hire dedicated developers of your choice quickly and effectively. It can help you build your own custom tech team while complementing your in-house software professionals.
When you need to meet project deadlines faster
When you aim to meet strict project deadlines, going through a long hiring process from job posting to onboarding is not a good idea. Instead, you can approach a staff augmentation firm to satisfy your needs irrespective of the length of your contract (short or long-term).
When you need to overcome the limitations of other hiring models
Augmenting your team can prove beneficial when other hiring models like freelancing/independent contractors, managed services, fixed bid contract, etc., do not work in your favor.
What are the Types of Team Augmentation?
There are mainly three types of team augmentation that companies use to make the most out of their tech-based initiatives. As a business owner, you need to identify which type best suits your key objectives. Let's understand each type of team augmentation in detail.
1

Commodity-based Augmentation

This type of workforce augmentation focuses on adding additional staff to your existing team. It helps you quickly hire the required talent or fill positions that do not require high-level skills and can perform basic tasks with utmost efficiency.
2

Skill-based Augmentation

It is a type of technical augmentation used by businesses to onboard skilled professionals. These individuals have strong industry backgrounds and experiences that companies lack to complete complex, time-consuming tasks.
3

Highly-skilled Augmentation

Highly-skilled augmentation refers to hiring external talent for specific projects. The process helps to get aligned with top-tier IT professionals with expertise in creating contemporary products and solutions with ease.

Apart from this three types, IT team augmentation can be categorized on the basis of individual project requirements and their estimated time of completion. The two distinct types of staff augmentation include,
4

Long-term Augmentation

It is when the business project is for a long duration of time. If there's a lack of talent within the team, individuals are hired remotely who solely work on the project to avoid additional recruitment time and infrastructure costs.
5

Short-term Augmentation

Individuals are hired on a short-term basis till the completion of the project. This process is adapted when there are strict deadlines, but there is a talent deficiency within the in-house team or limited staff availability.
How Team Augmentation Differs from Other Hiring Models
One of the popular hiring models is managed services which aim to hire professionals on a long-term basis instead of a short-term basis as in team augmentation. When you augment your team, the professionals are paid for that particular project on an hourly basis or their availability, which is not the case in managed services.
Hiring a freelancer/independent contractor is also a popular option. But it requires investing a good amount of time, effort, and capital to handle tasks related to management, communication, etc. Contrarily, augmenting your team is much easier and cost-effective as your chosen augmentation partner takes care of all these tasks.
Some companies also choose to work with dedicated teams that operate under a vendor's supervision. Comparatively, it is easier to manage your remote developers directly with resource and staff augmentation. While dedicated teams demand full-time engagement, the latter can satisfy project-specific requirements for a given time.
There are other two hiring models namely offshore development centers (ODC) and time and material (T&M). An ODC is an office that your vendor will set up for you, whereas the T&M model is where you pay for the time dedicated by a developer or team. Both can prove unreliable while handling complex projects.
Team augmentation, on the other hand, gives you all the needed control and visibility across the entire hiring process. It helps you build your own development team that has the potential to overcome technical barriers.
Why Should You Opt for Team Augmentation?
When the business objectives and the skillsets are inversely proportional, you can reach out to a staff augmentation firm to bring in a talented pool of individuals to complete your project on time.
The firm takes care of the hiring process from the ground up. You can easily focus on the core competencies of your project while avoiding the complexities of a lengthy recruitment process.
There are various benefits of extending your in-house capabilities with IT team augmentation services. We have combined the most important ones to give you a better idea. Let's take a look at them one by one.
Access to Global Talent Pool
You can access resources from a global talent pool and not be restricted to the local market. This gives you an edge over carrying out recruitment by your organization and staying on top of the market trends.
In addition, you can even improve the skills of your employees by cooperating and learning from the skilled professionals hired for the short term.
Transparency and Flexibility
You can hire individuals on a short or long-term basis based on the project needs. However, team augmentation is done on a short-term basis until the completion of the project instead of long-term retaining.
Moreover, you pay the vendor a fixed price, and they take care of everything from square one. It is thus transparent and flexible.
Recruiting consumes time and can be risky. Here, quality is not guaranteed. But with IT staff augmentation, you can get the best around the globe without going through the tiresome process of hiring candidates.
The entire process is outsourced to the team augmentation companies, ensuring the quality is not compromised. It helps you concentrate on set priorities and deliver the projects on-time with superior quality.
One of the most important team augmentation benefits is cost reduction. You just need to outline your requirements and the skills needed, and augmenting your team will help you meet those within the budget.
Moreover, you get the privilege to cut overhead costs related to infrastructure, insurance, and other in-house perks as the professionals will be working remotely without any geographical barriers.
Simplify Operational Workflow
You may have come across instances where your in-house team members go on leave for an extended period. This unavailability not only limits your project progress but negatively impacts the overall operational workflow.
Team augmentation provides quick access to talented resources and meets your requirements to ensure your project doesn't get delayed due to such circumstances. Staff augmentation companies act upon your needs rapidly and ensure the steady functioning of your project.
Augmenting your team will help you create breakthrough technology solutions just the way you want. You can build an application from scratch, support your existing software, or modernize your legacy platforms in a hassle-free way.
Your project will get exposed to a tailored suite of services that are potential enough to cater to your unique business needs. You will be able to solve complex technical issues with quick turnaround times.

Team Augmentation: Key Steps to Hire Top Talent
You can easily hire desired professionals when required and scale your project accordingly. All you need to do is, connect with a staff augmentation consulting service and allow them to guide you through the below steps.
1

Examining Project Requirements and Skills

You need to specify your project requirements, and the skill set needed to handle the project. The staff augmentation company then searches for individuals aligning with your needs. Specifying your requirements in-depth will give them a clear idea of the type of candidate they should hire for you.
2

Interviewing the Candidates

Recruiting is time-consuming, risky, and strenuous. This is when one can reach out to a team augmentation firm. With your specifications and requirements, they take care of all the processes, from providing eligibility tests to interviewing candidates. Thus, it helps to save time and allows you to shift your focus entirely on the project.
3

Onboarding Required Professionals

Once the candidates are selected after the interview process, you analyze and ensure whether they fit the project needs or not before getting them on board. Once the onboarding checklist is ticked, the individuals are introduced to the company's core values and the team to help them understand the working culture of your project or company.
4

Providing Round-the-clock Support

Lastly, the software team augmentation companies provide continual support and ensure the smooth functioning of your organization. This round-the-clock support is eligible till the term ends, hence, reducing any pressure on you or the company.
Quick Tips for Successful Implementation of Team Augmentation for Your Businesses
Following the aforementioned process will surely help you hire certified experts for your project. But there are a few other tips that can increase the chances of your success with the right implementation of team augmentation for your organization.
Analyze and Outline Business Fundamentals
Outline the project requirements, see what skills are required, and determine whether the in-house resources can develop the project using those skills. If you see that they are not aligning with the needs, fill the gap by hiring external resources for the project.
Analyzing the business fundamentals and summarizing what is currently lacking in the organization before reaching out to a staff augmentation consultancy can prove beneficial in the long run.
Partner with a Trusted Team Augmentation Company
List out the necessary skill sets required for the project and ensure you reach out to a reliable partner that can find the right person for the job. Since you're not the one directly hiring, you need to find the right company that understands your requirements well.
To ensure the product is developed on time, highly skilled professionals need to be hired for faster delivery and efficiency. And this can only be achieved by associating with a top team augmentation agency.
The Requirement for Local or Global Resources
Team augmentation gives you the privilege to choose specialists from a global talent pool. Understand whether you need local or global resources and analyze their costs to make the best out of your technical team augmentation.
Though augmenting your team is a cost-effective approach, you should weigh the pros and cons of the entire process before making the final call. This will help you utilize available resources more efficiently.
Short-term Projects are Feasible
Staffing is primarily carried out to augment the in-house team on a short-term basis. Indeed, you can hire resources for long-term projects. But the model is best suited and recommended to hire professionals for a set time frame.
Conclusion
Team augmentation can be a preferred choice to scale your business with the top talents working according to your business hours. It bridges the gap, reduces risk, and expands your workforce with minimal cost.
This outsourcing model ensures that the resources are rightly aligned with your requirements while providing all the needed support and assistance for your project. It is a way toward accelerating your digital transformation journey.Mobisoft can satisfy all your multidisciplinary staffing needs and take your in-house capabilities to the next level. Connect with our team augmentation consultants and get instant access to skilled IT professionals right away.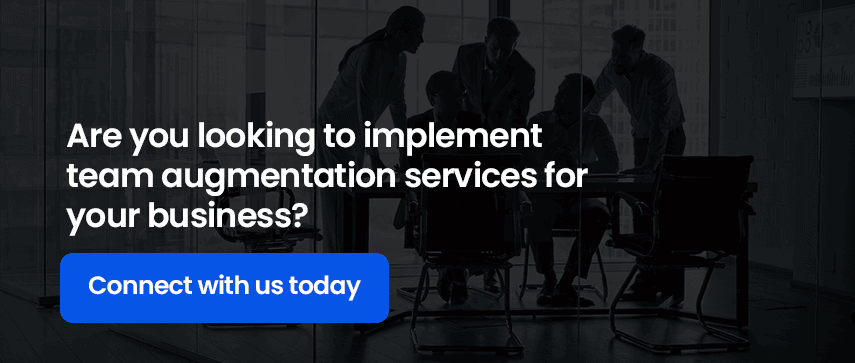 Author's Bio

Nitin Lahoti is the Co-Founder and Director at Mobisoft Infotech. He has 15 years of experience in Design, Business Development and Startups. His expertise is in Product Ideation, UX/UI design, Startup consulting and mentoring. He prefers business readings and loves traveling.