Telehealth for the elderly is a segment in the telehealth industry, which is making rounds for a while. It has been very effective in improving their quality of life by maintaining age-related health issues and reducing healthcare expenses. Moreover, it even supports independent living, along with improving and monitoring their health.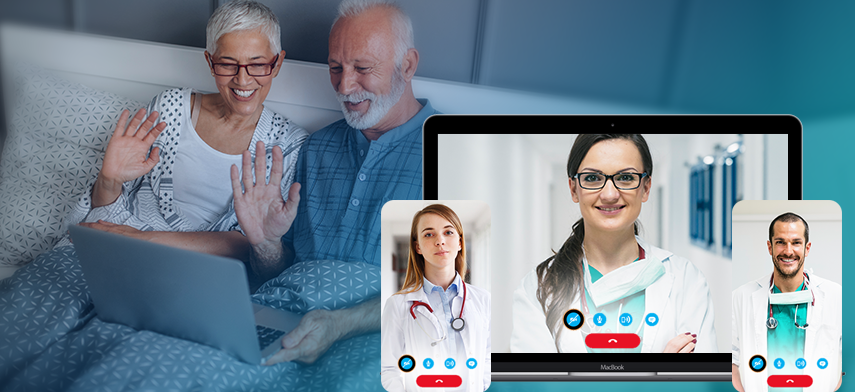 With the aging population, there are several factors that keep the elderly from visiting the physician on time. Some of these factors are weakness, distance, lack of transport, and unwillingness to leave a place. Due to old age, and low immunity, the elderly people are more prone to chronic diseases, which need constant monitoring. This makes senior health monitoring a lucrative ground of opportunities for the companies to invest in telehealth. Telehealth provides various scope for diagnosis, awareness, and treatment in old age people. It gives them a sense of security and reassurance by emerging as one of the most advanced forms of treatment in the healthcare industry.
Let us understand the perception of elderly people about telehealth:
There are certain criteria based on which the geriatric population makes their perception about the utilization of telehealth service.
1
Effort Expectancy
Effort expectancy means the level of ease associated with the usage of the telehealth system. It is one of the key metrics to understand the extent to which the user is comfortable and willing to explore the technology and build their trust in it.
2
Perceived Usefulness
This is based on the technology acceptance model, where the usability of the technology is judged by the user's point of view. To simplify, it is the user's perception about the usability of the system, based on the difficulty level.
3
Computer Anxiety
It is the extent of the negative response towards computers and other devices, for example feeling apprehensive about using computers. This happens to be a consistent metric to create an opinion.
4
Physician's Opinion
The physician's recommendation to use healthcare software or telehealth technology plays a pivotal role in its acceptance from the elderly population. It helps in effectively implementing preventive healthcare facilities for the patients.
5
Facilitating Conditions
The two key dimensions of facilitating conditions are cost incurred on using the technology and financial concerns. Telehealth expenses are expected to be as affordable as possible for senior citizens.
How Telehealth Benefits The Elderly
Elderly people are more prone to have complex health issues and ailments. But with the emergence of telehealth, these issues are likely to be reduced with growing awareness and adoption.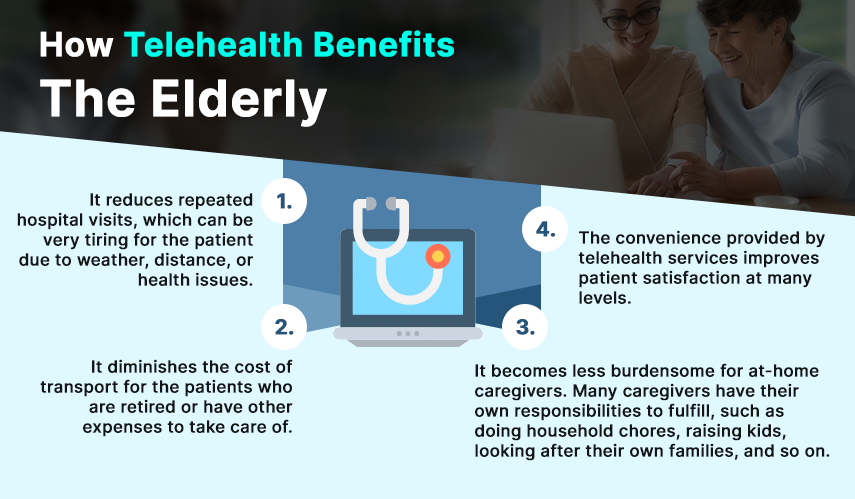 In fact, telehealth, when combined with at-home caregiving service, makes it easier for elderly people to adapt to telehealth technology. Though in some cases, the in-person visit is needed, it would become simpler to reduce the number by providing basic care and having the primary consultation through telehealth.
The following are some of the conditions for which telehealth can be utilized and manage the treatment process in the elderly
Transitional Care For Heart Failure

Caregivers can keep a track of the patient's health who has undergone an episode of heart failure, along with proper food, timely medications, rest, and managed stress levels.

Primary Care For Weak Individuals

Patients who face issues with mobility or movement due to ailments like, arthritis, paralysis, muscle stiffness, joint pain, and aftercare for accident cases can also be taken care of with telehealth services.

Palliative Care

Caregivers can use telehealth service while providing at-home care to their elderly loved ones, as their health keeps on getting deteriorated due to incurable health issues, such as a tumor, Alzheimer's, etc.

Chronic Disease Management

It becomes highly convenient for home caregivers to keep track and monitor the patient with chronic health issues. They can see the outcomes of the treatment and the patient's response to it.
Now, let us have a look at some of the facilitators and barriers of telehealth usability
Facilitators:
Devices with limited/fewer buttons to operate.

Auto-transmission of the patient data at regular intervals

Having audio and visual guidance

Usage of low-tech platforms

User-friendly and clear images for elderly people

Devices which sends timely notifications, alerts, and reminders
However, there are certain key barriers that need to be taken care of while implementing and choosing telehealth and remote monitoring for senior people.
Bigger-sized or too small-sized smartphones which are difficult to handle

Several screen transitions to complete a process

Excessively technology-enabled devices or smartphones

Menu bar in the telehealth software with layered options in the dropdown

Poor graphics and color display of the device

Excessive handling of a computer mouse

Usage of the device with multiple widgets as elderly people lack motor-eye coordination

Difficult to read font size and unusual characteristics
With the increasing specialization in the medical field, the demand for specialized healthcare professionals is also rising. However, due to the shortage of these specialists, it becomes difficult for the patients to get an appointment on time, and avail the right treatment at the right time. Nevertheless, telemedicine for the elderly has provided relief to this challenge to a great extent by implementing it in several clinical specialties. Here are to name a few:
Dermatology:

Primary physicians usually spot unusualness in the skin, which can be then treated by the specialist on time. Several skin problems can be treated remotely with the high-definition video feature in the smart devices and cameras, which make the diagnosis process simple.

Psychiatry:

Now, the mental health can be very well monitored through telemedicine and telehealth services, where the patient is in constant touch with the doctor and can get the medications altered and get cognitive behavioral therapy conducted.

Oncology:

Patients suffering from certain types of tumors, iron deficiencies, sickle cell ailment, and similar conditions are in a constant need for monitoring, to execute the treatment plan successfully, where telehealth can be highly effective.

Ophthalmology:

Elderly patients having vision impairment require frequent visits to the eye specialist. But, these visits can be reduced with teleophthalmology, where video calls or a picture can help the doctor to see the symptoms of the patient and treat the infection without having to visit them.

Counseling:

Lately, counseling and talk therapy have been gaining significant traction among patients. Smartphones and devices have made it easier for them to communicate with their counselor remotely and explain their emotions and anxiety, and stress. This field is expected to lessen the isolation-related depression in elderly people.

Urology:

Telehealth service is a convenient source of treating urinary tract infections and other ailments related to male reproductive organs. It helps in post0-operative follow-up care as well.

Cardiology:

Patients with ailments such as cardiovascular illnesses and congenital heart defects are now easy to be monitored and treated using telehealth, reducing the readmissions and visits to the hospitals.

Gastroenterology:

Patients suffering from hepatitis C, Crohn's disease, and colitis can be monitored closely, along with proper medications and therapies. This makes telehealth a preferred option.

Pulmonology:

Senior patients with asthma, bronchitis, COPD, and other lung-related disorders can be treated conveniently through telehealth.

Infectious Diseases And Emergency Medicine:

Telehealth is also quite effective in the treatment of common infections and emergency medicines for issues like allergies in seniors.

Nephrology:

Elderly people with kidney issues and the ones undergone the kidney replacement surgery have a convenient option of telehealth to track their health and monitor progress and stability.

From a wide range of telehealth apps for seniors, here are some types of these apps which are prevailing in the market:
GPS Tracker:

These apps help to track the elderly people who are in the early stage of diseases like Alzheimer's or diabetes with low blood-sugar levels which confuse the patient and make them wander off or forget their way back home.

Pain Monitors:

These apps register various pain levels of the patients at different intervals. They just have to tap on simple icons to register the pain, instead of texting or talking while explaining.

Diabetes Monitors:

These are important apps that monitor the food intake and medications taken that are likely to affect the blood sugar levels.

Medication Trackers:

These apps keep a record of the medications taken in a day and make weekly or monthly reports. This reduces the number of skipped medications.

Panic Alert:

These apps inform the near ones of the patient in case of panic or anxiety by just pressing a button.

Fall Detector

: In case of falling due to illness, weakness, or by slipping over things, these apps send alert and notification to the friends and family of the elderly.

Depression Trackers:

It tracks the depression level and mood of the patients.
Conclusion
With the growth in technology and increasing adoption by the people, there are now several ways in which telehealth can help the elderly population in leading a comfortable life. The technology is also helpful for the family and caregivers of the senior people. This does not only reduce the number of visits to the hospitals but also is quite beneficial in terms of remote patient monitoring and saving on healthcare expenses. With gradual awareness among the people and efforts taken by the healthcare centers to introduce people with this service, it is only expected to expand itself more in the coming years with improved patient satisfaction.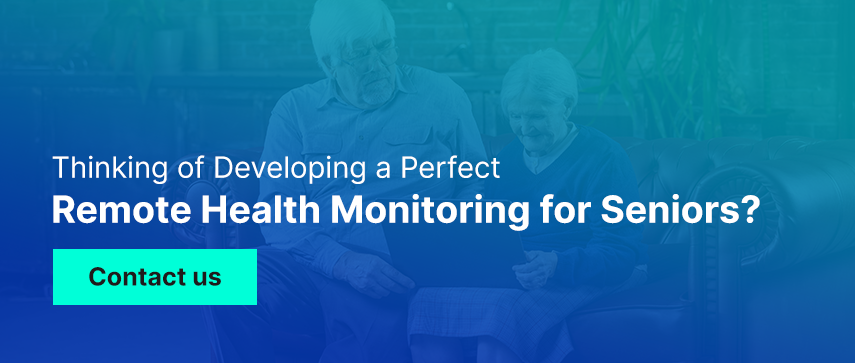 Author's Bio

Shoeb Ahmad, with an experience of 22 years in Digital World, heads Digital Marketing at Mobisoft Infotech. He has a rich experience in SEM, SEO, Social Media & other verticals of Digital Media. He also has been a consultant for a variety of industries, enterprises & startups. He loves reading & traveling. He often writes on various forums since he believes 'Knowledge increases by sharing.'