The onset of 2022 has the healthcare IT has developed immensely. Telehealth services have become the new digital front door in the healthcare industry. To embrace virtual healthcare, telehealth has become a major topic for discussion amongst doctors.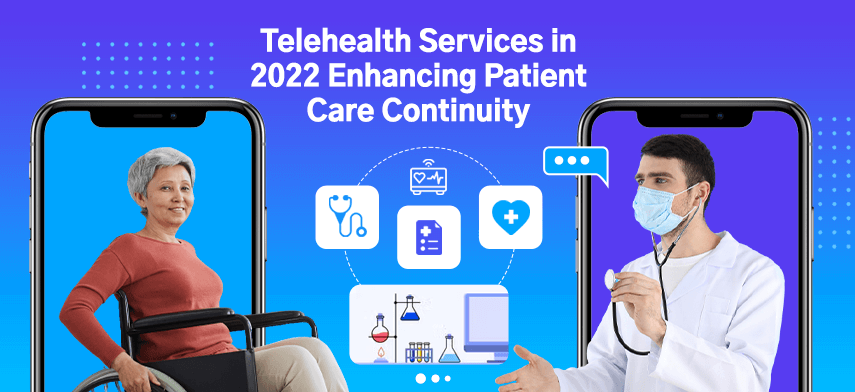 The mainstreaming of telehealth trends in 2020 and 2021 saw a steady rise in remote patient monitoring. These changes in the healthcare digital front door were exposed due to the COVID-19 pandemic and partially due to the loosening requirement for telemedicine with the licensure and reimbursement regulations put in place by the government.
Let's take a look at how telehealth and the digital front door predictions in 2022.
Telehealth Trends and Digital Health Front Door Predictions in 2022
The recent trends in telehealth services are changing the traditional healthcare workflow. The global telehealth market has seemingly grown at an exponential rate compared to other industries. With the rapid adoption of digital telehealth services, providers are now able to evaluate, treat patients through telecommunication, and diagnose patients seamlessly. The rising population has driven the primary care telemedicine market trends and evolved the care continuum.
The telehealth trends and digital front door predictions are as follows:
Wearables and IoMT

The technology in wearables including trackers is a crucial component in telehealth. The telehealth technology in wearables provides providers with real-time and very precise data regarding the health of the patient. IoMT integrated with wearables is helping to change the lifestyle of people, encouraging people to live healthier and increasing their quality of life.

Improvement with cybersecurity

Every technological and digital advancement needs to adhere to a high level of security requirements. It is important to protect the patient information and data that is delivered online. Even then, there's a risk of data breaches in data security and also there's an increased sharing of information which might increase the risk of data breaches. Healthcare industry trends are looking towards dependable and safe software for better cybersecurity to protect patient data and ensure patient safety.

Assistance with remote patient monitoring

The evolution of virtual healthcare has observed a variety of healthcare delivery and improving patient care. It includes the various online appointments, video conferencing between patient and provider, and virtual care provisions. Remote patient monitoring as a healthcare digital front door improves the significant contribution in ensuring that the patients residing at any geographical location have access to the basic healthcare facility. This way, technology can show how it can improve telehealth services for better healthcare support.

Augmented and Virtual reality provision

Augmented and Virtual reality has shown a progressive and promising future in training and education providers and patients helping them to plan medical prognosis and diagnosis. Individuals can communicate with their providers via laptops, smartphones, computers, and other technology devices. The popularity of AR/VR technology only improves surgical training and educates the clinical residencies with visualizing real-life cases and helping them understand how VR can be helpful.

AI-powered analytics and big data

Big data and Artificial Intelligence have been at the forefront of enabling advancements in telehealth services. The implementation of AI in healthcare data analytics can help curb the cost of healthcare development in the future. There will be a complex set of data when there's a large organization is involved. Instead of intervening with humans, the future of healthcare relies greatly on the development of digital healthcare front doors. Healthcare will be capable of processing the big data in providing real-time analytics towards decision-makers of an organization. AI can improve the productivity of care delivery and improve healthcare results.

Telehealth solutions with Robotic Process Automation

Telehealth trends 2022 shows healthcare providers benefit from precise automation which can be essentially cost-effective. Staff optimization can become crucial to health Robotic Process Automation (RPA) enabled robots. Through vital scanning of patients' symptoms, AI algorithms have become much more precise than traditional search engines. AI can help guide patients to the appropriate caregiver. RPA has been exceptionally and widely used in healthcare organizations offering appointment scheduling, hospital administration, and data management protocols.

Healthcare IT trend with Cognitive automation(CA)

Cognitive automation has been identified as an emerging trend in healthcare IT as it serves as the digital brain behind healthcare organizations. The CA offers help to the current software providers regarding automation capabilities and registers machine learning algorithms as an introduction to decision velocity in healthcare industries. In correspondence to these benefits, cognitive automation will continue to become more widely accessible to maximum representatives of the telehealth industry.

Offer team-based care approach

Creating a team-based care solution approach can be deemed as another telehealth trend this year. It has been considered a win-win approach for care providers and patients as digital health services and primary care telemedicine manages to discover a way a team-based approach in virtual care can represent better care assistance during the existing pandemic.

Hybrid care approach of in-person and telemedicine treatment

The hybrid care approach incorporating in-person care and telehealth services can enhance better care continuity in healthcare industry trends. This approach involves patient control, video conferencing technology, follow-ups, and scheduling appointments. It is necessary to detect whether a patient requires distant observation, in-person consultation, or a combination of both. The pandemic has facilitated the hybrid care patient treatment via technological advancements and will offer patients with their sough out medical necessities. Hence, improving the quality of communication and care delivery model.

Cognitive telemedicine software

Cognitive telemedicine software is coming with newer and bigger opportunities. Given the fact that patients who deal with various cognitive disabilities require necessary treatment plans and therapy approaches, this software can allow mental health providers to deal with concerns more effectively. Cognitive telemedicine software can become an excellent tool in managing mental health communications.

Use of drug creation instruments

A developmental tool that is recent in telehealth services utilization is the drug creation instrument. This tool allows providers to enable clinical counseling and examinations remotely. The drug creation instrument is beneficial for patients, providers, and researchers, as digital health techs (DHTs) can offer newer modalities in collecting and acknowledging sensitive data from their respective patients while they lead their daily lives.

Evolving field solutions

Developing a telehealth solution like cardiology, pathology, ob-gyn, and others, field solutions can help in building a better and enhanced telemedicine system. Especially with the help of cloud computing services. This connects healthcare providers from an organization with a patient residing in underserves or reserved communities.

Digital healthcare trend improving stages of learning productivity

The application of AR in the previous points has shown how telehealth solutions are improving patient care delivery. Telehealth services integrated with AR/VR information in real-time with the medical environment can enable cost-effective accessible healthcare coaching for mental therapists, nurses, imaging purposes, and more. Delivering applications via digital healthcare experience education would improve the stages of learning productivity.
Implementing Telehealth Services to Improve Digital Healthcare Front Door
The telehealth industry trends in 2022 are set to prove beyond the concepts of the traditional healthcare approach. It is adhering to meet completely with the HIPAA compliance requirement in integrating newer technologies and solutions due to the pandemic. It exhibited a surge in the demand for telehealth services. Healthcare organizations are sticking to the latest technological advancements and innovations via various healthcare mobile apps.
Implementing telehealth services has helped to improve the healthcare digital front door predictions for 2022. Healthcare development tools like distant control, healthcare and medical staff training, AI-utilizing diagnostic procedures, drug, and medicine development procedures regularly. The development of software is another field that requires focus including legalities and regulations. Recognizing the assistance of telehealth development software for healthcare industries can provide better care opportunities for patients. Digital technology companies like Mobisoft Infotech can provide an organization with the necessary healthcare software or virtual care software. This can primarily help healthcare organizations receive trained experts in providing the right level of care to patients and benefit them with the necessary telehealth services.

Final thoughts
Telehealth trends in 2022 are supposed to cross towards a better horizon and will be advantageous for digital front door healthcare predictions. In the meantime, organizations need to automate their payment models and AP invoices, enabling better wellness and providing a larger picture for the business. Digital technologies in AP automation can align with the deployment and better utilization of telehealth services and healthcare digital front door. Digitization is one of the most valuable models to capitalize on the significant capacity and ever-growing use of telehealth services. Thus, with the help of telehealth trends 2022, it is time to upgrade the systems and workflows for seamless delivery of care continuity.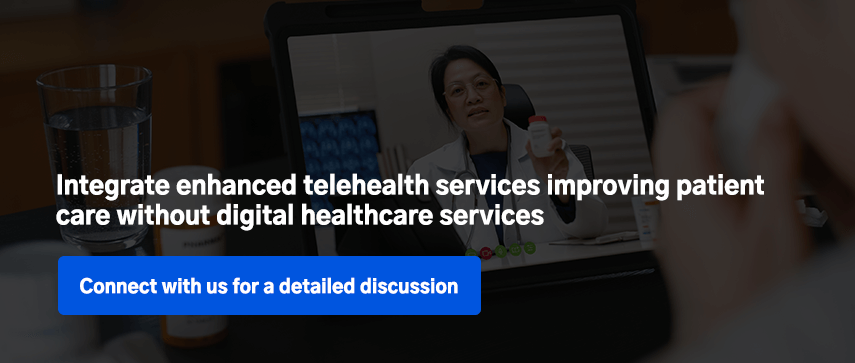 Author's Bio

Shailendra Sinhasane (Shail) is the co-founder and CEO of Mobisoft Infotech. He has been focused on cloud solutions, mobile strategy, cross-platform development, IoT innovations and advising healthcare startups in building scalable products.