With 54% of retail mobile commerce sales in 2021, retailers are embracing mobile technologies now. They are exploring the mobile-enabled retail business model to offer frictionless customer services while seizing countless opportunities to generate higher revenue.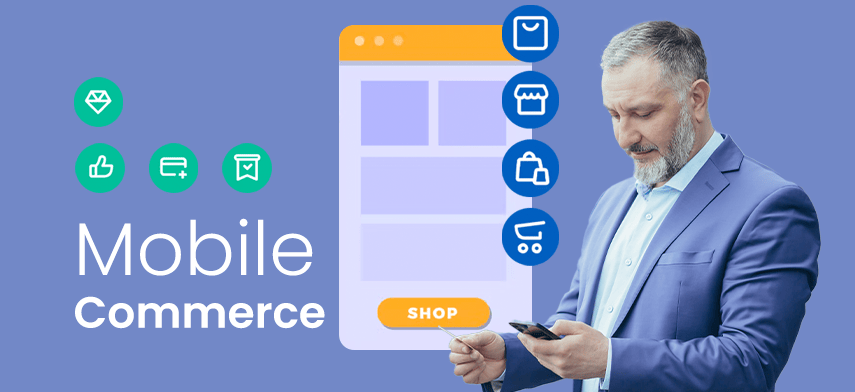 Our today's blog will walk you through the concept of mobile commerce (m-Commerce) in detail, including what mCommerce is, the difference between mCommerce and eCommerce, and more. Let's dive deep into it.
What is Mobile Commerce?
Mobile commerce, known as mCommerce, is a subset cum advancement of eCommerce. It is an online practice of buying and selling goods or services over mobile devices and tablets. Half of the online transactions now occur over smartphones.
Major brands like Domino's, Amazon, Coursera, Starbucks, etc., are dominating the market, leveraging mobile commerce apps.
Recent years have seen m-Commerce applications taking a huge market share and reaching out to more customers. Research states that the mobile payment market is ready to hit $11.83 trillion in 2028. Apple and Google have already introduced their mCommerce solutions to contribute to this market in the best possible way.
However, there is a lot of confusion around the two retail business models – mCommerce and eCommerce among retailers. Let's clear your doubts first before diving into m-Commerce.
What is the Difference Between mCommerce And eCommerce?
eCommerce and mCommerce work on the same fundamental principles, but m-Commerce is different compared to eCommerce. Here are the key differences between the two terms.
1

Mobility

eCommerce facilitates the use of laptops and computers to make transactions, which can be inconvenient sometimes in scenarios like traveling.

However, with mCommerce, you can make transactions while traveling, meeting, or partying with utmost convenience. You can shop anytime and anywhere as long as you have internet access. Even debit and credit cards are not required; you can use mobile money apps like Google Pay, Apple Pay, and Amazon Pay.
2

Security

When you are making a transaction, security is the most vital factor to look for. An eCommerce store owner has to rely on web-enabled security only. Furthermore, credit cards are the primary payment method in most eCommerce portals. But people are still concerned about leaving card details on the internet for safety reasons.

You don't have to worry about these issues in mCommerce apps. These apps rely on web security and other built-in mobile security features, two-step verification, and biometric verification facilities like a fingerprint, eye scan, and face ID.
3

Better Reachability

A mobile commerce platform has a broader reach as compared to eCommerce. Store owners can reach more customers and give them a chance to increase sales as most traffic over the internet is generated by smartphones.
4

Ease of Use

Retailers can optimize the customer experience and help complete the transaction with little taps on smartphones. In fact, mCommerce enables businesses to complete transactions from any location and any hand-held device. That's not possible with an eCommerce store. It is tough to navigate desktop websites as compared to mobile devices.
5

Location Tracking Capability

For eCommerce store owners, it is not possible to track the location due to the non-portability of computers. On the other hand, m-Commerce applications can use GPS technology to locate real-time user locations. It can provide location-specific information and personalized recommendations targeting particular customer demands as well.

It is the choice of device for shopping that makes the significant difference between eCommerce and mCommerce. Furthermore, research states that m-Commerce is going to rule the market. Let's check the numbers.
Why is mCommerce Considered the Future of eCommerce?
Mobile commerce already has a large user base and is skyrocketing; mCommerce shows no sign of slowing down. So, as a business owner, it's necessary for you to focus on mobile application development and form a robust mobile commerce strategy to keep up with the times.
Here are some reasons why m-Commerce is considered the future of eCommerce to give you a better idea –
Growing Mobile Users

Around 15 billion mobile devices are operating worldwide as of 2021, and this number is expected to hit 18.22 billion by 2025. This implies that retail business owners need to invest in mobile technologies and exploit mCommerce solutions to their best.

mCommerce Market Expansion

With the outbreak of the global pandemic, mCommerce has been growing at a phenomenal rate. By year's end, mCommerce will gain a massive leap and reach $728.28 billion by 2025.

Preference Over eCommerce

Currently, most consumers are recognizing mobile commerce growth because of the ease of shopping and payment options. For example, approximately 198 million consumers in the USA used mobile phones for online shopping in 2020-21. This number is expected to increase.

Higher Click Through Rate (CTR)

Advertising on mobile gives a higher CTR than desktop ads; obviously, people are spending more time on their phones than on laptops or desktops. So, selecting mobile commerce is wise for businesses to reach more potential customers through native mobile ads.

Better Conversions

Every 9 out of 10 mobile searches lead to action, and approximately half of this leads to purchasing, says Google. This suggests that mCommerce is here to stay and transform the overall shopping experience for users.

Enhanced Engagement

Mobile apps are giving a new dimension to the eCommerce landscape by improving user engagement. For example, sending push notifications via mobile apps imparts a great way of interacting with users in the long run.

Better Exposure to Social Media Platforms

Mobile apps give better exposure to social media platforms and help companies to cater to the requirements of a wider audience. They also have the added advantage of increasing their mobile app downloads via such platforms.

Improved User Retention

It is possible to create a loyal customer community with mobile commerce. You can add loyalty rewards, cash discounts, and many other features to get more business for your customers.

Rise of Digital Wallets

Digital wallets simplify the shopping experience for customers by enabling flexible payment options. QR codes, super apps, and open banking are driving the growth of digital wallets. Retailers can integrate a secure payment system and take customer satisfaction to the next level.

Detailed Insights

Customer insight is the most vital part of mCommerce. You can retrieve customer data, including age, location, gender, etc., to perform a complete behavior analysis of your users and their interests.

Pragmatic Scalability

m-Commerce platforms offer excellent scalability for your business and help you grow exponentially. Building a powerful and engaging app can resolve engagement issues and shall keep your business on track.

Now that you know why mCommerce is considered the future of eCommerce, let's take a look at some of the essential features of mCommerce solutions.
Key Features of mCommerce Solutions
A multi-channel retail strategy can be bolstered with mCommerce by integrating multiple tools, integrations, and features to meet changing consumer demands. Listed below are the key features you should include in your retail mobile app.
Push Notifications

mCommerce apps can help you put sheer marketing strategies in place via push notifications. These notifications help your team to forward and convey the right message and improve user engagement. It's an important feature to communicate new product launches, sales, potential discounts/offers, etc.

Location Tracking

You can track the location of your users and contact them accordingly through notifications and personalized messages. It can suggest users' most preferred products from the nearest outlet based on their location. Besides, geofencing technology can also be used to forward useful messages/notifications/emails.

Profile Creation

mCommerce apps can impart easy profile creation for their users in order to display preferred products and services. These apps store all the information like address, payment methods, name, etc. So, during any buying process, your users only have to make a few clicks to ensure that the information is automatically filled out and the order is ready for delivery.

Multiple Payment Options

Your customers should not leave the buying process in the middle or abandon their shopping carts and underthink your platform for lacking the right payment option to select their choicest products. As such, incorporating various payment methods is of utmost importance. And this is where an integrated mCommerce solution can help integrate multiple payment options, including digital wallets, debit/credit cards, third-party platforms, etc.

Advanced Technology Integration

mCommerce applications can remove the barriers to online mobile shopping by giving an intuitive in-store-like experience to your user base. You can have the privilege of bringing the best of the images and videos to your users' screens with the help of immersive technologies like IoT, AR, VR, Metaverse, etc. This way, your users would get a better idea about your product portfolio and its quality.

Product Returns Management

Your shoppers may return the ordered products for various reasons. And this process can be simplified by a mobile commerce app, where previously stored user information is used to initiate quick returns without any kinds of additional costs. Providing such an experience implies that the users wouldn't hesitate to buy again.

Advantages and Disadvantages of mCommerce in the Retail Ecosystem
mCommerce has emerged as a significant change; it has a scope of growth with each passing day. But like any other thing, m-Commerce also has its own set of advantages as well as disadvantages. Let's take a look at them one by one.
Advantages of Mobile Commerce
Creates Customer Base

To create a customer base for your business, getting insight into your target audience is essential. m-Commerce provides you with that insight to easily optimize your marketing campaigns and engage with your users in a better manner.

Helps Small Businesses

mCommerce reduces the boundaries between customer and seller, creating an opportunity to target bigger markets. As such, mid and small businesses situated far away from the major cities can also get the needed reputation.

Optimizes Product/Services

mCommerce gives you a complete insight into consumer behavior, i.e., likes or dislikes. This trackable information helps you analyze and optimize your products and services to increase sales and generate more revenue.

Manages Inventory

A mCommerce platform eases your job of managing products by avoiding any kinds of confusion or issues related to the available inventory. Instead, you can keep track of specific products sold via mobile apps only, segregating the different types of inventories.

Processes Multiple Orders

mCommerce apps offer faster loading times and a better approach toward technology. This helps your business take multiple orders in a day and process them accordingly to satisfy the needs of your customers.

Remarketing/Retargeting

mCommerce apps help your businesses to plan effective remarketing strategies. You send a cookie to the user's device, allow them to see ads as per their shopping behavior, and create subsequent opportunities for the users to complete the purchase.
Disadvantages of Mobile Commerce
Familiarity with Technology

The major disadvantage of mobile commerce can be technology familiarity among the targeted users. For many of them, it can pose various challenges. These challenges can be as small as upgrading the mobile app through which they are shopping.

Competitive Marketplace

Being a global platform, m-Commerce creates massive competition for products or services you want to sell. Therefore, there are chances that you would face many competitors for your business, which can impact your sales funnel.

Security Issues

There's a high possibility of mobile commerce security issues and safety concerns related to customers' private information. Mobile apps can experience data leakage, personal information breach, or any other misuse that is highly daunting for your users.

Rural Unavailability

Some of the rural areas still lack the availability of mobile phones and strong internet connectivity. As such, it becomes difficult for businesses to engage rural audiences with the benefits that mCommerce apps facilitate.

You need to be aware of both advantages and disadvantages of m-Commerce to start your online business, as most traffic is coming from mobiles. And evaluating these perspectives shall lead you toward good ROI.
Future mCommerce Trends You Can't Ignore, Especially in 2023
If you think that m-Commerce is an air bubble and shall be replaced by something new in the coming years, you need to rethink because it's expected that mCommerce will generate revenue of $3.5 trillion by 2022.
Players like Walmart, Amazon, Apple, and PayPal are already dominating the mCommerce market. However, in the coming years, many other mid-segment companies are going to come into the mainstream. Here're some future trends in mobile commerce:
Personalization

Personalization is going to rule the mCommerce industry in the future as people prefer to get customized services. They want their apps to suggest products and services more systematically according to their current location and behavior.

CryptoCurrency

The world is starting to believe in cryptocurrency and bitcoins for safer and fast payments. This digital money concept would be a future trend in m-Commerce. Shoppers and retailers shall use this mode of payment for their mCommerce platforms.

Enabling Voice Search

People are using voice search over text search, and by the end of 2021, approximately 50 % of mobile users would prefer voice search over any other browsing options for their online shopping through mobile apps.

Augmented Reality/Virtual Reality (AR/ VR)

Enabling AR/VR functionalities increases user experiences, and it shall be a trend for the future. More companies would leverage these technologies to sell, and more users would rely on them for their purchases.

Proximity Marketing

Proximity marketing by using mobile networks or other geofencing technology would be another trend for mobile commerce. For example, Retail stores shall add this feature for their push notification, offering discounts and offers to customers near their locations.

Automated Customer Support

By the end of 2021, 85% of customer support interactions will be handled automatically. Chatbots shall prove to be the coolest facility to help businesses manage customer support 24/7 and boost user satisfaction.
How Mobisoft Infotech Can Help Your Retail Business
If you want to redefine your retail management system across the value chain and deliver customer-centric experiences, then Mobisoft can help you with tailor-made digital retail & mCommerce solutions and give your business the needed agility to increase your mobile sales like never before. You can also closely observe your supply chain in real-time and support your warehouse management planning accordingly.
We bring you the best retail mobile solutions to increase productivity and streamline store operations. Our commerce professionals, driven by the best industry practices, help your business showcase its dynamic products with powerful mCommerce and eCommerce app development that successfully creates an omnichannel sales environment.
Conclusion
mCommerce is rapidly extending its reach in today's time. Users are shifting towards mobile shopping from the comfort of their homes rather than visiting a brick-and-mortar store to buy stuff. The onset of the COVID-19 pandemic has already proved this lately. Building a mobile app and adopting m-Commerce is a way forward for retail business owners looking forward to creating a niche in this tech-enabled digital age. Also, the integration of mobile commerce in your existing business shall increase profits and bring sustainability.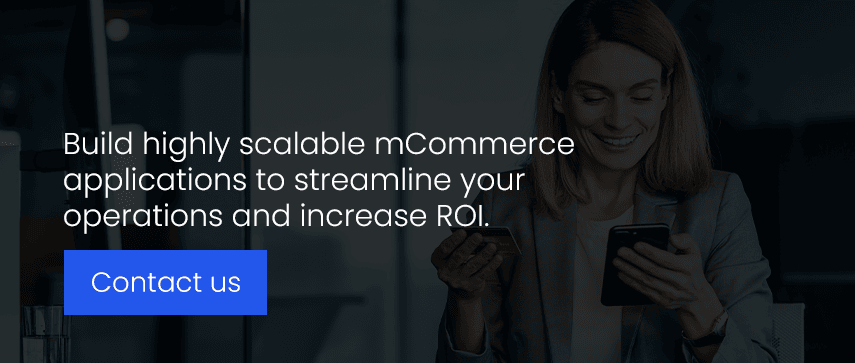 Author's Bio

Nitin Lahoti is the Co-Founder and Director at Mobisoft Infotech. He has 15 years of experience in Design, Business Development and Startups. His expertise is in Product Ideation, UX/UI design, Startup consulting and mentoring. He prefers business readings and loves traveling.