Consistent growth in technology and innovations has automated a lot of things around us. Vehicle booking, hotels, food ordering, appliance installation, we are surrounded by on-demand apps. One such innovation in the on-demand economy is fuel delivery app. The application conveniently delivers fuel at your doorstep and saves a run to the gas station before leaving for your destination.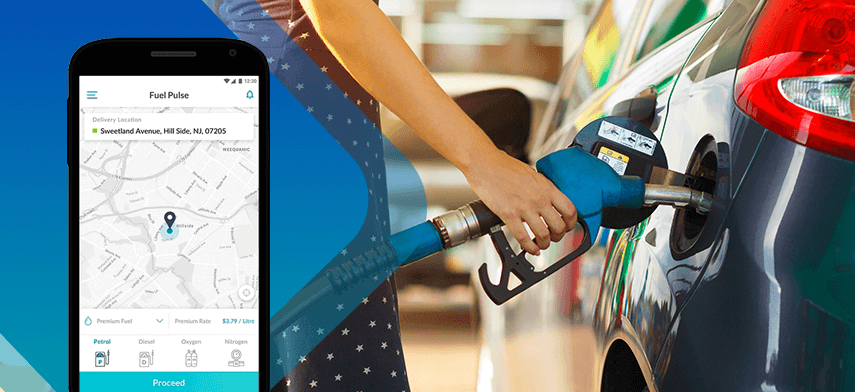 The growth in on-demand economy, has taken the app store by storm, with numerous on-demand apps focused on various services. On-demand fuel app, or say Uber for Gas is another similar technological innovation in the industry. With the uberification in every field, including automobile, retail, media, hospitality, the market is witnessing a surge in demand for the development of fuel delivery app.
Here is a detailed insight into the concept of on-demand fuel delivery service.
What Is On-demand Fuel Delivery?
With a fuel delivery app, customers can get tanks of their vehicles filled and make their commute hassle-free. By using on-demand fuel delivery app, they can place an order, and the supply of the fuel will reach their mentioned locations within the estimated time. The customers need to register their details in the app, share location and request fuel requirements. The driver version of the app will help fuel truck drivers navigate to the mentioned location and refill your vehicle. This on-demand service has revolutionized the fuel filling process, by eliminating the drive to the gas station and waiting in long queues to refuel their vehicles. Now they get their vehicles refueled at their convenience.
What Are The Challenges Associated With On-demand Fuel Delivery?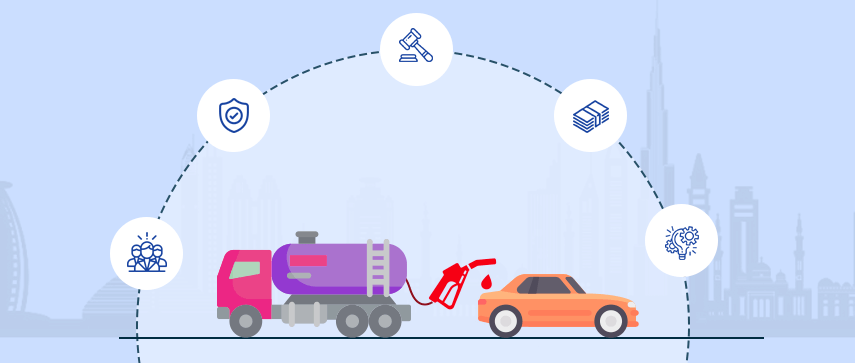 With the rise in population across the globe and increasing spending ability, there has been a surge in the purchase of vehicles. This, as a result has boosted the requirement of on-demand fuel delivery. Many companies are now taking an interest and are willing to invest in the on-demand fuel delivery service/app. However, like every other industry, this one also comes with its own set of drawbacks. There are some major challenges that an on-demand fuel delivery service often faces. Some of these are:
Overcrowded Market

As there are numerous companies investing in on-demand fuel delivery market, it has become quite difficult to recognize the ones with genuinely innovative ideas and then try to transform those ideas into reality.

Lack of Safety

Raised by the authority, safety issues often put the fuel delivery service providers in a difficult spot. Lack of good quality tanks, proper security systems for limiting unauthorized entry and the right safety systems for saving the tanks during an accidental fire are the major safety concerns in the industry.

Regulatory Issue

Lack of proper knowledge about the industry norms tends to face regulatory issues. This affects their service and safety system.

Inadequate Funds

To make an innovative idea marketable, a good amount of capital is needed. Without significant investment and proper finance management plans, gaining success in this business is impossible.

Incorrect Development Technology

It is very important to choose the right technology to develop an on-demand fuel delivery service app. Improper development technology might make it challenging for companies to stay in the market and lead. This also might lead to overspending, poor app performance, and unsatisfactory user experience.So, in order to overcome all these challenges successfully and develop a flawless app for on-demand fuel delivery service, it is important to focus on certain key features. These are the features you would offer to provide an advanced fuel delivery service to your users.
Essential Features of On-demand Fuel Delivery App
1
Easy Registration
This feature enables app users to register themselves via creating a personal account, or through social media accounts or mail id. From their own accounts, they can place an order, make payments and go through the earlier transactions, orders, and payments.
2
Check Pricing
This feature allows users to check current prices of various types of fuels like petrol, diesel, gas, etc. and make payments accordingly.
3
Payment Options
Users can pay for fuel through multiple and secure payment options, such as debit or credit card payment, net banking, cash, e-wallets, etc.
4
Allocation
This feature allows the users to allocate the spot from where the vehicles can be refilled by the fuel ordered earlier.
5
Tracking Order
With this feature, after placing every order, users can monitor and track their orders within an estimated reaching time.
6
Promos & Offers
Users can receive lucrative offers and attractive promos from the companies directly in their inbox. With this feature, maintaining long-term relationships with customers and building loyalty becomes easy for the companies.
7
Push Notifications
Like most apps, an on-demand fuel delivery app also has a feature that allows the companies to send alerts and latest updates via messages.
8
Reviews & Ratings
In this section, users can share their valuable feedback regarding the app. Higher the ratings and positive reviews an app receives, better the company gains brand recognition and customer loyalty.
9
Customer Support
Here, users get assistance from experts. They can ask anything about the app via chat or message. And the customer support team readily resolves the problems. By offering effective customer assistance, a company can create strong brand recognition.
10
Transaction History
This section helps users check their previous transactions and bills conveniently.
Key Benefits Of Fuel On-demand App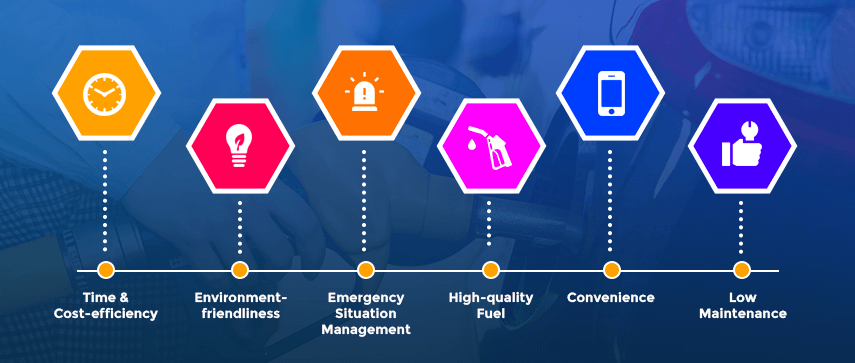 Time & Cost-efficiency

One of the important benefits that users can get from an on-demand fuel delivery app is how significantly they can save their time and a considerable amount of money. There is no need to travel to the fuel station and wait in a long queue to refill their vehicles. With an app, the required fuel can be delivered at their doorsteps whenever needed.

Environment-friendliness

Using a fuel on-demand app causes no adulteration or spills of fuel. In other words, it is an environment-friendly option.

Emergency Situation Management

On-demand fuel delivery app can act as a savior in emergencies. For example, if a person runs out of fuel in the middle of nowhere, by using this app one can order fuel for his or her car and take the ride ahead.

High-quality Fuel

An authorized company always guarantees quality fuel to be supplied through its app. The fuel gets double-filtered, unlike the fuel at most gas stations.

Convenience

The main motive behind the development of on-demand fuel delivery app is to provide convenience to its users. All they need is a smartphone. By tapping just a finger, they can order fuel from the app anywhere at any time.

Low Maintenance

With abundant benefits, such an app can attract a significant number of users. Thus, developing this app is worth investing the resources into. Here is another reason why you should develop such an app for your fuel delivery service. By saving a great amount of cost and surges, you can increase your level of profit with low investment and maintenance.
Factors Influencing the Development Cost of On-demand Fuel Delivery App
The type of platform you use for developing the app, components you add to the admin panel, features you include, the platform from where you develop – all these are the influencing factors for the cost of a fuel delivery app.
In other words, the cost of an on-demand fuel delivery app depends on various features and factors involved in its development process. If you are planning to develop one, make sure your team has adequate experience and expertise to take care of the entire operation and grab users' attention.
Now let's talk about some of these factors in brief:
App Platform

The cost of developing a fuel delivery app varies on selecting different app platforms to execute and target the audience. There are mainly two platforms – iOS and Android. You can choose any of these two or both to develop the app.

App Design & Designer

The cost of the app depends on the type of design you choose. To draw the attention of the audience and convince them to use your app, you must choose a good design that would provide a flawless user experience. Also, your designer team should be qualified, proficient, experienced and reliable.

App Size

The cost of developing a fuel delivery app also depends on the complexity and features of the app which affects the size in the final stage.

Basic & Advanced Features

A good on-demand fuel delivery app should be, basically, easy to operate, well integrated, compatible with your phone, and with an elaborative list of gas providers around the user. It should also include easy payment options and navigation feature to track the estimated time and location of the gas provider.
Conclusion
Thus, on-demand fuel delivery app holds a promising growth scope in the coming years. If certain points are taken care of while developing an app, it is likely to gain huge popularity and success in the coming years. With increasing responsibilities and shortage of time, the on-demand fuel delivery solution is foreseen to save you the hassle of running to the fuel station to refuel your vehicle.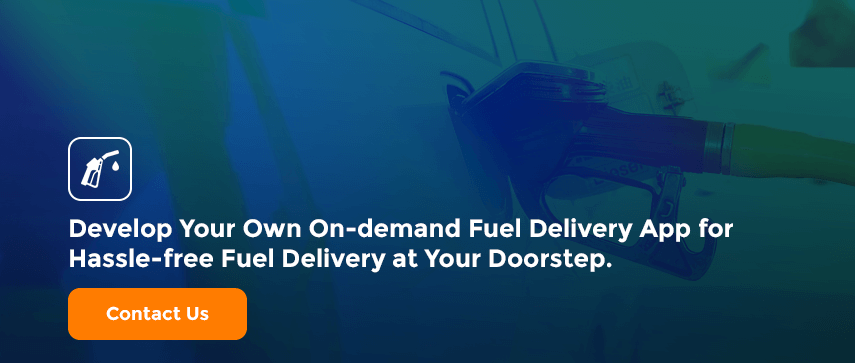 Author's Bio

Nitin Lahoti is the Co-Founder and Director at Mobisoft Infotech. He has 15 years of experience in Design, Business Development and Startups. His expertise is in Product Ideation, UX/UI design, Startup consulting and mentoring. He prefers business readings and loves traveling.