Innovative technology advancements in the transportation industry will make urban mobility more accessible shortly. World-leading companies, as well as well-funded startups, are working on promising technology that will reshape the way people move or deliver goods from one place to another in cities.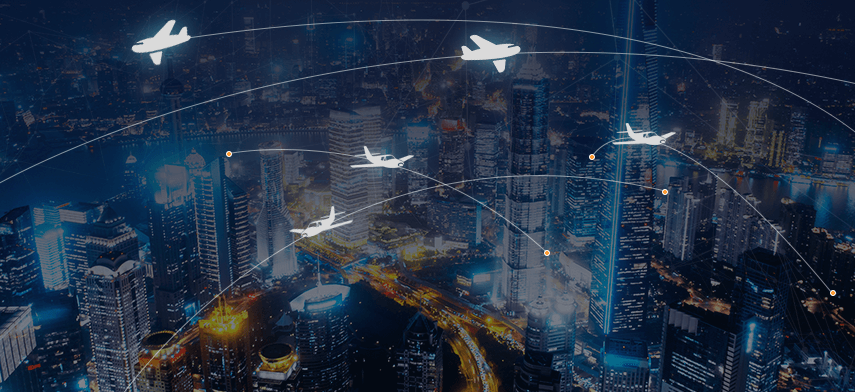 What we have seen in recent times is that the transportation industry is going through a remarkable phase of technology advancements, serving smart mobility options for people. We have seen ridesharing services like bus, rail or flight ticket booking services, automated driverless cars, magnetic trains, autonomous trucks, and soon, we will experience the Urban Air Mobility service too. This smart air mobility service is the solution to the growing traffic congestion problems and increasing demand for mobility options. Smart mobility solutions enable people and goods to move conveniently using technology, which is faster and less expensive compared to traditional mobility alternatives.
In today's post, I will give you a profound idea about the urban air mobility system; how it can redefine traffic congestion and benefit commuting. First, I will start the discussion by enlightening the current traffic scenario of cities in all parts of the world.
Current Urban Traffic Scenario
Undoubtedly, a large amount of time gets wasted every day throughout the world due to traffic congestion. People get stuck in traffic jams on their way to work or home which causes loss of fuel, less productivity, and less time spent with near and dear ones. And this affects the urban economy as well. According to the Global Traffic Scorecard by INRIX, congestion costs America around 97 hours and $1348 a year. The UK lost around £8 Billion as well. According to the traffic scorecard of 2018, Moscow grabbed the number one position for traffic congestion.
With the growing population worldwide, the problem of traffic congestion and its dreadful effects cannot be controlled if we do not opt for new sustainable solutions. Thanks to urban air mobility, the solution is here now. Nowadays, leading transportation companies are integrating technological advancements, and they are planning to manufacture smart aerial vehicles for urban air mobility. With electric aircraft, drones, flying taxi service, etc. the effectiveness and efficiency of travel can be improved, traffic congestion can be reduced, and the amount of CO2 emission can be lowered.
However, traffic congestion is not the only challenge that urban areas often face and for which the public transportation system gets badly hampered. There are some other challenges present for transit in cities.
Major Urban Transportation Challenges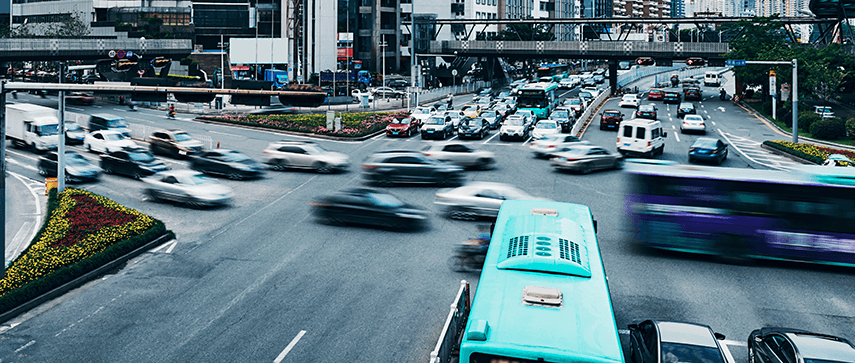 Other than traffic congestion, below are some commonly faced urban transportation challenges:
1
Time-consuming Commutes
Huge traffic congestion, road construction and increasing population cause time-consuming commutes in urban areas. This issue can be addressed by introducing more substitute transportation modes and making neighborhoods more walkable.
2
Problem In Infrastructure
In cities, instead of expanding the walking areas for pedestrians, their movements get restricted. Also, due to the lack of adequate parking garages and spots in cities, streets get clogged and congestion of traffic increases.
3
High Maintenance Cost
Transportation companies that manage heavy goods vehicles and a big group of employees, often face challenges in maintaining costs while controlling all transit-related tasks as well as handling an expert workforce.
4
Bad Impact on the Environment
The increasing usage of motor vehicles in cities causes both air and noise pollution. Dependency on fuels and energy consumption leaves a bad impact on the environment. Also, traffic noise is becoming a serious problem in urban areas.
5
Lack of Safety
The increasing traffic congestion leads to accidents and deaths in urban areas. The more traffic, the fewer people feel safe using the roads.
All these problems can be addressed by adopting urban air mobility service. Let's have a detailed look at this concept:
Urban Air Mobility – What You Need to Know
Urban Air Mobility (UAM) is often used as an industry term for excellently automated and on-demand cargo or passenger conveying air transportation assistance. This is certainly the result of technological innovation and advancement. It helps people to avoid congestion around cities and suburbs in the world. The concept of UAM has already been popular in some places like Sao Paulo and Mexico. In São Paulo, you can see helicopters in the urban areas, whereas, in Mexico, flying taxi service has become quite popular. On the other hand, NASA conducted a research, where the discussion was all about adopting this smart air mobility solution and making it safe and efficient for transporting passengers and cargo within the cities. Leading companies, now taking interest in developing correct infrastructure and transforming the idea of Urban air mobility into reality.
Can Urban Air Mobility Be A Beneficial Service?
Every city has its transportation issues, traffic congestion, inadequate infrastructure, population density, etc. And the solution lies in the Urban Air Mobility service. People who travel daily for work or many other reasons can get the maximum benefits from this innovative service. Also, cargo transportation companies can handle their operations in a hassle-free way.
However, to harness this technological advancement, cities need to make significant investments in Urban air mobility infrastructure. Otherwise, this service can't take off.
Is Urban Air Mobility the Future of Transportation in Cities?
According to research, the market for urban air mobility is expected to grow from "$5.3 billion in 2018 to $15.2 billion by 2030". Also, a worldwide study on the economics and market for urban air mobility shows an overview of how 74 cities around the world are expected to have the proper infrastructure to support a profitable ecosystem for urban air mobility. The study also discusses that from 2020 to 2040, there is a "direct value of $318 billion ($244 billion in operator revenue, $32 billion in operating costs, and $41 billion in eVTOL vehicle sales) to be gained.
All the statistics show that urban air mobility has a promising future ahead. Maximum cities around the world are yet to invest in the proper infrastructure needed for this smart transport solution.
What Benefits Can Urban Air Mobility Offer?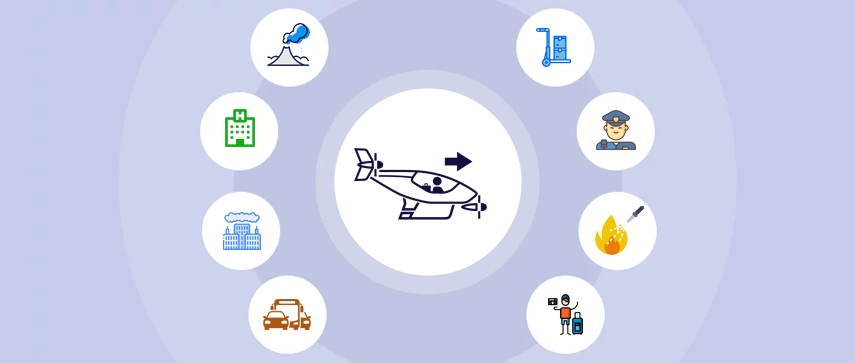 Minimizing Traffic Congestion

Undoubtedly the most important reason for adopting this technological advancement is to reduce huge traffic congestion that usually major cities around the world face on a daily basis.

Keeping City Pollution-free

Motor vehicles and their fuel consumption are the main reason for environmental pollution. These vehicles cause noise pollution due to huge traffic as well. Automated aerial vehicles will help in reducing the pollution level, improving the environmental condition, and keeping the city air clean that people breathe.

Providing Medical Assistance

Air vehicles can provide medical services when the streets have poor conditions, traffic congestion, or there is any natural disaster. It will be beneficial in three ways:

1. Transporting a doctor or any medical practitioner to a place for tackling an emergency
2. Transporting a patient to a hospital
3. Delivering medicines for handling time-critical situation




Saving Lives During Natural Disasters

When people face devastating situations during natural calamities, high-priority medical or food supplies can be delivered by urban air mobility to the needy people. Carrying people and goods become easier during disastrous events by using such vehicles.

Delivering Cargo

With urban air mobility, cargo delivery can be possible even in remote and isolated places. The transportation network becomes more efficient than ever.

Scaling Up Police Operations

As eVTOL is a quieter, safer and less expensive option than traditional helicopters, the police force can upgrade their aerial operations easily.

Firefighting

Firefighters can reach the incident scene faster with urban air mobility. Also, the heavy equipment needed to fight the fire can be transported through eVTOLs easily. And as such types of vehicles have wide and secure coverage of the network, these can be useful for firefighters.

Bringing Suburbs & City Areas Close Together

People from the suburbs and rural areas often come to cities for various purposes on a regular basis. As staying in a large city is quite expensive, a large number of people prefer commuting to cities from the suburbs. Urban air mobility can provide these people with stress-free traveling experience.

Advancing the Tourism & the Entertainment Industry

People around the world can take an aerial tour in eVTOLs to various tourist spots. People can travel from a metropolitan city to a mountain resort in a private charter, also. This way indirectly, urban air mobility service is helping in the growth of an area's economy.In a nutshell, urban air mobility makes the transportation service advance in every way.
Wrapping It Up,
Needless to say, urban air mobility service has the potential to make this world better. With this, we can create a long-term impact on the areas where people need this advancement the most but are not like to afford it now. Let's work together and bring sustainable solutions to all transport problems in cities. Let's make people's daily life easier and cities more livable.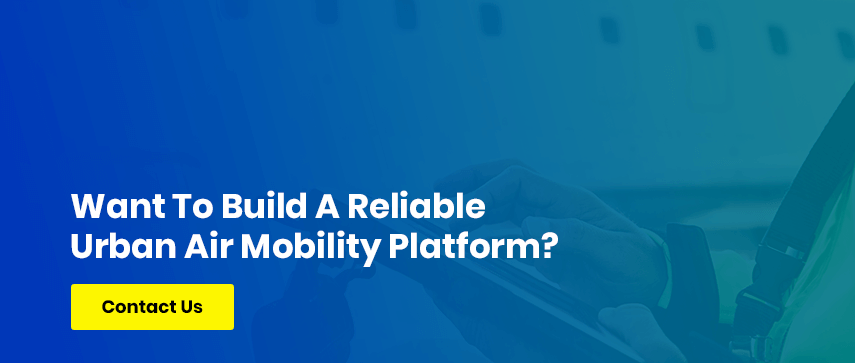 Author's Bio

Nitin Lahoti is the Co-Founder and Director at Mobisoft Infotech. He has 15 years of experience in Design, Business Development and Startups. His expertise is in Product Ideation, UX/UI design, Startup consulting and mentoring. He prefers business readings and loves traveling.