The recent health evaluations have been experiencing a staggering increase in providing value-based care. According to the estimates by the Center for Disease Control and Prevention (CDC), 37 million people from the US suffer from Chronic Kidney Disease (CKD). According to the same report, about 726,000 of the population are diagnosed with end-stage renal disease (ESRD).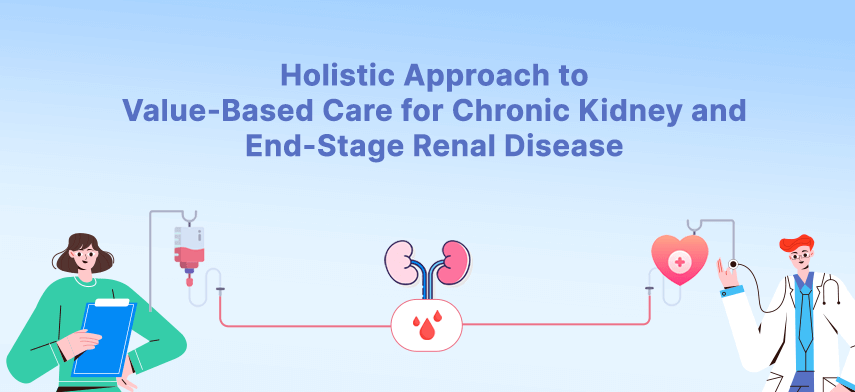 According to the Medicare Advantage plan, ESRD and CDK were previously not covered under Medicare Advantage. Hence, the cost for treatment for Medicare beneficiaries with Chronic Kidney Disease incurred USD 84 billion for treatment of patients, and for ESRD an additional USD 36 billion, according to CDC in 2017. The cost as stated was one of the many effects that caused distress for members with these conditions. Apart from the cost, the quality of care for both ESRD and CDK skyrocketed as kidney care focused mainly on patients with the late-stage diagnosis.
Medicare Advantage Offering Plans to Cover End-Stage Renal Disease and Chronic Kidney Care for MA Plan Members via Value-Based Care
With the onset of 2021, Medicare advantage remodified its plan offerings. Now, people under the MA plans are eligible to apply for ESRD coverage, minimizing the expenditure factor that affected receiving proper kidney care. The recent efforts provided from the federal level are targeted to transform the traditional approach to kidney care treatments and encouraging providers to intervene at the earliest, for a more holistic value-based care delivery. The Center for Medicare and Medicaid Innovation (CMMI) established the payment innovation model structure for chronic care management. This model encourages strong financial incentives for primary care providers and assists them in chronic care management services for Medicare beneficiaries affected by chronic kidney disease (stages 4 and 5) as well as ESRD.
The Kidney Care Choices program (KCC), is an alternative voluntary payment structure, that focuses on incentivizing the nephrologists, facilities for dialysis, and practices for ESRD healthcare. Therefore, supporting coordinating care and taking a patient-centered approach can be a collaborative approach for payors and providers in the and delivery of value-based care solutions. This KCC model has been structured to encourage healthcare practices, and delay the process of dialysis, and focus primarily on the transplant.
According to CMS, there are over 430,000 Medicare beneficiaries under Fee-for-service diagnosed with ESRD, spending an average of 12 hours receiving in-center hemodialysis. Out of this, many suffered from higher rates of hospitalization resulting in poor and unsatisfactory health outcomes. Hence, the complication of underlying diseases and various co-morbidity occurs.
The announced voluntary kidney care options provided by KCC under CMS offers:
Comprehensive Kidney Care Contracting Graduated Option

CMS Kidney Care First Option (KCF)

Comprehensive Kidney Care Contracting Professional Option

Comprehensive Kidney Care Contracting Global Option
The KCC model has been made functional to reduce expenses and improve the quality of chronic care management and value-based care delivery for patients and primary care providers.
Access to better value-based services and health services management has become possible due to the viable leverages being introduced by the Medicare Advantage Supplemental benefit programs.

Digital Integration Serving as a Valuable Access to Care Delivery
COVID-19 has been a transitioning period that accelerated the healthcare sector many folds. 2020 has been a year of digital innovation and stratification into the business organization. Managed Care Organizations (MCOs) and Accountable Care Organizations (ACOs) have been solely focused on providing value-based care services to chronic ailments. Hence, chronically ill and senior members of plans are experiencing better health outcomes at lower costs. Medicare Advantage plans' inclusion of ESRD and Chronic Kidney Care has improved patient care and given better offerings that help to prevent and treat ESRD.
The COVID-19 vaccine being underway and fighting against the year-long pandemic has been possible due to the increased digital integration in the healthcare systems. Healthcare organizations and primary care providers are enhancing their chronic care management through digital solutions. Telehealth and telemedicine are ensuring better health outcomes with access to enhanced kidney care.
2019 executive order signed by the previous president Donald Trump focused on improving patient care with kidney diseases called forth by the Advancing American Health Initiative. Thus, the Kidney Care Choices Program was one of the models proposed by CMMI.
NEMT Services Extending Access to Care through Dialysis Transportation Services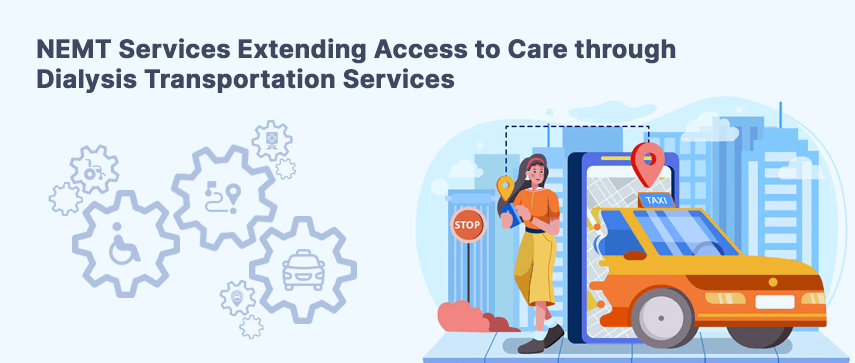 COVID-19 has no wonder disrupted the flow of transportation in the past year, resulting in delayed access to healthcare. For patients suffering from chronic kidney conditions or end-stage renal disease, traveling for regular dialysis during the pandemic puts a strain on their health and wellbeing. Amongst the many healthcare service management, non-emergency transportation services hailed as a savior for kidney patients.
Dialysis transportation services tied up with healthcare organizations and assisted kidney patients to reach on time for their dialysis and hemodialysis. NEMT services have become one of the many crucial aspects of the pandemic for chronically ill and senior patients. With a rise in the number of chronic kidney diseases, health plan administrators and home healthcare agencies are looking for organizations that provide transportation solutions to better manage their patients and offer a better customer experience via streamlined operations. Now, patients with chronic kidney conditions enrolled under Medicare Advantage plans can easily avail of NEMT services for their dialysis requirements based on the assigned and eligibility of their benefits. Tieing up with digitally integrated organizations like Mobisoft, Medicare Advantage plan members can also expand their solutions offering via house calls platform which providers home healthcare to patients who may need to do dialysis treatment at home.
Wrapping Up,
Medicare Advantage members and care providers are seeking enhanced care value systems to experience better health outcomes. Mobisoft's RainbowCare services offer an extensive suite of supplemental benefits as access to patient care. Health organizations are implementing such digitally integrated services to provide an overall health care system.
The RainbowCare solution implementation has made it easier for primary care providers to be more decisive towards value-based care system models and have better analytics to improve outcomes and reduce costs. The supplemental benefits for the chronically ill have helped caregivers to expand their caregiving options and reduce hospital and ED visits. With RainbowCare solutions, accessing value-based care has become easier more digitized, thus enhancing earlier treatment and patient care access.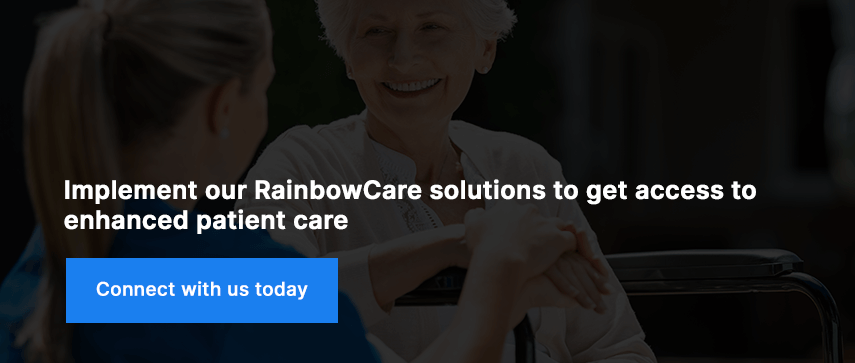 Author's Bio

Ayushi Patel is the Director of Strategy & Innovation at Mobisoft Infotech. She leads the strategic partnerships and initiatives in the healthcare division. Her experience includes healthcare administration, business development and sales, and customer success management.