Among the 130 applications from 60 countries which UNESCO received, Khushi Baby has successfully made it to the final 14.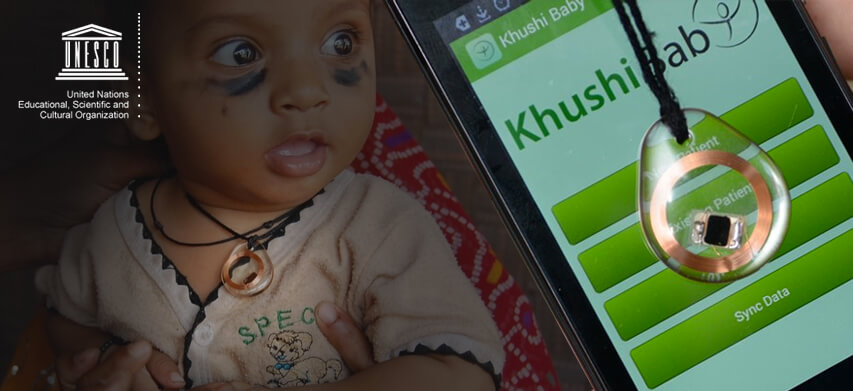 We are thrilled to announce that Mobisoft Infotech's client Khushi Baby has been selected as one of the case study finalists in the UNESCO-Pearson Initiative for Literacy: Improved Livelihoods in a Digital World.
Khushi Baby combines wearable technology, mobile health, and cloud computing to build a complete digital solution for child and maternal health in India.
Along with 13 other case studies, Khushi Baby will exhibit an extensive range of digital solutions, which includes e-services for health; government; agriculture; climate change; and refugees & migrants.
What Is UNESCO-Pearson Initiative For Literacy?
Information and communication technology (ICT) is primarily changing the way people work and live, learn and socialize. But 758 million adults, including 115 million youth in the world are still lacking the basic literacy skills required to boast the benefits of increasingly digitized economies and to fully engage in modern society.
A joint venture by UNESCO and Pearson, an international educational company analyzes new ways to enable low-literate and low-skilled youth and adults to gain from comprehensive digital technologies, following which their basic and literacy skills will be strengthened.
By analyzing, reporting, and sharing various ingenious case studies from around the world, this project will develop instructions for creating more broad, usable and available digital policies and solutions with an end goal of closing the global literacy gap by 2030.
The Procedure
In the forthcoming months, each of the finalists will closely work with UNESCO to develop the case study, and it will be published on the official website of UNESCO. The initial batch of case studies with the theme 'Literacy in a Digital World' will be exhibited on the 8th of September 2017, which is also celebrated as 'International Literacy Day'.
This initiative by UNESCO-Pearson will develop a set of guidelines on the basis of trends analysis and the 14 case studies. Digital solution providers, governments, and financial & technical partners will further use these guidelines to illustrate the positive impacts of digital technology on the low-literate or low-skilled people in the attainment of the Sustainable Development Goals.
This collaboration as a part of Project Literacy movement brings together a global and diverse cross-section of organizations and people to help unlock the competence of communities, families, and individuals everywhere with a vision that no child will be born with the risk of lacking literacy.
About Mobisoft
Mobisoft provides a complete solution for mobile, cloud, and the web and empowering startups throughout the product life cycle. We have worked with 100+ global tech startups over 7 years, providing mobility solutions and aiming at shaping their technology business. The company has launched more than 100 startup products across the wide variety of different and important verticals.