"Good will for a business is built by good goods, service and truthful advertising"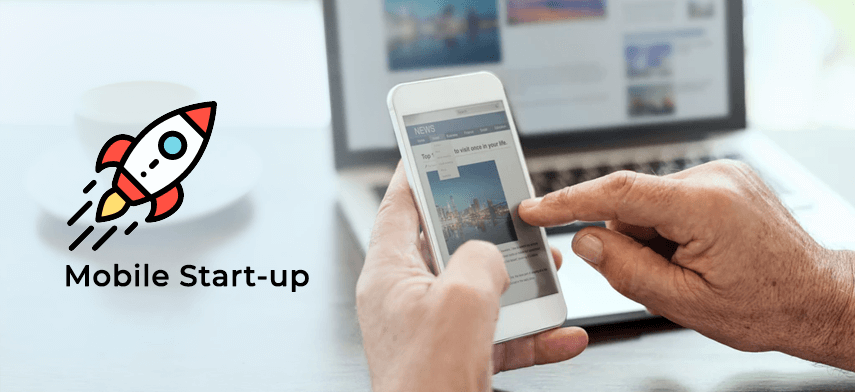 -E. R. Waite
When unfolding a new venture or embracing a new chapter of life, the first step is always the toughest! Nevertheless with the right grit, determination, focus, and hard work, you never know you may end up making it big in any domain, leave aside the business world. When we think of the world's most powerful entrepreneurs and look back to where they started, they all have a story to tell. A great idea can be a beginning towards a brighter future, however, there are many loose ends to fasten for a business to come strong and withstand the demands of the changing times.
We are well aware of the fact that out of the hundreds and thousands of new business ventures, only a few success stories reach the masses. Thus it is important for a business start-up to be well guarded with resources, manpower and all the essentials to deliver each day.
Here we highlight a few fundamentals of mobile start-up that need to be considered when plunging into this domain:
Have a thorough know-how of the app development process
Most mentors believe that experience is the only source of knowledge. With experience come confidence and the ability to work with minimum errors and favorable outputs. Nevertheless for startups one can fill this void through prudence and in-depth understanding of the entire process of creating an app. A few pointers that can help you excel are:
i. Define your clear goal and if possible chalk out the structure and layout of your idea to conceptualize it visually.
ii. Research, research and more research: Check for other competitor apps that are doing similar things. Find inspirational designs. Know the technical requirements that you might have to fulfill, and also have a know-how of marketing and other monetization techniques.
iii. Create a Storyboard and a Wireframe to produce a prototype of your app.
iv. Structure the back-end of your app through sketches of your APIs, servers and data diagrams.
v. Review your wireframe prototype and attain a feedback from experts and friends, which can serve as a test run; most flaws and dead-ends can be identified in this process.
vi. Get started to work on the back end of the app with defined server setups, databases, APIs and storage solutions.
vii. Designing the "skins" of your app: Skins can be defined as the individual screens of your app. Finding a high resolution adaptation of your wireframes, and incorporating all comments from the prototype testers can help you attain the perfect UI.
viii. Test, Revise, Continue to Build, and Redefine each detail to witness a more polished and refined outcome.
ix. Time to release: Plan and think ahead for your app to hit the market in a timely fashion. Apps submitted on the apple store take weeks for approval before they are made available to users. Submitting your app on PreApps is also a good move to reach primary adaptors.
The kind of apps: Native, Hybrid or Web apps?
There are many factors to be considered while you decide the technology to go with to build your app. Visualize your business objectives and the idea behind building the app to make first-rate choices. Each technology has its own pros and cons, and thereby an informed decision is a must for better functioning of your app. Native apps are the best choices as it features superior speed and performance that can turn into a smart investment any day!
iOS, Android or Windows?
With advanced features and enhanced user and developer experience that one is being witnessing on every platform, choosing the right OS for you app is becoming difficult. A lot depends on factors such as your requirements and the functionality offered by your app. Android though has attained the top honors of being the most used OS, there is no secret that apple introduced the mobile Smartphone movement with its one of a kind all-encompassing user experience. There are times when a particular OS does not fit the requirements of a potential client or user. Choosing the right operating system to accommodate your prerequisites is thereby a personal decision.
UI Design
Designing is an integral part of the app development process. As Steve Jobs has rightly said, "Design is not just what it looks like and feels like. It is how it works", the working and popularity of your app is highly influenced by its design.
Designing includes jotting down the nitty-gritty structure, features and flow that will define your finished mobile app. UI design focuses on meeting the expectations of the final user, and also incorporating elements to facilitate a certain ease of access and understanding of the interface. Choosing the right interface elements will help complete the task with efficiency and satisfaction. These include input control, navigational components, informational components and containers to name a few.  A definite amount of practicality and discipline is required to develop an enjoyable and functional app.
Know the revenue models
An Entrepreneur needs to be well aware of a few successful revenue models in order to ensure that the cash flow is not disrupted. Revenue models are mostly defined through the apps that you create. Besides, giving a few insightful tips to your clients might only add up to your business relationships and reputation. So whether you opt for paid apps, freemium, in-app purchases, sponsorship/promotions or analytics, ensure that your app is designed and developed to conveniently fit into these models. For more information, read our previous newsletter on monetization.
How to pick a server for your app?
The process of building an app cannot happen in a condensed form because most app users expect their application to work and interface with the many Internet services. Building a mobile app is basically creating an interface with the apps server and the other network services. Mobile app developers face many challenges while picking a server or choosing a cloud solution to implement things such as analytics, storage, user information and push notifications. Nevertheless with a new wave of service stepping up in this domain, there is ample choice to pick the best cloud solutions.
Amazon's AWS SDK offer services for both iOS and Android platforms with code samples to leverage the services such as EC2, S3 and SimpleDB within the app. On the other hand Microsoft is driving on Windows Azure for development-friendly mobile solutions. It has officially released APIs and SDKs for Android, iOS and Windows phone. Besides app developers can now link google apps to the App Engine using Google Plugin for Eclipse.
Know your legal rights
All startup founders need to abide by law for the smooth functioning of a firm. For a mobile app start-up, it is essential to protect the idea, the source code, the ownership and the app name. You should be well aware of the Copyright Act of the concerned nation where you are starting up your business and also attain, "original works of authorship". Apart from this registration, trademark and license agreement need to be attained to make sure that your brand and intellectual property is well guarded.
Estimate the time, cost and materials required to accomplish a task
Taking into account the amount of work, research and the client requirements, an entrepreneur needs to find out estimated time and cost, besides making necessary arrangements for the resources or material required. A better know-how of the app development process is a must here to define the estimates.
Have a long term plan
With constant updates in technology one has to be foresighted enough to build an app that can withstand the many changes that are bound to happen or in the process of happening. New versions of mobile operating systems and phones are launched every 18 months. Thus your product should be made keeping in mind that it has a good run. It will need continuous updates in order to work with future versions of the phones and operating systems.
Competition in a mobile app development business is growing thicker every passing day. With hundreds of thousands of apps on the various app-stores, a mobile start-up needs to prove its mettle at every step, and be guarded with solutions to withstand the overly crowded competitive market.  The above explanations can definitely help you create a niche of your own in your mobile-start-up venture.
In-House News
Mobisoft attains a new milestone – Awarded 8th fastest growing company by Houston Business Journal 2014: With this honor we hope that we live up to our own expectations and render even better services to our clients.