Patient-provider communication is an integral element in delivering the quality patient experience. mHealth apps are playing a pivotal role in improving the information flow and subsequently enabling enhanced patient care services.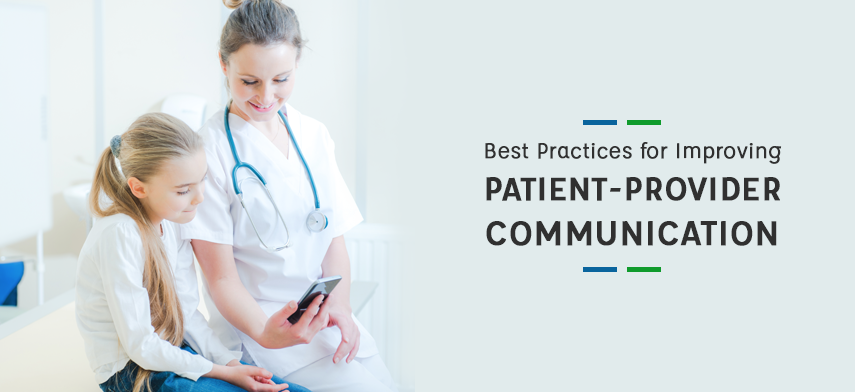 The behavioral temperament of a doctor towards his patient is critical to delivering good treatment results. The level of understanding between the two has to be in harmony as It further strengthens their connection for acknowledging treatment choices, health problems for which the physician can provide better diagnosis and treatment.
According to a research, there is a need for a multilevel understanding of patient-provider communication, which can be based on both motivational and behavioral models. It facilitates the ability of a provider to communicate, process, and receive information from the patients for further curative operations. Communicating with patients also alleviates the uncertainties in their mind. However, that requires some ways, which will give them a supporting tool for deciding what is good for their health.
To understand it better, we have summed up the best-known practices that will help with fruitful communication between the patient and the provider. Let us learn about them.
List of Best Practices for Patient Communication
Utilizing Health IT to Improve Communication

For modern medical science, health IT can act as a boon that triggers a new level of treatment. Health IT can actually benefit in a stronger mode of communication that does not even rely on physical presence between a physician and a patient. Usage of new technology such as medicinal software, smart device apps, and algorithmic medicine journals can develop stronger patient-provider connections.

In behavioral therapies, where the presence of a physical being may hinder the characteristic traits of a patient, health IT steps in to communicate through a technologically advanced method. In such methods, helpful tools such as medical apps utilize the way a patient responds to certain acts from a provider. The analysis then offers a better judgment of the way a patient responds or tries to respond. Overall, using health IT has enabled physicians to communicate and counteract any issue regarding the patient from a remote location.

Encouraging Patients to Use Portal Facilities



Another mode of practice for patient-provider communication is the use of portals. Just like health IT apps, these also offer an advanced-level platform that improves and streamlines the healthcare-based methods of physicians. For your ease of technology solutions development, a patient portal can be considered a platform that records a patient's medical data, prescription schedule, doctor's appointment, conversations, etc. Overall, it can be termed as a digital journal that keeps track of daily activities of a patient for better judgment.

In addition, it is helpful for the doctors to keep track of the communication that occurred with the patient. Doctors have many patients to look out for, which makes it inevitable to keep track of each patient through a record. This is where a portal comes in handy. We can consider patient portals to add value to the patient-provider relationship in the following ways:

To decrease the chances of missing doctor appointments and medicine administration.
To engage patients in active participation in their health management.
To increase the efficiency of administrative operations that may have required more staff members, otherwise.
To improve communication between the doctor and patient.
To reduce the barriers of long distances that usually occurs among patients and providers living in remote locations.

Offering Counseling to the Patient to Make Them Comfortable
Counseling a patient can have a significant impact on their behavior. However, this practice needs to be planned with caution as some patients are traumatized by their medical conditions, which can lead to counterproductive consequences. A reason behind it is that patients, no matter how defensive they are towards their imperfection, want to listen. They want to reveal what is affecting them.

In addition, this method helps patients come up with whatever is troubling them. It lightens them so that they can think more positively and deal with their situation with better judgment. For this method to execute successfully a physician will have to listen, remain objective, communicate verbally, and non-verbally, etc., to help a patient fight his fears and open up completely.

Do note that counseling is not merely about advising, but also about listening someone else's conclusions. In this case, a patient should be encouraged to be more rational in the case of a medical disorder so that he can be stronger in facing the condition. This further helps them stay relaxed through the decision-making event.

Furthermore, patients should also be encouraged to create their own health data, which can help build up a stronger patient-provider communication. A patient's participation keeps him/her motivated throughout the medical treatment, making physician's work a lot easier.

Treating with Empathy



Above all forms of practices, patient empathy stays on the top. This form of practice is the keynote of all therapies where a provider needs to show compassion and sensitivity towards a patient to boost his morale. Many studies based on this treatment have been proven to work properly leading to higher ratings of satisfaction by patients. A research at Massachusetts General Hospital found that almost 65% of patients were found to be more satisfied when the provider offered them empathy.

However, contradicting to the above practices, a provider who uses empathy for communicating with patients has to limit the usage of health IT and patient portals. This was facilitated in a research where patient satisfaction ratings were more from providers who reduced the use of computers, etc.

Further research showed that about 48% of patients gave their providers, who used computers for communication, high ratings. On the contrary, 81% of patients were comfortable with the providers who had limited use of computer-based portals and IT technology.

There is an interesting line of reasoning behind it. Although computer-based patient-provider connection led to promising results, it did not offer a deeper connection with the patients. Too much rational thinking may lead to a distressed patient. Not all patients are practical enough to understand the rationality of a medical situation. So, some felt empathy as a better alternative practice towards harmonious communication.
Nonetheless, all the above-mentioned practices are capable in their own ways and are able to offer suitable results for streamlined connections between patients and providers. The key is to understand the behavior of a patient and learn whether he will be fit to move forward with the treatment through empathy or other methods. Only after a clear judgment, a provider can understand the patient fully.
Conclusion
As we see the movement of the healthcare industry deeper into the world of technology, provider communication and patient satisfaction may result in a complex situation. Whether patients look forward to connecting with health IT and similar technological advancements or look forward to truly interpersonal communication, it can only be clearer through the better understanding of the patient's feelings and sensibilities.
Practicing the above methods can help in better patient-provider communication to a certain extent. Some cases may be solved using any one of the methods, while others may involve the use of a hybrid method. The key is to balance the methods so that there will be a prudent way of judging patients' temperament and sensibilities. It may take time, but eventually, healthcare providers and patients will have a stronger bond that connects them deeply.
Author's Bio

Shailendra Sinhasane (Shail) is the co-founder and CEO of Mobisoft Infotech. He has been focused on cloud solutions, mobile strategy, cross-platform development, IoT innovations and advising healthcare startups in building scalable products.