Medical research has always been an essential part of healthcare industry. However, collecting clinical data via mobile devices is not so easy for healthcare organizations and medical researchers. Not being able to reach a wider group of participants makes it difficult to conduct a mobile-based research.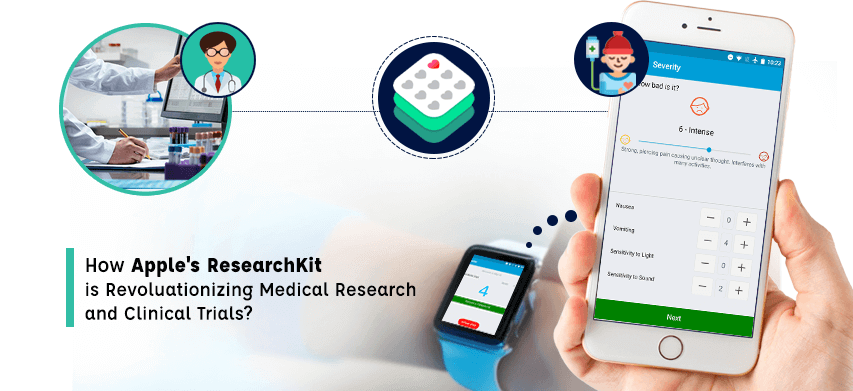 To resolve the challenges of clinical data research via mobile, Apple ResearchKit was launched in 2015. Apple has designed this framework to make the clinical research work convenient and impactful for healthcare organizations. The kit offers modules that help in simplifying data collection along with better security assurance and accurate conclusions.
Since the launch, this open source framework has made it easier for researchers to enroll patients and gather medical information more frequently via mobile devices.
What Is ResearchKit?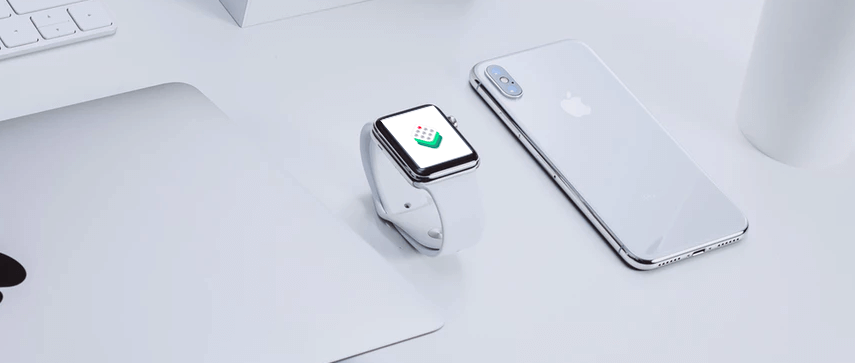 ResearchKit is a framework that makes medical research app creation easier. The open source framework by Apple offers the opportunity to include strong features in an app for medical research. Doctors can conduct versatile medical surveys with the help of customizable modules that become possible with this framework. The kit provides real-time activities, which brings a dynamic nature in the research process.
ResearchKit works seamlessly with HealthKit – another Apple created framework that centralizes the data storage of personal health information and makes it easier than ever for doctors to gain access to the large data and study them together.
How Does ResearchKit Work?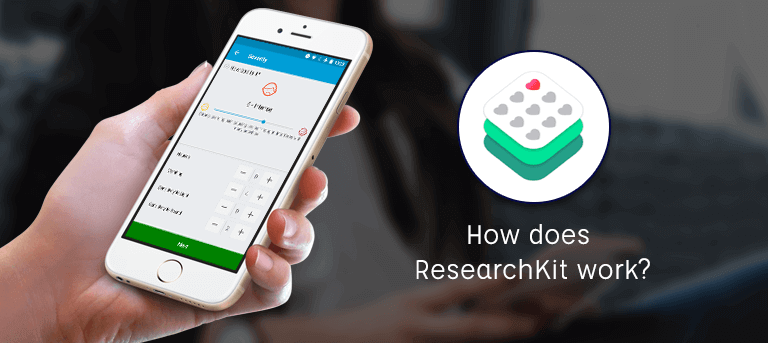 Being an open source framework for medical and research app development, ResearchKit allows professional app developers to create well-defined and research-oriented apps for healthcare research. Medical app developers can use the framework to create model presentations and survey apps.
With that, medical professionals can create templates that exactly match their survey requirements. After getting the approval of the visual consent, the template becomes ready to be spread among the participants.
With the active data collection, researchers can gather health-related information from the participants who use iPhones and Apple Watches. With that, the research for asthma, diabetes, cancer, and other diseases become possible for the medical researchers.
Benefits of ResearchKit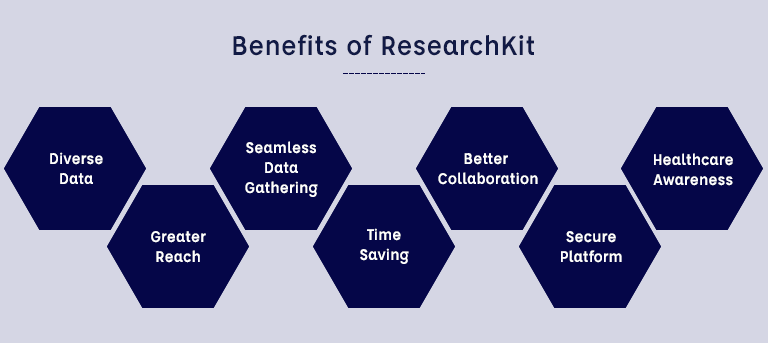 Here is how Apple's ResearchKit apps benefit medicine and healthcare research industry:
Diversity of the participants

People who participate in medical and clinical research usually come under certain demographic. The lack of awareness, busy lifestyles, and other issues don't allow people to volunteer in medical research studies. And that presents the problem of low diversity in the data obtained. The lack of diversity in the participation makes clinical trials less effective in terms of study requirements.

With the applications created with ResearchKit, doctors can easily promote their surveys among all the iPhone users. Finding a diverse community of iOS device users provides a better quality of data for medical studies.

Opportunity to obtain a huge amount of dataAsk any medical professional or scientist, they will tell you the importance of the amount of data in research work. Every experiment requires as much data as possible in order to make observations more accurate and directed towards the right goals. As there are millions of Apple device users, the medical apps from ResearchKit become a perfect source to gather a huge amount of data.

ResearchKit apps provide the much-needed strength to the observational capacities of the researchers by providing them a huge quantity of data. Millions of people can download the app on their iPhones and participate in the studies related to cancer, asthma, cardiovascular health and other diseases.

More awareness among people about various diseases

People, no matter whether they are a patient or not, struggle to find answers to their health-related questions. They know that even small details of their lifestyle matters in terms of their physical health, but finding the answers seem pretty much impossible due to lack of immediate resources. But with these apps, people can become more aware of diseases such as diabetes, cancer, Parkinson's and heart-related problems.

The applications built with ResearchKit allow patients to indulge in advanced medical studies and obtain valuable insights related to the diseases they are struggling with. This presents a positive change in their lives and allows them to resolve their confusions.

So, it would not be wrong to say that ResearchKit applications create a collaborative connection between people and medical researchers. And that helps both the parties in learning from each other.

Precision based data collection for medical research

Human error and confusions contaminate the data during a medical research. Most of the times, participants either overestimate or underestimate their activities and conditions. For instance, a patient might say that he follows a healthy diet, but it is possible that the reality is not as transparent as the patient thinks. This happens subconsciously, a patient can't even detect that he or she is providing wrong details to the researchers.

The issue of inaccurate data goes out of the picture with ResearchKit software. The applications, being compatible with the HealthKit, provide accurate data related to the diet, exercise and other health factors of a participant. As a result, the researchers don't have to worry about the contamination of the information due to human errors and misconceptions.

Time-saving research models

Traditionally, it takes a lot of time to conduct a research, collect data, analyze them and publish the outcomes of the research. But new age medical research apps make them substantially shorter. The availability of the applications on iPhones brings a certain degree of automation to the research work. With that, the application enables data collection and analysis at a pace that wasn't possible before. The effective features and modules provide transparency during the data analysis, which allows scientists to come to the conclusions at a faster pace.

Ability to collaborate with other research institutes

The open source framework of the kit gives an opportunity for the research institutes to collaborate with each other. This is a much-needed benefit for a good medical research, as the institutes can now empower each other's research study, instead of just repeating the same work again and again.

Participant's PHI secure and intact

People may not be comfortable to share their medical history or other information in the digital world. They need to be sure about the security and protection of their personal health-related information. And that is exactly what ResearchKit applications offer in the medical research studies. Doctors are able to engage more participants with the security assurance of the framework offered by Apple.

Apart from all that, ResearchKit also enables applications to detect behaviors of the participants via video and audio capturing features.

All in all, this open source medical research framework by Apple is a much-needed solution for medical research and survey requirements.
Some Limitations With ResearchKit
There are a few concerns that researchers and developers come across when it comes to ResearchKit.
The researchers question its ability to provide a compliant and organized data storage facility. The kit lacks in that department and doesn't allow researchers to store the obtained data for analysis and publishing the reports out of the box. Hence, the medical professionals have to turn towards third-party services for the storage.
On the other hand, developers seem concerned about the limitation of ResearchKit within the iOS boundaries. The framework is not available for Android, which is a major mobile platform apart from Apple's iOS.
Wrapping Up!!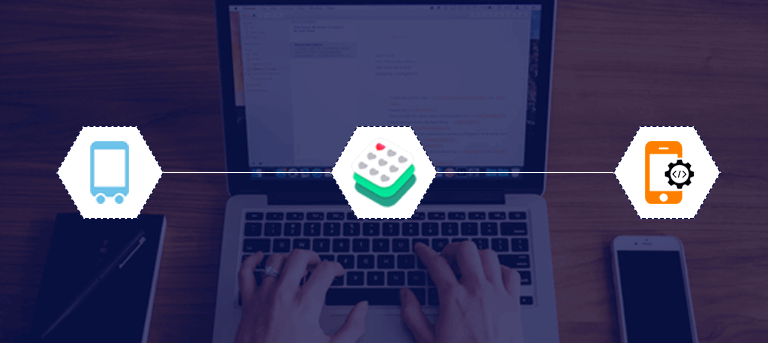 With a clear perspective and effective use of the ResearchKit, the applications provide the capacity to change the medical research processes. This change is positive and effective for the patients who are struggling with heart diseases, diabetes, asthma, and Parkinson's. At the same time, the same applications become a valuable assistant and manager for the medical researchers.
Keeping the requirements of the healthcare industry and people in mind, it would not be wrong to say that Apple's ResearchKit has been transformational. The modern environment of healthcare industry needed this change that has become possible with the framework designed by Apple. And it will surely change millions of lives in a positive manner.
Mobisoft's healthcare team can build custom medical research and survey apps powered by the ResearchKit framework for medical research organizations and hospitals. We have the expertise to build additional functionality into the app as needed by a research study and also integrate with existing systems as per the needs.
Get Started on Your ResearchKit App Today!!
Author's Bio

Shailendra Sinhasane (Shail) is the co-founder and CEO of Mobisoft Infotech. He has been focused on cloud solutions, mobile strategy, cross-platform development, IoT innovations and advising healthcare startups in building scalable products.