The COVID-19 pandemic has completely changed the way people do business. The global supply and logistics businesses have to face an array of challenges to meet customer satisfaction in these tough times of pandemic. However, most businesses are already in recovery mode and have learned lessons from the problems that COVID-19 has caused over the past year. Those that failed to take action against potential future disruptions were the ones that were most affected.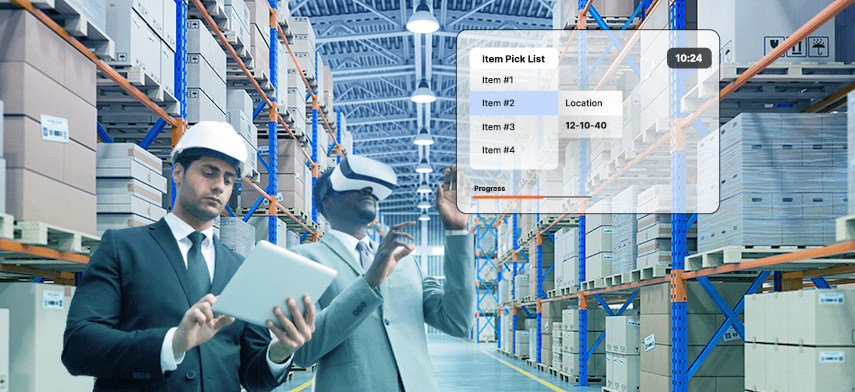 Now more than ever, we can see how investing in supply chain resilience is important in order to build stronger long-term operations that can mitigate the effects of upcoming events such as this. As of late, new supply chain technologies have emerged with the aim of improving visibility across the end-to-end supply chain.
Technologies like AR/VR are all set to transform the future of logistics and supply chain management. Digital Supply Networks are on the rise, taking over the traditional silos and breaking them down from their linear model. With such advancements at hand, businesses are now directly connecting to their supply network in order to improve visibility, speed, and collaboration. Let's find out how.
The Global AR/VR Market Size
Augmented Reality (AR) and Virtual Reality (VR) are not just concepts we see in movies. They have turned into a reality that is being used in many industries worldwide and is fast becoming an integral part of a businesses' operations. As of 2020, the global AR/VR market size has reached a value of $30.7 billion dollars. According to forecasts, this number is going to rise dramatically to $296.6 billion by the year 2024.
Experts believe that the rise in the use of smartphones and computers, as well as how many industries and businesses have now begun to adopt these technologies is what will cause this market to bloat. Add on to the fact that vendors are now looking at ways to reduce prices of using this technology, it makes sense for this market to grow at such a pace.
Impact of AR/VR on Logistics and Supply Chain
Both AR and VR have the potential to revolutionize the way the traditional supply chain works. If integrated well into any business, an augmented reality warehouse shall speed up and improve the efficiency of employees in the picking process, while virtual reality is critical in improving the current process of deliveries.
To improve the delivery process, VR can be used on the delivery vans and packages themselves. To check their routes, drivers would usually have to use their navigation systems which causes them to look away from the road ahead. With VR, this information can be broadcast on the windshield so that the driver can see the route while also not placing himself and the van in danger.
With the way these technologies are improving, logistics companies that fail to take this into account will soon fall behind those augmented reality logistics companies that adopted and implemented these strategies early on.
Using AR/VR to transform the future of Shipping and Logistic Companies
As we have seen over the years, many businesses are using new methods and technologies to improve the future of logistics and supply chain management. When it comes to transforming the traditional methods, few have come close to the scale of what AR/VR can do.
Especially in current times where people are forced to work from home, we can see that even though logistics previously required all staff to show up to work, it is no longer necessary to keep business flowing.
People can work from anywhere and still keep the supply chain going through the use of technology. Like this, AR/VR will be the foundation for future technology that will transform the way a logistics business is run.
Let's look at some ways that AR & VR can be used to improve logistics operations:
Inside a warehouse, an employee would usually have to locate where the product is, scan it, and then deliver it to the shipping area for the order picking process. Considering all the products inside that warehouse, this is a slow and painstaking process. However, VR can be used to create a virtual reality warehouse and instantly locate where the product is, show the closest route to get there, and then scan the barcode all with the same smart lens. This improves the speed of deliveries dramatically and reduces human error as well.

VR can be important in speeding up the process of training new employees as well. Whether it is learning how to use a new piece of equipment or learning the best ways to load freight, VR technology can significantly speed up the training process. Employees can have better knowledge retention by repeatedly doing the same tasks on the VR headset, their safety is assured working on a virtual device, and in the end, this all leads to higher productivity and better-trained employees. In 2021, XPO Logistics became one of the more recent logistics businesses to use VR to train their workers.

AR markers can be placed on the delivery packages which serves two purposes. From the logistics company side, they can track all the packages from each delivery point by simply scanning the markers. This reduces the chances of theft and product tampering which can happen over long-distance journeys. From the customer's standpoint, they can get more information about the package such as where the product was manufactured.

Key advantages of using AR/VR technologies
Overall, AR and VR technologies have many benefits they can bring to shipping and logistic companies. It is not just logistics companies that will benefit from these, but the consumers and businesses that receive better shipping times and more efficient deliveries as well.
The future of logistics and supply chain management companies shall witness a big drop in their overall processing costs with the use of AR & VR. This is due to the shorter lead times that will occur with the use of this technology, as well as the reduction in human error rates.

Employees' satisfaction levels will increase as their workload becomes easier. They don't have to constantly walk around looking for packages or sort through many pages of paperwork on a daily basis. There will be a massive reduction in the number of unnecessary tasks they have to do.

The employees' workloads can also be distributed more efficiently. They are more flexible with how they work and more easily trackable inside of the warehouse. This way, unproductive areas can be improved to increase efficiency. On top of that, even communication and support between teams can be improved through these smart glasses and other AR technology. Having the ability to call meetings, get help through the screen, and even get approval from your manager will definitely streamline the process and reduce unnecessary time wastage.
Optimizing Pickups and Last-Mile Delivery Workflows
AR/VR has a lot of potential to completely change the way the end-to-end delivery processes are handled. When it comes to pickups, there is a lot of time and effort wasted on making sure that the deliveries are going out with no errors. Here are some ways that AR/VR technologies can optimize the order picking as well as their last-mile delivery services:
When a truckload of deliveries is set to go out, employees will have to check every box to make sure everything is in place and that nothing is missed. With AR, the whole truck can be scanned using a depth sensor which can identify all the boxes automatically. This way, it can account for all the packages without having to go through them individually.

On the way to the final destination, there are still many hindrances that can be costly to the logistics company. Traffic congestion on the roads will mean longer wait times and more personnel and fuel costs. This can be optimized by using AR to find the most efficient route.

Custom VR/AR apps can also be created to match the requirements of the logistics company. With a custom app that has been filled with the information about the packages inside the delivery vehicle, the driver can just point the AR-enabled device at any package to get the information about it. This way they don't need to look through each box individually, but can simply scan through the boxes from a distance.

Another way a custom app can be used is by creating one for the purpose of delivering information. Using this app and an AR-enabled device, the delivery driver or staff member can get real-time information about the status of the delivery. They only need to scan the package with the device and it will mention any time restrictions placed on delivering the item, any critical changes to the delivery such as a change in address, and so on.
Final Thoughts
AR/VR will definitely become a key for changing the way the supply chain is optimized in the future. At this point, we are still not up to the level where we can utilize AR to fully optimize the entire process. But, with the progress we have made so far, many logistics processes are already seeing a massive increase in productivity and efficiency. And the way technology is improving, we are well on the way to making AR a reality in the business, which is the future of logistics and supply chain management.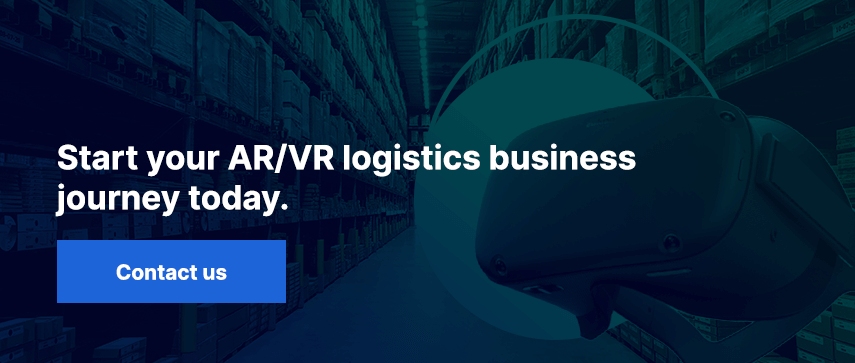 Author's Bio

Nitin Lahoti is the Co-Founder and Director at Mobisoft Infotech. He has 15 years of experience in Design, Business Development and Startups. His expertise is in Product Ideation, UX/UI design, Startup consulting and mentoring. He prefers business readings and loves traveling.