Taxi booking and ride-sharing apps have completely revolutionized the way we use a cab to move from point A to point B. Now we can quickly hail a ride from an app from any place and track it in real-time. Cab rides can still be expensive and may not be the right medium for travel for certain times and places in a city due to challenges like traffic congestion and costs. Recently a new type of taxi segment, popularly called bike taxis have been gaining traction through either standalone bike taxi apps or as an additional option in already popular cab-hailing apps in Asian countries like Indonesia, Thailand, India, Vietnam, Cambodia.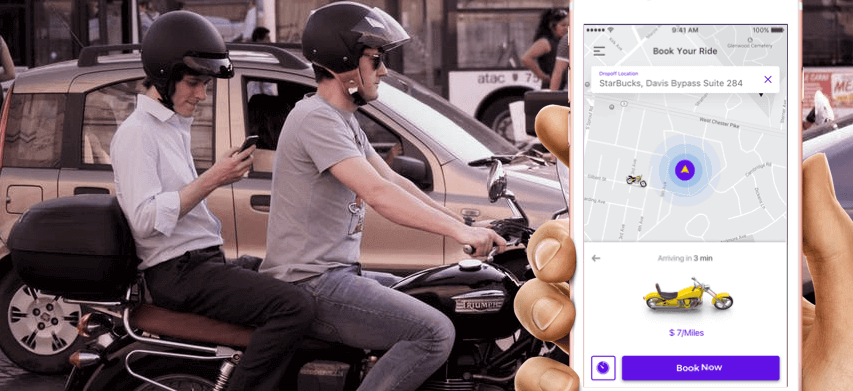 What Are On-Demand Bike Taxi Apps?
Think of them as an Uber for motorbikes. You can book a bike instead of a car with bike taxi apps in the same way you hail a cab with Uber or Ola or Lyft. A bike rider will pick you up from your location, provide a helmet to wear for safety and payments can be made online.
Bike taxi startups and service providers either have their own fleet of bikes or allow bikers to share their trip route with others (Bike Pool) and receive pickup requests from an Uber driver type app.
Benefits Of On-demand Bike Taxi Services
There are two major factors that make bike taxis a more attractive option for commute than a typical cab ride.
Most of the bike taxi apps and services operate in countries with high population and congested roads. Bikes are better at navigating traffic jams and reach the destination quicker than a four-wheeler. If it takes 40 minutes to travel a distance by car, you will be able to cover it within 10 minutes on a bike.
The cost of traveling on a bike is much lesser than booking a cab due to some obvious reasons. Even though app powered carpooling and shuttle services have made travel more affordable, bike-based taxi rides can still be a cheaper commute option.
Many app based bike taxi startups and services are trying to capitalize on this. Below is a list of some of the most prominent bike taxi apps and services in Asia that have made on-demand bike rides a reality and popular among the public.
Jump to
Top Bike Taxi Apps
Hailing from Indonesia, Go-Jek is one of the most successful on-demand bike taxi booking apps. The company started with just 20 bikes seven years back and worked its way to a $2.5 billion market value.
Operating in 25 cities of Indonesia it employs over 400,000 drivers of cars, trucks, and motorcycles. Go-Jek is also eyeing to enter four more countries in Southeast Asia.
The company also provides a plethora of services like food delivery, on-demand cleaning, beauty services and more. Their payment system GoPay is also very popular and can be used to pay for any service offered by the company. All the payment is carried out through their app.
Download here: For iOS | For Android
Grab is one of the big startup success stories of Southeast Asia. It launched as a taxi app in Malaysia in 2012 by Anthony Tan and now offers a host of services for transportation and logistics services from a single app platform. It launched its bike ride service in November 2014. The project proved successful and soon the company expanded to Indonesia and Thailand. Drivers receive smartphones from Grab and the whole service is conducted through the Grab app.
It recently secured up to US$700 Mn in debt financing from unnamed global and regional banks.
Download here: For iOS | For Android
Delhi based Baxi is considered the 1st on-demand motorcycle taxi company in India. The company launched its service back in 2015 and currently offer services in Gurugram and Faridabad.
Baxi employs certified drivers who receive safe driving training. Passengers are also provided helmets and hairnet for maintaining hygiene. Bike taxi is booked via their app which is also integrated with their proprietary Baxi Wallet. Baxi had previously raised a seed funding of $1.4 million in November 2015.
Download here: For Android
Rapido bike taxi service is available in India in Bengaluru, Hyderabad, Gurugram, and Mysore. The company had collected funds from well know personalities. The list includes Pawan Munjal, chairman of Hero MotoCorp Ltd and Rajan Anandan, managing director of Google India.
Rapido is headed by Roppen Transportation Services Pvt. Ltd and offers bike sharing and delivery jobs. The booking can be made either through their iOS & Android apps or through a Facebook Messenger bot.
Rapido recently raised Rs 2.75 crore ($422,000) in a fresh funding round led by US-based Battery Road Digital Holdings LLC.
Download here: For iOS | For Android
The success of the bike taxi startups compelled Uber to evaluate its strategy. The on-demand taxi giant started offering its users a motorbike option in Bangalore, back in early March 2016 and is currently available in 9 Indian cities. As per the last update, uberMoto has completed two million trips in India. The service is available as an additional option in the standard Uber app.
Uber is expanding into other Asian markets where there is a big opportunity for on-demand bike services. It will launch a motorbike-sharing service in Dhaka soon to provide a faster and more affordable option to navigate through the capital's traffic.
Download here: For iOS | For Android
The big name in ride-sharing business had launched its bike taxi service in India in 2016. Starting from Chandigarh the company soon gained growth and expanded to other places like Gurgaon, Bengaluru, Kota, and Ahmedabad.
Similar to Uber, Ola offers bike ride bookings right from their main app. Its large app user base has helped it to push this new taxi segment.
Download here: For iOS | For Android
Founded in 2015 by Ricky Thomson, an entrepreneur from Northern Uganda and a former bike-taxi driver, SafeBoda is a vast community of Boda drivers and entrepreneurs who work together to improve the professional standards across the transportation industry in Africa. Safeboda has more than 6,000 riders in Uganda's capital Kampala and is supported by big social enterprise investors including Global Innovation Fund. In August 2018, SafeBoda has expanded its services to Nairobi Kenya.
Download here: For iOS | For Android
Established in 2015, Bikxie is another Uber bike taxi service that aims to address the last mile connectivity problem in Gurgaon city by offering a safe, convenient, and affordable option to go to any desired destination such as bus stops, metro station, and so on. Bikxie is available as an app in Play Store and App Store, and commuters can hail the bike taxi from key locations across the city.
Bikxie is the first taxi service provider in India that offers gender distinguished two-wheeler service, i.e. Bikxie Blue for men and Bikxie pink for women. This year in January, the company raised a funding of Rs 2 crore from a micro venture capital fund, GEMs Partners.
Download here: For Android
Challenges For Bike Taxi Startups
The lack of clear regulations has created operational challenges for some startups. Even Ola and Uber had to suspend their operations in Bengaluru due to regulatory concerns. Road conditions and accident rates also provide considerable challenges. Dego Ride had to wrap up its business in Kuala Lumpur because the transport department deemed it unsafe.
However, startups are optimistic about operating and convincing regulators of the benefits of bike taxis. More governments are appreciating the unique value created by online bike services and making sincere efforts to legalize them just like the normal cab taxis. Besides, bike taxis can generate new employment and revenue opportunities for the youth.
Wrapping Up!!
Bike sharing as an idea isn't new. Many of us would have asked for a lift from a bike rider going the same way at some point in time. What is different is the way these rides can be accessed today. Aggregating bikes on a single mobile app platform and making them available on demand is a much smarter approach. It is both convenient and safer for commuters with features like real-time ride booking, online payments, tracking, SOS alerts and more.
We are excited about the potential and opportunities that on-demand app-based bike taxis offer for improving the commute for users in many parts of the world. Our experience in developing numerous on-demand taxi apps for startups and taxi businesses enables us to build bike taxi apps as well – either from scratch or add it as additional ride option in an existing taxi booking app.
We welcome bike taxis to the on-demand app-based transportation services. 🙂