Today, employees around the world are demanding quicker and safer ways to travel and reach their workplaces on time. Adopting a unified corporate carpooling app can help companies enhance the mobility experience.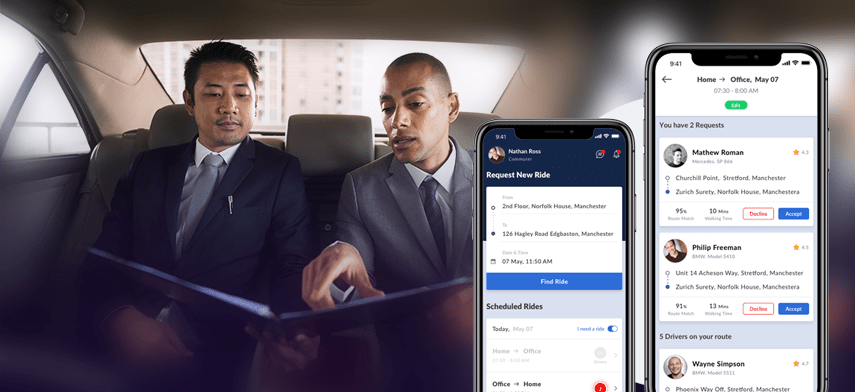 This app can help employees reach the workplace on time and improve operational efficiencies. Besides, a long-distance carpooling app can prove to be a sustainable solution and reduce costs in the longer run.
The purpose of this blog is to define a carpool app in the simplest way possible. The blog highlights some of the most significant benefits that this white-labeled carpool software brings to your table. You will also come across its top features for employees. But first, let's understand a few employee commuting trends, needs, and facts.
3 Corporate Carpooling and Transportation Trends You Can't Ignore in 2023
Here are three major trends driving the corporate ridesharing and transportation segment. Having a good know-how of these trends will help you understand why carpooling is important for your business.
Unreliable Public Transportation

Many employees use public transportation and experience first-hand stress trying to reach work on time. Sometimes, they even miss a bus or train and end up waiting for a long time before the next one arrives.

Besides, these modes of transportation are not free from disruptions. Traffic, roadblocks, public gatherings, and a range of other factors can disrupt the pickup & drop schedules and hamper overall workplace productivity.

Increased Demand for Safety and Security

The demand for a safe and secure commute to work is continuously increasing, especially after the COVID-19 impact. Employees have become more conscious about their health and well-being and avoid taking crowded modes of transport.

What's really important is that they are giving more preference to working with companies that offer stable and more convenient travel options like office pickup and drop, ridesharing, and carpooling services.

The Growth of Carpooling Market

The need for vehicles for short and long-distance employee transportation is successfully contributing to the growth of the carpooling industry. An independent report states that the global carpooling market size is expected to surpass $9163.6 million by 2027.

On the other hand, many companies have started collaborating with trusted carpooling app development companies to build feature-rich carpooling apps and web-based shared mobility solutions. Now let's get into the details of this carpooling app.
What is a Corporate Carpooling App?
It is a fully integrated carpooling app that helps businesses to encourage ride sharing between two or more employees by analyzing their shifts, working hours, locations, routes, etc.
In other words, it is a software solution that enables shared mobility to your workforce with utmost precision. It intends to make the entire commuting process safe, reliable, and affordable for your employees. There are some pros and cons of the corporate carpooling system, which you should consider based on your transportation policy and employee needs. Let's check them out.
Pros and Cons of Corporate Carpooling System
Carpooling connects individuals headed in the same direction, i.e., your office location. There are various advantages of carpooling app development that businesses and shared mobility providers need to take into consideration. We have combined the most important ones to give you a better idea.
Pros of Corporate Carpooling System
Provide Superior Mobility Experience to All Stakeholders

Developing a corporate carpooling app will help you provide a superior range of services to all the stakeholders, including employees, drivers, fleet managers, and admins. You will get better visibility across the entire transportation process.

Create a Flexible and Scalable Carpooling App

A white-labeled carpool schedule app gives you all the needed flexibility to optimize your commute operations. You get the privilege to scale your app while making needed changes related to scalability, functionalities, emergency updates, or more.

Design Sustainable Transportation Policy based on Analytics and Data

Creating an app for carpooling will help you overcome complex analytics and data management challenges. You will be able to store and analyze collected information (KPIs and qualitative & quantitative metrics) from one unified dashboard. Based on this data, you can implement a sustainable corporate carpooling and transportation policy.

Develop Custom Carpool App with Required Features

You can add desired features and functionalities to your app with the help of a mobility expert who assists across the carpool mobile app development lifecycle and help you design a custom carpool app.

Maintain Your Carpooling App & Improve Performance

After launching your carpooling app in the market, you can keep an eye on performance, riders' behaviors, total rides, app experience, and more. This data helps in improving your custom mobile app and achieving set goals.

Route Navigation & Well-planned Route in Advance

A corporate carpooling app helps you navigate routes using GPS and live maps. With the help of your mobility manager, you can set pick-up and drop-off locations in advance. As a result, fuel is conserved, and the driver is able to save time and money. Vehicle tracking and routing are available to employees as well, allowing them to see the proposed route before they ride.

Apart from these benefits, you also need to understand a few cons of building a corporate carpooling app. These are aspects that cannot be neglected to generate profitable outcomes in the longer run.
Cons of Corporate Carpooling System
Time-consuming

Developing an app is a time-consuming process. Plus, customization and third-party integrations can add up to the total development time. This process ultimately demands patience.

Update and Maintenance

The app needs continuous upgrades to perform tasks like releasing patches alongside fixing bugs. Plus, your app requires regular maintenance activity by expert mobile app developers to improve your app's performance. You may not be able to deliver a superior mobility experience otherwise.

How Can Carpooling Carpooling Apps Help Your Business?
Short or long distance carpool apps benefit both employers and employees. It helps employees travel safer and reach work on time. Businesses can enjoy more productivity and motivate their employees to work hard.
Let's understand the benefits of using a corporate carpooling app in more detail.
Safe Travel

A carpool-to-work app enables your employees to reach work safely. You don't need to be worried about traffic or roadblocks, and you can even limit the number of passengers. Employers can track all vehicles and drivers in real-time for complete visibility.

Cost-Effective Solution

Choosing a carpool app for work is a paperless approach to help you manage corporate transport. You don't have to invest in resources like paper, storage space, or office supplies. You can also reduce parking and maintenance & construction costs.

Easy Route Planning

Businesses spend countless hours planning routes for employee pickups and drops. Carpooling apps plan routes automatically by factoring in real-time conditions like traffic. Additionally, the app can easily choose the best route to save time and cover maximum distance.

More Productivity

Carpooling software ensures timely rides that enable employees to reach offices on time. As a result, they work productively and completely focus on the core competencies and objectives of your business.

Good Market Reputation

As said earlier, carpooling software benefits all stakeholders. Many employers offer it as a part of their pay package to attract leading talents. Employees shall see you as a reputed employer and look forward to working with your company.

Contribute to Sustainability

Public transportation can negatively impact the surrounding environment. Here a carpooling app can be your go-to option to reduce greenhouse gas emissions and carbon footprint alongside enhancing your CSR values.
With the help of this Comprehensive Corporate Carpooling App, let your employees –
Easily login and create profiles.

Track vehicles in real-time on a GPS-enabled map and reserve rides.

Check estimated ride prices are available on the app.

Avail benefits of multiple payment options

Check past rides and trip details like fare, travel time, and distance can be seen.

Chat and message drivers for easy communication.

Receive notifications for important ride updates.

Provide feedback and rate the carpooling service.
Conclusion
The world is already witnessing a high demand for shared mobility services. An increasing number of businesses are choosing carpooling solutions to offer the best transportation experience to their employees.
At the same time, ridesharing and car rental companies are willing to leverage a corporate carpooling app to grab a market share and satisfy unique needs. Hence, businesses need to consider developing a highly responsive app with the help of professional rideshare app developers.
Connect with our mobility experts now and learn how they can help enhance your employees' daily commuting experience.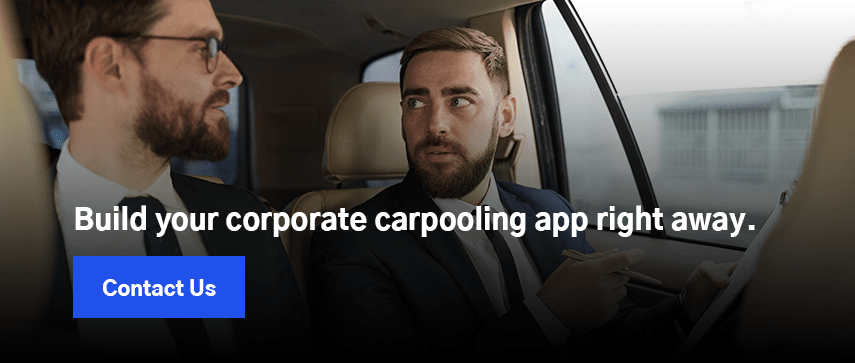 Author's Bio

Nitin Lahoti is the Co-Founder and Director at Mobisoft Infotech. He has 15 years of experience in Design, Business Development and Startups. His expertise is in Product Ideation, UX/UI design, Startup consulting and mentoring. He prefers business readings and loves traveling.