Do you want to use the best tools of deployment, monitoring, logging, and configuration management in your company? Then without thinking twice, you should have trust in the DevOps automation process. This process, along with advanced tools, improves productivity, quality, and speed all together at once. But what is DevOps actually?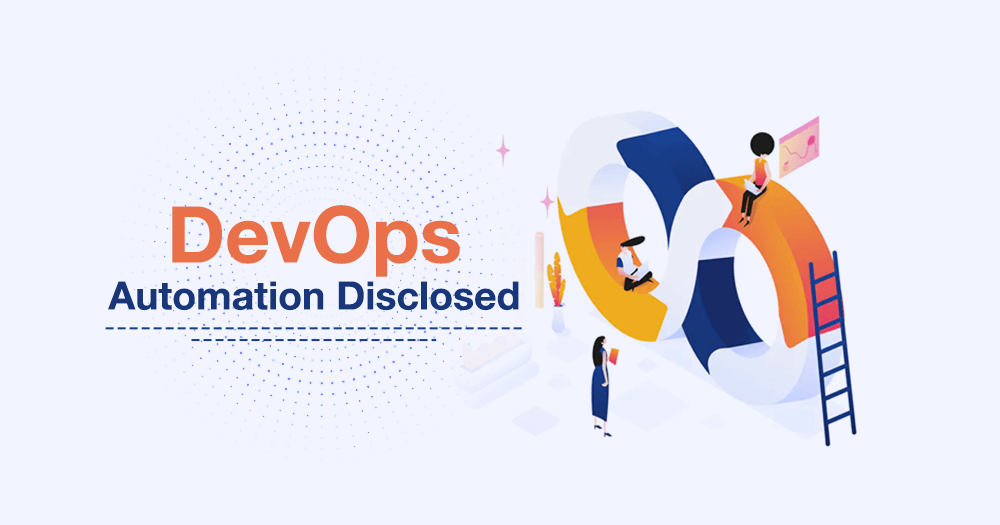 DevOps is a combination of ideas, tools, and practices that are employed for automating and integrating the processes between IT teams and software development teams. As a result, they become able to design, test, and release software more quickly and reliably. The term DevOps comes from two main words – development and operations. Many companies invest time and money to develop IT teams over the years, but they are often siloed. DevOps signifies a cultural switch that keeps the team of development and operation together, keeping the status of staying siloed at bay.
In other words, DevOps bridges the gap between operations and development, keeping a focus on collaboration and integration. It combines Agile, automation, Git, and much more to help the teams be more productive, efficient, innovate quicker, and provide higher worth to both a company and its customers.
Do not consider DevOps as a specific tool or technique that you apply, and your job is done. This is a mindset, a culture that your company and team can adopt and that continuous practice will make the business process more efficient and seamless.
Don't you think this is the right time when your company should avail DevOps services? Today's post will tell you why it is necessary for you. Before diving into that discussion, let's first have a quick glance at the history of DevOps.
History of DevOps Process
In 2009, the term DevOps was first introduced in a conference by Patrick Debois, a consultant, project manager, and Agile practitioner from Belgium. Since then, enlightened and progressive IT experts have nurtured this concept in various disciplines. Two primary movements from which the DevOps process has been inherited are:
Agile System Administration Development

Agile software development is all about close alliance of consumers, product management, product developers, and more. In the DevOps process, the principle of Agile system management gets acknowledged, and it outgrows the Agile principle beyond the limitations of code to complete delivered assistance.

Enterprise System Management (ESM)

Many people who once used to be system administrators now are involved in DevOps. They have brought important enterprise system management best practices to the DevOps process, including automated provisioning, configuration management, toolchain approach, system monitoring, and more.
To break the silos and inflexibilities among staff in companies, the introduction of DevOps happened long ago. It is getting more advanced day by day, automating end-to-end deployment, and encouraging an environment of responsibility and collaboration
This advancement has made DevOps a trend globally, and this trend is here to stay.
Global Market Trend of DevOps
According to an industry analysis by Grand View Research, the DevOps market size is expected to grow annually by 18.60% by 2025. Many companies around the world have started embracing DevOps. In fact, according to a survey, around 80% of respondents stated that DevOps is important in today's age. Every year the adoption of DevOps is growing among companies.
Top 5 major trends that you can expect this year and near future in DevOps are:
Focus on automation

Advancement in AI & Data Science

Usage of Serverless infrastructure

Betterment in Embedded Security

Faster adoption rate of new technologies
JFrog, a US-based software company, is already pioneering consumer experience through DevOps. Companies like Amazon, Netflix, Esty, Walmart, etc. have started using DevOps in their day-to-day processes to improve efficiency and ameliorate delivery time.
In a nutshell, DevOps is a rising trend in today's age, and it is expected to grow more in the coming future. It offers myriad benefits to a company. Before learning about the benefits, you should know about the lifecycle of DevOps.
Lifecycle of DevOps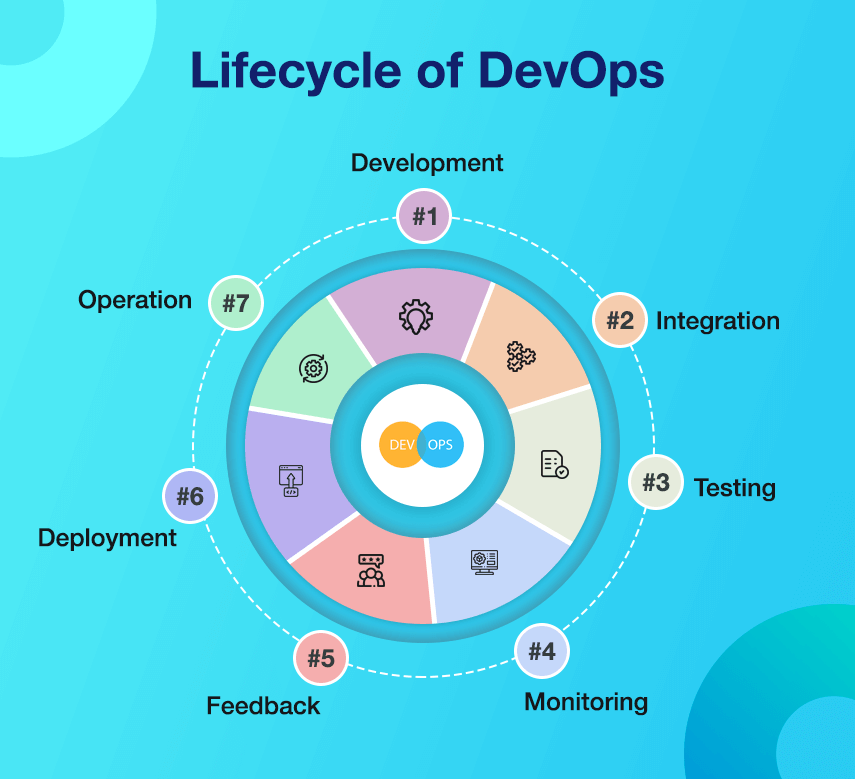 Below are the 7 phases of DevOps lifecycle; all the phases are processed in continuous mode:
1
Development
This is the first phase, and it is involved with planning and software coding. Planning signifies the complete understandability of a project's objective and envisions software that would work based accordingly. While planning about the type of application you need to develop, there is no such importance as complicated DevOps tools. Then comes coding where you need to code that particular application as per your client's need with the plan that you already developed. It is involved with various tools and programming languages.
2
Integration
This phase involves various steps such as planning of further tests after development, understanding the coding language to deliver the outcome as required in the primary project documentation. Integration in a continuous way leads DevOps to move towards its next phase seamlessly and efficiently.
3
Testing
In a continuous testing phase, you can test the application in a real environment. It will help you get various aspects of the same application, which will eventually improve the further development process. You can even rebuild the application if needed.
4
Monitoring
This is a part of the operation phase. In this phase, you can constantly monitor the application's performance, keep tabs on it, identify any problem area, and make modifications as needed.
5
Feedback
In this phase, any kind of modification or improvement gets analyzed. DevOps developers can measure the outcome of the final result. Also, customers can share their user experience. After assessing all the feedback, developers can work on the necessary changes in the software application. As soon as they receive positive feedback from customers, they decide to release a new version of that application.
6
Deployment
In this phase, the code gets deployed into a Cloud server for further use. It makes sure that the code's modifications should not affect the functioning of the high-traffic website. Developers ensure that this continuous deployment phase always remains active in the lifecycle of DevOps, especially right after that application gets released and starts getting high traffic.
7
Operation
This phase is based on automating the release of the app and its following updates. It enables DevOps companies to make the most of the time to market continuously.
In DevOps, continuity is an important factor in making the entire process working fast and seamlessly. With this, you can create software applications, improve the efficiency of an already existing software product, and increase customers.
Now, let's have a look at what benefits your organization can get from implementing DevOps.
Benefits of DevOps
If you incorporate DevOps practices in your daily business operation, you will definitely see a major difference in productivity and efficiency. With a team that includes members functioning differently yet being in collaboration, DevOps companies can deliver optimum speed, innovation, and serviceability. Here are the top 7 benefits that you can get by incorporating DevOps practices:
i
Fast Delivery
The lifecycle of DevOps is involved with continuous automation, ceaseless delivery, and fast feedback. All these make the development process of software quicker and more efficient. Being an outgrown part of the Agile methods, DevOps uses automation to ensure a seamless way of system development life cycle (SDLC). By developing a unified culture, DevOps provides the scope for fast and continuous feedback. Therefore if there is any malfunction arrives, it gets fixed promptly, and the release of the update gets done faster.
ii
Alliance between Teams
In organizations, development teams should avoid being at silos and collaborate with each other in a round-the-clock atmosphere. DevOps helps improve business agility by maintaining an environment of mutual alliance, communication, and incorporation across worldwide distributed teams in a company. All the members on a team feel responsible for providing the quality products and delivering within time. To work seamlessly, they communicate and collaborate with each other more.
iii
Better Consumer Experience
DevOps improves the deployment rate and minimizes the change failure rate. By delivering automation, it ensures the reliability and stability of a software application after each new release. Needless to say, when an application functions perfectly, companies get maximum benefits by offering flawless customer satisfaction.
iv
Early Fault Identification
DevOps helps in maintaining collaborative culture in teams. This leads to knowledge sharing culture across all the team members. By monitoring and testing the code and how an application functions, it can improve its build quality. They share their views so that the glitches can be identified and resolved early.
v
Continuous Release & Deployment
DevOps encourages automation, which helps development and operation teams produce quality software in a faster manner. They develop and integrate code right away. Continuous processes of software release and deployment promote efficiency, productivity, and better quality.
vi
Innovatory Mindset
DevOps organizes processes, helps in an efficient release, and guarantees quality development. Therefore, the deployment phase becomes stress-free; the teams feel relaxed, and thus there is a great chance for ushering an innovative outlook to settle problems.
With the right tools, you can get maximum benefits from the DevOps process. Let's talk about the major DevOps tools.

DevOps Tools
DevOps tool list includes various tools; each has the potential to help your team work in every development array with efficiency. You should go through various tools to choose the right ones for you. Here are a few important tools:
Automation & Testing Tool

These tools are very crucial for automating application tests, deploying their new versions, and/or checking when an application is ready to be released. With these DevOps tools, human interaction gets replaced by automated testing. These automation and testing tools include tools coming from Cloud vendors that help in configuring servers, deploying tools that help put software in a file system, and test & build tools that help in continuous app integration.

DevOps Toolchain

This is considered as a system including multiple tools. All the tools in a toolchain function together help in automating an app development and delivery process. It consists of coding, developing, testing, packaging, releasing, configuring, and monitoring.

Security Tool

These tools ensure the security of applications and make them get released faster. With advanced technology, these DevOps tools can keep applications free from potential threats. If there will be any problem detected, you will get an alert and act accordingly. Usage of these tools eases your teams' workload by managing the necessary tasks, like debugging, monitoring file integrity, installing, etc.

Is there any apt way to choose the right tools that will work best for your team? Of course, there is. You need to choose the tools that include the below features:

Facilitating collaboration

DevOps tools should help in collaboration between teams. Therefore, before choosing, look for the main purpose of a tool to find out its collaboration opportunities. Understanding how you use that tool can help your team in collaboration.

Having API

Tools, backed by fully featured API, can be both automatable and customizable. These tools perform one or multiple tasks perfectly and then integrate the rest with other tools. These tools are flexible enough to adapt to new updates.

Being able to store all configuration settings in version control

In DevOps, all configuration settings should be stored in version control. These configuration settings include both related to your custom software app and the tools to be used in software app delivery and IT operations. Make sure your selected DevOps tool exposes its configuration to version control and helps you keep track of all the configuration and test updates beforehand.

Encouraging learning & knowledge sharing

Make sure the tools you want to use, your team is well-aware of their functionalities. Motivate your team to know about the tools you are planning to introduce in your organization. Encourage them to understand how those tools can improve overall operations. These approaches will help your team members pass their knowledge to others and create a cooperative work environment.

Improving inter-team communication

Use tools according to your work system. If you need your development team to collaborate with your operation team and work closely, then use shared tools. But if you want to create a clear set of boundaries for each team, separate tools can work perfectly. Be mindful of the purpose, then choose the right tool. This way, communication between your teams will go in the right way.

After choosing the right tools for your organization, you must create a true DevOps culture among your teams to get maximum benefits. For this, you need to follow the key principles of DevOps.
DevOps Principles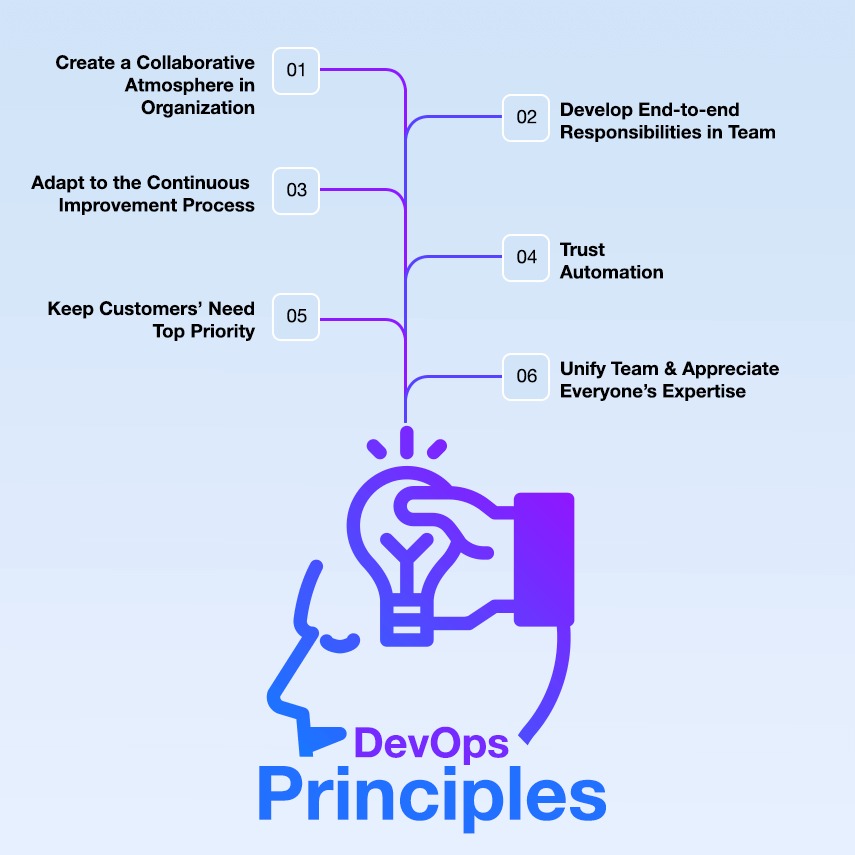 The methods and principles that can help you achieve the right DevOps culture among your teams and organization are:
Create a Collaborative Atmosphere in Organization

Encourage your operation and development teams to get out of silos and collaborate with each other. Make sure they communicate, share knowledge, and solve problems together. Only then you will follow the main purpose of using DevOps, uniting workers, and meeting consumer needs with combined efforts.

Develop End-to-end Responsibilities in Team

From ideas to implementations, make sure your development and operation teams have end-to-end responsibilities and accountability for the application. This will help in getting more things done in less time with maximum efficiency.

Adapt to the Continuous Improvement Process

You should keep tabs on updates on technologies, change in consumer needs, etc. DevOps supports continuous improvements and helps in automation, optimization of cost, and improvement of delivery speed.

Trust Automation

According to DevOps engineers, automation is an important step for releasing software to customers. It makes the release process quick and hassle-free. Your DevOps teams can create their own process of automation. Support them to perform everything successfully.

Keep Customers' Need Top Priority

Make sure your teams have a focus on meeting the ever-changing requirements of customers. Data collected from the automation process should be continuously reviewed to make sure that the performance targets are being met. If a strategy is not working anymore, your team should be prepared to update a new one. And never think twice to invest in features that can meet consumer satisfaction.

Unify Team & Appreciate Everyone's Expertise

In a DevOps project management process, all the teams should be involved across all the stages. Make sure your team is cross-functional, having a balanced set of expertise. Encourage the team to share knowledge and responsibility with each other.

You have already got a detailed understanding of DevOps. If your organization is already comfortable working with Agile approaches, there are multiple reasons for shifting your choice to DevOps today. Let's have a look at how DevOps differs from Agile.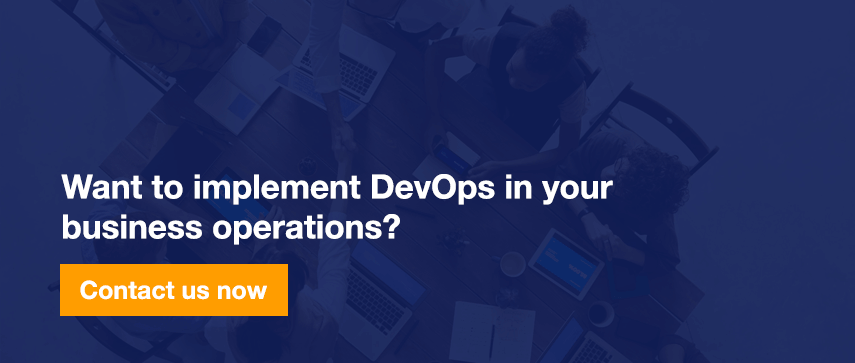 Author's Bio

Shailendra Sinhasane (Shail) is the co-founder and CEO of Mobisoft Infotech. He has been focused on cloud solutions, mobile strategy, cross-platform development, IoT innovations and advising healthcare startups in building scalable products.