As we discussed in our previous blog on digital transformation in healthcare, improving patient experience using digital healthcare solutions has become a healthcare priority. Patients want to be treated like customers. They want to be heard, and they expect personalized solutions as per their requirements. This consistent shift from organization-focused healthcare to patient-focused healthcare has ignited the implementation of a new and technology-enabled healthcare ecosystem. In this blog, we'll dive into the concept of the digital healthcare ecosystem and how it's paving the way for digital health.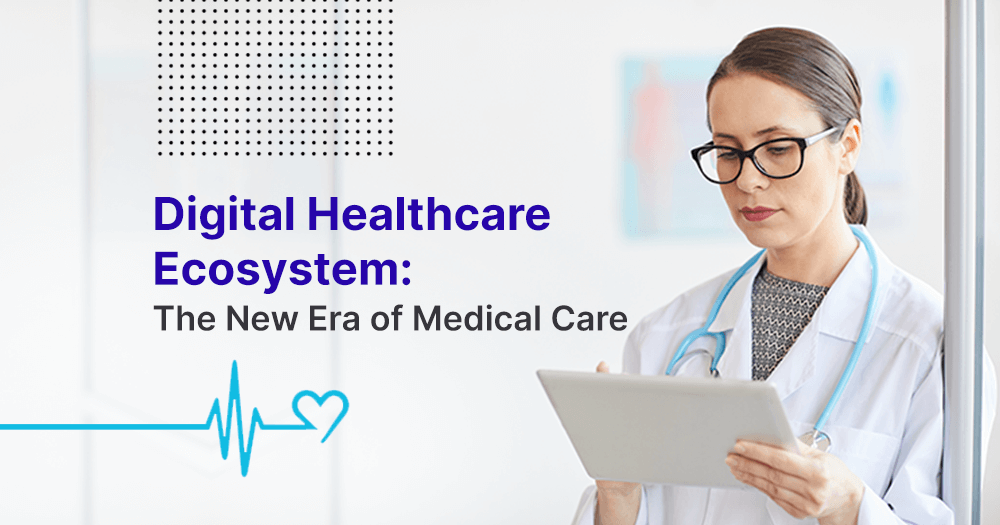 How Has Technology Changed Healthcare Practice?
Technology has acted as a driving force in healthcare, mainly over the past decade. A report from NCBI suggested that by 2020, more than 40% of IoT technology will be health-related. But although the change is enormous, it might not be visible to everyone. In this section, we'll take a quick look at how technology has changed the healthcare practice for both patients and healthcare providers.
Improved access to treatment

Increased accessibility of treatment is arguably the most tangible benefits of technology in healthcare. Advancements in telehealth and e-pharmacies have opened ways for providers to offer services on a large scale. The patients also benefit from these developments as they can receive the highest quality treatment anytime and anywhere.

Improved treatment efficacy and care

Emerging technology in healthcare has made patient care safer, efficient, and more reliable. Doctors and nurses can use devices to record and share critical patient data in real-time. This includes lab results, X-rays, and other vital patient data that can be crucial to providing effective patient care. Hospitals are also using robot technology to deliver accurate surgical treatments. In 2018, 15.1% of all surgeries were robot-assisted, compared with only 1.8% in 2012.

Use of software to improve healthcare

Specific software programs are being developed to classify illnesses and their symptoms into organized, easy-to-access databases. These programs allow health professionals to efficiently track and identify patient illnesses and provide them with the best possible care.

Software is also playing a key role in improving the operational efficiency of hospitals and clinics. Hospital management platforms, for example, reduce paperwork and other recurring tasks. Therefore, medical facilities are able to center their focus on providing quality healthcare services.
Evolving Trends in Digital Healthcare
Technology in healthcare is still in its primitive stage, with a lot of opportunities waiting to be uncovered. Here a few evolving digital healthcare trends.
On-demand healthcare is on the rise

Gone are the days when patients had to wait in queues to see a doctor. People have busy schedules, and they seek on-demand healthcare at their own time and convenience. This trend has given rise to mobility in healthcare. Healthcare service providers are transitioning from tethering to one company to looking for freelance opportunities. Nomad Health, for example, is an online marketplace for doctors and nurses. Patients can employ doctors as per requirements. And doctors can skip the busywork and work anytime, from anywhere.

The rising importance of big data

In a nutshell, big data is a technology that assembles information about a business. It could be through various formats, including social media, e-commerce, financial transactions, and more. Big data provides a myriad of benefits for the healthcare industry. It reduces the rate of medication errors, facilitates more accurate staffing, and encourages preventive care.

Keeping these benefits in mind, healthcare organizations are primarily investing in big data technology to better utilize their data.

Emerging technologies taking center stage

Virtuality Reality (VR) and Artificial Intelligence (AI) are no longer buzzwords used in the IT industry. VR is used in pain management, and many consider it a better alternative to drug-based treatments. In addition, VR simulations also help doctors to practice and hone their skills. People are becoming familiar with virtual health assistants and chatbots, thanks to AI. AI technology is also being used to develop nurse robots, like Moxi. As we step into the next era of the digital healthcare revolution, these technologies will continue to rise.
Digital Healthcare Ecosystem
Healthcare service delivery has for long been organization-centric. The providers were in the center, and the patients had to adjust. But recent trends in healthcare delivery suggest a transition towards patient-centric care. This includes multidisciplinary teams and multiple care delivery settings working together to provide patient care.
A digital healthcare ecosystem is an infrastructure that supports the shift from an organization-centric to a patient-centric model of delivering healthcare services using digital platforms. The primary goal of this system is to encourage cross-organizational, multidisciplinary, and collaborative healthcare delivery.
In the core, the infrastructure comprises an internet platform that offers digital healthcare services. It promotes interoperability by allowing intercommunication among healthcare professionals. It also enables the sharing of Virtual Healthcare Record (VHR) for a 360-degree view of the patient's health.
Why Digital Healthcare Ecosystem?
Placing the patient on the center means to focus on prevention and wellness rather than only treatment. It includes addressing the social determinants of health such as the physical, mental, and spiritual needs of people.
The problem with today's healthcare systems is that they're focused on acute disease care and short patient encounters. In the existing system, healthcare professionals are the main actors who favor the diagnosis and treatment of symptoms. The concept of digital healthcare solutions is to catalyze a systematic adoption of healthcare technologies to put the patients in the driver's seat. Let's take a look at how the digital healthcare ecosystem can create a paradigm shift in the healthcare industry.
It creates the possibility of home recovery, easy management of chronic illness, post-discharge care, and patient empowerment with multiple healthcare stakeholders.

It paves the way for the economic sustainability of improved quality of healthcare services.

It also helps in combating the unsuitable healthcare cost curve.

It offers the necessary quality, access, safety, and cost-efficacy of healthcare workflows and processes.
Three P's of the Digital Healthcare System
The digital healthcare ecosystem consists of three participants: Providers, Patients, and Payers, commonly referred to as the three Ps of healthcare. Though patients and payers can be the same, we'll discuss them differently as the focus of the two roles is different. Let's discuss these three Ps in brief.
1
Providers
Providers include medical facilities, including hospitals, laboratories, and pharmacies. As discussed, the existing system is provider-centric. The medical facilities are in charge. But this power comes with responsibilities. People look up to medical providers for accurate and timely services. And with the demand for services surging, providers are struggling to keep up.
Healthcare providers face several challenges to healthcare delivery, such as shortage of staff and incomplete patient data. Pharmacies struggle to fulfill the increasing demand for prescription medicines. Laboratories also find it difficult to test and report hundreds of samples in a day.
The digital healthcare ecosystem reduces the burden on the providers. By shifting the focus on the patients, it enables providers to work together in multidisciplinary teams to offer accurate and efficient care. You can now handle consumers' medical emergencies better and track how the treatment is helping a patient.
2
Patients
The main focus of the new ecosystem is patients. Until now, patients had no control over their health decisions. If they had an illness, they went to a doctor who prescribed treatment as per his choice. It was a curative care model.
The digital health ecosystem works on a preventive care model rather than a curative model. The patients can now access personalized healthcare assistance and improved preventive diagnosis. They no longer need to rush to a hospital during an emergency. Instead, the healthcare system will alert them of any health issues and provide immediate medical assistance. This automation would reduce patients' dependency on caregivers.
3
Payers
The cost of healthcare is rising, as healthcare spending in the US has increased by nearly a trillion dollars over the past two decades. The new ecosystem also focuses on reducing healthcare costs and making quality healthcare accessible to everyone. Payers, including insurers, can now take advantage of their central position to combat rising healthcare costs.
Components of the Digital Healthcare Ecosystem
The new ecosystem consists of the following components:
Consumer-facing

: It includes digital access points like portals and messaging devices to provide consumers with instant, personalized access to healthcare services. The most prominent example of consumer-facing components is telemedicine, which offers a digital self-service experience to the consumer.

Provider

: Provider components include two elements: a next-gen data layer for API capabilities and distributed data management. A large-scale, distributed database is crucial for storing, organizing, and exchanging data.

Internal components

: The automated digital core is essential to ensure that internal components have a strong foundation. This includes robust analytic models to report, analyze, and enhance treatment quality and cost-efficiency.
Changing Relationships in the Digital Healthcare Ecosystem
The new ecosystem has led to an increased level of interaction between healthcare consumers and service providers. And as digital healthcare solutions are becoming the new normal, the industry is witnessing the growth of healthy relationships. Here is an overview of the changing relationships in the new system.
Service provider-payer relationship:

The exchange of data via digital solutions has increased interaction between the payers and service providers. The caregivers can now work with patients and insurers to understand their exact needs and offer them customized primary and non-primary medical solutions.

Provider-diagnostics-pharmacies

: Healthcare providers, diagnostic services, and pharmacies form the core of the "provider" component. The new ecosystem offers real-time data exchange among this trio, ensures accurate service delivery. Pharmacies can get details about the prescription in real-time, so they can respond promptly.

User-multi point relationship

: Though the new ecosystem is predominantly digitized, users remain to be the main entity. The primary objective of this digitization of healthcare is to promote smooth and fruitful interactions between different users of the system, including doctors, pharmacies, insurers, and patients.

How is Technology Addressing Healthcare Challenges?
The traditional healthcare system has a plethora of pitfalls and drawbacks. The access is limited, the costs are high, and providers struggle to manage data. But with advancements in healthcare information technology, these challenges are slowly disappearing. Let's take a look at a few challenges resolved by the developments in technology in healthcare.
Remote access to healthcare

In many countries, healthcare is non-uniformly distributed. Only the urban population has access to advanced healthcare services and expert doctors. Therefore, people living in rural areas have to travel to major cities to get quality treatment. Healthcare technology, mainly in the form of telemedicine or telehealth, has solved this hurdle. Telemedicine apps allow patients to connect with doctors remotely and take treatment via text messaging and video conferencing.

Medicaid reimbursement

In the US, Medicaid and Medicare reimburse programs help people reduce healthcare costs. However, the process of availing treatment under these programs has always been a hurdle. The use of Electronic Health Record (EHR), another application of healthcare technology, has addressed this challenge. EHR systems simplify health record-keeping, which makes Medicare and Medicaid reimbursement quick and easy.

Unoptimized supply management

Logistics form the backbone of the healthcare industry. Sadly, medical inventory mismanagement has been a widespread problem, which leads to inefficiencies in delivering healthcare services. Inventory management systems help healthcare organizations overcome inventory issues. These systems provide in-depth insights into inventories, thereby offering accurate and efficient management.

Data management

Healthcare providers deal with tons of patient data every day. With every new patient added to the database, the data pool becomes bigger, and thus, difficult to manage. To address this problem, healthcare providers are using cloud-based data systems. These solutions automate data management by organizing data in segments like registration, diagnosis, medical history, and more.

Errors in data sharing

Inefficiencies and mistakes in healthcare remain to be a common obstacle. Most clinics and hospitals still use a pen-and-paper approach, which invites human error. And when this inaccurate data is shared among doctors, patients, and insurers, delay and inconvenience occur. Cloud-based data management solutions play a pivotal role in addressing this issue. These systems act as a stable platform for solving errors and inefficiencies in healthcare data sharing.
Benefits of the Digital Healthcare Ecosystem
The advantages of the digital healthcare ecosystem for patients are evident. The system is patient-centric as the consumers are in charge. But there are benefits for providers too. Let's delve into the top benefits of implementing a digital healthcare ecosystem.
i
Sustainable and responsive healthcare
The pressure on healthcare facilities continues to rise, as people with chronic illnesses are increasing. With digital health, patients can easily access healthcare services and receive improved quality of care. In addition, digital platforms also reduce the burden on healthcare facilities, thereby ensuring more responsive and sustainable healthcare.
ii
Remodeling of the patient-doctor relationship
Digital health systems make patients co-designers of their medical care and treatment. The direct access to the health status of the patient enhances the sense of transparency, trust, and partnership between the patient and doctor. On the other hand, doctors can also monitor the health factors of patients, such as environmental stimulants and adherence to medications.
iii
Preventive medical care
As discussed earlier, the traditional healthcare system is based on a curative care model. The patient receives assistance after he gets ill. This model has two drawbacks. First, the success rate of last-minute treatments is low. Second, it becomes provider-centric. Digital health allows patients to self-manage their health by regularly monitoring their symptoms. This ensures early detection of an underlying condition, which guides timely prevention and treatment.
iv
Increased healthcare reach
The digital healthcare ecosystem installs a foundation for sustainable healthcare for all. With digital health platforms, patients in remote areas can access superior quality healthcare services. Doctors, on the other hand, can offer their services to a broader base of customers without traveling from one city to another. In all, digital health expands the reach of healthcare, which was earlier confined to urban areas and major cities only.
v
Reduced administrative burden
Digital health allows healthcare facilities to ditch cumbersome paperwork. It automates recurring administrative tasks, such as maintaining paper records, thereby allowing providers to focus on core jobs. The implementation of technology also reduces operational costs and positively impacts the bottom line of healthcare organizations.
Wrapping up
The adoption of the new healthcare system is in practice in countries like the US, China, Japan, and India. China particularly utilized digital health to curb the spread of COVID-19, despite being the epicenter of the global pandemic. As patient-centric healthcare becomes more prevalent, healthcare facilities across the globe are expected to make the switch sooner or later. However, most facilities are still relying on the traditional healthcare model, and we have to wait and see when the new system enters the mainstream. If you haven't already implemented digital technology in your healthcare practice, now is the time. Get started today.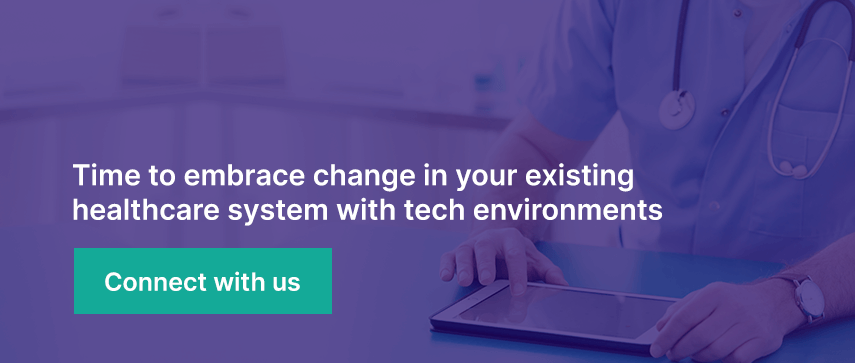 Author's Bio

Shailendra Sinhasane (Shail) is the co-founder and CEO of Mobisoft Infotech. He has been focused on cloud solutions, mobile strategy, cross-platform development, IoT innovations and advising healthcare startups in building scalable products.