The mental health care system was already under tremendous pressure even before COVID-19. In the US, 1 out of 5 people suffers from mental health issues. Over 60% don't get any treatment and with the pandemic, there has been a steady rise in mental health concerns.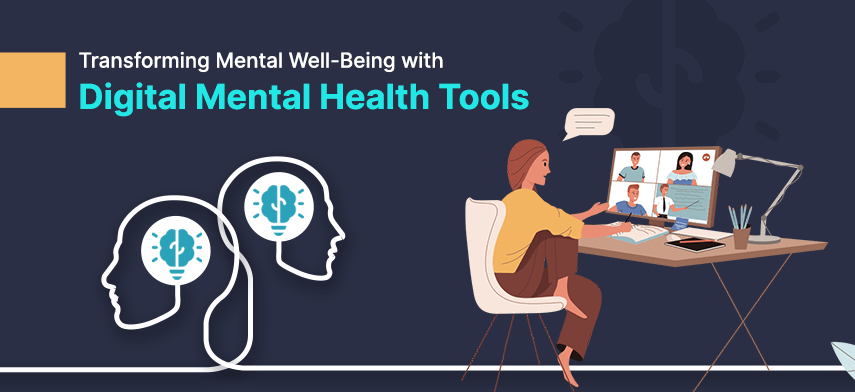 The coronavirus pandemic exerted higher pressure on both patients and mental healthcare providers. In 2020, 17.3 million adult Americans experienced an episode of major depression. According to the National Institute of Mental Health, 1 out of 3 people suffered from an anxiety disorder.
As a result, the need for universal mental healthcare has emerged as a top priority. Providers are trying to expand their services and shifting to rely on technology. Many providers have shifted to the digital mental health care systems for delivering behavioral health services to assist individuals suffering from mental health concerns.
Let's explore more on how digital mental health technology is creating a digital pathway for engaging patients.
Digital Pathways for Measuring Engaged Patients
Customer engagement is a top metric that determines business success. Every brand competes to create engaging experiences for their customers to boost revenues, brand experience, customer loyalty, and customer experience.
Customer engagement for the healthcare industry translates to patient engagement or patient satisfaction. Businesses aim to provide better mental health strategies by engaging patients to increase patient visits, bring more profits, and get new patients. As a result, every organization in healthcare should strive to engage and enhance the patient experience.
Mental healthcare also cannot afford to miss out on patient engagement. The process can help providers encourage patients to take an active part in their recovery. They can learn more about their mental health status and how their actions or thoughts influence mood and well-being.
Here are some valuable use cases that patient engagement can bring in:
1
Improved health outcomes
Engaged patients are more aware and watchful of their health. They are educated on best practices and actively contribute to the success of the treatment. We always feel more satisfied when we are actively involved in our success.
The same goes for someone trying to overcome mental illness. Engaged patients are active contributors to health outcomes. So, they are more satisfied with your services and trust your brand more than any competitor.
2
Improved patient retention
Engaged and satisfied patients are likely to turn out as loyal customers. Any wrong diagnosis can impact your reputation and leave a negative impression. But with digital mental health assessment tools, these errors can be easily identified and rectified. You can be sure of your patients returning to you whenever they need any healthcare services.
3
Supplementary profits
Ensuring patient engagement helps you improve your bottom line in many ways:
Your patients become your recurring customers.

New customers sign up for your services.

Digital tools reduce your overall cost.

Deliver care through technology and reduce overheads.

Conserve resources and human resources.
Digital tools are the way forward to treating your patients in the best possible way. The mental healthcare industry is walking down the same path by engaging patients. They are equipping mental health assessment tools and self-help mobile apps that help people to improve mental health.
Additionally, digital mental health technology can bring many people under the umbrella of professional care. Earlier, there was limited access to mental healthcare for people. But now, with digital mental health tools, it has become easier to keep a check on one's mental as well as physical well-being.
Digital Tools Altering Mental Health Care Treatment and Services
A range of tools, software, and apps are powering digital mental health services. Here are some popular ones with strong potential:
Online therapy and counseling

A big consequence of COVID-19 was the endless months of lockdown. People with mental health concerns were confined inside homes and unable to access professional therapy, psychotherapy, counseling, and more. Fortunately, many providers came up with digital access to mental healthcare services via mobile apps and websites. Patients can now consult a psychotherapist or undergo counseling using video calling, instant messaging, and virtual consultations.

Diagnosis and self-help apps

Mobile apps and software can now diagnose patients almost with equal efficiency as human experts. Additionally, they can help patients avail treatment like cognitive behavioral therapy from the comforts of a home. The same apps assist providers to track patient progress and health status. Combined with wearables like a smartwatch, you may even track vitals like heartbeats, blood pressure, etc.

Online support group sessions

Mental illness frequently comes with other negative behaviors like substance abuse or self-harm. Online group sessions can work as anonymous meets. It helps maintain anonymity and convey progress, thoughts, and effects an individual is having. Providers can use video conferencing tools, websites offering anonymity, and more to conduct online group sessions. All of your patients in the group can be present virtually and exchange their thoughts, feelings, and journey of healing. A medical professional can manage the meetings and provide active counseling and assistance.

Meditation Apps

Meditation and mindfulness apps offer a way to tackle stress and induce positivity. These apps can offer guided meditation and help deal with the symptoms of mental stress, anxiety, and burnout. You can learn new meditation techniques and learn to calm your mind during spouts of anxiety and stress. Users can attend one-on-one online classes hosted by personal trainers who help them steer in the correct direction. Real-time sessions do prove to be effective.
Determine Ways to Tie into Existing Workflows to Encourage Utilization
Mental healthcare institutions don't have to start with a huge investment to implement digital care. They can incorporate technology into existing workflows to help patients access professional services. Here are a few ways you can weave digital mental health tools into your operations:
Virtual consultation

Most hospitals, clinics, or therapy centers now have a website. It can be the foundation to offer digital healthcare to your patients at affordable costs. You can introduce telemedicine services through your website and provide one-on-one consultations. Users can book appointments and consult an expert through video calls or phone calls. Based on the availability of slots, users can block a session at their preferred time and get advice from professionals.

Deliver therapies via phones

The patient can undertake many behavioral and cognitive therapies without constant supervision. You can upload daily tips and guides that can be accessed from the patient's phone easily. It is possible to send videos, links, and other resources directly to your patient and avoid direct face-to-face consultations.

Track patient progress digitally

Digital tools and pathways can even help you track patient progress and health status. You can create a questionnaire and host it on your website or app. Patients can answer the questions and help you determine the effectiveness of treatments. You can use many other techniques to stay updated on how your patients are doing.

Identifying Opportunities for Scaling Digital Tools for Mental Health Care
Providers ready to use digital mental health solutions can scale their operations to meet the shortage of trained professionals. You can use technology in many ways to make your services reach a broader base of patients.
Prepare your staff

You can prepare your non-specialist staff in providing care and support to individuals with mental health concerns. You can use digital platforms to impart education and training. You can also deliver international programs like Mental Health Gap Action Program from the WHO. These platforms can cater to countless health workers and make training possible from the comfort of their homes.

Develop a mobile app

You can offer a holistic digital mental health care system to develop a mobile app. You can get all your patients to sign up and access expert medical services. Providers will be able to deliver telemedicine services and scale seamlessly to changes in demand. Mobisoft can assist in developing mental healthcare apps that use established standards to diagnose and provide valuable results. It can act as a preliminary step for patients with mental health concerns to be aware of their situation.

Conduct self-help programs

You can use mobile apps to offer behavioral science therapies and self-help programs. They can help you release your content in a stepwise manner after the patient has completed each step. It can track patient progress and even vitals using the Internet of Things (IoT) and wearables. Providers will bring in more people under their care and ensure access to better mental health tools and the mental healthcare system. Mobisoft can help you identify opportunities and scale your digital mental health services.
Final Thoughts,
Digital mental health technology and tools are ideal for resolving the mental healthcare challenges intensified by COVID and beyond. You can keep on providing services and even aim to increase your patient count through digital mental health solutions. Therefore, you can provide better access and engagement for your patients and be seamlessly scalable.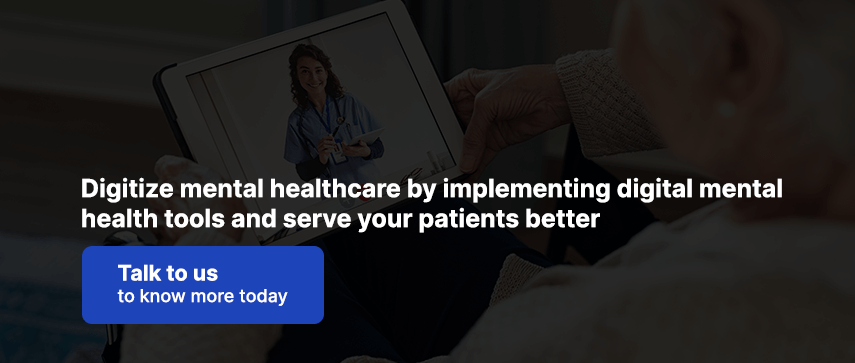 Author's Bio

Shailendra Sinhasane (Shail) is the co-founder and CEO of Mobisoft Infotech. He has been focused on cloud solutions, mobile strategy, cross-platform development, IoT innovations and advising healthcare startups in building scalable products.