Digital transformation in healthcare faced an exploding demand that necessitated the efficient use of resources and healthcare products during the pandemic. CIOs, private and public practices, government, and hospital organizations are looking towards healthcare digital transformation trends to extend supplemental care. Solutions are becoming accessible and available as per healthcare requirements.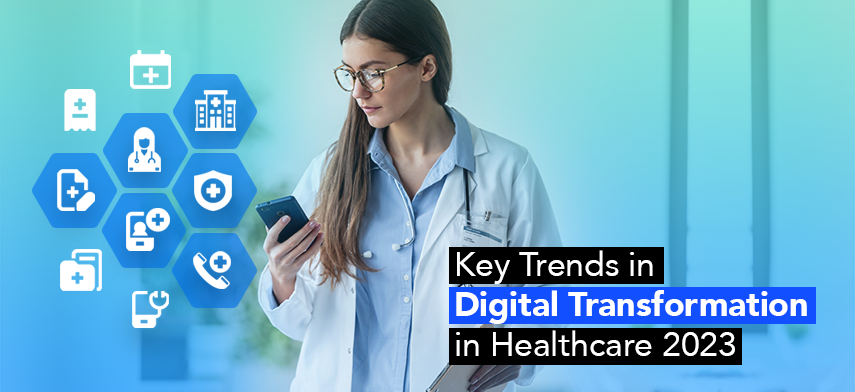 Before the pandemic, trends in the digital health sector were familiarized with the slow burner of incremental evolutions. As the recession in 2023 looms, digital evolution continues to hold the key to answering questions for the healthcare industry. Every industry is being forced to coerce itself by enhancing its current process, but only a handful are facing consequences with the healthcare workflow integration. Digital transformation in healthcare is being enacted by providers as a constant lesson to attain tenable digital transformation benefits.
The technological rise in the healthcare industry has been the topic of discussion in recent years. The EHR integration in healthcare was valued at USD 22.3 billion in 2017, but the global EHR market is projected to bring in revenue of approximately USD 30.4 billion within 2023 and witness a 5.4% CAGR during the next forecast. So what will the situation be like in 2023? In this article, we aim to look at the key digital health trends that will have a direct impact on digital transformation in healthcare in the next five years.
Significance of Healthcare Digital Transformation
The idea of transformation conjures a path toward change, shift, and innovation into something better. Digital transformation in healthcare is a combination of all these ideas and more that enables change in healthcare organizations and makes them more flexible, innovative, and resilient. This forte creates an exceptional patient experience and improves healthcare utility on a large mass.
Healthcare digital transformation has its foundation when innovation begins by incorporating technology in the existing healthcare operations or practices with the use of AI, ML, IoT, and cloud technologies. Within these technology types, various tools are raised to provide leveled services to patients by making care delivery more convenient and accessible. Providers benefit from this transformation as it assists in improving care efficiency, and patient outcomes, lowering costs, and decreasing man-made errors.
The trends in digital health implementation are more than the integration of technology. It ranges from simple to complex integrations. However, each of these technologies has unique factors to contribute that potentially catapults healthcare delivery into the next generation of innovation with ease.
Now, let's delve into the key trends of digital transformation in healthcare that are set in motion for 2023.
Key Digital Transformation in healthcare Trends in 2023
Digital transformation in healthcare results in fundamental changes in how businesses operate and how value-based care delivery is provided to patients. Healthcare IT trends create a cultural shift that needs organizations and facilities to challenge the status quo of the community, be comfortable with failures, and have the girth to perform necessary experiments when required.
For digital healthcare transformation, the process involves utilizing technologies to modernize and improve patient care. This is inclusive of automating tasks to enhance patient-provider communication. By 2023, it is expected and estimated that digital transformation in healthcare will be involved with every aspect of healthcare innovation.
More at-home testing platforms cleared by the FDA

We have adjusted well to the social distancing protocol since the beginning of the pandemic, which has translated to more telehealth consultations in healthcare departments. The Department of Health and Human Services (HHS) expanded its telehealth access to Medicare beneficiaries and partly increased the number of enrollees by 7,400% in less than 6 months in 2020. This gave space to the rapid acceptance of home tests available in the market. Most patients are comfortable with performing tests at home which resulted in higher home-based test applications and improved patient monitoring and information health. The FDA and our regulatory systems are paving the way toward more accessible digital and virtual care services. With the FDA pushing at-home testing to the forefront of healthcare transformation, we can now use the full potential of AI, ML, and IoT to increase healthcare innovations.

Insurance companies to be onboard on covering virtual and telemedicine services

The implementation of telemedicine and telehealth services has already become accessible and it will now be frequently covered by insurance companies with their newest policy changes. Telemedicine was once an ad hoc activity is now considered a common inclusion in the employee insurance programs for the healthcare industry. Several insurance products are covering telehealth services in a "virtual first" format. Other insurance plans are giving patients the option to opt for either virtual or in-clinic appointments. Telehealth has become a convenient way of receiving care with many providers offering 24/7 healthcare access as opposed to ERs and Urgent Care centers.

Greater focus on preventive care and medicines

People have become more engaged in proactive ways to determine their health and stay healthy. They are investing in wearable technologies and regular wellness tools to keep up with their routines, preventing chronic conditions like diabetes dehydration, etc, and engaging in self-monitoring techniques. Providers and employers are offering wellness products through fitness and meditation applications with a rigorous emphasis on maintaining wellness to prevent chronic disorders. Wearables integrated with digital transformation in healthcare act as biomarkers to indicate illness and wellness. This enables users with visibility into their health and illuminates any preventive risk factors early on. Since information is now being stored digitally, it has simplified the process of sharing patient data for a more comprehensive health analysis among doctors and providers.

Technological development to empower digital health companies

Derivative insights from virtual reality and wearable device platforms have instigated companies in healthcare with incredible user data. This shows ways in which people like to use technology. Hence, multiple industries are working together to make healthcare more accessible and better. Digital health transformation in applications started taking place five years ago with various challenges and limitations in the software integration process. The improvements today have made smart devices a powerful and capable tool that provides evolution towards digital health tests and makes them more precise, accurate, usable, and engaging to the end-users.

Automation in healthcare tasks

The next few years sets an expectation for healthcare organizations to automate their workflow and tasks. EHR trends and medical record systems will free up the time of nurses, providers, doctors, and other healthcare staff by automating data integration and allowing them more time with patients. This will only further the implementation of healthcare technology and allow more accurate and on-time treatment and diagnosis. The healthcare market can also expect to see a surge in the use of artificial intelligence and machine learning that will help providers and professionals to make better patient care decisions.

Improvement in patient-provider communication

The healthcare IT trends are a stepping stone in 2023 where patient-provider communication will be more enhanced and engaging. Thanks to the digital transformation in healthcare, providers will be able to offer more customized care to patients and communication will be more efficient and seamless. Patients are already gaining access to their ṣhealth data which is empowering them to make better decisions about the kind of care they would like to receive.

Modernization of patient care

The rapidly changing healthcare landscape is creating awareness regarding digital transformation in healthcare that will take place in the course of the next few years. Modernization of patient care will become the main focus of digital healthcare transformation. With the streamlining of processes and task automation, providers will be able to offer better care delivery to their patients. Telehealth will continue to become more commonplace as it is providing convenient ways to treat patients and receive care without having to see a doctor physically. Data storage will play a key role in healthcare in helping providers to make informed decisions regarding patient care.

Improvements in data management

For improving data management in healthcare, organizations will implement better data governance policies and processes to enhance care delivery services. They will also invest in activities associated with data quality improvements and initiatives to stabilize data analytics capabilities. All of these implementations will require a significant amount of time, cost, and resources, but it will be worth the wait as it will be crucial to improving data management protocols. Now, the world is centered around customers who are accustomed to on-demand services and instant gratification. The healthcare industry is getting ready to buckle up in order to meet the patient's expectations and remain competitive in the market by modernizing their patient care delivery models.

Enhanced EHR trends safety with Blockchain

Blockchain is a tool that provides preventive data branches by the implementation of a 'ledger' that assists in monitoring, tracking, and exchanging information safely. This is of increasing importance as it uses Electronic Health Records and requires multiple data entry streaming. From patient information intake to coding and dropping charges on incoming payments and other protected health information (PHI), requires a high level of security to avoid any data breaches. Blockchain technology existing within EHR systems provides another level of immersive security by offering constant monitoring of entries and detecting any duplicate information entries, delays in treatment, and inaccurate diagnoses. The digital transformation in healthcare requires advancement in technologies at par with experts coming up with new ideas and blockchain places another lock on the EHR system safe that reduces the digital hurricn of cybersecurity threats and hackers.

In Conclusion,
Digital transformation in healthcare has put a lot of pressure on the healthcare market in order to keep up with the ever-changing landscapes of delivering patient care. To meet the provider and patient needs, healthcare organizations need to embrace digital healthcare transformation. The key trends in shaping digital transformation in healthcare include the rise of telehealth, AI in healthcare, and the constant adoption of blockchain technology. These digital health trends will allow organizations in healthcare to provide better care at lower costs and increase operational efficiency.
To make these trends succeed, healthcare organizations are prioritizing digital transformation in healthcare and investing in the right technologies to improve their overall workflow. Hiring the right digital healthcare companies will be a step in the right direction in implementing healthcare digital transformation trends.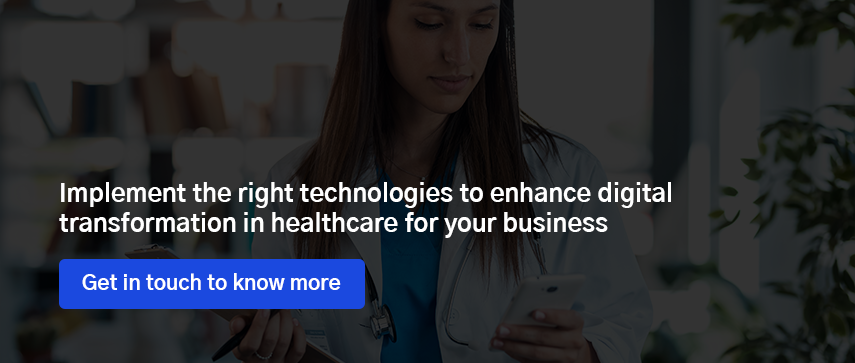 Author's Bio

Shailendra Sinhasane (Shail) is the co-founder and CEO of Mobisoft Infotech. He has been focused on cloud solutions, mobile strategy, cross-platform development, IoT innovations and advising healthcare startups in building scalable products.