Today's technology has the ability to make a big difference in the way offices are run and administered. Mobile technology especially is leading the way for practical and innovative office applications. Take the case of an electronic visitor management system. It is fast replacing the traditional logbook based physical visitor management and registration process and adding layers of benefits to the way people use a lobby or reception area.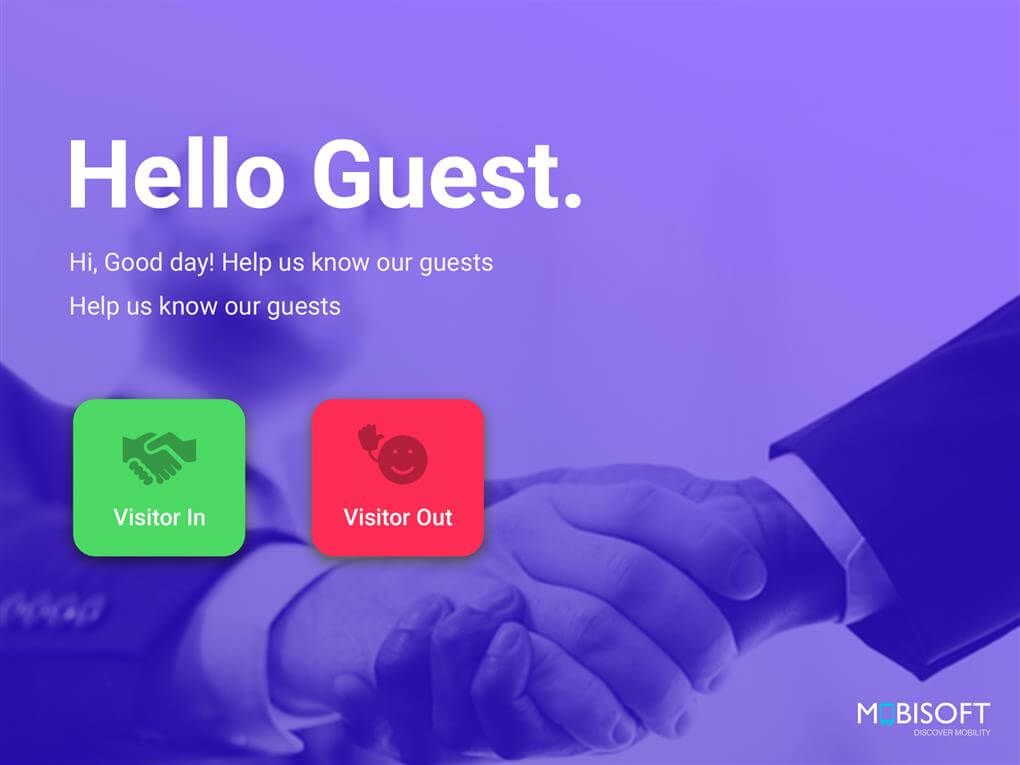 Right from the invitation to checkout, every stage of visitor management in the reception can now be digitized through a visitor management software. It literally transforms to a virtual receptionist for your office and efficiently manages all visitors and front desk touchpoints. Be it employees, clients, vendors, or temporary personnel, an electronic visitor management system ensures that only the approved people get access to your office or facility.
Challenges With Using Paper Logbooks
In recent times, office security has become a big priority for organizations and businesses. This necessitates an accurate, quick, and fail-safe system that takes away the below hassles of a traditional paper-based visitor entry system.
Slower


The traditional visitor sign-in process is slower and on average it takes around 3-4 minutes to identify the purpose of visit and redirect to the appropriate person within the office or building. As an outcome, the entire front office experience becomes unsatisfactory from the guest's point of view leaving a poor first impression.

Poor response in emergency


Because of the many touch points (receptionist, front desk staff, visitors, IT / security staff), it becomes difficult to synchronize and execute a comprehensive evacuation plan. Imagine the chaos it will create when an actual emergency situation happens and the office's occupants do not know how to respond to it.

Poor management of manual entries


Right from illegible signatures to loss of paper-based systems, there is a range of vulnerabilities that a paper-based visitor management system faces. This brings down the overall efficacy of the process and calls for a viable alternative that can overcome these limitations with effectively and affordably.

Outdated feel


Your front desk is the first point to create an impression. With paper-based visitor entry management, it sends out a signal of your company running out-of-date operations. As evident, a paper-based visitor log system faces many issues. As such, an electronic visitor management system is what your business needs to create a favorable first impression on the front desk.

Costs inefficiency


With paper-based logbooks, there are cost overheads for receptionist salaries, storage needs, and supplies and stationery cost. From a management perspective, these costs will eat into the profitability of the company. Hence, a paper-based system is increasingly being discouraged.

Tailgating


During office hours it is easy for a person to hold the door and have more than one person pass through. There will be no way to check if the person is authorized or not. This increases the likelihood of an unauthorized person entering a designated area of the workplace.
How an Electronic Visitor Management System Delivers Value to Your Business?
A robust and well implemented electronic visitor management system is capable of delivering many benefits to your business.
Accuracy


There is a high degree of precision associated with an electronic visitor management system. Be it through scanning of ID documents or a person typing into predefined fields of data, the overall system is easier to manage and more accurate than a manual visitor logbook.

Faster registration process


Instead of the time taken to write down details on all the columns of a visitor logbook, an electronic visitor management system makes the entire process faster. Invites allow visitors to chip in an invite code or scan ID to check-in. This prevents long queues in the reception or lobby and ensures faster visitor registration process.

Appropriate identification


You need to ensure that only authenticated visitors are seen in the office or building premises. While employees and regular patrons would have their own badges, visitors typically don't have this. An electronic visitor management can be connected to a printer to issue temporary badges to visitors with their photographs.



Ensures legal compliance


Create questionnaires, NDAs and other legal documents as a requirement for visitors to get access to your office facility. Get digital signatures and avoid frustrating guests with complex workflows. Keep critical business data secure and use registration data as a proof in case of a dispute.

No waiting for the guests


What would a typical scenario look like when a visitor comes to visit a designated person but isn't able to find him/her? With an electronic visitor management system handling such scenarios becomes easier. The system comes with message forwarding facility that takes down the visitor's message and notifies the concerned person or host in real-time so that he/she is ready to greet their guests.

Reduces cost overheads


BLS reports that the

median annual salary of receptionists

stood at $27,300 annually or $13.12 per hour. Imagine the kind of cost savings your business can enjoy when you replace this cost with an electronic visitor management system? Such electronic systems come with powerful features and robust technology that helps automate the check-in process. The solution can easily scale with your growth and also continue to provide incredible value in the long run. This makes the electronic system a more feasible and affordable alternative to paper-based visitor management.
What Features Should a Good Electronic Visitor Management System Have?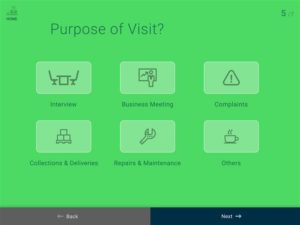 Interested in having an electronic visitor management system deployed at your office or building premises? Below are some of the important features any good visitor management system should possess for best results.
Custom branding


A good visitor management system should highlight the company's branding and be personalized to the needs of their visitors and guests.

Customized flows


The system should be able to present the appropriate screen flow based on the purpose, type, and profile of the visitor. So if it is an employee, he/ she will be shown a screen different from a courier delivery person. This ensures that the right information is sought from the appropriate person at the front desk.

Image capture
A good system should have the capabilities to capture a photograph of the visitor. This provides better visitor data for security and issue badges when needed.


Digital signatures


Does your electronic visitor management system have the option for the visitor to sign on an electronic interface? If so then it will be a good choice. It is a big improvement over the problems of illegible and smudged signatures in a paper-based system.

Data entry by scanning


A good system should be able to quickly scan an ID and auto-populate relevant details. This not only saves time, and makes the check-in quicker, but also creates an amazing front desk impression.

Quick checkout


Visitors who have accomplished their work in the office or building need to be checked out quickly yet effectively by the system. You can also let visitors to self-checkout and show a custom thank you screen for a personal touch.

Multi-language support
The system should be able to cater to every individual no matter what language they speak. Hence it is important that the system has multi-language capabilities so that visitors don't have a hard time using your tablet or iPad visitor management system.
Wrapping Up!!
Replacing the paper-based visitor registration process with an electronic visitor management system can do wonders for your office facility and make the lives of your office administration and security staff much simpler and more importantly offer a much better visitor registration experience for your guests. Enhance office security, ensure legal compliance, make visitor registration and management process seamless and so much more.

Mobisoft offers a fully customizable and branded visitor management app for iPad or Android tablets and a powerful web-based administrative panel for any business that aims to streamline the visitor check-in process and transform the front desk experience for their office or site visitors. Feel free to check it out.
Author's Bio

Nitin Lahoti is the Co-Founder and Director at Mobisoft Infotech. He has 15 years of experience in Design, Business Development and Startups. His expertise is in Product Ideation, UX/UI design, Startup consulting and mentoring. He prefers business readings and loves traveling.