Hosting a mega-event often rests on the foundation of an economic windfall combined with a substantial urban makeover. The recent experiences driven by the onset of COVID-19 are evident enough to determine that these events are subjected to more comprehensive planning and strategy. However, one thing that makes this planning challenging and complex is choosing the right event transportation management solution.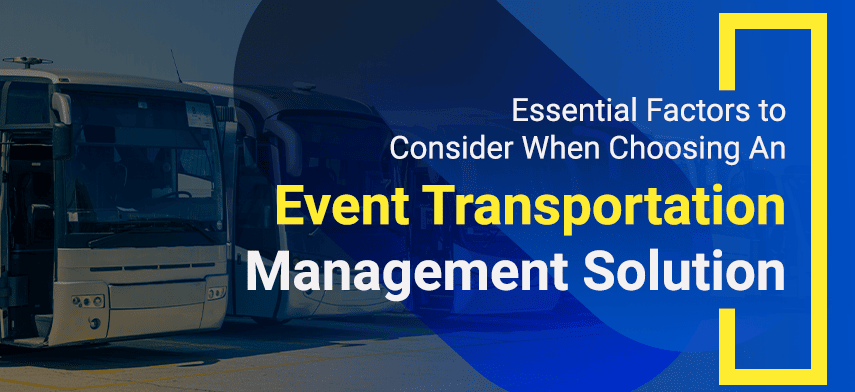 For instance, the success of large-scale sports & entertainment events, regional athletic contests, trade fairs, etc., are driven by swift decision-making measures, strict deadlines, and other automated operations. And this is only possible when you have the right transport management solution onboard.
But how to select the one that benefits all the stakeholders? This blog shall answer this question in detail by highlighting the key considerations for making the correct choice. So let's get started.

How to Choose Transportation Management Solution for your Mega-events?
When choosing an event transportation management partner, it's necessary that you consider all the below-mentioned points. These considerations would not only add value to your mega-event but also take your guest experience to the next level.
1
End-to-end Transport Management
Most event transport platforms can promise you luxury vehicles, but the actual necessity is to keep the guest experience intact. As such, you need to choose the one that offers 360-degree transportation management with real-time tracking and route planning & optimization facility. It should also manage fleets, drivers, and bookings effectively. Also, make sure that it takes good care of the complete security and privacy of your guests.
2
Flexible Operational Capabilities
The event transportation service providers you select should be flexible enough to deal with last-minute changes. In case of any unwanted situation or slightest alterations added to the itinerary, the company should have the necessary resources onboard to make emergency contingency plans and observe smooth operational workflow without deteriorating the course of the plan.
3
Pricing and Budget Requirements
Always get aligned with a partner who can match your expectations and transportation needs while satisfying your budget. Ensure that you get a maximum outcome with minimal resources. Your selected partner should be transparent about the cost distribution across the entire transport management process and help you cut overhead costs. It should focus on preparing a proper plan to use the necessary resources and deal with emergency situations as well.
4
Professional Experience and Expertise
You need to look for the best transportation management software provider having relevant experience and expertise in delivering event transportation services. Make sure you do a background check to identify how many users use the provider's software and why they are using it. Perform thorough market research, find out its area of expertise, and satisfy your mega-event management needs effectively. Besides, you also need to understand the process it follows and the technology stack used to get a complete idea of its competence.
5
Communication Approach
Your chosen software should offer on-demand vehicles for all types of transportation backed by a single point of contact. For smooth communication, the best transportation management software should pass on the right information to all the stakeholders, including guests, players, event planners, staff, drivers, etc. It should help you prioritize all event details and prepare accurate schedules accordingly.
6
Staffing and Execution
One of the most important considerations while hiring a transportation management company for your world-class event is the availability of a robust team. Focusing on staffing and execution can respond to a variety of situations in a better manner. You need to check whether this team is capable of keeping up with the times. Moreover, all the members should be well-trained to manage last-minute vehicle or route changes and offer contemporary event transportation services.
7
Customer Service
Another essential factor that makes a transportation management system software more reliable and reputable is customer service. When you are about to select a transport company, you should definitely keep this in mind. Ensure that the company practices direct responses to satisfy all the onsite requirements and requests put forth by the guests. As such, verifying all-around customer service should be one of your top priorities.
8
Prioritized Automation
The event transport management software should successfully eliminate all the hassles of transporting the guests for your event by automating certain operational areas like bookings, maintenance, and route optimization, to name a few. These operations should be customizable enough to meet the specific needs of VIP guests, drivers, or any other onsite staff. Besides, the software should automatically delegate most of the responsibilities and help you concentrate on the core competencies of your event.
9
Data-driven Solutions
It is necessary for you to opt for a company that understands the importance of KPIs and takes the steps required to reach the end goal. It should be integrated with a transport management system that offers advanced reporting and visualization capabilities to support all the tasks related to commuting. It should provide you with comprehensive graphical reports that can help you make data-driven decisions alongside optimizing operations by undertaking and monitoring various metrics.
10
Event Transportation Management App
From drivers and administrators to staff and guests, all the system users should be able to access an easy-to-use event transportation mobile app or web interface. The company you choose should offer dedicated training and deployment support to ensure seamless integration and setup for the application. This app should be capable of handling numerous requests and surging workloads as the situation demands. It should prove to be a one-stop solution for all the requirements of your big-scale events.
The Final Words
With all the above, you can definitely decide and select an event transportation management solution that perfectly suits your business requirements. Indeed, taking all this into consideration and following it thoroughly is not an easy task and may seem challenging. But doing it the right way can surely help you plan and execute a successful event that all your stakeholders would love. You can also choose our event transportation management app to organize, monitor, and accelerate your transportation operations like never before.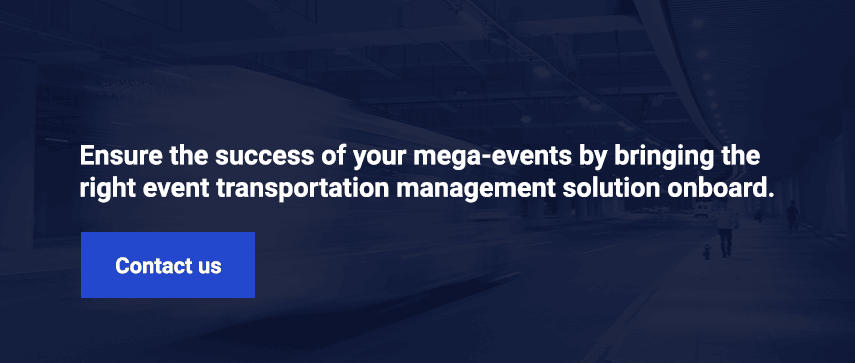 Author's Bio

Nitin Lahoti is the Co-Founder and Director at Mobisoft Infotech. He has 15 years of experience in Design, Business Development and Startups. His expertise is in Product Ideation, UX/UI design, Startup consulting and mentoring. He prefers business readings and loves traveling.