As the virus outbreak continues, business leaders are coming up with innovative digital solutions. One of them is a face mask detection system to identify people with face masks. A few companies have already launched their face mask detection applications, software, while others have announced to launch the service soon. Today, we will discuss this most advanced solution, what it is all about, how does it work, and how it will be beneficial to everyone.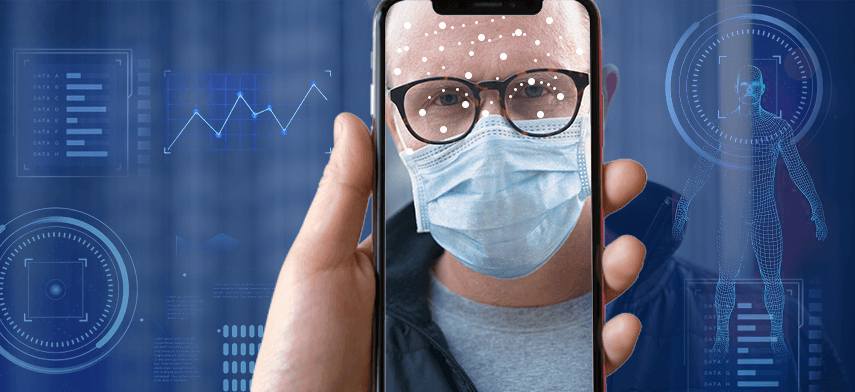 Covering our faces with a mask has become a new normal amidst the pandemic, as face masks are effective in preventing the virus outbreak. Many developed and underdeveloped nations worldwide have made it compulsory for people to wear masks if leaving home or visiting public places. Other precautionary measures are also advocated by the government to maintain safety and hygiene, apart from shielding faces. Further, millions of people are learning to make their own face masks due to the short supply of masks in the market. On the other hand, it will be challenging to recognize faces with masks on any monitoring systems, while maintaining touchless access control in buildings. Covering faces with masks has posed a challenge for face detection algorithms and performance.
Consequently, how can an organization identify its employees with masks? The same questions may arise for other sectors, like retail, healthcare, transportation, entertainment, etc. And the Answer to this can be the Face Mask Detection Platform. So, let us explore the concept.
Facial Recognition System
Face recognition is a simple way to identify faces, including facial features through technology, especially hardware, like video cameras. The face recognition app or software uses biometrics to map the facial features from any image or video, by comparing it with a database of known faces. Moreover, the facial recognition market is also expected to grow at a value of USD 9.06 billion by 2024. Government initiatives and increasing demand for surveillance systems to enhance security will increase the facial recognition software's adoption. So, this is about facial recognition without masks!
Amid the global crisis, new demand has emerged in the market, and that is of face mask detection. It is one such technology capable of detecting a face with a mask and verifying that person's identity. It incorporates an AI-based pattern recognition system that uses biometric data of individuals. It extracts facial features and classifies them in different categories. Besides, it can also identify people without masks by generating an alarm or a notification to notify security or officials. They can see who has not covered faces with masks through software, mobile app, device, or a website.
Use Cases of Face Mask Detection System
The system can be used in the following places to identify people with or without masks:
Offices – Manufacturers, retail, other SMEs and corporate giants

Hospitals/healthcare organizations

Airports and railway stations

Sports venues

Entertainment and hospitality industry

Densely populated areas
Analyzing the current scenario, government and private organizations want to make sure that everyone working or visiting a public or private place is wearing masks throughout the day. The face mask detection platform can quickly identify the person with a mask, using cameras and analytics. Depending upon the requirements, the system is also adaptable to the latest technology and tools i.e.; you can add contact numbers or email addresses in the system to send an alert to the one who has not worn the mask. You can also send an alert to the person whose face is not recognizable in the system.
How Does the System Work?
The face mask recognition system uses AI technology to detect the person with or without a mask. It can be connected with any surveillance system installed at your premise. The authorities or admin can check the person through the system to confirm their identity. The system sends an alert message to the authorized person if someone has entered the premise without a face mask. The accuracy rate of detecting a person with a face mask is 95-97% depending on the digital capabilities. The data has been transferred and stored automatically in the system to enable reports whenever you want.

Features of the Face Mask Detection System
The system is easy to implement in any existing organizational system.

Custom alerts can be sent to the person with or without a face mask or the one whose face is unrecognizable in the admin system.

No need to install any hardware as the system can be connected with your existing surveillance system only.

The system can be used easily with any camera or hardware like surveillance cameras.

The system restricts access for those not wearing the masks and notifies the authorities.

You can customize the face mask detection system based on your business requirements.

You can check the analytics based on the system generated reports.

Easy to access and control the movements from any device through face mask detection applications.

Partially occluded faces either with mask or hair or hand, can be easily detected.
Attributes Matter the Most!
Detecting masked faces is challenging because the system can not detect incomplete or inaccurate facial features. But thanks to advanced technology and continuous research and studies performed by so many tech-leaders. Moreover, artificial intelligence (AI) and machine learning (ML) communities are developing various models withstanding the urgent need for detecting masked faces. Detecting masked faces requires making a system that can identify the available datasets of a masked face, i.e., facial features. The advanced detection technology includes various attributes as mentioned hereunder:
Location of Faces

, annotated by a shape i.e., square

Face Orientation

, includes front, left, left-front, right, right-front.

Location of Eyes,

need to mark eye centers.

Location of Masks

, annotated by a shape i.e., rectangles.

Type of Masks

, i.e., human-made masks with or without logo, face covered by hand, etc.

Occlusion Degree

, defining a face into four regions – eyes, nose, chin, and mouth
Conclusion
Corporate giants from various verticals are turning to AI and ML, leveraging technology at the service of humanity amid the pandemic. Digital product development companies are launching mask detection API services that enable developers to build a face mask detection system quickly to serve the community amid the crisis. The technology assures reliable and real-time face detection of users wearing masks. Besides, the system is easy to deploy into any existing system of a business while keeping the safety and privacy of users' data. So the face mask detection system is going to be the leading digital solution for most industries, especially retail, healthcare, and corporate sectors. Discover how we can help you to serve the communities with the help of digital solutions.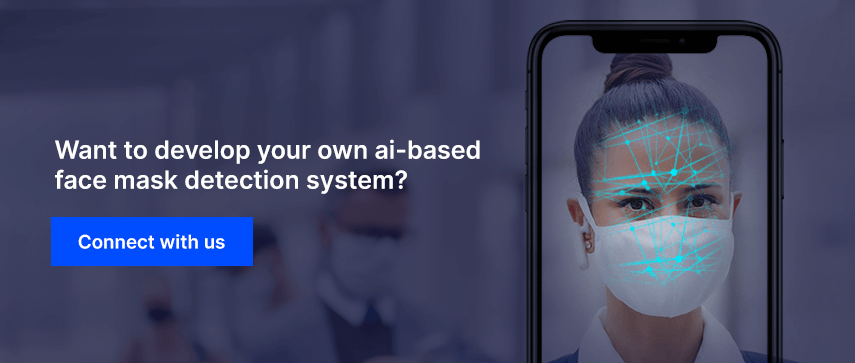 Author's Bio

Nitin Lahoti is the Co-Founder and Director at Mobisoft Infotech. He has 15 years of experience in Design, Business Development and Startups. His expertise is in Product Ideation, UX/UI design, Startup consulting and mentoring. He prefers business readings and loves traveling.