There aren't many things that our smartphones cannot do today. Whether it be booking a train ticket, a hotel room or our lunch, all it takes is a few simple taps.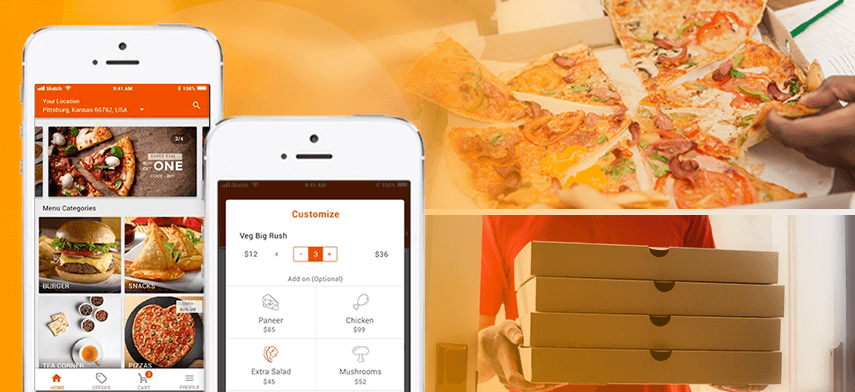 Among all the on-demand services, food delivery is one of the fastest growing segments in India, with major players like Zomato serving as many as 1 million orders per day. It just can't get bigger than that.
Deepinder Goyal, the founder of Zomato, India's longest running food tech platform, estimates that the company may have as many as 40-50 million orders per day soon.
Let's deep dive into the list of popular food delivery apps in India as of 2019
Inspired by the motive to deliver food to the whole of India with no restrictions on the minimum order and tie-ups with multiple local restaurants, Swiggy is one of the most popular food delivery apps in India with over 1M+ downloads on Google Play Store alone.
Having its own delivery personnel rushing to ensure the customers get their food fresh, Swiggy focuses on timely deliveries.
Recent Update
They have recently taken over the Mumbai-based food delivery app Scootsy to further enhance their territory and the number of restaurants with which it has tie-ups.
The first food delivery app to sweep the whole country by its then-exclusive services, Zomato isn't exclusive to India anymore. It serves to multiple other nations as well, including Canada. Customers can access all the information they need about a restaurant starting from ratings, prices, reviews, scanned menus, timings, and more.

Zomato also provides reviews of restaurants, and you can check out real customer reviews to know if it's a place worth going to.

Recent Update
Zomato has recently acquired Lucknow-based drone company TechEagle Innovations for an undisclosed amount. We may soon be able to see food deliveries made by autonomous drones for the first time in the country.

The most popular global on-demand taxi service app, Uber, has now started delivering food to people's doorsteps and in a short span since its launch, it has gained a lot of momentum. The food delivery app currently works in all the major cities in India which include Mumbai, Delhi, Pune, Hyderabad, Bangalore, Chennai, and more.
Recent Update
Seems like Uber Eats sure knows how to reach its customers and win their heart by inviting the youth icon of this generation, Alia Bhatt into their team. The mega-star was recently signed up as the ambassador of Uber Eats India. It is not only a first for Uber Eats India but also the company as a whole on a global scale.

App Links: Android, iOS

Next to feature on the list is Foodpanda, the global online food delivery platform with its headquarters stationed in Berlin, Germany. Just like Zomato, Foodpanda also operates in multiple countries. Last year, Foodpanda was acquired by the ridesharing company Ola for $200 million in a bid to tackle the competition in the food delivery market. Ola will be re-entering the industry after the closure of their food delivery service Ola Cafe.

App Links: Android, iOS

Founders Kallol Banerjee and Jaydeep Burman came up with the idea of Faaso's back in 2011. It is one of the most prominent food ordering apps in Bangalore as well as other major cities in the nation including Mumbai, Ahmedabad, Bangalore, Pune, and more.

What sets Fasso's apart is that it allows its users to customize their order in various ways. Even though it hasn't yet proven to be a huge hit throughout the nation, it does have its share of its loyal customers who swear by Faaso's.

Recent Update
Looks like Faaso's will be the next food delivery app to expand into the international markets as it is reportedly in talks with investors to raise a staggering Rs 735 crores ($100 million) to carry out the expansion. Even though the news is not yet verified but sources say that the move is to expand globally and to widen its range of products and ghost restaurant model in the nation.

App Links: Android, iOS

One of the most prominent pizza delivery services in India, Domino's started out with its no-hassle mobile phone delivery option which made pizza available just a call away. It has now upgraded to an app platform and is catering to pizza-lovers throughout the nation. Their 30-minute delivery is something that makes them extremely popular. One of the ways in which Domino's stands out and keeps garnering more and more customers is through its coupons. The customers can apply these coupons to get amazing discounts.

App Links: Android, iOS

Box8 is one of the most unique online food ordering apps in India as it offers a service no other major app does. Through Box8, the customers can satisfy their food cravings, especially cravings for desi food. Founded by two IIT graduates in 2012 when it first started out as a small outlet in a corporate hub, Box8 is now considered one of the fastest growing food delivery apps in India. They define their selling agenda to be desi taste, logistics, and tech.

Currently, Box8 is one of the most used food ordering apps in Delhi as it caters to the young corporate population of Gurgaon along with Mumbai, Pune, and Bangalore. From paratha to steaks, desserts to biryani, you can find it all on Box8.

App Links: Android, iOS

The Pizza Hut food delivery app is another popular pizza delivery app in India which delivers food from your nearest Pizza Hut outlets. Customers can order not only pizzas but also pasta, desserts, beverages, etc. The swift delivery makes it a favorable choice for food delivery amongst the urban foodies. It gives you super fast access, local deals and offers a unique feature which makes it stand out amongst its rivals in the food delivery market.
Recent Update
In a recent update, Yum! Brands, the US-based owner of the quick-service restaurant chain announced India to be Pizza Hut Delivery's second-fastest growing market in the April-June bracket. After Africa, which stands at a whopping 43%, India is at 22% year-on-year system sales. However, this includes sales at outlets as well as through its delivery service.

App Links: Android, iOS

McDelivery app is an initiative by the global fast-food chain McDonald's. Customers can order from a range of meals, wraps, burgers, desserts, beverages, and more from your nearby McDonald's.

The app presently caters to customers in Western and Southern states of India and is yet to attain national popularity. McDonald's has partnered with different distributors and partners across India, and some of them are yet to catch up with the online food delivery trend.
FoodCloud currently offers its service in Delhi and Kolkata. Customers can order home cooked food from professional chefs working from their homes for zero delivery charges. You can also order desserts, snacks, cakes, party food, thali and pickles using the app.
Recent Update
The company has raised 3.5 crore Rupees in finding to expand its operation beyond Delhi. It is also looking to increase the number of chefs working with the platform.
Behrouz Biryani claims to bring back the secret recipe of biryani that was lost long ago in Persia. You can order different types of biryani online along with other Mughlai dishes like kebabs and Shirin. The service is available in 15 Indian cities across 160 locations.
Travelkhana is another company which provides fresh food for Indian railway passengers. They promise to deliver clean and hygienically cooked food at affordable prices. You can choose from India, continental, Jain thali, South or North Indian items and get it delivered right at your seat.
Railrestro is an authorized agency appointed by IRCTC E-Catering services. Passengers of Indian Railways can use the app to get their desired food items delivered to their seats. You can either pay online or avail cash on delivery for your ordered items.
Wrapping Up!!
While there are a good many food delivery apps out there in the country, most of them are still looking to capture a significant market share that is up for grab. Zomato was leading the game until Swiggy came along. And now, there are competitors like Uber Eats. Foodpanda, which had faced tough times a while back, is also looking to reinvent itself to give a tough fight to others under the leadership of the ride-hailing giant Ola.
With so many options out there, food delivery app startups need an effective strategy and an innovative plan. While discounts are great, they cannot work out in the longer run. Instead, metrics like customer satisfaction, how reliable food delivery guys are, and user growth is what they should be looking at. Smart marketing moves like that of UberEats can also go a long way in roping in more and more traffic to your food delivery app.
With over a billion people out there in India and a middle class whose number is on the rise, it's no secret that the market can handle more than one food delivery app company.