Technological advancements in the healthcare industry continue to provide new ways to improve the quality of care delivered to the patients while advancing the state of the global digital healthcare system. Information technology has significantly contributed to the healthcare industry with the increasing use of telehealth services, electronic medical records, and mobile technologies.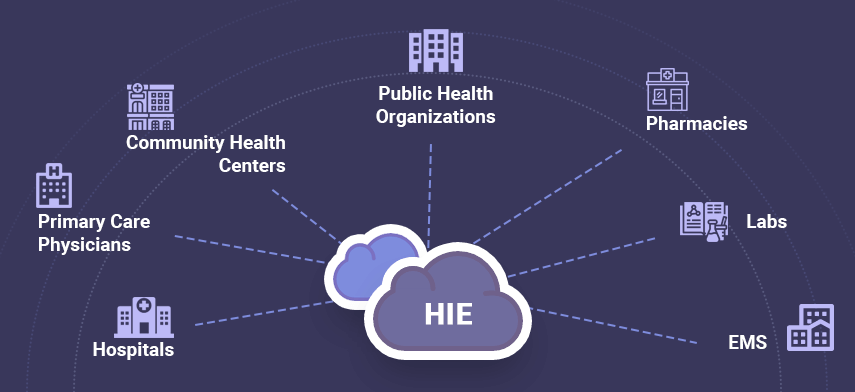 Additionally, the demand for electronic health information exchange is surging among healthcare professionals owing to the increasing demand for an efficient healthcare system. A recent study published in the Journal of the American Medical Informatics Association showed that the patient data transmitted through Health Information Exchange (HIE) doesn't solely depend on the technical aspects but also depends on the policies facilitating data exchange. Hence, most of the countries are focusing on introducing new policies for data exchange through their HIE systems.

There are several benefits of health information exchange which we will deep dive in this blog article. But first, let's understand the basics of health information exchange (HIE).
What is Health Information Exchange?
Health information exchange helps doctors, nurses, patients, pharmacists, and others to seamlessly exchange vital medical information electronically with better quality, speed, security, and cost. Various companies are building HIE software that enables health information exchange using various standards. For instance, some HIEs are run by private companies, while some are run by the state governments. Meanwhile, some states even have multiple HIEs within the state.
The growing patient-centric approach, increasing EHR adoption, and increasing focus on curtailing the healthcare costs are some of the factors driving health information exchange market globally.

Countries across various regions are focusing on developing a better and safe infrastructure for health information exchange. According to the Office of National Coordinator of Health IT, in the US there are more than 100 regional HIEs, an increasing number of healthcare organizations are joining multiple HIEs to gather information on patients. Meanwhile, in the low and middle-income countries, lack of access to resources that accelerate the establishment of procedures and policies are hindering the HIE implementation process.

What are the Different Types of Health Information Exchange Data?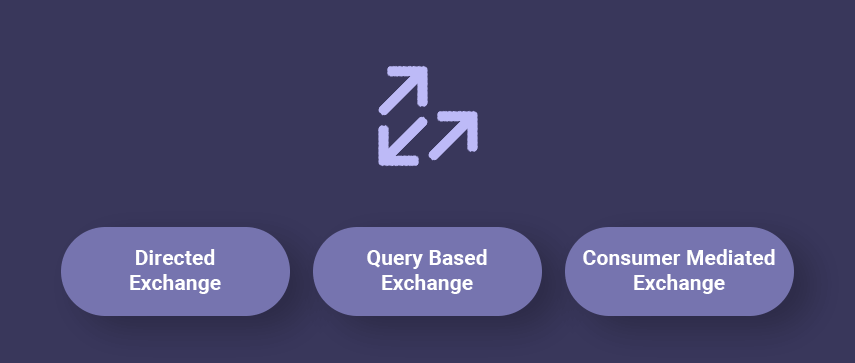 HIE data and information varies depending on the ability of providers participating in the exchange to receive and send information.

Currently, three basic HIE forms used to exchange data are –

Directed Exchange
Sending and receiving information between care providers to support coordinated care.

Query Based Exchange
Providers/doctors can request or lookup patient related information from other providers.

Consumer Mediated Exchange
Patients can control the use of their health information among providers.

What is Health Information Exchange Architecture?
HIE currently uses three models to effectively share patient data between hospitals, referring physicians, and labs. These three primary infrastructure models are –

Centralized Model
All the data is stored in a single data repository, and participants are able to regularly submit data of patients while viewing the data through external delivery methods. It works well in the community networks, and currently, there are commercial products available, that can be used to facilitate this model or architecture of HIE.

Decentralized Model
All the data under this model is at the point-of-service (POS) and a member of the organization is a participant who agrees to share the information with other members of the organization. This ultimately resolves the issue on the data ownership. However, the participants or users of this model need to ensure that data is only accessed by authorized entities.

Hybrid Model
Hybrid is one of the most common HIE models that combine both centralized and decentralized models.

Hybrid model and centralized infrastructure provide critical care coordination and health management tools that are difficult to deploy in a decentralized system alone. Moreover, data can be extracted from the central repository and information can be added to EHR data.

Blockchain paving the way for new models

With new technologies, companies are focusing on advanced models for health information exchange. Blockchain technology with the potential to increase the security, privacy, and interoperability of healthcare data is seen as the new model for health information exchange.

Blockchain technology also offers a new framework to support the integration of healthcare information across a range of use cases. It also has the potential to solve existing pain points in health information exchange and has the ability to offer an efficient and secure system.

Interesting Read: How Can Blockchain Revolutionize Healthcare?

What are the Benefits of Health Information Exchange?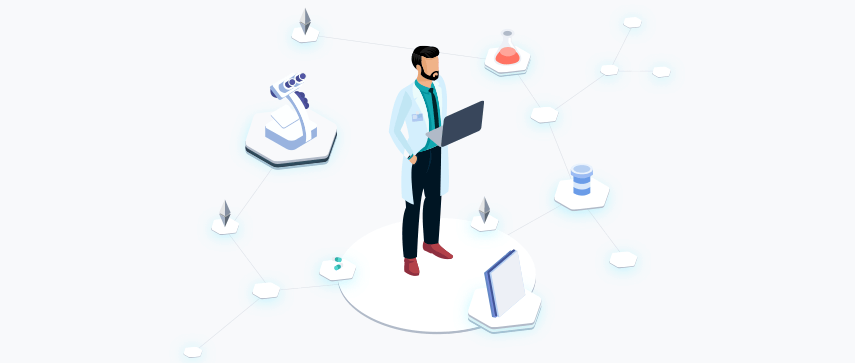 Health information exchange is playing an important role in the healthcare system by improving interoperability, especially as technology is evolving constantly and options for exchanging health information are increasing. With providers realizing the benefits of HIE in patient care, the use of health information exchange is increasing across countries. Here are a few benefits of health information exchange.

Minimizes Errors
HIE can ensure the safety of the patient by reducing medical and medication errors, as the data is safely stored in a database and exchanged through a digital channel.

Provides Efficiency
Health information exchange saves data in digital format which eliminates the need for any paperwork or handling. This also reduces the risk of losing any information as all the data is digitally stored.

Acts as a Support Tool
HIE system acts as a support tool for doctors and healthcare providers offering clinical decision support for better treatment and effective care.

Case Study: Transformative healthcare network built on open communication and collaboration.

Smarter Health Monitoring
Simplifying the data exchange process in healthcare improves health reporting and monitoring.

Eliminates Testing and Improves Outcomes
The HIE system can eliminate unnecessary and redundant testing for healthcare providers, thereby improving the quality and outcome of healthcare delivery.

Cost Reduction
Effective HIE systems can reduce health-related costs as it provides information and patient data digitally. Moreover, it also provides personal health information to healthcare consumers.

Interesting Read: What is PHI and What is Not?

More Opportunities
Access to robust health information exchange can open up future opportunities such as care management platforms, cross-facility utilization, and advanced clinical and financial analytics. The HIE system is also helping governments across countries by providing access to public health data in a timely manner and help governments to plan and prioritize programs to improve the health of people.

Case Study: Learn how Khushi Baby is bringing mhealth, cloud computing, and NFC technologies together to build a digital health care.

Common Challenges and Concerns Associated With Health Information Exchange
Ensuring data privacy and security during the process of data exchange is vital. Hence, organizations need to follow federal and state regulations to provide data security, while allowing free flow of data that is necessary for patient care and treatment. The most important obstacle facing health information exchange depends on the perspective of who is looking at it – the provider or the patient.

Below are some of the common challenges associated with HIE.

Insufficiency in Standards
Lack of standards in digital health information exchange can lead to some privacy concerns. Hence, information exchanged digitally must adhere to some standards in order to be used in EHRs.

Lack of Clarity on Requirements and Variations in Rules
Exchanging health information in other states can be difficult owing to the variation in privacy rules. Moreover, providers are finding it difficult to comply with the state laws when exchanging patient's health information with the provider in other states.

Difficult to Match Patients to Their Health Records
It is difficult to match patients to their health records when exchanging health information. Providers are finding it difficult to match patients with the health records and exchange information, owing to the presence of several patients with the same name, birth year, and living in the same area. Hence, there is a need for an identifier that can match patients with their health records.

Cost of Health Information Exchange
Covering the cost of health information exchange can be difficult as it includes various costs such as purchasing and implementation cost, cost to participate in local or state HIE organization, transaction fees for exchanging information by vendors. Moreover, sometimes additional cost comes up including establishing an interface for health information exchange.

Contains Only Summary Document
Some health information exchange only contains a summary document, that can also be referred to as continuity of care document. Owing to the generic nature of the document, it sometimes misses important information on the patient's health that may be important to provide the correct treatment.

Patient Consent
Authorization by the patient is one of the biggest challenges in health information exchange, as authorization is important to exchange health data through various technology and healthcare platforms. It may also lead to legal risks if the health information of the patient is shared without the patient's authorization.

Rising Competition
Competition among health information exchange providers is intense. Organizations are likely to continue to compete for the patient and on sharing information. According to the report from Harvard Business School, sharing health information is the biggest concern among healthcare providers, and it is such that it impeded health information exchange development.

Wrapping Up!!
In a nutshell, modern healthcare is being driven by information, documents are stored in EHR systems and organized for exchange.

HIE is increasingly becoming the cornerstone of better clinical workflows and patient outcomes and more and more healthcare organizations are paying attention to the several benefits of health information exchange.

Though there are some challenges with the exchange of health information, we as a digital healthcare software development partner strongly believe in the potential it has to offer.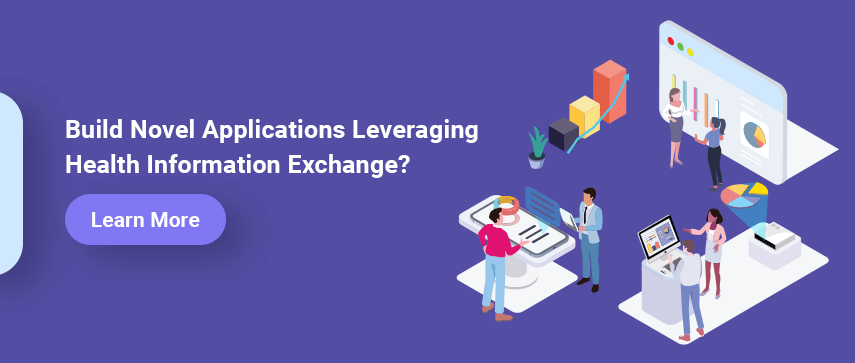 Author's Bio

Shailendra Sinhasane (Shail) is the co-founder and CEO of Mobisoft Infotech. He has been focused on cloud solutions, mobile strategy, cross-platform development, IoT innovations and advising healthcare startups in building scalable products.