Fast-paced digital transformation in healthcare has moved forward toward productive enterprises. But the traditional pen-and-paper method is a conflict in clinics, healthcare organizations, and hospitals. The healthcare market is still buried under enormous data which directly affects patients due to lesser-used healthcare automation.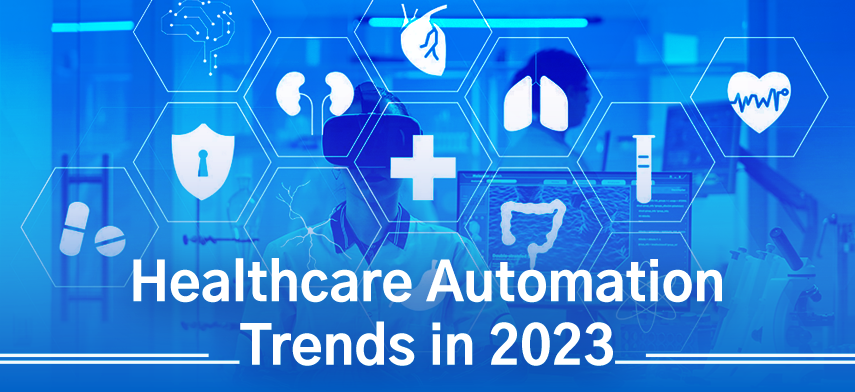 As we struggle with external interactions due to data access inabilities within the healthcare context required for its usefulness delays patient care services and responses. Healthcare expenditure for 2023 is more focused on context-enabled healthcare solutions directly proportional to acquiring data and handing out knowledge resources to providers to improve patient care responses and treatments.
In the era of ever-changing technology trends and major global events, intelligent processes and contextual data automation remain as important as ever. The most notable technology in recent times was the introduction of healthcare automation. Several organizations have been automating their repetitive workflows like rote data entries and pushing files into system cabinets. Looking beyond processing and integration automation in healthcare will enhance and empower health systems and hospitals by recognizing ways to improve business processes. Moreover, this helps to create newer opportunities with the newer automation process. Let's take a look at the key features of healthcare automation solutions.
Key Healthcare Automation Solutions in 2023
Significant improvements in healthcare software development aim at improving the healthcare systems holistically. Involvement in one healthcare program, providers can efficiently and swiftly provide recommendations to their patients. Even with software utilizing this and not all solutions, when the symptoms are not severe, providers can utilize the treatment application at hand. When summing up why there is a necessity for healthcare automation software, healthcare organizations can highlight the following points: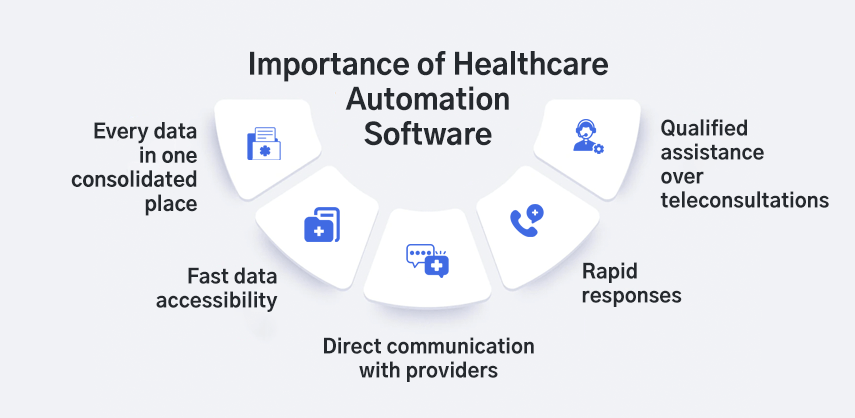 The four main characteristics are available for access in custom healthcare software development. These are spread across the directional development in IT. These characteristics are yet to be utilized globally but will receive immense recognition in 2023.
1
Synchronization of Data
Healthcare clinics and hospitals can utilize data synchronization on various digital devices during patient diagnosis in a hospital setting. The providers have access to complete medical records, allowing them to understand which process will be best to implement when treating them. With the synchronization of data, there will rarely be a situation where providers cannot pinpoint a critical factor about the patients.
2
Data Encryption
Using data synchronization in care delivery services without proper data encryption is close to impossible. Data encryption is an immensely relevant target for data compilation and accessibility. Appropriate data encryption eliminates cyber fraud and increases decryption probability. Online provider portals are already becoming more convenient and with data encryption, healthcare organizations can have segregated compilation of patient data.
3
Remote Accessibility
The foundation of building a new healthcare system depends on remote accessibility. Both providers and patients can use this healthcare automation service with the help of VR glasses. It is becoming possible to conduct a certain specific examination of patients. It will not completely replace in-clinic visitation but will provide a better understanding of whether hospital admission/readmission is necessary.
4
Quality Appointments with Telehealth
Telehealth as a digital transformation in healthcare settings made it possible to conduct patient-provider appointments via video conferencing. The pandemic was a tipping point when patients became homebound and could not visit providers at their clinics. Telehealth and telemedicine will be utilized as a referral to specialists in the future as a consistent form of care delivery service.
These key healthcare process automation solutions will enhance the way providers communicate and deliver care to their patients. Let's take a look at the healthcare automation trends for 2023.
Healthcare Automation Trends in 2023
Before planning for 2023, the healthcare sector needs to be aware of current market trends and what that can mean for their organizations. Automation technology in healthcare will consistently gain traction and become a key component when it comes to automation implementation for businesses. Here's a look at the top healthcare automation trends in 2023.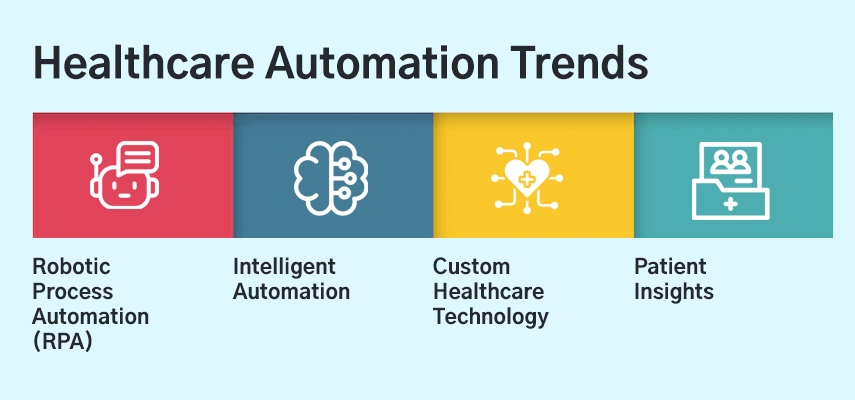 1
Robotic Process Automation (RPA)
The integration of information flow across multiple channels is a tedious task. Unfortunately, a lot of healthcare businesses are still relying on human intelligence to conduct labor-intensive work. This has only increased resource consumption and reduction in staff efficiency.
Robotic Process Automation, better recognized as RPA enables healthcare automation when digital transformation is needed. RPA can virtually automate repetitive manual tasks. It is also crucial for the processing and functioning of healthcare workflow. RPA encourages empowerment for newer workforces to utilize intelligent digital transformation in healthcare tools. This extracts relevant information from multiple resources, electronic health record software (EHRs), payer portals, finance systems, and accounting systems.
Robotic process automation will enable the medical industry in reducing expenses, limit concurrent error occurrences, and improve overall operational efficiency.
2
Intelligent Automation Integration
Intelligence automation (IA) mixes elements constituting AI automation in healthcare with machine learning (ML) and natural language programming (NLP). Intelligent automation services orchestrate specific capabilities aligned with robotic process automation (RPA), process mining, optical character recognition (OCR), and business process management (BPM) integrations.
IA aligns healthcare automation algorithms to constantly refine workflow process and require swift decision-making and interprets structural and nonstructural data. It can be integrated across multiple healthcare workflow aspects including administrative work, client care, claims process, etc. this technology continues to be an emerging healthcare technology eliminating tedious manual labor and enhancing efficient cost-effective healthcare automation.
NLP and ML are two variants of Intelligent Automation used throughout healthcare automation industries.
Natural Language Programming (NLP): NLP enables computers to recognize and understand spoken words and texts and used data management perspectives to learn, detect, and categorize necessary language patterns. This enables isolating meaningful patient data. The technology used by NLP can be integrated for healthcare payers who are transforming into virtual agents. They use conversational AI in assisting health plan members with customized scalable answers.
Machine Learning (ML): This is the second technology in use when it comes to healthcare automation. ML is utilized to process information and recognize patterns for categorizing and analyzing healthcare claims. The longer ML as a branch of IA is used, the more effective its processes become for healthcare organizations.
3
Custom Healthcare Technology
Digital transformation in healthcare advanced into creating custom healthcare software development solutions to make the application more accessible. It is also necessary to keep up with patient demands and be at par with the health tech trends. Technologies catering to patients and consumers are often permeated as an aspect to utilize modern tech leading to custom healthcare software development and solutions, even with the healthcare claims process in place.
Customers are the major reason the digital shift in healthcare is driven towards 'outside-in' demand, where patients can move to transactions offering holistic and compelling patient experiences. Custom healthcare software development needs to be holistically accessible so that patients can decide how they can file their claims and still have the ability to report incidents through digital pathways. This enables cloud-based services and solutions and provides access to claim settlement tools like applications with simple access.
Introducing customized solutions can help insurance payers to optimize their current workflow and integrate scalable technologies for quicker processing times. As we move forward in 2023, it is of great significance to keep up with customizable technologies to stay relevant in the healthcare industry.
4
Patient Insights
Having insurance claims can provide a peek into valuable data that can be optimized for creating profitability for both providers and payers while benefitting the patients. With constant data accessibility, customer data management and analysis continue to be a trending topic in the healthcare market.
The data management process is a crucial aspect of success as it helps providers to anticipate patient needs and act effectively to improve care delivery services with healthcare automation. Thus, enabling holistic decision-making aspects. Improvement in decision-making improves cost reduction and results in fewer in-clinic visits with providers. Advancement in healthcare tools help to manage patient data and creates IA opportunities.
IA enables safeguarding to be in the right places when collecting patient information and consumers can trust providers to keep confidential information safe via HIPAA compliance. Communication regarding data collection and analysis needs to be discussed with patients.
Three ways to keep patients informed and safely collect data are via
Customer Relationship Management (CRM)
Electronic Health Record Software (EHR)
Mobile applications
Customized tools will remain beneficial when improving healthcare automation and quality of care delivery services.

Finally,
Healthcare automation in healthcare software development will remain an essential trend that requires immense attention. It will become easier to receive treatment with the integration of newer technologies in 2023. As we wait for technological advancements when entering a new year, there is still room to improve and understand which direction we can move towards.
With automation technology in healthcare, AI-powered platforms will be able to analyze complex heterogeneous data sources. This is essential for the future of the healthcare industry and organizations can embrace this healthcare automation to accelerate their clinical, commercial, patient, and business plan requirements.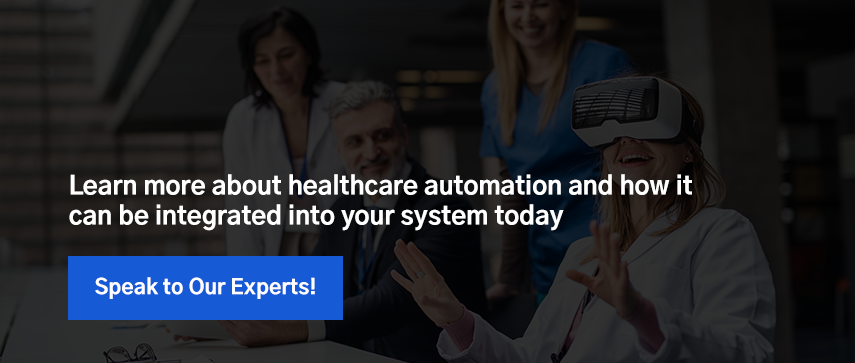 Author's Bio

Dr. Kedar has more than 12 years of experience in the healthcare domain. She advises Mobisoft Infotech in healthcare-related matters.