Health data management is becoming an increasingly digitized way of managing patient and administrative data in terms of value, volume, and velocity. Health data management practice helps in simplifying the data and managing the benefits of healthcare practitioners, providers, and organizations. This leads to optimum care delivery for patients' well-being.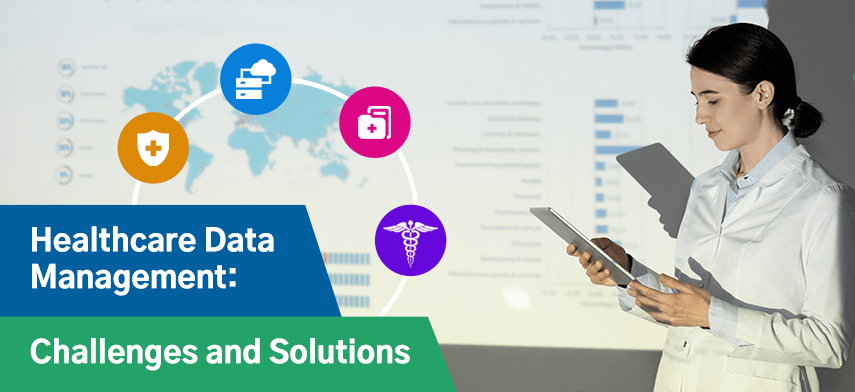 The large amounts of administrative and clinical data generated by providers have been seeing extensive growth in the past decade. Healthcare data management has shown itself to be a challenge as well as an opportunity to enhance healthcare IT security.
Healthcare providers are using healthcare data management software to improve the quality and security of their care delivery services, improve healthcare solutions, uplift efficiency, meet regulatory compliance requirements, and achieve both short and long-term objectives.
However, the challenges of using patient data in healthcare analytics need to be overcome. There needs to be an organized method of dealing with fragmented data, enabling its analysis, integrating it, and deriving necessary and relevant insights to ensure optimum security and privacy. Furthermore, health data management solutions need to be accessible. This is where healthcare data management, IT solutions, and digitization come into play.
Before learning about the challenges in provider data management solutions, let's understand what is healthcare data management.
What is Healthcare Data Management and How is it Significant?
Healthcare data management, commonly identified as Health Information management (HIM) is a form of systematic organization of data management in healthcare organizations. It is stored in digital format and it includes Electronic Health Records (EHRs), Electronic Medical Records (EMRs) generated for provider appointments, handwritten prescriptions, and medical notes scanned and kept in a healthcare repository.
The significance of health data management is not only tasked with the organization of medical data but also to integrate and enable analysis. This helps in improving patient care and providing more efficiency. Healthcare data management drives insights that improve health outcomes while protecting privacy in healthcare and cybersecurity.
According to experts:
A large group of healthcare organizations collects claims data, EMR abstracts, enrollment data, and medical programs.
Leading organizations utilize the capabilities of EMR feeds and disease management program data.
Limited organizations use non-health data resources that utilize augmented formal medical data like remote monitoring, wearable devices, patient lifestyle information, and patient survey about their experience.
Once healthcare data management progresses beyond its capabilities, more organizations are expected to collect a vast variety of health-related information and data, integrate it to generate newer insights, and enhance patient health outcomes.
There are various challenges and benefits of health information and data. Let's look at the challenges in healthcare technology.
Challenges in Healthcare Data Management
Previously, health data management solutions were involved in purely paper-based tracking and then slowly transitioned into the digitized format as seen in current trends. Today, with healthcare management problems and solutions, much health information and data are yet to be digitized or not yet integrated into healthcare data management software.
Here are a few challenges in health information exchange in recent times.
One of the many challenges in healthcare technology is that health data vulnerabilities include structured data. Structured data can be integrated into healthcare database management systems or saved as image and video files, stored in specialized formats (DICOM for MRI scans), scanned paper documents, and more. Data in healthcare is widely duplicated, stored, and collected multiple times in various versions across public health organizations, providers, pharmacies, patients, ad insurance bodies.
One of the many organizational problems in healthcare is that health data is constantly changing including the names, locations, professions, and conditions of patients and providers. Patients constantly undergo numerous tests and are administered various treatment types over the years. Accordingly, the treatments and medication types change in the course as well. New types of health data management solutions include telehealth modules creating new data types.
Health data are sensitive material and very prone to health data breach. Healthcare organizations are required to adhere to government compliance and regulatory rules like HIPAA and ADA. Data management for healthcare like data discovery faces challenges due to poor data quality making it difficult to perform during audits and regulatory requirement meets. This limits the resources from including diverse data of providers that may be beneficial for patient health.
Inadequate Data Integration Across Systems
This continues to be one of the ongoing challenges in healthcare technology as various health data management systems can talk to one another to receive a comprehensive overview of the patient data.
Healthcare data can be overwhelming on healthcare data management software. Organizations and enterprises are required to invest in healthcare IT security infrastructure more effectively. Without adequate ecosystems and data governance, healthcare enterprises risk facing serious reputational and financial consequences.
Moving on to the health data management solutions that enhance healthcare IT security.
Solutions to Meet Healthcare Data Management Challenges
Healthcare data management is known for its complexity. It comprises various processes like storage, data entry, AI, processing, accessibility, security, and predictive modeling. Some of these advantages of technology in healthcare help in implementing solutions, medical enterprises, facilitating, informing, and streamlining the processes. It includes –
Technologies for Data Entry
Healthcare enterprises that use technologies for data entries to aggregate and collect data from various systems and resources in different formats. This helios in storing the data in a central repository. Providers are using IoT to remotely monitor patients through smart and wearable devices. Providers can collect and monitor data from their homes.
Providers are using customer-relationship management (CRM) tools and platforms to understand patient needs and improve their holistic experience. OCR technologies enable providers to digitize the texts and minimize manual errors.
Access to Technologies and Data Storage
Providers use data storage and have access to technologies like automated tasks, HIPAA compliance, improved access, and security. In place of using traditional on-premise geolocations, they are now towards safer and cloud-based solutions.
Cloud data storage offers flexible information storage capacity and it comes with low maintenance cost. It also allows providers, stakeholders, and organizations to have easy access to adopting hybrid and remote work policies and mobile apps. Providers are allowed to increase or reduce this healthcare data management software space as needed instead of investing in on-premise platforms or servers. Coud-based technologies and other hosting solutions have a lower risk of health data breaches than on-premise servers as this data is stored in various other locations and is more secure.

Data Security, Fraud Technology Detection, and Security
Process data in real-time is crucial to providers and healthcare organizations. Healthcare data management allows them to adopt newer technologies and healthcare database management systems as a lot of data needs to be collected and can be too much for traditional systems. This data stored comes in various resources and formats.
AI and ML ate allowing providing to diagnose patients more accurately and forecast medical concerns and their progress. This helps in working in real-time, improving the overall efficacy of providers, doctors, and nurses, and helps in providing better health results for patients. For ensuring data management in healthcare, providers also need to ensure optimum data security. Implementing security technologies helps in controlling access and integrating encryption during storage or transmission.
Providers can now also use fraud detection and prevention systems for monitoring any suspicious activities that can be inspected more closely. Data-driven fraud prevention is now aided by artificial intelligence as it offers higher fraud prevention and detection power that is more cost-efficient for organizations.
Optimum Scalability for Data Architectures
Healthcare data management enables providers to generate an exponential amount of data every second to mine it for valuable patient insights. With digital innovation and new technologies making headway toward availability, data output will grow further.
Healthcare professionals are adopting cloud storage and computing to predict inevitable future growth. On-premise storage methods are now limited as healthcare organizations and enterprises are investing more in provider data management solutions. Cloud-based solutions will provide optimum output for data architectures and scale up the business when new hardware is invested in.
Predictive Modeling and Data Intelligence
Healthcare professionals incorporate and employ a wide range of analytical tools and methods to understand the data that has been collected. It helps in deriving the right value. Through assistance from data intelligence, providers will improve treatment outcomes, recognize threats early, and personalize their treatment when it comes to taking preventive and cautious actions.
With predictive modeling technologies using AI, providers can utilize patient records and other health information and data to proactively detect any chronic conditions or high-risk medical events. Hence, preventing them from happening. The predictive modeling lowers internal healthcare process expenditures and tailors treatment plans according to the patient's medical requirements.
Bottom Line,
Healthcare data management is complex and you as a healthcare provider require the right technologies and IT solutions to gather value from the data collected. As it is, each healthcare provider has different requirements and needs segregated IT solutions, you need the right IT solution partner to assist you in integrating the IT solutions.
Do it right by choosing the right partners like Mobisoft and implement a successful healthcare data management software that caters immersively to your business.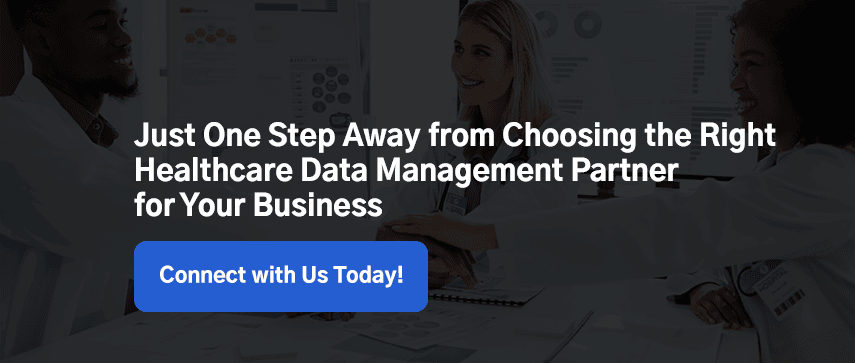 Author's Bio

Dr. Kedar has more than 12 years of experience in the healthcare domain. She advises Mobisoft Infotech in healthcare-related matters.