Healthcare software development in the care delivery sector is becoming mainstream in today's day and age. As more institutions and organizations are investing in and adopting software development healthcare services, the quality of software engineering in healthcare is helping to boost the patient experience, care delivery efficiency, and overall streamlining of care services.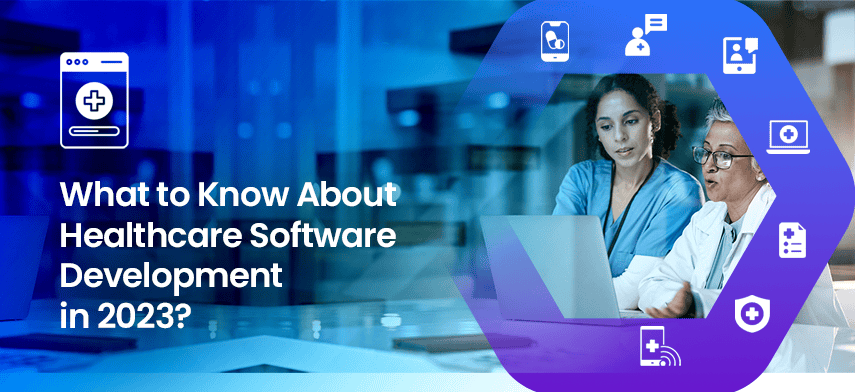 In recent years, the healthcare sector has seen new developments at the forefront of digital innovations. A healthcare software development company is now becoming more and more open to adopting new services and solutions to improve scalable, secure, and successful outcomes.
Right now, it is an extremely exciting time for the landscape in health tech that will help in driving values and deliver efficient services. If you're willing to earn based on software development in healthcare, this article is for you!
Before we learn about healthcare software development in 2023, let's take a look at the types of software development in healthcare. So let's dive in.
Classifications of Healthcare Software Development
The rate of implementation for custom medical software development has been observed to be in high demand. The pharmaceutical industry is also growing exponentially side by side with the increased process of digitization is picking up pace. Meanwhile, it is worth noticing that major healthcare organizations, startups, and midscale businesses are experiencing the enhancements brought by healthcare software development.
In this segment, we will be discussing the classifications of different healthcare software development that are evolving to meet the patient demands in this ever-changing medical landscape.
Medical Practice Management Software
We are aware of hospital software development increasing in demand for providing cost-effective care to patients. Especially it is true for populations surviving in this era of the increasing rate of living. So, it is immensely essential to ensure resources are utilized as efficiently as possible. The transformation from analog to digital requirements for requiring medical software engineering has created the need for medical practice management software. This helps in ensuring a streamlined workflow for doctors, providers, nurses, and other healthcare professionals.
Medical Practice Management, commonly known as MPM software helps to design a streamlined task flow offering coordination and communication between patients and providers. This information from custom healthcare systems helps as a part of management tools. MPM software helps in managing patient records, finances, appointments, and accounts for healthcare organizations.
Electronic Health Record (EHR) Software
Healthcare providers are looking out for demanding and efficient healthcare software development solutions for improving patient care experiences. EHRs and other healthcare software are now playing integral roles in improving and streaming the processes.
EHRs as custom healthcare systems help in keeping a track of patient's medical information, history, and treatment records. It can help in managing and integrating other healthcare aspects and processes including staffing, billing, and information compilation.
Prescription Management Software (e-Prescribing Software)
With electronic medical records (EMRs) continuing to grow, so does the demand for prescription management software. With the integral help of software engineering in healthcare, these custom healthcare systems can help in transmitting medical records, lab test results, patient data, and other health-related information. In addition to this, e-Prescribing software also includes the ability for providers and patients to sign every document digitally with e-signatures.
Electronic prescription management software offers various benefits and challenges that can affect patients and providers. But, the approach that e-Prescirbing software takes is more efficient that the traditional prescription management workflow, as it reduces the large amount of paperwork for pharmacies. Moreover, it enables pharmaceutical executives to access the history of medication of patients without contacting the provider or physician. This trend in application development for software in healthcare enables pharmacists to track previous and current medications prescribed to patients.
The adoption of smart devices and smartphones is rising in demand, this has improved healthcare provider outlook in adopting digital platforms to offer care services. Urgent care management software is becoming a popular digital initiative that provides better benefits in comparison to traditional methods.
The urgent care management services are significant in experiencing high demand and it is creating a need for urgent care software development across various platforms spread over large locations. Urgent care software management is useful for staff, providers, professionals, and nurses, as well as technicians. It helps in enhancing better patient communication.
Hospital Software Development
A hospital software development process helps in creating a system that automates healthcare tasks like administrative work and clinical processes. Hospital management software streamlines the workflow of care services, improves productivity and data quality, reduces errors, and enhances patient safety requirements.
By implementing hospital software development, hospitals can offer more focus on providing care to patients instead of working on administrative tasks and manually updating paperwork and records. The software can be designed as a stand-alone or integrated hospital system that has functionalities like lab management, registrations, reporting, and billing.
Trends in healthcare technology have actively seen the creation of software packages that streamline business processes and workflows while enhancing productivity and improving patient experience. Healthcare CRM enables providers to gain patient care insights and how it can be improved.
Healthcare software development enables hospitals and other care service facilities in leveraging the power of Healthcare CRM. this efficiently and effectively improves staff coordination, improves appointment scheduling, and follows up with patients.
Now, let's take a look at the key statistics one should look for when integrating healthcare software development.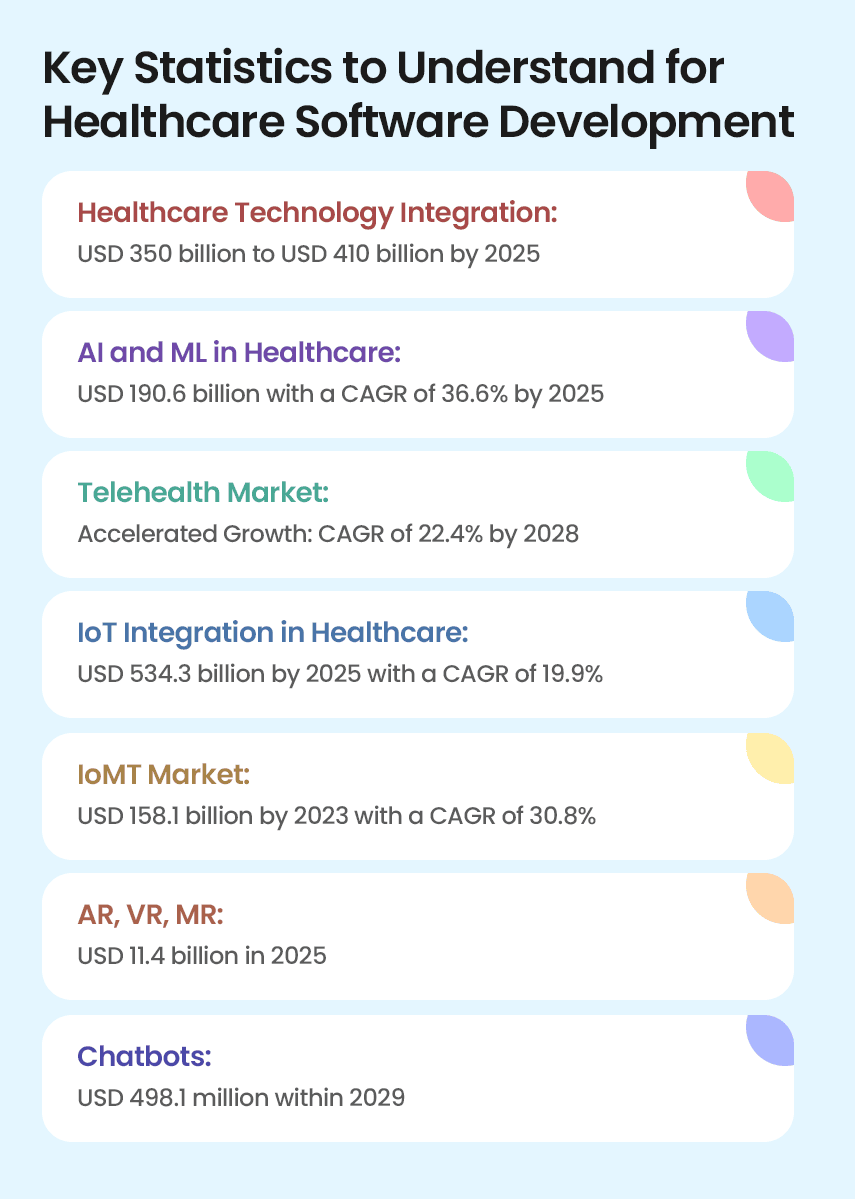 The future of health depends on the way we pave it. It depends on the prudent focus of curating the right resources with custom healthcare systems. The future landscape of healthcare is a brilliant combination of AI, IoMT, Blockchain, ML, and more.
It is a potential suggestion to always look for key statistics when implementing healthcare software development.
Healthcare Technology Integration
A report suggests that technology-driven innovation in healthcare has improved the understanding of patients. It enables individualized care services and will generate annual revenue between USD 350 billion to USD 410 billion by 2025.
According to experts, the market for AI in healthcare is set to reach USD 190.6 billion with a CAGR of 36.6% by 2025. AI is already set on creating an impact on the healthcare software development industry with core benefits including – Chronic Care Management, Self-care/Wellness/Prevention, Diagnosis and Triage, Clinical Decision Support, Diagnostics Support, Care Delivery, and more.
Robotic Process Automation (RPA), as an emerging healthcare technology under artificial intelligence, is helping healthcare delivery for organizations and facilities. According to recent research, in 2023 nearly 20% of every patient interaction will have a form of AI enablement process whether it is clinical or non-clinical.
IoT, Telehealth, and IoMT
The global telehealth market is expected to grow at an accelerated pace with a CAGR of 22.4% by 2028. Experts are also anticipating the spending on IoT integration in healthcare to touch an increased demand of USD 534.3 billion by 2025 with a CAGR of 19.9%. Additionally to this, experts are also expecting the IoMT market to grow by USD 158.1 billion by 2023 with a CAGR of 30.8%.
The virtual reality and augmented reality market is projected to touch USD 11.4 billion in 2025, while surveys suggest that chatbots have been the most popular in healthcare and are set to grow over USD 498.1 million within 2029.
The healthcare software development market has highlighted the factors that include the expansion of internet connectivity, advancements in NLP, customer experience improvement, and more. These statistics can help your business to understand what will be the best fit for your business in the next projected 5 years.
Moving on to the benefits of healthcare software development in the next segment.
Benefits of Healthcare Software Development in 2023
Across the top benefits of healthcare trends in application development, medical organizations, healthcare software developer, medical software developer, and more are looking toward improving the quality of care services and improving patient satisfaction.
This is particularly true for software solutions including Electronic Recordings, CRM, Enterprise Content Management (ECM), and Patient Portal Software. All digital health tools are providing platforms to inculcate maximum transparency, offer communication for complaints and feedback, and instantaneous responses.
Here's a list of concrete benefits of implementing healthcare software development in 2023.
Wellness and self-care-centered approaches.
Better awareness and synchronization across healthcare organizations, custom health systems, and individual patient plans.
Meeting the growing demand for virtual and augmented reality healthcare services.
Improving treatment accuracy and precision.
The capability of addressing population problem health.
Increasing patient engagement and satisfaction.
Improving HIPAA compliance integration and security control and management of essential patient data.
Offering accessibility for emerging and advanced healthcare technologies to source out alternate revenue generation processes.

Trends in Healthcare Technology Set to Improve Software Development in Healthcare
As we move forward from learning about healthcare software development, we should also be updated regarding the trends in application development for healthcare. Here are a few points on the recent trends in healthcare software development
Continuous Integration (CI)/ Continuous Delivery (CD)
The Continuous Integration and Continuous Development processes are significant trends in software development in healthcare. It involves process automation for building, deploying, and testing software updates on a frequent and regular basis. These practices including CI/CD improves reliability, flexibility, scalability, and speed of software development in healthcare. Accurate updates are critical and knowing the specific benefits can improve patient experience and satisfaction. This includes improved reliability, a faster rate of deployment, enhanced security protocols, and higher agility.
Developing Serverless Architecture
Serverless architecture is an important trend in healthcare technology that involves leveraging cloud-based technologies and services to run applications without needing management infrastructure. Serverless architecture improves the number of benefits in the care delivery industry in terms of cost-efficiency, reliability, and scalability.
Machine Learning Operations (MLOps)
Machine Learning Operations or MLOps are important in the healthcare software development trends that develop end-to-end ML lifecycle. It helps in using, practicing, and managing tools to test, train, deploy, and maintain software healthcare solutions. ML helps in analyzing and interpreting large amounts f patient data and provides significant insights into patient care delivery services. It helps in improving efficiency, enhancing security, better agility, and improved collaboration.
Low code is essentially significant as a trend in healthcare technology and software development as it utilizes the Graphical User Interface (GUI) and other visual tools to customize software applications in healthcare settings. This is a fast, efficient, and scalable medical software engineering as offers faster development, improves efficiency, enhances, collaborations, and helps with better flexibility.
Final Thoughts
Healthcare facilities and businesses are anticipating exponential growth with health and medicine transformation. With healthcare software development, patients can now have more control of their health at affordable and reasonable costs.
This is an exciting year for healthcare providers as they can curate and tailor their services with custom healthcare software development that improves patient well-being. All of this has gained recognition due to the global pandemic. So, it is imperative that software development healthcare services now can pioneer and work efficiently with emerging technologies through cost-effective solutions. You can truly transform your healthcare landscapes with the help of a healthcare software development company to transform your patient care services.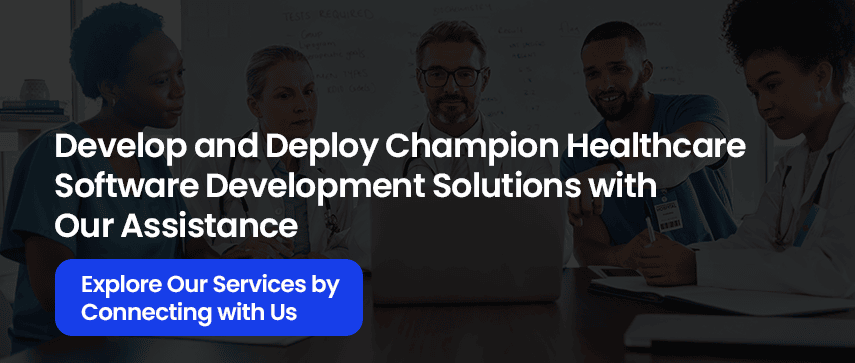 Author's Bio

Shailendra Sinhasane (Shail) is the co-founder and CEO of Mobisoft Infotech. He has been focused on cloud solutions, mobile strategy, cross-platform development, IoT innovations and advising healthcare startups in building scalable products.