Have you ever scanned a code with your smartphone to make payments? Then, you are no stranger to the QR code! QR codes have become immensely popular to engage users, carry out an action and to grow your business. Around 11 million households in the US are expected to scan a QR code in 2020. In China, transactions worth USD 1.65 trillion were done through QR codes.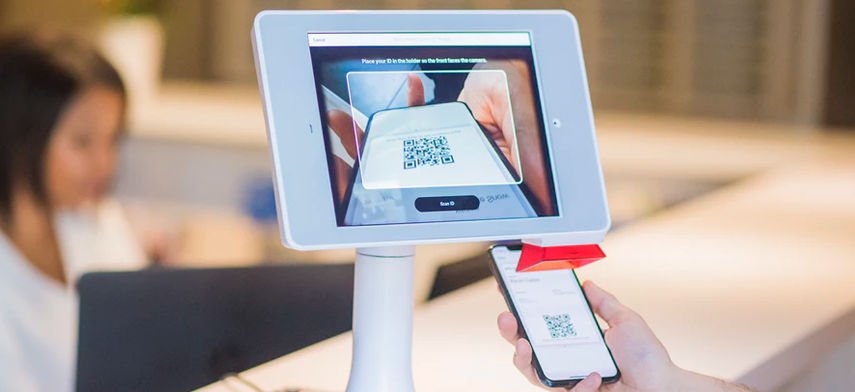 The use of QR codes is growing rapidly all over the world. It has become a favorite tool of marketers to woo customers who don't want to wait for anything. If you are wondering how QR codes can benefit your business, we have the right answers for you.
In this post, we will take a closer look at QR codes and how they work. Then we will discuss some use cases and industries where QR codes have brought immense change and growth.
What is QR Code & How does It Work?
QR codes are a subset of barcodes and refer to Quick Response Code. The technology was first introduced in Japan by a subsidiary of Toyota called Denso Wave. QR codes can hold more information and advanced features compared to barcodes and can be programmed to perform various actions. QR codes contain information both vertically and horizontally and can be read through a camera-enabled device like a smartphone.
QR codes need two basic technologies to work-
QR code generators: You can find many online sites to generate QR codes for free. The QR codes can carry any information you like including product details, offers, coupons and more. You can also program the QR code to automatically initiate various actions like dialing a number, directing to a URL, sending SMS and so on.
QR code scanner: You will need a device to scan and decode the information in a QR code. iPhones and Android smartphones and tablets are ideal to do the job. You just need to download a QR code reading app, most of which come for free.
The QR scanner app will scan the QR code using the camera of your phone or tablet. Then it will display the information or perform the action which was programmed into the code.
QR code offers a simple and quick way to provide information to your customers. You can also save their work by programming QR codes to carry out various tasks like making online payments, viewing transport schedules and more. The technology which has its roots in Japan is now revolutionizing businesses all over the world.
Difference between QR Code and Barcode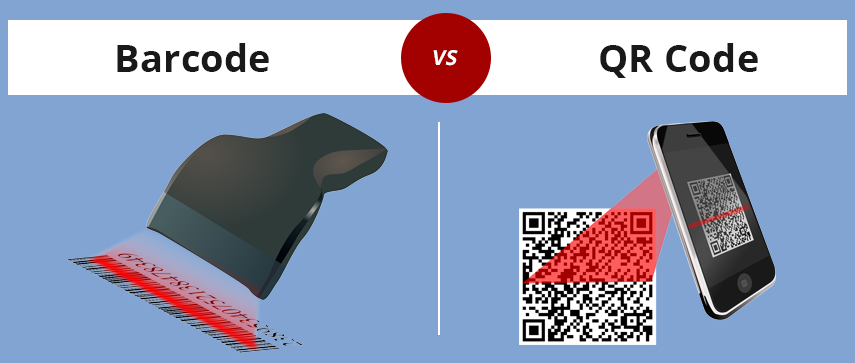 QR code is a type of barcode. QR codes contain information in a 2D way, whereas barcodes utilize 1D track. QR codes are faster and more reliable than barcodes as you can scan them in two dimensions.

QR codes also take up less space than barcodes. QR also offers 360-degree readability for added convenience. You can scan QR codes from any angle, which is not possible in the case of barcodes.

You can also effectively scan a QR code even if it's damaged or covered by dirt. The technology offers an error margin of 7% to 30%, which is not applicable for barcodes.
Useful Applications of QR Codes
As you already know, you can create QR codes to perform a wide range of tasks. Here are some common use cases for QR codes-
1 Direct Users to a URL or Landing Page
You can embed the URL of landing pages or sign up forms in your QR code. A user is directed to the URL the moment he scans the code with a QR code scanner. This way, users don't have to remember URLs or even type them in the address bar. Everything is done automatically!
2 Dial a Number
QR codes are ideal for displaying your business contact information. Your customers can scan the code and get your phone number, address, or any other details you want. You can also program QR codes to dial a number automatically. This becomes helpful during conferences and trade shows where you can encourage people to call your booth through QR codes.
3 Download Apps
QR codes are perfect tools to market your app. You can link the QR code to the app download page and even tweak it to start downloading automatically. Various leading brands have already used the technique including Snapchat, Angry Birds and Spotify. In the case of Spotify, the QR codes enable users to share or recommend songs.
4 Lock and Unlock Devices and Equipment
You can use QR codes to allow users to lock or unlock devices and equipment. For example, the cycle rental service Pedl from ZoomCar uses the same technology to lock and unlock cycles. The user scans the code using their smartphone, which then automatically unlocks the cycle for use.
5 Send Messages and Emails
You can use QR codes to send emails or SMS to your customers. This provides a simple way to track the conversions of your SMS or email marketing campaigns. You can use the SMS feature for opt-in SMS registration, customer support, sales and more.
Now that you are aware of the applications of QR code, we will take a look at some industries that utilize the technology.
QR Codes Utilized in Diverse Industries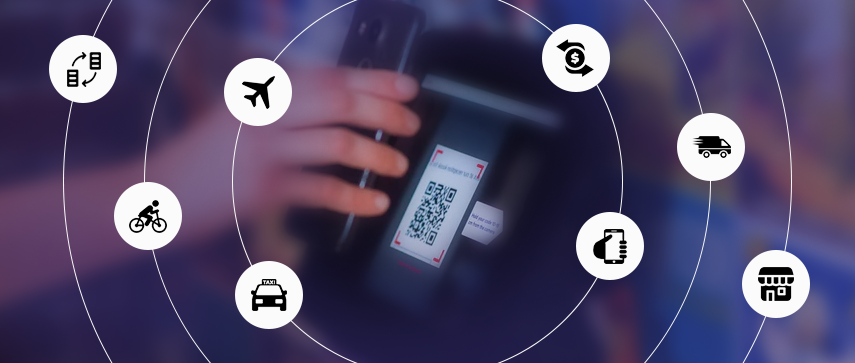 Real Estate
Real estate has been a pioneer in adopting QR code technology. Realtors often put QR codes in "For Sale" signs put up outside properties for sale. Potential customers can scan the code using a QR code scanner and get instant information about the property. There is no need for a real estate agent to be present on the scene to resolve the customer queries. You can display all crucial information by the QR code in a hassle-free manner.
Food and Beverage
The food and beverage industry has made good use of QR codes. You can find QR codes placed on products to relay important information. The code can link to nutritional charts, the recipe of the product, interactive videos and more. It is the ideal way to engage your customers and appeal to their curiosity to initiate any desired action.
The industry also uses the QR codes to display promotional offers and various deals.
Entertainment and Event Management
QR codes can have endless benefits for the entertainment and event management industry. You can print a QR code on tickets and passes to display the schedule of an event or party. The same code can offer useful information about rides and attractions in a theme park. Visitors can just use their smartphones and get directed to an optimized web page containing details about the park.
Museums have also found an innovative use for QR codes. They are being used to link exhibits with interactive presentations, videos and interesting facts.
Hotel, Tourism, and Airline
The hotel and tourism industry has also found extensive use of QR codes. You can link a QR code on a reservation slip to display all tourist attractions, restaurants and points of interest of a place. Customers may also use the same principle to get details about sightseeing plans, transport departure timings, and available accommodations.
QR codes are useful even in the aviation industry. Major airlines now have QR codes on their boarding passes that provide crucial information on flights. Shops in airports also use QR codes to display product information.
Healthcare
Healthcare can utilize QR codes to-
Scan patient wristbands for easy and accurate patient identity management

Administer medication and care and create automatic patient records

Display information about dose, expiry dates, and precautions of medicines

Allow patients to access their records with a simple scan

Improve treatment outcomes and patient safety

Education
QR codes are ideal for motivating students and increasing classroom engagement. You can place QR codes on books and learning materials. They can be linked with educational videos, recordings, animations and more to enhance the learning experience. Parents can also access lesson plans, academic reports, and teacher feedback through QR codes.
Colleges and universities also take the help of QR codes to provide information on courses and semesters. You can place the codes in brochures and admission forms for easy access by students.
Shopping and E-Commerce
QR codes are really popular in the e-commerce and shopping industry. Many businesses use it to allow customers to pay through online wallets and cashless methods. They are also used to offer promotions and discount coupons to customers. In fact, 3.27 million households received a coupon through QR code in 2018.
The same method can also be helpful to provide product information, size charts, resolve FAQs and provide superior customer service.
Shipping and Logistics
QR codes are ideal for providing shipping information to your customers. They can just scan the code and get directed to the tracking page of their delivery. You can also include QR codes on shipping labels to display information about the origin and destination of the cargo.
The Future of QR Codes
QR codes give users relevant access to desired information or action. The technology will become more widespread in the coming years as more and more industries start using it. We can surely say that QR codes of the future will hold more information, so that you may not even need an internet connection! Everything will be embedded in the code itself, making way for quality QR code scanner app development. If you want to attract more customers and create high engagement, QR codes may be the answer. The future is bright for QR codes and early adopters will be able to make the most of the technology.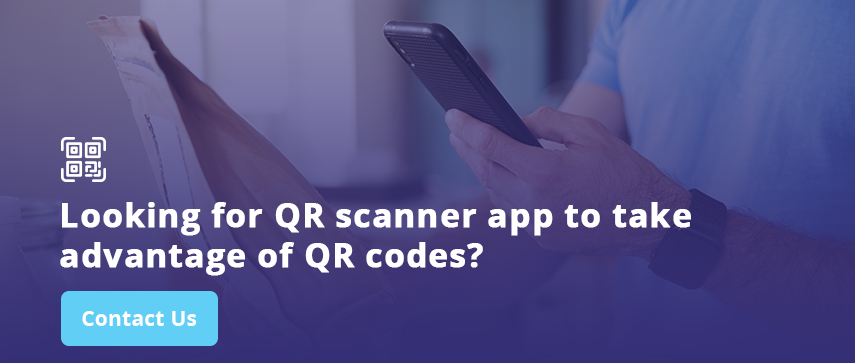 Author's Bio

Nitin Lahoti is the Co-Founder and Director at Mobisoft Infotech. He has 15 years of experience in Design, Business Development and Startups. His expertise is in Product Ideation, UX/UI design, Startup consulting and mentoring. He prefers business readings and loves traveling.