iOS 17 has officially arrived, and it has focused on bringing quality-of-life features to all in-built Apple apps and iPhone mobile user interfaces. Previewed in June at its Apple WWDC Event 2023, the new iOS update is available on major iPhone devices. It doesn't come up with major changes but it's much better in reliability, collaboration, personalization, and stability as compared to the iOS 16 update.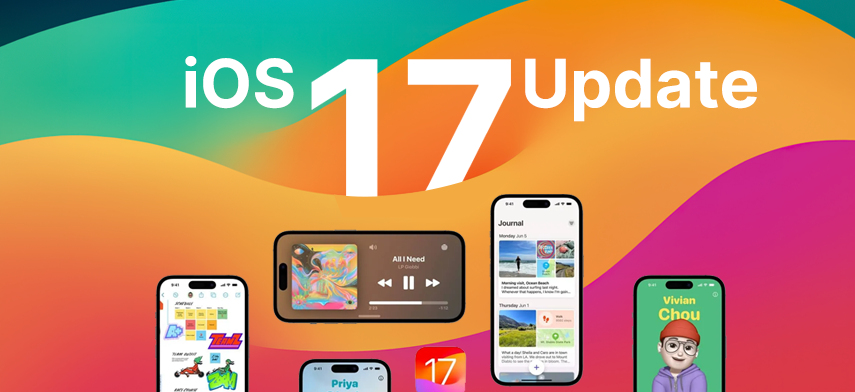 With this latest iOS 17 update, your iPhone has some wonderful enhancements in the Phone App, Safari, FaceTime, Messages, and much more to transform the way you interact with your iPhone. So, without further ado, let's explore this iPhone makeover powered by iOS 17 features.
5 Exciting iOS 17 Features to Elevate Your iPhone Usage
From unique capabilities to sleek design tweaks, the latest iOS update is going to make your iPhone feel fresh and modern touch. Let's explore what this update will bring.
1

You can personalize your Phone App call screen

Apple focused on making communication more interactive, and fun by updating the entire phone call screen interface and adding a host of new features to it.

Your Phone App, which you use to make or receive calls, has been upgraded with a sleek design. Apple has rearranged the buttons on the call screen. The 'Red Call End Button' has been moved to another location.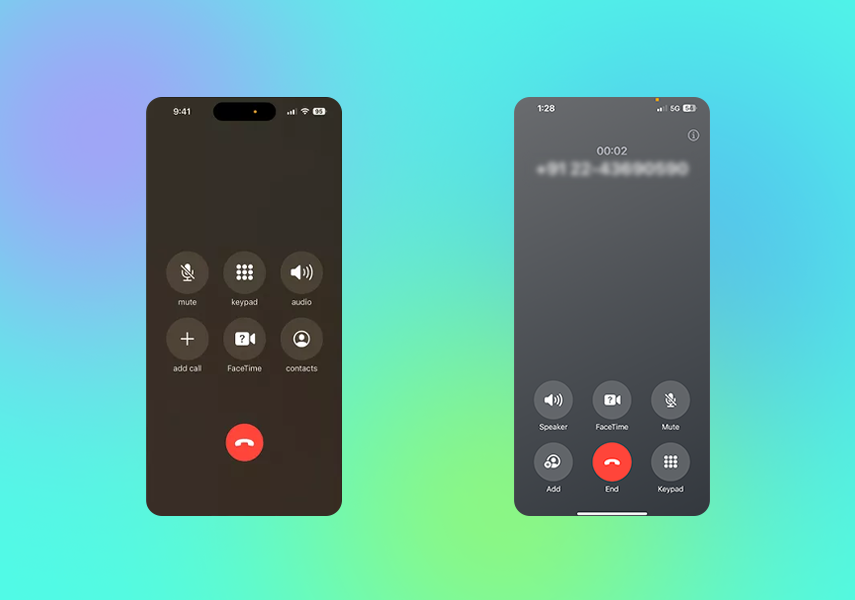 Phone App Call Screen of iOS 16 on the left vs. iOS 17 on the right
As you can see in the above image, Apple has made some changes to the design of its Phone app calling interface. All the buttons have been combined into a 3 x 3 grid. This grid has been relocated to the bottom of the screen, and the positions of the buttons have been shuffled around.
The End Call button is now placed at the bottom row, between the Add and Keypad buttons. FaceTime is now in the middle of the upper row. The Contacts button is removed from the phone app call screen, and the Speaker and Mute buttons have switched positions on the top row. The Keypad has been moved to the right end of the screen, while the Add user button remains in its original location but has been redesigned.
These changes should make it easier for users to navigate the calling interface without accidentally adding unintended participants to their calls. This may take some getting used to if you are accustomed to the old button layout, but it is designed to make the call screen more streamlined and user-friendly.
Another major change is the creation of custom Contact Posters. You can now create customized posters that will be displayed to the person you are calling. The feature is called 'Contact Posters'. You can choose your Photo or use a Memoji or Monogram or Emoji. Furthermore, you can customize the background of the selected poster, including font, color, and more.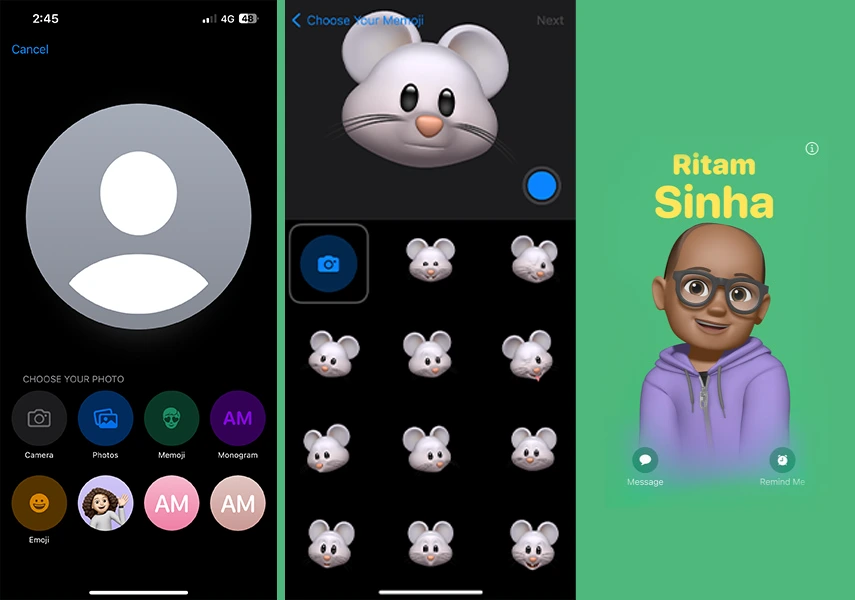 How to Personalize Your Contact Poster on Your iPhone
To customize your contact poster, follow these steps:
Go to your phone 'Settings'

Scroll down and open Messages.

Click on 'Share Name and Photo'

You will be able to see the contact poster options such as Name, Photo Sharing and Edit.

Click on the button 'Edit' You will see a new screen.

Tap on 'Customize' and Click 'Poster' and customize it the way you want.
Please note that 'Contact Posters' are available for the Phone app as well as for third-party apps. You can update your contact profile photo as well.
And the recently launched Voicemail feature in your phone app – If you don't answer a phone call, there's another feature where you can send voicemail directly to the caller. You can also read a live transcription of the voicemail message. So, if you see it's a delivery person calling, you can change your mind and answer the call if needed.
2

Your Message App has some novel iOS 17 features

In the just-released iOS 17 update, the Message app has got significant updates in your iPhone. Let's check them out one by one.
2.1 More refined Search filters
The first one is the enhanced Search filters. It's easier to find any specific word or message by narrowing down your results. Just type someone's name and search for things faster and share quickly.
You can type in a word, like "Texas," if you were talking about Texas with your friend. Then, you can also say, "I only want to see messages from my friend Sarah." So, you're combining these special filters to make the search super precise. You can easily find what you're looking for much faster because it's like telling your phone exactly what you want, and it goes and finds it for you.
2.2 Find messaging tools in one place
Another interesting iOS 17 feature is having all your favorite messaging tools in one place for easier chatting. Apple updated the Messages app to make it look cleaner. You can Just tap the new ➕ button next to the text field and your most used apps will appear in a vertical list; If you want to extend your list of apps, you can find the button 'More' at the bottom. Just tap it and see the scrollable list of apps.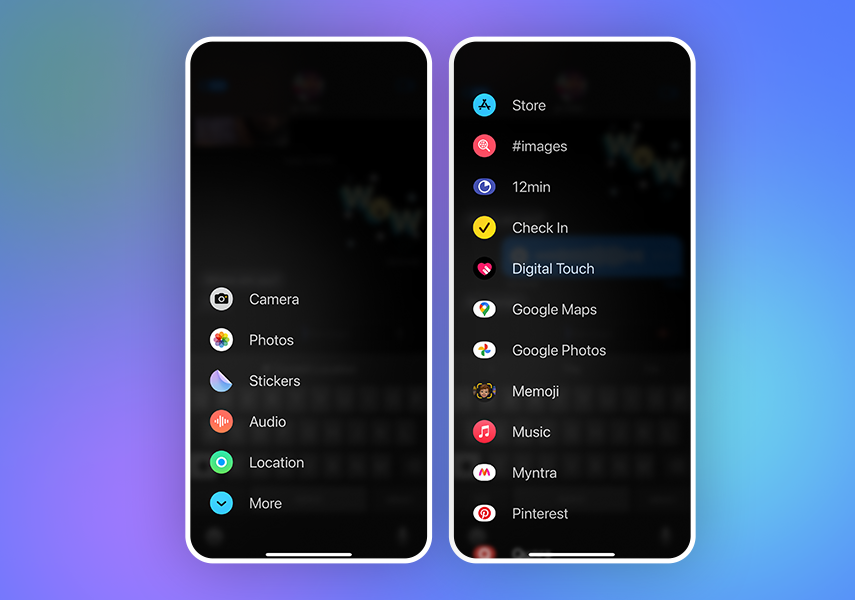 2.3 Make your chat interactive with custom stickers
The most exciting iOS 17 feature over here is the "Sticker Drawer" in your Message App. You read that right! You can find Live Stickers with Words, Emojis, and other ongoing market trend-related things in one place. These stickers are accessible across your device via an emoji keyboard.
In the Message app, open a conversation with someone and tap ➕ Stickers, then drag a sticker onto your conversation and send. As simple as that!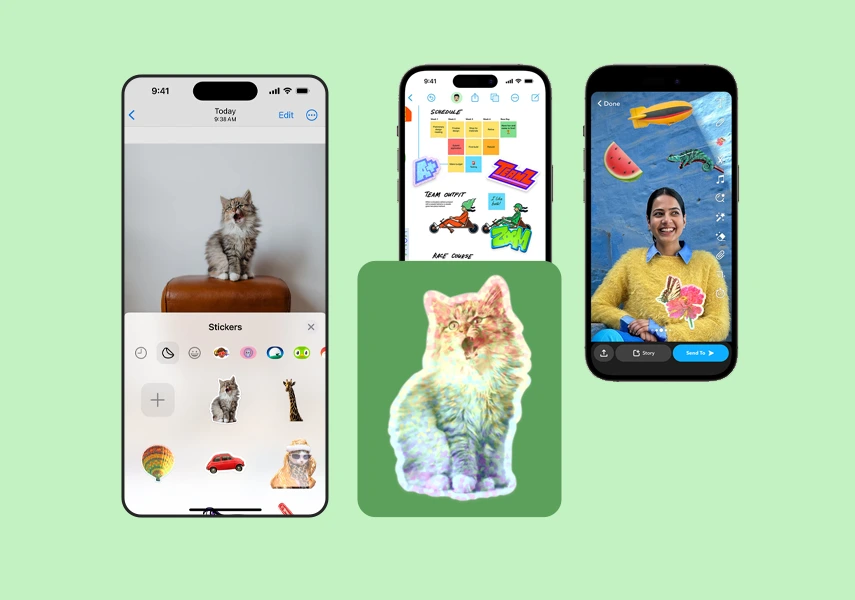 2.4 Record, Pause, and Send your Audio in the Message App
Sending audio has been made easy with this new iOS update. You can now pause while recording an audio message and come back to it later. You don't have to finish it all at once.
At the same time, as a receiver of the audio message, you don't need to keep the app open to hear incoming audio messages. You can listen to them even if you leave the app.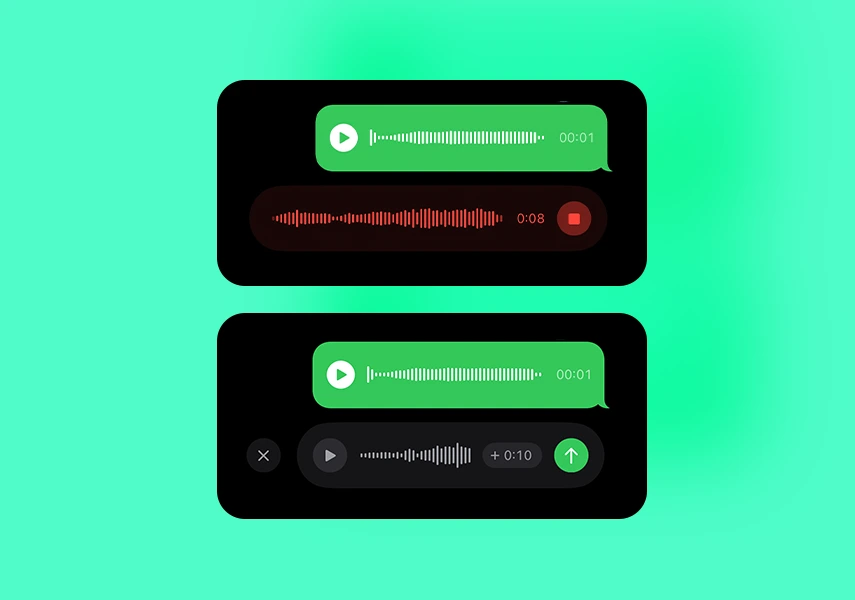 In addition, audio messages will be automatically converted into text on your device. This means that the spoken words in the audio message will be converted into written text, which can be really helpful.
2.5 Share your real-time location in a streamlined way
Location sharing via the iPhone messaging app is now simpler and provides real-time updates within the conversation. This is one of the important iOS 17 features. Your Message app has a cutting-edge safety element "Check In" that automatically sends a message to a loved one when you get home safely. It eliminates the need to remember to send the message yourself.
How does check in work in iOS 17?
Follow the below steps to share your location and give the update to your loved ones:
Step 1: Open the Messages app.
Step 2: Tap the Compose button and select a recipient or select an existing conversation.
Step 3: Tap ➕ and then tap More. Select Check In and tap Edit.
Step 4: Choose one of these options from the screen:
"When I Arrive": Set your destination, and how you're getting there (driving, transit, walking), and add extra time if needed. Check In will alert the recipient if your iPhone doesn't make progress or reach the destination as expected. When you arrive, it automatically notifies your friend or loved one.
"After a timer": Set a specific time duration, useful for meeting unknowns. If you don't end the Check In before the set time expires, it alerts the recipient.
Step 5: Tap Send and give real-time updates of your location.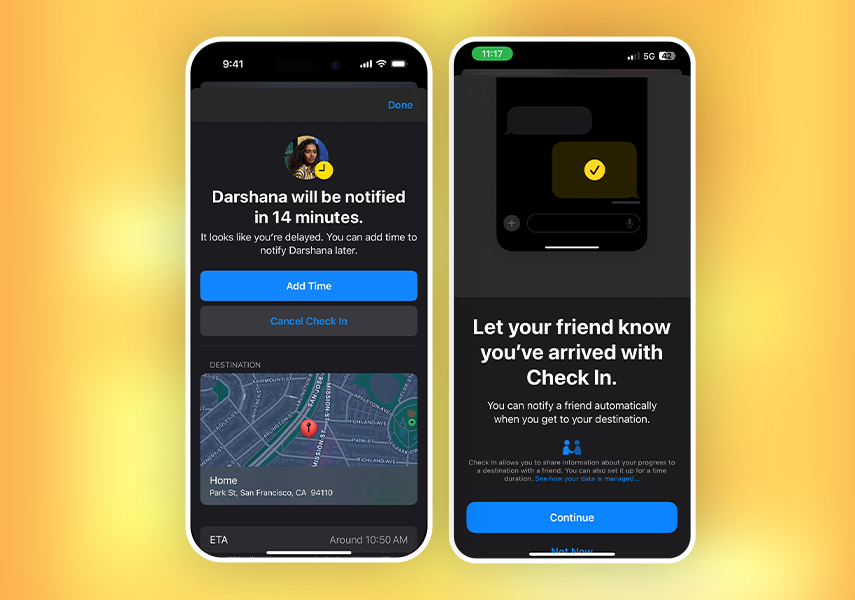 If your iPhone doesn't reach the destination or you don't cancel the Check In and don't respond to prompts, your phone's journey details will be shared with the selected recipient.
To adjust the details you want to share if the Check In doesn't go as planned, refer to the "Choose what details you share" option.
All the location-sharing information is encrypted as per Apple.
3

FaceTime App – an essential upgrade

Your favorite audio and video-calling app has received two big changes. You can now leave video messages if the person you're trying to reach doesn't answer your FaceTime call. This means you can record a short video message for them to watch later. This feature is among the essential iOS 17 features.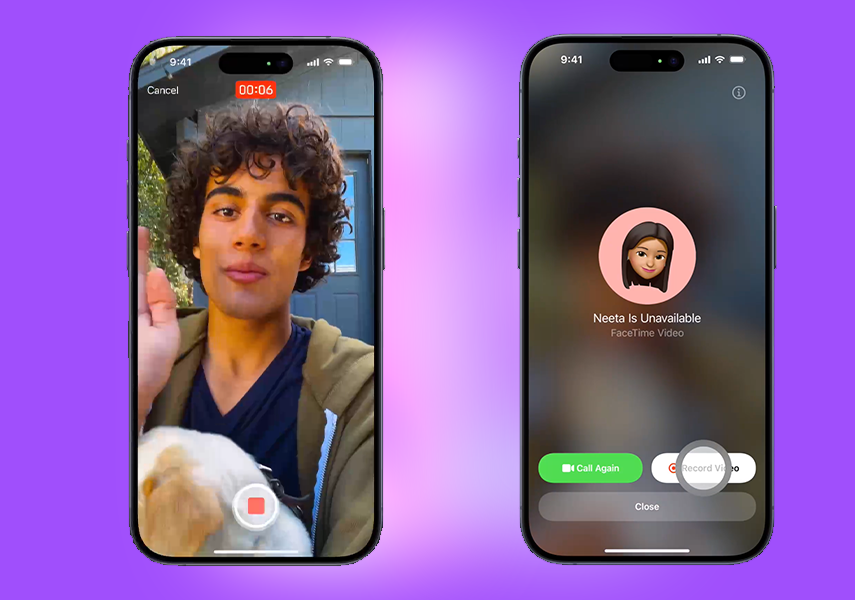 iPhone and iPad users who have an Apple TV can now use Continuity Camera for FaceTime on their big TV screens. You can start a call on your iPhone and then transfer it to the Apple TV, or begin the call directly on the Apple TV through the FaceTime app. Your iPhone acts as the camera (just like when you use it as a webcam for a Mac), and the FaceTime interface appears on the Apple TV. To do this, you'll need a device running iOS 17 and an Apple TV 4K with tvOS 17.
If someone leaves you a FaceTime video or audio message, you can play it back on your Apple Watch in addition to your iPhone.
Another prominent iOS 17 feature is Reactions on FaceTime. They bring fun 3D effects to your video chats. You can use hand gestures to add hearts, confetti, fireworks, and other effects. These gestures work when you're using the front camera on an iPhone 12 or newer iPhone models.
4

Revamp your Lock Screen with Standby Mode & Widget-enhanced Visuals

Apple introduced significant changes to the Lock Screen in the iOS 17 update and made additional adjustments to enhance its usefulness.
4.1 StandBy Mode
With StandBy mode, you can make good use of your phone when you're not actively using it. If you have a MagSafe dock (a special charger), you can place your phone sideways (in landscape orientation), and it will automatically show you quick and easy-to-read information.
StandBy mode is most awesome with a display that's always on, but you can also activate it with a tap. It's a bit like Nightstand mode on the Apple Watch.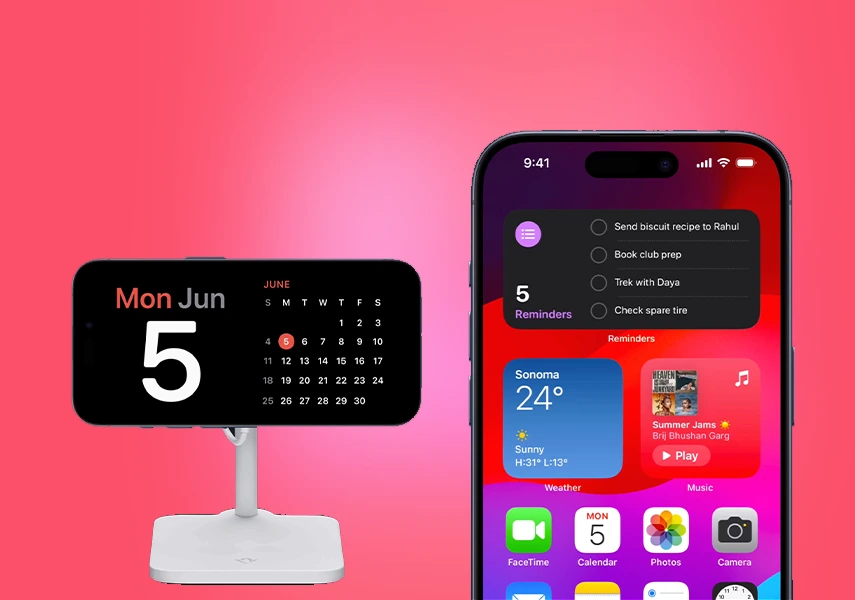 There are two main ways to use StandBy mode:
Stay up to date on top of things with real-time happenings of your life such as match score, weather, or the current status of food delivery. If you get a notification, you can see it in StandBy mode.
You can also talk to Siri without switching your phone back to the normal vertical position.Siri can quickly check the weather or set a timer without touching your phone.
So, you get to pick from various clock styles, view photos, see your calendar, check the weather, keep an eye on Live Activities, or even add widgets that you like using Smart Stack.
4.2 Interactive Widgets
Widgets have been popular among iPhone users for a while now, and Apple is making them even better by allowing developers to create widgets that you can interact with in basic ways.
The tech giant has already updated some of its widgets for the lock screen and home screen. A key iOS 17 feature. For example, there's a fresh Home widget that lets you control home accessories like blinds or door locks with just a tap, instead of using a separate smart home app or talking to Siri.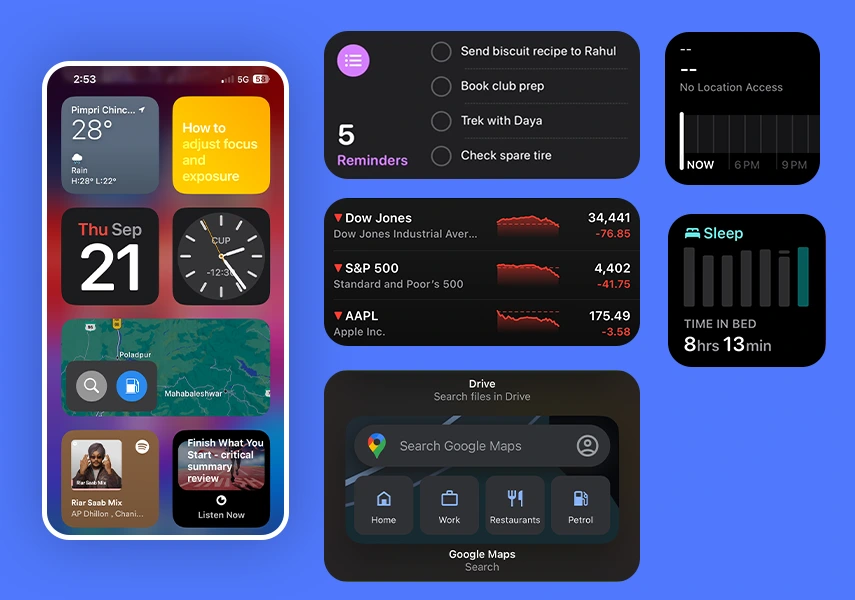 Apple's own content apps, such as Music, Books, and Podcasts, have also been updated to make their widgets interactive, so you can do more right from your home screen.
5

Share contact details quickly with AirDrop & NameDrop

Sharing your phone number or email with someone is easy with the modern AirDrop feature – NameDrop. It allows you to put your iPhone close to someone else's iPhone or Apple Watch to swap contact info. You can pick which phone numbers or email addresses you want to share, and even send them your Contact Poster. This is one of the much-needed iOS 17 features.
SharePlay Initiation: Simply share things with people nearby
There's a refreshed way to share things with people nearby in the iOS 17 update. Just bring your phones close together, and it'll start sharing stuff using AirDrop. If you want to use SharePlay (which lets you enjoy music, movies, or games together), just bring two iPhones close together. This starts SharePlay so you can both have fun while using your own devices.
Proximity Sharing of Photos or Docs:
When you hold your iPhone near another iPhone, you can use AirDrop to quickly share stuff like photos and documents with the person right next to you. Soon, you'll be able to start an AirDrop transfer using the proximity feature and then finish it over the internet (using iCloud) if you and the other person move away from each other. This is handy for sharing large files, but both of you need to be signed into iCloud for it to work.
Other iOS 17 Features to Enhance Your iPhone Experience
While the major iOS 17 features are stealing the spotlight, don't miss out on the hidden gems that can significantly improve how you use your iPhone.
Keyboard Update:
Your keyboard just got faster with machine learning. The smarter autocorrect feature helps you give better predictions and grammar suggestions when you type. You can now use space bar predictions to complete words and even whole sentences. Autocorrected words are underlined when fixed, and you can easily revert to your original text. For more info, check our iOS 17 keyboard guide.
Notes:
The Notes app now lets you link one note to another, creating a Wiki-style system – block quotes or mono-style format for easier navigation. You can also view and annotate PDFs and scans right in the app. Plus, the improved Autofill feature recognizes and fills in fields in PDFs using your stored autofill details.
Safari & Passwords:
Safari and Passwords in iOS 17 come with some revamped features. You can now create different profiles in Safari for various activities like work and personal use. Each profile has its own history, extensions, cookies, favorites, and Tab Groups. You can easily switch between these profiles with a simple tap.
With the Password Sharing feature, you can share passwords and passkeys from your iCloud Keychain with trusted friends and family members. Once you set up a password-sharing group, everyone in the group can access, edit, and add to the same set of passwords, keeping them up to date for everyone.
Other Safari Features include tracking website URL removal, locked private browsing, enhanced search, and a brand-new 'Listen to Page' feature that reads aloud the content of the current webpage when you tap on it. These updates make Safari more versatile, secure, and user-friendly in iOS 17.
Apple Music App Update:
You'll be able to create collaborative playlists with friends and family. Everyone can add, change the order, or remove songs, and you can all react to songs with emojis. In CarPlay, SharePlay lets everyone in the car play their favorite music and contribute to the playlist.
Other Music App features include Crossfade to transition smoothly into one another, an updated interface with animated artwork on the screen, song credits, and a fresh look with a hovering style, and bigger, easier-to-read lyrics.
AirPlay:
In iOS 17, AirPlay learns your preferences, so if you often use it from your iPhone to your Apple TV, your iPhone will show the Apple TV first. It suggests connections based on past use. Apple is partnering with hotels to support AirPlay in rooms, allowing you to scan a QR code to share content with the TV securely later this year.
Maps:
In iOS 17, Apple introduced the ability to download maps for offline use. You can save a specific map area and use it without an internet connection. This saved map retains details like business hours and ratings, and you can still get turn-by-turn directions even without cellular data. If you are an electric vehicle owner, then Maps can now display charging station availability. You can even choose your preferred charging station.
Spotlight:
When you search for an app, Spotlight suggests shortcuts to the most likely next action in the Top Hit result. For example, if you search "Photos," you can go straight to the Favorites album. It makes finding things faster with recognizable app colors and icons in the search results.
Health App Update:
In the Health app, you can track your daily emotions and see how your mood changes over time. You can note your mood and what's causing it. There are also depression and anxiety assessments to check if you might be at risk.
Using the TrueDepth camera, the app can tell you if you're holding your screen too close, a feature developed for kids but useful for adults too. It alerts you if you're closer than 12 inches to your device.
Journal App:
Later this year, there will be a freshly designed Journal app that helps you write and remember important moments in your life. It offers personalized journaling suggestions based on your photos, music, workouts, and more, all powered by on-device machine learning. Your journal is private, and only you can access it.
Which phones are getting iOS 17?
Below are the iOS 17 supported devices:
iPhone 14 and 14 Plus

iPhone 14 Pro and 14 Pro Max

iPhone 13 and 13 mini

iPhone 13 Pro and 13 Pro Max

iPhone 12 and 12 mini

iPhone 12 Pro and 12 Pro Max

iPhone 11

iPhone 11 Pro and 11 Pro Max

iPhone XS and XS Max

iPhone XR

iPhone SE (2nd gen and later)
It's not compatible with iPhone 8, 8 Plus, or X.
Conclusion
With iOS 17, Apple has once again redefined the boundaries of what your iPhone can achieve. It's more than just an update; it's a digital transformation that puts the power of innovation squarely in your hands. If you haven't already, don't hesitate to update your iPhone and embark on this exciting journey of discovery and enhanced productivity. Your iPhone has just become your best ally in the digital age!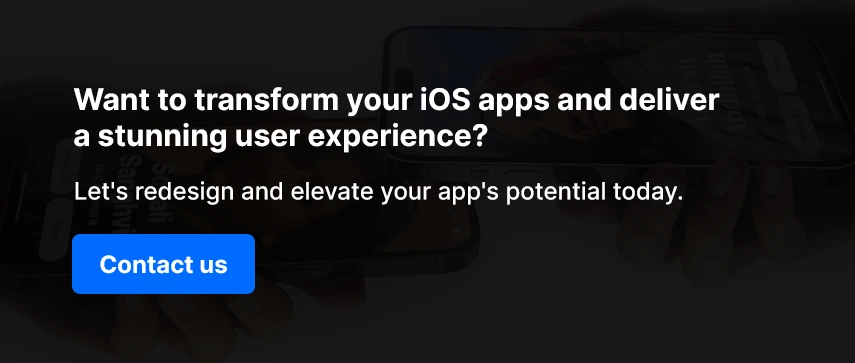 Author's Bio: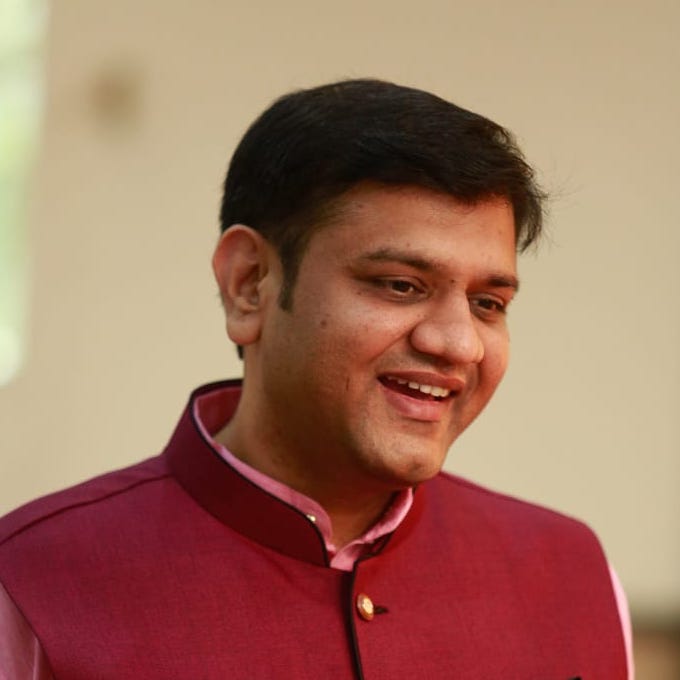 Pritam Barhate, with an experience of 14+ years in technology, heads Technology Innovation at Mobisoft Infotech. He has a rich experience in design and development. He has been a consultant for a variety of industries and startups. At Mobisoft Infotech, he primarily focuses on technology resources and develops the most advanced solutions.