With each passing day, embracing digital transformation is becoming the need of the hour. As such, many companies have started enhancing their ability to quickly pivot and keep up with the latest technology advancements. They are adopting modern approaches to introduce unique software solutions, applications, and products into the market. A popular approach that is helping them adapt to the ever-changing market conditions, accelerate their application development process, and achieve desired results is low-code or low code development.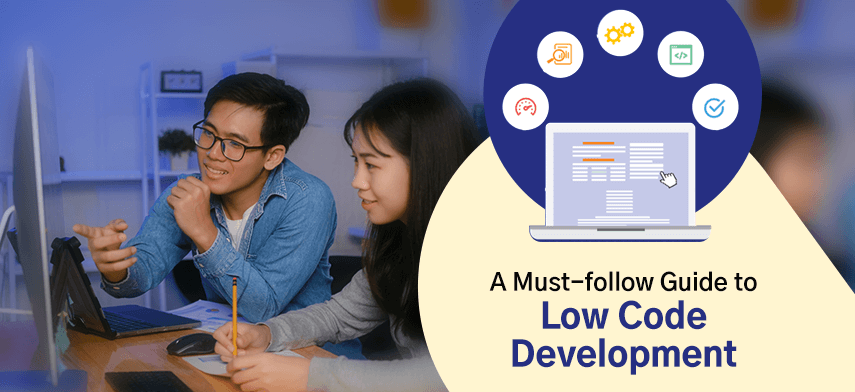 With low-code platforms like OutSystems, companies can swiftly build and deploy enterprise-grade applications without relying on excess manual programming and user training. It saves time, improves productivity, and allows decision-makers to focus on the core business competencies. This blog focuses on exploring the fundamentals of low code technology and why you need it in the first place.
Table of contents:
2. What is low-code development and why is it important?
3. What are the principles of low code development
4. When to use Low-code development Platform?
5. What are the benefits of low-code development platforms?
6. What are the features of low code development platforms?
7. What are the types of low code platforms?
8. What is the difference between low-code and no-code?
9. Low Code vs Traditional Development – which one is better?
10. What are the challenges of low code application development?
11. What are The Best And Most Popular Low Code Development Platforms?
12. How to choose the right low code development platform for your project?
Before getting into the nitty-gritty of what is low code development, we will understand what low code means.
What is Low-code?
A low code is a software development method that helps developers build value-driven applications via a graphical user interface (GUI). It requires little to no coding. To put it simply, low-code applications are built using visual interfaces, smart services, drag-and-drop functionalities, components, and pre-built connectors at much faster speeds.
Mobile app developers can avoid using difficult app development programming languages to build applications and use the low-code development platform to develop apps faster.
What is Low-Code Development?
Low-code development is another method to build an application and digital solution via a graphical user interface and configuration. It is a simpler alternative to traditional software development.
Low-code application development assists both app development professionals and newbies in incorporating building blocks within desired applications and workflows. These building blocks remove the code associated with orders and actions, thereby creating applications and interfaces without having to write them manually.
Some real-world low-code development examples include consumer-facing apps like Bendigo Bank and Dallas Fort-Worth International Airport and enterprise-grade apps like Optum and Bswift. Besides, companies like The Salvation Army and Sprint use this approach to fulfill their internal process automation requirements.

Principles of Low-Code Development
Be it designing solutions or building teams, you need to fine-tune your approach to take full advantage of low code and its capabilities. Here are the significant principles that can help you achieve this in a hassle-free way.
Avoid complexities, remove potential hiccups, and simplify the flow of ideas to your applications. Speed up the time-to-value for your project with an incremental development process.
Adopt User-centric Designs
Work on impactful designs and understand what users actually need. Employ user-centric design thinking practices throughout the development process to address prospective demands with the necessary solutions.
The best solutions emerge when stakeholders collaborate. Low code software development encourages feedback and collaboration, which helps you test all assumptions and find out the best possible solution.
Your enterprise low code development team should be small, agile, and stable. Small to make the best use of available resources. Agile and stable to observe quick pivoting and iteration for your project.
Avoid Unnecessary Customizations
Low code offers pre-defined components that can be modified as per your business requirements. However, this increases your development time and effort. Hence, you should avoid making unnecessary customizations.
Your application development project may have specific customization requirements. To fulfill them without incurring any additional costs, you need to reuse components wherever necessary.
Indeed, low code offers various features and functionalities to make development tasks faster and easier than ever before. However, it is important to have a robust roadmap in place to keep your project on track.
Effective Platform Selection
It is essential to choose the right low code automation platform that helps your project thrive. The platform should help all stakeholders fulfill their respective goals without raising any complexities.
When to use a Low-Code Development Platform
Low code app development tools or platforms can cater to various use cases and niche projects. Let's explore when you can use such platforms and reap the resulting benefits in the long run.
Low-code platforms can be used to create core systems that have cloud-native capabilities by default. These systems offer multi-cloud compatibility along with higher uptime, security, and scalability.
Web-based Customer Portal
When it comes to developing a web-based customer portal, low-code development platforms can be your go-to option. They can help you build apps that assist users in fulfilling their routine tasks quickly and efficiently.
A low-code development platform can help you launch superior B2C applications that perfectly fit your unique business needs. It enables your developers to create feature-rich, native apps for iOS and Android by using React Native.
Business Process Management Apps
When you want to develop a business process management (BPM) application, low code platforms can be of great help. They help professional and citizen developers to release apps that successfully automate required business processes.
Budget Request and Approval Apps
With the help of low-code platforms, your developers can roll out simplistic yet value-driven budget request and approval applications that can be accessed on multiple devices while providing user-friendly interfaces.
A low-code development platform helps developers optimize and automate customer relationship tasks. It facilitates customer, lead, and marketing management tools to ensure quality CRM app development.
Your developers can exploit the collaborative nature of low-code platforms to build fully functional SaaS applications that give better exposure to cloud technologies alongside reducing the time to market.
A low-code development platform can help you create IoT-based mobile and web applications that can easily transform the captured data and information into relevant, actionable insights for your end-users.
Rapid Application Development
Low code platforms are ideal when the faster time to market is crucial for delivering apps. Having pre-built components and a simplified process of development helps to deploy prototypes and functional apps that reduce time-to-market immensely.
Organizations experiencing staff shortages for skilled developers or having limited resources can utilize low code application development to empower citizen developers or for business analysts to create low code applications on resource constraints.
Integrating various systems and data sources becomes plausible with low code development platforms due to having pre-built APIs and connectors that easily connect with existing cloud services, databases, and systems.
Low code environments support constant iterative development that enables businesses to respond to changing requirements swiftly and continuously for app improvement based on user feedback.
Non-technical stakeholders and business partners with domain knowledge having limited coding experience can have active participation in the app development process for a broader user range.
Benefits of Low-Code Development Platforms
There are various advantages that a low-code platform can bring to your table and help you make the most out of your software development project. Let's take a look at the benefits of low code platforms one by one to give you a better idea.
A low code app development platform accelerates your overall project workflow and related operations. It helps your developers create a production-ready environment, thereby reducing the time to market.
Low code development platforms provide quick and easy integration with existing and legacy systems. It offers end-to-end support to build APIs that improve your app productivity and performance.
A low-code platform is backed by modern architecture that offers enough flexibility to scale, modify, or add necessary features to your apps when required. This architecture ensures good app management and process transparency.
With low-code platforms in place, your developers get the privilege of designing quality user interfaces from scratch that your users would love to interact with. You can customize these interfaces with built-in templates to offer tailored experiences.
Low-code platforms prioritize apt security irrespective of the hosting solution in use. They use solid security practices, auditing mechanisms, and advanced technologies to safeguard your web and mobile applications.
One of the most important benefits of a low-code platform is initiating flawless deployments. It helps developers perform sophisticated pre-launch impact assessments alongside simplifying staging to ensure sound app deployments.
Supports Digital Transformation
An enterprise low code application platform has the potential to accelerate your digital transformation journey. It helps you combat complex challenges, innovate, and amplify your overall transformation cycle.
Low-code platforms eliminate the need to explore additional resources or equipment. As less coding is involved, these platforms incur lower maintenance charges, reducing the app development cost.
Features of Low-Code Development Platforms
Along with the aforementioned benefits, low-code platforms are well-known for their user-friendly features. Here is a compilation of some of the most important ones that can help you stand out.
Low-code platforms make information more accessible and understandable for the end-users via built-in, pre-defined components. They include visual modeling capabilities that enable faster app development.
Out-of-the-box Functionality
This feature helps you eliminate the need to create core modules for your application from the ground up. For instance, some platforms consist of various modules for data management, sales process management, etc., that simplify your app development process.
It is one of the most important features that make software development much easier for professional and citizen developers. It extends drag-and-drop capabilities at your convenience that support smooth integrations with existing systems.
Cross-platform Accessibility
In addition to running on various available OSs across the market, low code development platforms offer cross-platform compatibility that enables developers to build applications for multiple platforms and devices.
Low-code platforms offer an interesting reporting and monitoring feature that helps developers analyze the overall performance of your application. It evaluates your app's workflow and keeps track of its processes.
Application Lifecycle Management
With this feature, you can streamline different stages of your app development life cycle such as designing, testing, and more. Users can access the information related to previously created apps and return to the former versions seamlessly.
Low-code application development platforms offers a plethora of pre-built component library and templates for developers to use in accelerating the process of app development including UI elements, integrations, data models, and more.
Version Control & Collaboration
Low code systems offer a version collaboration and control feature that enables multiple developers to work on the same project simultaneously ensuring code integrity and fostering teamwork.
Custom Code & Extensibility
While the primary focus of low code platforms is on visual development, it often allows developers to add customized codes as and when required, ensuring flexibility for complex tasks or specific functional inputs.
Types of Low-Code Platforms
There are five significant categories of low-code platforms that are commonly used by businesses across the globe. You need to choose the one that best suits your project-specific requirements at hand.
Experts recommend general-purpose platforms to create applications virtually. These platforms are majorly used by developers to build web and mobile apps that cater to basic yet potential business needs.
As the name suggests, these platforms mainly concentrate on applications that involve business processes like system integration, forms, workflows, etc. It can be an ideal choice for organizations that want to go digital.
These platforms are similar to process-based ones. However, when it comes to app development, request-handling platforms can only handle processing requests for set requirements.
These platforms help developers retrieve data from databases within the system. They can prove beneficial when you want to collect and feed large amounts of data into the system quickly and effortlessly.
This type of low code mobile app development platform helps you write, debug, and deploy apps for smartphones and tablets. You get enough room to code for one platform and port your app to other mobile platforms within stipulated timelines.
Citizen Development Platforms
These low code platforms are customized according to non-technical users, enabling citizen developers to actively participate in the app development process.
Low Code vs No Code
One of the most significant differences is that the low-code platforms target developers. You need to have developers with basic skills and experience in relevant technologies to create a progressive app development environment. On the other hand, no-code platforms target business users because they restrict manual code editing. They focus on offering secure, user-friendly interfaces for enterprise users while abstracting technical information in the best way possible.
Another major difference is the trade-off. While low code development platforms need some coding to serve diverse use cases and deliver an array of tech-based solutions, no-code development platforms eliminate the need for coding to simplify the development process. However, this makes no-code platforms available for fewer use cases as compared to the low-code ones.
Low Code vs Traditional Development
Many companies are now shifting their focus from traditional app development to low-code platforms. Let's understand why this transition is taking place by comparing the two based on the below parameters.
A low code application development platform offers the agility to build desired apps with drag-and-drop features. Traditional coding is less agile compared to low code environments due to the involvement of complex configuration codes.
You need to pay a decent amount of money to access a low-code platform, but there are no additional charges for application development. On the flip side, building apps with traditional practices incur excessive maintenance and hiring costs.
App development with low-code platforms doesn't require specialized skills. They simplify the development process with fewer tools and functionalities. On the contrary, traditional app development is powered by many tools and features with limitations and complications.
While traditional coding demands an in-house or extended team to ensure project maintenance, low code development platforms are managed by the enterprise holding the ownership.
Traditional app development is a time-consuming process as it delivers quality after the identification and removal of potential bugs, glitches, and other vulnerabilities. Low-code platforms are subjected to fewer bugs as compared to traditional coding.

Key Challenges of Low Code Application Development
Now that you know all the basics, let's move forward to understanding the major challenges that business owners and developers face while approaching low-code application development.
It is not easy to debug the frontend and backend components of a low code mobile app. Developers find it difficult to debug the code as all the information related to data structures and algorithmic states is hidden.
Time Investment and Learning Curve
Indeed low-code development is easy to learn and implement. But one cannot deny the fact that it is a relatively new environment, and some developers may find it challenging. Besides, users with no coding background have to spend a good amount of time understanding its basics.
Visual modeling tools are unable to handle complex use cases effectively. Developing complex business logic with visual languages can become a major hurdle for your entire app development process.
Creating APIs or integrating third-party components with low-code platforms is not an easy job. You need to have a good command over core modules, system integration, and API management to achieve desired outcomes.
You can cover a set of use cases by exploiting various components and templates provided by low-code platforms. But when it comes to implementing specific business logic or an edge case, your developers may find it difficult to identify the right building blocks.
It is challenging but equally important to understand the policies of a low code development vendor before finalizing a tool because some vendors may generate code that is easier to maintain within and outside the platforms. In contrast, others may write code that can limit your abilities to their platform.
Many times, code and security controls that low-code platforms offer may not be accessible to organizations. To verify such security issues, they have to go through legal service agreements, third-party audits, cybersecurity insurance, compliance certifications, and more.
Top 10 Most Popular Low-Code Development Platforms in 2023
We have compiled the most commonly used low code app development platforms that can take your business to the next level. The list is not limited to but includes the following.
1. Appian
It is a highly popular low-code app development platform that provides customizable features like dynamic offline mobile, one-click reporting, robotic process automation (RPA) design, and so on to build scalable and responsive apps. It comes with a free trial period and offers complete automation of your app development life cycle.
2. Google App Maker
This platform is new to the low code development landscape. However, many companies are adopting it due to its support from Google. It offers some exceptional features like deployment logs, data models, early revision republishing, etc., to simplify mobile app development.
It is a low-code platform that allows developers to build and upgrade full-stack apps with utmost convenience. It offers strong security protocols, in-app scripts, custom code, single-click deployment, AI-enabled development, activity tracking, and other functionalities to create intuitive applications.
4. KissFlow
It is a Workflow as a Service platform that helps users to automate existing business process workflows. It accelerates your app development process with its pre-defined templates, visual workflow tool, single sign-on, mobile support, cross-platform integration, and other user-friendly features.
5. Zoho Creator
It is a top low code platform that helps developers build business transformation and analytics tools with minimal coding. It can be used to create applications for Android and iOS from scratch with its wide-ranging features that include real-time reporting, API development, workflow management, collaborative review, and more.
6. PowerApps
Power Apps is backed by Microsoft, which makes it a preferred choice of many developers and business owners. It helps you build complex applications with its fine integration abilities and handy features like role-based user experience customization, pre-built templates, drag-and-drop designer, Power App Canvas, etc.
7. Joget
It is considered a new generation open source low-code platform that helps coders, non-coders, and business users to enable fast yet simple digital transformation. It combines the abilities of business process automation, workflow management, and rapid application development to deliver enterprise-grade solutions.
8. Budibase
Buildbase is another best open-source low code platform that helps enterprises fulfill their unique low-code application development requirements. It can be easily integrated with leading databases such as S3, MongoDB, DynamoDB, MySQL, etc. It can be used to create internal tools, admin panels, simple portals, and much more.
9. Mendix
Mendix is another low-code platform that provides emphasis enabling business and IT stakeholders to collaborate and contribute to the app development process.
10. Salesforce Lightning
Salesforce's low code system, Lightning, helps and enables users to customize and build applications on top of the Salesforce CRM system with flexible and scalable capabilities.
How to Choose the Right Low-Code Development Platform for Your Project
After discussing some popular platforms, it is time to choose the one that best suits your project requirements and business goals. Here are the criteria to help you make the right choice for your company.
Before selecting a platform for your low code mobile app development needs, you need to define the technical skills and type of end-users across your company. You need to go for a platform that can be easily used by both experienced and citizen developers.
You need to evaluate the level of governance that your preferred platform offers to your IT team. You need to ensure a considerable level of control by connecting with your applications and monitoring the performance and availability of external API endpoints.
Your preferred platform should have good hosting flexibility and DevOps functionalities such as versioning applications, enabling agile development, managing CI/CD pipeline, prioritizing disaster recovery, and so on.
You need to invest a considerable amount of time, resources, and capital to develop low-code applications in silos. To avoid this, you need to select a platform that supports integrations with enterprise systems, APIs, third-party data sources, and cloud and data center databases.
You need to select a platform that encourages the reusability of your app's code by offering pre-determined templates, widgets, plugins, business components, and other useful connectors.
Cross-platform Compatibility
It is the most important criterion to consider when finalizing a low code development platform for your project. Make sure you invest in a platform that is capable enough to create web, mobile, and desktop applications.
You need to examine whether the platform can extend its capabilities beyond existing company-specific use cases and applications. Look for its implementation in a similar industry as yours to understand if it can handle project-based complexities.
A solid support and maintenance mechanism is a must to satisfy your low code web app development requirements. This means that you need to opt for a platform that offers end-to-end post-development support without any compromise.
Is Low-code Development the Future?
As companies worldwide are working on cost management techniques due to the COVID-19 pandemic and focusing on remote production, adopting low-code platforms is bound to increase in the coming times. According to Statista, the global low code development platform market revenue is expected to reach a whopping $65 billion in 2027 with a CAGR of 26.1%.
Gartner says that low-code application platforms might remain the largest component of the low-code technology market while introducing business-driven hyper automation by 2022. It also predicts that by 2025, all new low-code clients will be buyers from non-IT organizations.
Another report from Forrester explains that the low code development market is anticipated to gather approx $21 billion by 2022. All these facts clearly state that building apps by using low-code environments is the future that one cannot change.
Conclusion
Low-code development is revolutionizing the way apps are built, tested, deployed, and monitored in today's digital age. It is helping professional developers, business users, and even individuals with no coding experience to deliver contemporary mobility solutions without compromising on quality. As the demand for enterprise-grade applications, products, and services is continuously increasing, we can definitely say that now is the best time to invest in low-code platforms, extend your technology capabilities, and capitalize on potential business opportunities. Get in touch with our team to maximize the use of a low-code app development platform and build mission-critical applications faster.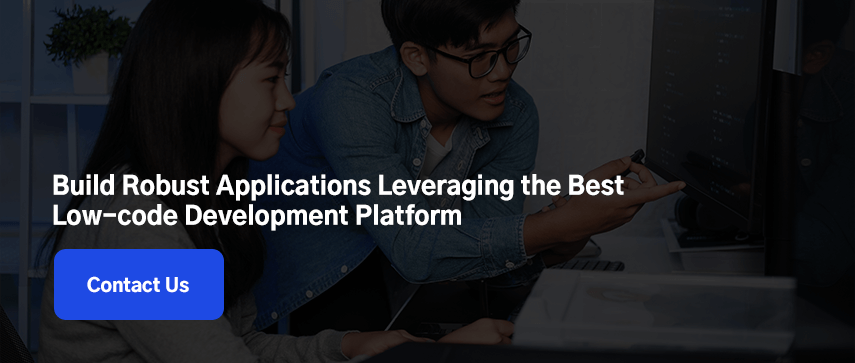 Author's Bio: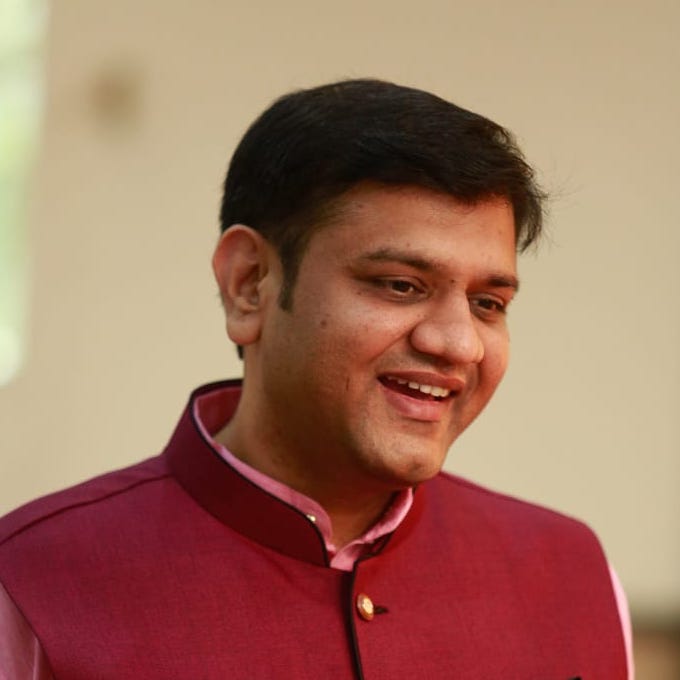 Pritam Barhate, with an experience of 14+ years in technology, heads Technology Innovation at Mobisoft Infotech. He has a rich experience in design and development. He has been a consultant for a variety of industries and startups. At Mobisoft Infotech, he primarily focuses on technology resources and develops the most advanced solutions.