The Medicare Advantage (Plan) enrollment has witnessed rapid growth as more than one supplemental benefit is being offered; popular among them being vision, dental, over-the-counter, and fitness benefits. With a steady increase in enrollment, Medicare Advantage plans are in vogue because they provide cost-effective, flexible, and depending on the needs and choice of the members, often include the Part D prescription drug coverage, while some consider it being more affordable than a standard Medicare plan, while most of them having the option to avail medical and supplemental care under the same carrier.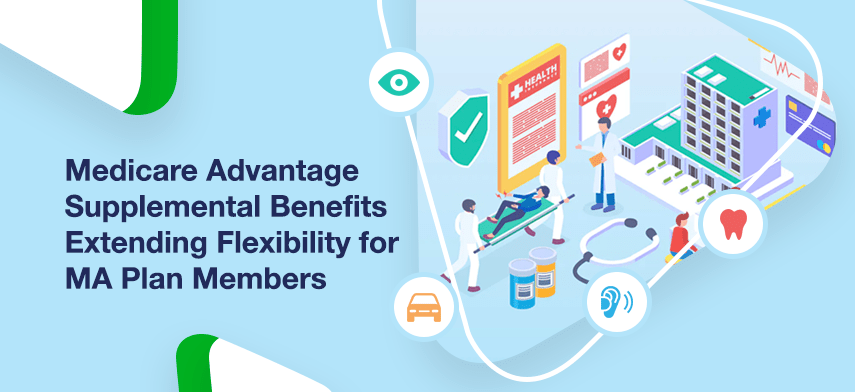 The Centers for Medicare and Medicaid Services (CMS) expanded the primary health-related Medicare Advantage supplemental benefits plan in 2019. MA plans have been allowed to offer support catering to improving psychological and functional status, physical impairments, and reducing preventable emergencies utilizing health care services. A Medicare Advantage study found that for 2021, members are choosing MA plans for their care not only for the telehealth benefits but for COVID-19 supplemental benefits offered by the private plans.
Medicare Advantage Plans Offering Expanded Supplemental Benefits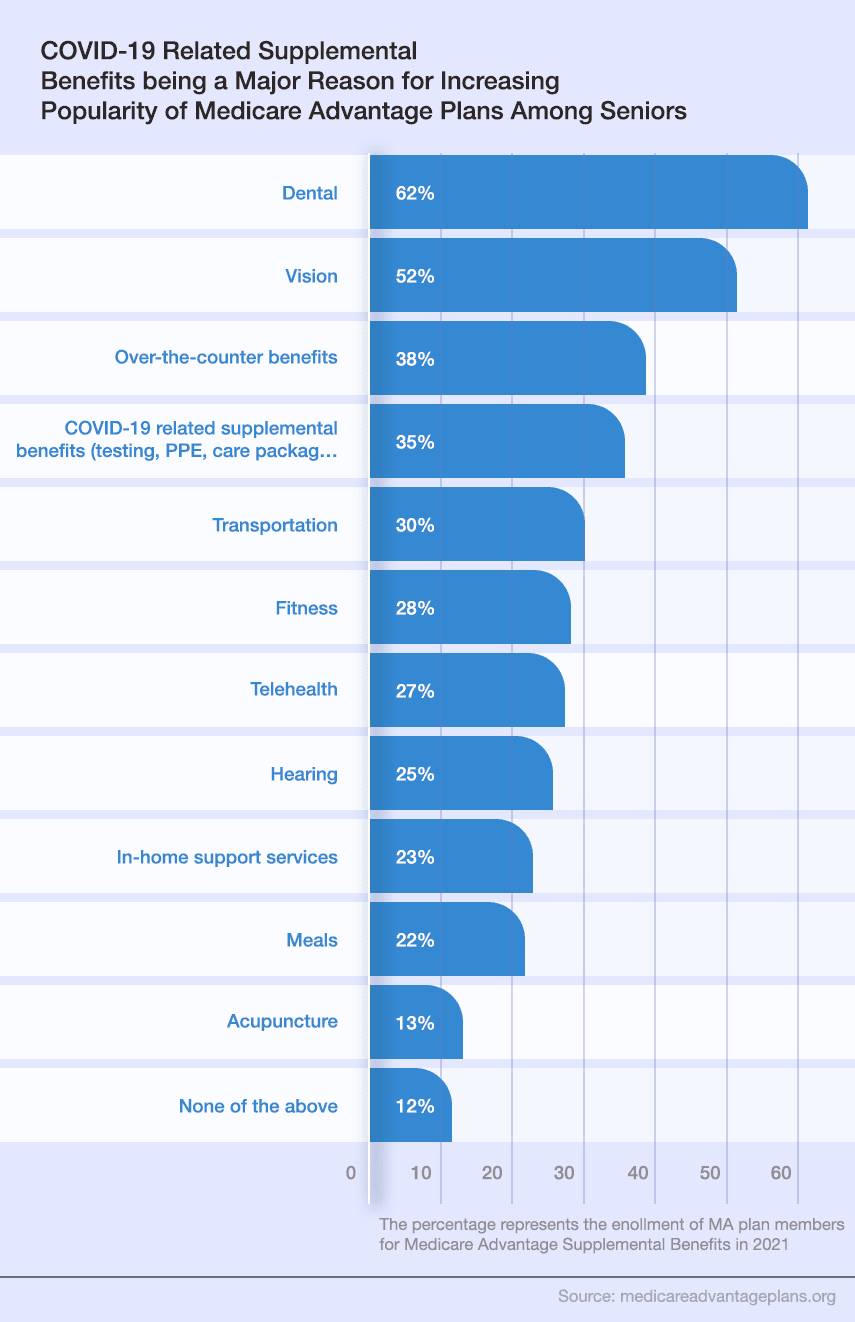 A recent study by Kaiser Family Foundation (KFF) found that in 2020, the average out-of-pocket limit was $4,925 for in-network services through an HMO or PPO and $8,828 for out-of-network services through PPOs. With the COVID-19 pandemic, accessing necessary health services and ancillary services for members had become a challenge for especially those in social isolation. But, with the introduction to Medicare Advantage supplemental benefits, senior members can receive value-based care in the comfort and safety of their homes.
Healthcare solutions included meal delivery, online pharmacy services, NEMT services, and home health care services among others. Therefore, reducing the chances of contracting the coronavirus, and also assisting in maintaining the social distancing norm. This expanded supplemental benefit has improved the health outcomes of senior patients in many folds. In 2021, this health care solution will continue to improve the social, and health needs of MA plan members who have complicated requirements.
According to a Fierce Healthcare analysis, it has been predicted that 64% more Medicare Advantage plans will be offering expanded benefits to its members. These supplemental benefits will also include:
Lower cost and reducing premiums for MA plans.
Provision of supplemental benefits that may not be covered under Medicare Advantage plans.
The rebate dollars will vary depending on plan bids that are below benchmark and the Medicare star rating.
The expanded supplemental benefit will address long-term support and services needs including home health care, caregiver services, and more.
The MA plan will be addressing the social determinants of health requirements including transportation for non-emergency purposes, meal delivery, etc.
It will continually keep providing a relaxation of uniform requirements for the senior and chronically ill members.
According to research conducted by Better Medicare Alliance (BMA) in 2020, it has been observed that Medicare Advantage supplemental benefits began offering home-based palliative care, at-home support services for senior members, and adult day-care services. The study also suggested that more than 116 MA plans have offered more of these services in 2020, than in 2019. MA plans need to cover all these benefits under fee-for-service (FFS) Medicare and offer supplemental benefits that may not be covered under the traditional Medicare Advantage plans like reduced cost-sharing, vision, dental, hearing, and other services.
The expanded supplemental benefit offers a space for chronically ill and senior members of the society to avail themselves of at-home services. Thus, assisting with their requirements and improving society as well as health outcomes. improving their social and medical requirements and outcomes
The MA supplemental benefits are being considered to prove beneficial for critical services and required support, which will make it easier for MA plan enrollees to gain access to better health care solutions in the comfort of their homes.
A study by CMS also stated that over 500 hundred plans will be targeting more than 2.6 million enrollees with health-related supplemental benefits and 250 plans are aiming to offer non-medical supplemental benefits to more than 1.2 million enrollees, including transportation. These expanded supplemental benefits are tailoring better care management for seniors who have specific requirements and need better maintenance for improving their health outcomes.
Providing Access to Better Health Outcomes through Digital Healthcare Solutions
Mobisoft is known for its constant accomplishments and recognitions in the field of healthcare. With digital health care solutions, helping MA plan owners and CBOs for improving the overall health of communities. With integrated health care services and solutions, we provide a wide range of digital tools that facilitates supplemental benefits through our RainbowCare services. A complete suite of services catering to Medicare Advantage Supplemental Benefits, our services is inclusive of:
Telehealth platform: Telemedicine and House Calls
Electronic Visit Verification solution
Digital Pharmacy delivery services
Prescription refill and management
Meal delivery
Non-emergency medical transportation
Medical Appointment booking
Integrated Benefits Portal
These integrated solutions have had tremendous records in the COVID times. For senior members and chronically Ill members enrolled under the MA plans, these services have made it simpler for them to attain at-home care services through digital solutions. From prescription management for acquiring necessary medication on time to availing NEMT services for in-person doctor visits or grocery store visits, our platform is aiming to achieve greater heights in providing value-based care for them.

Final Thoughts,
The Medicare Advantage supplemental benefit offering expanded services to the chronically ill and senior members of the society will continually improve health outcomes in the next few years. The Centers for Medicare and Medicaid Services (CMS) vision of expanding supplemental benefits for MA plan members has already been seeing drastic improvements in patient health outcomes, thus uplifting communities to avail enhanced services for their senior members. With health care solutions and value-based care gaining worldwide recognition in times of this pandemic, the Medicare supplemental benefits will continue to see a rise in MA plan member enrollment, as more people strive towards achieving better and improved health outcomes.
With Mobisoft's RainbowCare service, attaining the full suite of services from home health palliative care to prescription management, every service will be easily attainable, thus increasing Medicare star ratings for Community- based Organizations, Stakeholders, and MA Plan owners. The significantly reduced costs for Medicare beneficiaries has been helping seniors save more money, and in 2021, it is expected that health outcomes will see a better future.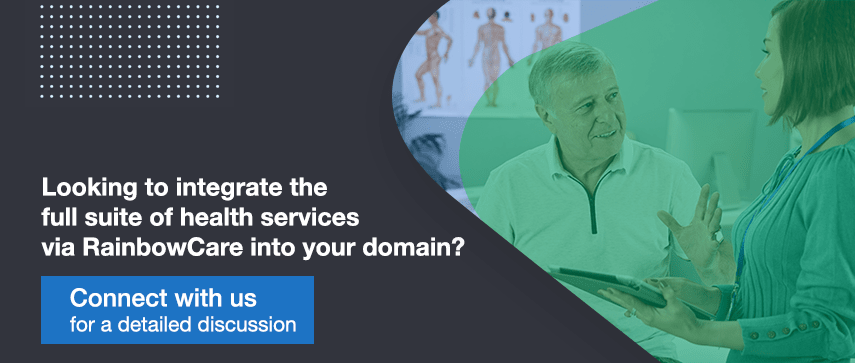 Author's Bio

Ayushi Patel is the Director of Strategy & Innovation at Mobisoft Infotech. She leads the strategic partnerships and initiatives in the healthcare division. Her experience includes healthcare administration, business development and sales, and customer success management.