Metaverse Healthcare and virtual reality are gaining a necessary foothold in the healthcare sector. 8 out of 10 healthcare professionals, providers, and executives are expecting the metaverse to have a plausible and positive impact in the industry.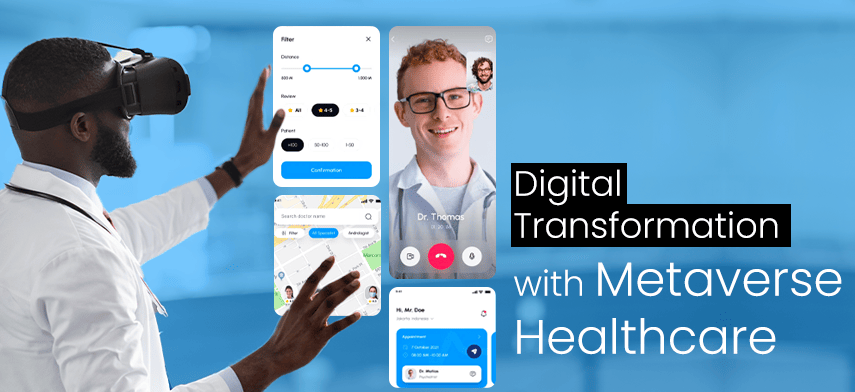 According to reports on digital healthcare technology have labeled metaverse healthcare as the next transformational horizon. With virtual reality in healthcare, surgical teams can learn about new procedures without being physically present in the operating room.
What is Metaverse Healthcare?
Metaverse has been identified in the augmented reality industry as a convergence of physical and virtual spaces where users interface within this virtual world. This space allows them to meet virtually and be involved in several digital activities that offer real-time experiences.
With the evolution of the metaverse, it has become a potential platform for virtual reality in healthcare that helps combine technologies (AI, VR, AR, IoMT, Quantum Computing, Edge) with robotics. This way healthcare delivery services can find new directions.
According to recent studies, the global Metaverse in Healthcare market size has accounted for approximately USD 5.06 billion with a staggering CAGR growth rate of 34.8% between the years 2022 to 2030. With the predicted market size, more than 74% of US adults are joining these virtual spaces. The convergence of AR, VR, and AI can open up omnichannel in delivering care delivery services and improve patient care outcomes.
Where are The Changes Most Visible with Metaverse Healthcare?
Metaverse healthcare is known for its involvement in three major technologies – Artificial Intelligence (AI), Virtual Reality (VR), and Augmented Reality (AR). These technologies individually are utilized greatly in the healthcare business & technology where we can see the changes in diagnosing and treating diseases, training surgeons, and managing health data.
The current changes in metaverse healthcare development can be seen in
Food and Drug Administration (FDA) – After several years of medical and clinical trials and studies conducted on children, the FDA has finally authorized providers and doctors to provide iPad and iPhone games to children with ADHD aged between 8-12 years with the help of healthcare in the metaverse.
Augmented Reality Surgeries – Neurosurgeons associated with John Hopkins University performed their first AR surgeries on living patients.
Fundamental VR Integration – Digital health companies are beginning to use metaverse in healthcare industry via VR implementation for training surgeons using the "Teaching Space" functionality. This allows multiple users to visit a virtual classroom for interactive meetings and learning sessions.
Let's move on to understanding the opportunities of the healthcare metaverse.
Opportunities in Metaverse Healthcare
The metaverse has provided support as a potential lead in the technological breakthrough for the healthcare sector. Metaverse healthcare has the potential to improve every aspect of the field of medicine ranging from virtual wellness to post-surgical care and more.
Integrated with Web 3.0 technology like virtual reality, augmented reality, artificial intelligence, and the Internet of Medical Things are already in use. They work as front-line tools to help healthcare services. The benefits of VR in healthcare will continue to be the frontier for the healthcare sector. Let's explore the opportunities of the metaverse in healthcare.
The use of telehealth services has increased at a swift pace and the metaverse will enable the healthcare sector to expand on traditional services of telemedicine. Virtual medical technology in the metaverse will continue to assist healthcare providers in effectively examining patients on virtual territories. This enhances the potential to diagnose certain health conditions early on. Metaverse healthcare for telehealth consultations will also allow patients to push past provider limitations according to their geographic residence. This will particularly be helpful in sectors with medical accessibility shortages.
Medical education and training
The immersive medical training and education will be a space to grow in the newly introduced metaverse. Trainees, students, and professionals can conduct anatomy of human bodies through virtual reality in healthcare. This virtual reality application in healthcare creates possibilities for solving problems, creating educational spaces, and integrating creativity in the metaverse. Providers will also be eligible to use digital twins – the virtual model, simulations, processes, objects, and systems – for developing testing dummies for particular individuals. Digital twins can help metaverse healthcare predict patient reactions to medication, recovery, and/or rehabilitation post-surgery.
Metaverse Healthcare Surgery
Surgeons and surgical specialists have already implemented AR, VR, and AI technologies to perform minimally invasive surgeries with the integration of metaverse in healthcare. The immersive involvement of technologies, professionals in the field gets a 3D view of the patient's body that helps in performing the virtual operations. AR/VR simulations are also considered a safe path for surgeons in training. It helps them hone the challenges of technicalities and complications.
Improved mental health treatment with the metaverse
The potential to revolutionize mental health treatment has presented itself as a scope to increase care delivery for mental health with metaverse healthcare. Psychotherapists, psychiatrists, and mental health counselors use immersive experiences in the metaverse space to treat patients with anxiety, psychosis, eating, PTS, and many other disorders. Additionally, metaverse in healthcare could also provide access to mental health services to patients with chronic conditions and residing in rural spaces.
Blockchain Implementation with Metaverse Healthcare Development
One of the most highlighted utilization of blockchain in healthcare delivery services is for protecting and managing confidential and significant data and information. Using blockchain can assist to record transactions in cryptocurrencies and/or bitcoin that can revolutionize virtual reality in healthcare services. It continues to be a prominent and crucial component for the upcoming healthcare in metaverse.
Digital Twins with Metaverse in Healthcare
Everything in the healthcare in metaverse platform can have digital counterparts including patients and medical equipment. Various significant healthcare technology-based companies and businesses are deploying the concept of digital twin technologies to accomplish organizational missions. This includes essential resources like large volumes of patient data. With assistance from a virtual reality application in healthcare representation, things existing in the real world can help providers to learn, analyze, and discuss with more in-depth understanding. Hence, metaverse healthcare implementing digital twins can be useful for predicting and understanding patients' recovery from surgeries, manage certain specific illnesses, or respond treatments.

Challenges in Metaverse Healthcare Integration
Metaverse healthcare is still at its initial stage and will be encountering several challenges along the way. These challenges will make room for the metaverse in healthcare to gain more recognition. Once it has been addressed, metaverse development in healthcare will be able to deal with concerns in a very cost effective and efficient way.
Let's take a look at the challenges faced by metaverse in healthcare.
HIPAA compliance is set as a standardized method to protect sensitive patient data and medical reports including PHI and ePHIs. HIPAA eliminates random information sharing of patients without their consent. Every model of technology needs to update its HIPAA guidelines to keep patients secure from data breaches. With the evolution of the metaverse, it is significant to remember that it is not consolidated into one platform. Every metaverse platform has its specific rules and regulations. Healthcare organizations will have to stay on top of recent developments to ensure complete compliance.
Healthcare business & technology is very much co-dependent on interoperability in today's healthcare ecosystem. Interoperability is still a big challenge in the industry and metaverse healthcare will be requiring a segregated set of hardware and software to collaborate and work together. This may be a daunting operation, but it is necessary.
Healthcare does not have a defined standard in the metaverse yet. This deficiency in standards for healthcare will need to be created from scratch in the meta environment. This will be a time-consuming and expensive task in the coming years.
Creating the right metaverse healthcare will need a significant amount of investments financially. Healthcare organizations will need to invest in software, hardware, staff training, technology integration, and more. This could be a barrier for small and mid-cap healthcare organizations.
Final Thoughts,
Metaverse healthcare is significantly a newer transition in the healthcare industry. So the challenges are yet to be addressed, but given the technology integration that has been swiftly adopted by healthcare organizations with the help of metaverse development, platforms transforming to accommodate metaverse integration will become simpler and more efficient. Right now, compliance guidelines are still in the works and we are yet to know how well metaverse virtual reality will work along with healthcare compliance standards. So, let's keep an eye out for the trends in the metaverse that will be influential to the healthcare sector in the coming years.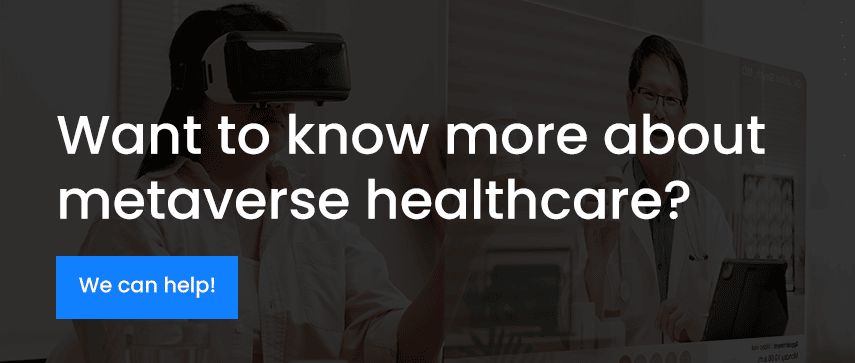 Author's Bio

Shailendra Sinhasane (Shail) is the co-founder and CEO of Mobisoft Infotech. He has been focused on cloud solutions, mobile strategy, cross-platform development, IoT innovations and advising healthcare startups in building scalable products.