About SensorRX
SensorRX is a Houston based company focused on building digital healthcare tools and products that use the power of smartphones to improve patient outcomes. The company enables patient-generated health data (PGHD) to be easily and securely accessible to clinicians for improved care services.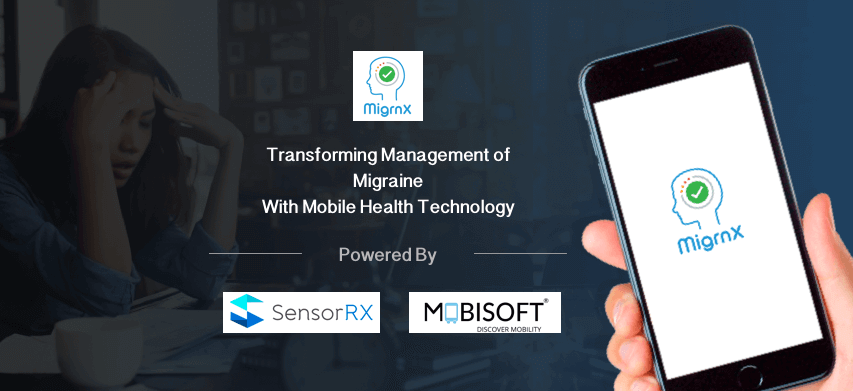 About MigrnX™
MigrnX™ is the company's first product that provides clinicians with accurate, actionable data for better migraine treatment. The MigrnX™ system comprises of a migraine tracking and diary app (available for both iOS and Android) that allows migraine patients to effortlessly record and track their migraine frequency and duration, pain intensity and location, medication, and other lifestyle factors so that they can better understand their migraine patterns and get better care.
It is the first automated migraine management tool that directly impacts patient's care. MigrnX™ system has proven clinical data that demonstrates its unique approach to using a migraine tracking app for smarter migraine management and treatment.
The Challenge
A migraine is a complex neurological disease with a wide variety of symptoms that typically last from 4 to 72 hours. For many people, the main symptom is a painful headache, but other symptoms can include disturbed vision, sensitivity to light, sound, and smells, feeling nauseous, and vomiting. While the exact cause of migraines is not known, there are a number of known triggers including food and drink, hormonal changes in women, behavioral and environmental triggers.
Tracking the potential triggers of a migraine can be challenging. Even more challenging is to track triggers with external factors like weather, location, noise, time etc. Without appropriate data points and historical migraine events, a physician can not truly assess their patient's condition and offer effective treatment.
The Solution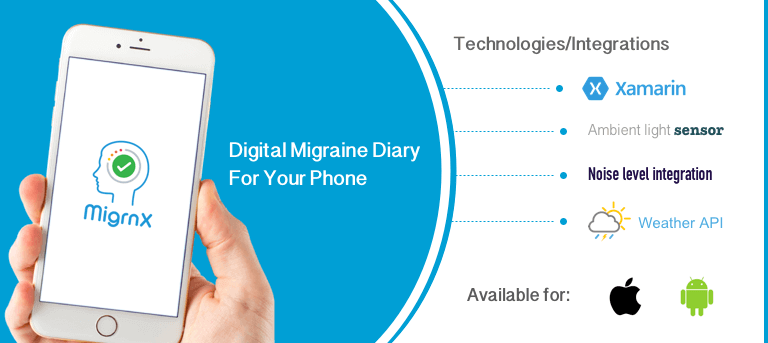 Mobisoft Infotech closely worked with the SensorRX team to develop a novel migraine tracking and diary app for patients to effortlessly record and track their migraine patterns from a mobile device and get more effective treatment from their care providers.
The migraine tracking app provides an easily accessible and easy to use medium to quickly record migraine incidents in a few simple taps and maintain an accurate history plus add additional data points that are made available from a smartphone's sensors. Smartphone devices can capture external factors like weather, location and time of migraine incidence and make the data more contextual.
By leveraging cutting-edge mobile technologies, we worked with SensorRX to build the MigrnX™ System – A Premier Digital Headache Diary for patients on their smartphones.
We suggested Xamarin as the app development platform to develop mobile applications for both iOS and Android. Simple interface requirements and Xamarin's platform capabilities on gathering sensor information from device hardware proved to be both very cost-effective and efficient for the MigrnX™ system.
The MigrnX™ system allows you to collect data relevant to a migraine episode in a few simple taps. The episodes are linked to the environment to identify potential triggers and patterns in medication use. The data can be securely stored for both the patient and clinician and can be provided to clinicians through electronic medical records to help them evaluate treatment effectiveness and modify as needed.
By simply recording an episode, MigrnX™, migraine tracking app solution, automatically gathers location, the current time, light frequency and intensity, weather, ambient noise, and barometric pressure. In addition, it can track the severity of pain and medication through manual entries by the patient himself. In less than four taps, MigrnX™ system records the intensity of pain, migraine associated symptoms, and any medication that a patient has taken.
The migraine diary and tracking app also generates an easy to read PDF report which the patients have the option to either print or directly mail to their doctor or care provider.
Currently in Beta Trial
MigrnX™ is currently being offered to patients at Carolinas Healthcare Systems, under the beta program. If you are a patient at Carolinas Healthcare System, you can send your report to your physician through MyCarolinas. Simply create a new health message, select your physician that you wish to send it to, and attach the PDF report to the message.
Key Features of MigrnX™ Migraine Tracking App Solution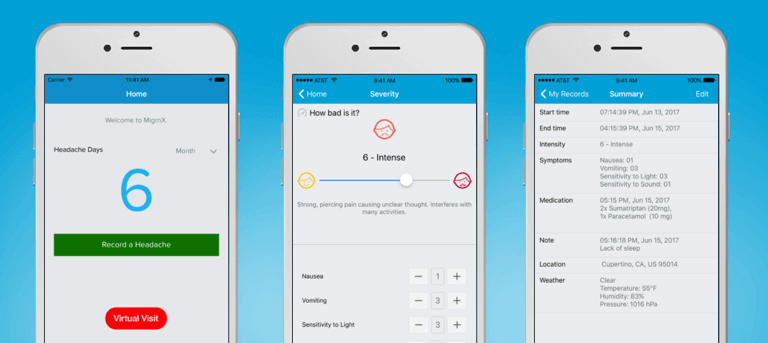 Migraine patient-friendly interface.

Create an account in under 5 minutes.

Record a complete migraine in fewer than 4 taps.

Get an accurate count of total monthly episodes.

Easy medication management.

Link episodes to your calendar to chart the influence of scheduled events.

Track menstrual cycle.

Automated trigger recording.

Create a PDF of your headache record and MIDAS history.

Eliminates the need for a paper headache diary.

Exceptional ease of use improves diary accuracy and treatment outcomes.
Additional Features – MIDAS Test
MigrnX™ system offers a Migraine Disability Assessment (MIDAS) test to determine the extent to which a migraine may be affecting a person's daily life. A history of a patient's past assessments are stored to share with his/her care provider.
Before the next appointment, a patient can create a report of his/her migraine history including frequency of headaches and medication usage, as well as the MIDAS score history.
About Mobisoft Infotech – Your Digital Healthcare Technology Partner
Mobisoft is a Houston, TX-based custom product development company with deep healthcare technology expertise. We offer HIPAA compliant custom healthcare application development and associated technology services to bring digital transformation to the entire healthcare industry. Over the years, we have worked with numerous healthcare startups and providers.
We enable healthcare organizations and providers to grasp the opportunities to significantly improve patient outcomes, experience, and efficiency by leveraging digital and mobile technologies.
For healthcare startups, we offer end-to-end technology development solution to build and scale their novel healthcare products.
Build your digital healthcare technology solution with Mobisoft!! Our healthcare experts are just an inquiry away.
Author's Bio

Shailendra Sinhasane (Shail) is the co-founder and CEO of Mobisoft Infotech. He has been focused on cloud solutions, mobile strategy, cross-platform development, IoT innovations and advising healthcare startups in building scalable products.