Healthcare practices across the country continue to find out that convenience is one of the major areas that patients give importance to while choosing a healthcare facility. Online appointment scheduling has become, particularly, something that more and more people consider when selecting a doctor these days.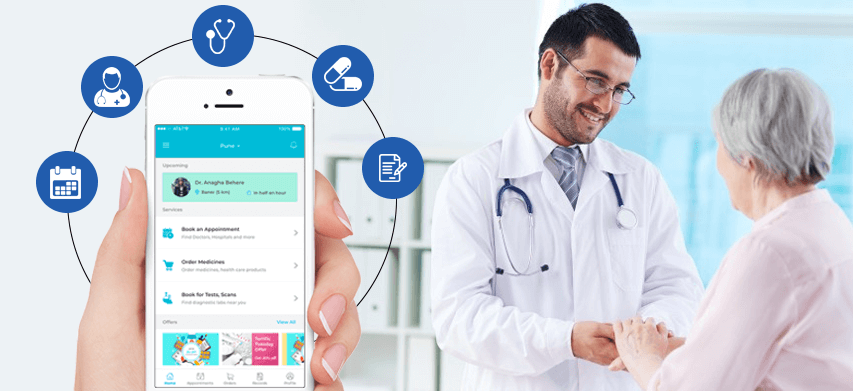 If you are in the healthcare industry, to be successful in today's technology-driven world where the use of smartphones, tablets and other internet-connected devices is increasing exponentially, you have to provide convenience to the patients besides delivering excellent care.
A report says the change in the healthcare service booking process has already started happening. Driven by patient demands for greater convenience and more control, leading doctors and healthcare centers are adopting online appointment scheduling tools like doctor appointment apps, to stand ahead of the competitors, improve efficiencies and enhance patient engagement and satisfaction.
What Happened to Traditional Medical Appointment Scheduling?
Has a traditional method of medical appointment scheduling become totally obsolete? Well, not yet. But people have started opting for digital option nowadays. Do you know why? Because there are quite a few drawbacks traditional medical appointment scheduling process has. Let me tell you what these drawbacks actually are.
Drawbacks of Traditional Medical Appointment Scheduling 
Time Consuming

When it comes to the traditional way of booking a doctor's appointment, patients have to take time out from their busy schedules to make a phone call. There is no assurance that they can book the appointment by just making a single phone call. Sometimes the phone can be engaged or there can be any signal problem. Also, if the patients go to the clinic to book the appointment, there is a possibility that they will find a long queue and wait for their turns to come. This process is really time-consuming and outdated.

Lack of Proper Patient Management

When the whole patient management gets done manually by your staff, the system cannot be completely error-free. Unlike online appointment scheduling system, in traditional booking system, all the details need to be filled by the clinic staff. Thus sometimes, the staff becomes more focused on doing official work and less on taking care of the patients or showing them how much they are important. It increases the level of "no-shows" of patients as well.

Inconvenience in Accessibility

The traditional way of appointment scheduling lacks accessibility to healthcare services. The patients cannot stay connected with the doctors whenever they want. The whole process of searching the right doctor at right time becomes inconvenient.
How Online Medical Appointment Scheduling Is Better Than The Traditional Process
Online medical appointment scheduling process has become the most efficient and effective way to manage appointments and individual's contact details. It not only offers advanced functionality to streamline the entire process while making the booking easy but also helps doctors to save a remarkable amount of time and money while staying connected with their patients.
Here are 8 major benefits that you can have from online medical appointment scheduling.
Save Time
Online appointment scheduling system processes all tasks, like booking, prescription delivering, billing etc. in a coordinated way. Thus the whole process becomes fast and convenient for the patients, saving their precious time and delivering excellent services. This assures long-term association of the patients with the doctors, clinics and hospital administrations.
Resource Optimization
There is a lot of attention and resources needed in order to make appointments via phone calls. Your patients probably have to make a number of phone calls or go through the Interactive Voice Response (IVR) system. Also, your receptionist has to fill in a number of forms and perform some activities that have not much significance. Moreover, the practice owner needs to spend a remarkable amount of money on all the appointments. This cost can easily be minimized by opting for online appointment scheduling. This process hardly requires any significant effort from your staff, as most of the details get filled by the patients.
Streamline Your Staffing Process
When it comes to traditional medical appointment scheduling, have you ever given a thought how much time your staff spends every day answering phone calls from numerous people requiring to make appointments? Well, it is probably quite a lot if you have a busy practice schedule. Don't you think it would be far better if they were able to focus on the patients at your facility instead of sticking on the phones with the ones who want to be there! Certainly, it would improve the level of care each patient receives while at your facility. This will allow patients at your chamber to feel as if they are really being taken care of and increase the possibilities they come back in the future.
Reduce No-Shows With Automated Appointment Reminders

It often happens when your clinic follows a traditional appointment booking system the patients forget about their appointments or get the time or date wrong. Your staff must be working hard to manually go through your overall appointment schedule and sending out reminders to your patients so that they do not forget to come for the consultation they booked in the first place. But the whole manual process is not completely flawless and undoubtedly consumes a lot of time. On the other hand, the online appointment scheduling system allows you to configure the reminders and automatically sends your patients notifications as reminders at every step of the process. This aids in minimizing "no-shows" of your patients.
Build & Retain A Sustainable Patient Clientele
Undoubtedly online appointment scheduling practice makes the entire patient management process easy for the health administration staff. Some clinics create a single point in online appointment scheduling system where all the information of patients can be stored, updated, and managed. Such information records help in managing a patent's case file with efficiency. This helps especially when a patient consults more than one practitioner at the same facility or multiple disciplines need to be engaged for one patient. A central database health record of a patient can enable varied medical personnel to interact at a common platform for decision support and to make a collaborative effort at the patient's wellness.
Available Round the Clock
Gone are the days when people needed to call in during their busy schedules to book a doctor's appointment. Now with online appointment scheduling system, patients can have a look at the availability of all the healthcare providers and book appointments accordingly, no matter whether that clinic is busy or closed after hours. This makes the whole process convenient for the patients because they can book an appointment whenever they want according to their own timeframe. Also, there are a few systems that provide 24/7 support team of specialists to meet all the patients' requirements round the clock. The patients can even have a one on one chat with a specialist and meet their requirements within just a minute or less.
E-marketing
Patients information like contact numbers and email IDs are used for online appointment scheduling. Since returning patients update their email addresses when they come back to book a new appointment, a list created through the online scheduling system gets automatically updated. Moreover, if you add a "book now" button in your newsletter or emails and send that to all your patients, this practice can generate even more appointments because people always prefer scheduling service then and there instead of navigating away.
Online Payments
Online appointment scheduling systems are safe and secure, thus people are comfortable paying online while booking an appointment. Additionally, convenience is another factor for which most people don't think twice while making online payments through a secure doctor appointment app. Furthermore, for instant promotion there are some clinics that provide discounts on consultation fees or a trial checkup within a certain period of time – these encourage patients to use online appointment scheduling system.
Conclusion
Online medical appointment scheduling is undoubtedly a step forward in making things convenient for both the doctors and the patients, and profitable especially for doctors and hospital administrations. So, have you introduced an online booking system for your medical practice yet? If you have not yet, check out our latest medical appointment app development solution for clinics, doctors, and hospitals. This can help you offer a seamless appointment booking experience to your patients. Are you intrigued to know more about it? Just give us a call today! We're here to help you.
Author's Bio

Shailendra Sinhasane (Shail) is the co-founder and CEO of Mobisoft Infotech. He has been focused on cloud solutions, mobile strategy, cross-platform development, IoT innovations and advising healthcare startups in building scalable products.