Ever thought how it would be if your car can make money for you! Well, few people thought about it and came up with service, where your car will earn for you. Peer-to-Peer Carsharing allows car owners to convert their personal car into the shared one. Here, the owner can rent out their cars to the renter on a short-term basis and get an opportunity to earn extra income.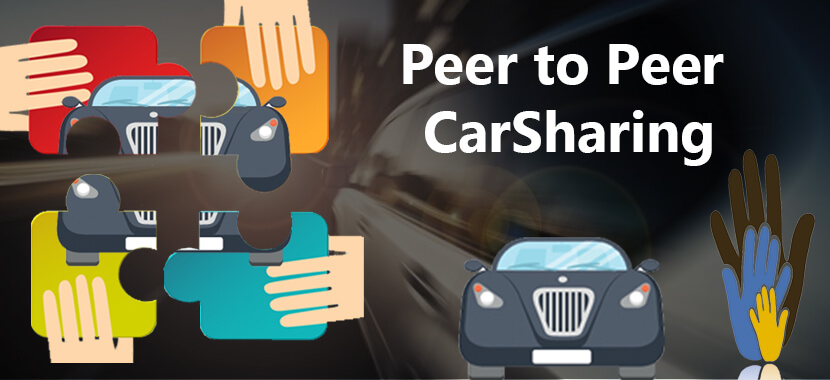 What is Carsharing?
There is an on-going confusion on carsharing terminology. The only difference is the use of the term 'carsharing' in different regions. In North-America, the term 'carsharing' means, a vehicle owned by a separate organization and used by many users, while the terms 'ridesharing' and 'carpooling' means vehicles owned privately and shared for the particular trip.
In the UK the term 'carsharing' refers to the privately owned vehicles shared for the particular trip. Whereas, the vehicles owned by an organization and are shared between different users is known as 'car clubs'
Peer-to-Peer Carsharing is basically where people choose to make their private car available for use by others and in return receive payment when it is rented out. In P2P Carsharing, mobile apps play a very important role, as it is the sole platform to connect owners with renters.
So, here we are talking about carsharing service, where the vehicles are privately owned by the individual and is shared or given on rent when required.
How can your car earn for you?
You just need to own a car and Peer-to-peer carsharing app on your phone. Ok, let's first understand what is Peer-to-peer car sharing platform. It is actually a personal car sharing platform where car owners make their vehicles available to others for rent for a short period of time like weekly, hourly or daily basis.
Peer-to-peer car sharing app collaborates with car owners who want to rent their car when not in use to them. The owner can earn money by renting their car.
Peer-to-peer carsharing acts as a technical platform, in the form of a mobile app that bring both owners and renters (who need the car) together and manages bookings and payments.
There are many car sharing platforms available, for example, Drivy, a leading peer-to-peer car rental company in Europe and was launched in 2010. Drivy allows you to rent a car, all you need to do is put the address and dates, choose a car, pay and meet the owner to get the car. On the other hand, being an owner, you just need to create your car profile, choose your price, put pictures and then accept and reject car request.
Ridengine is India's only peer-to-peer car sharing platform that offers cars on rent and connects owner to the renter.
Peer-to-peer carsharing is different from traditional car sharing, for example, Zipcar, a traditional car sharing platform has fleets of vehicles to be given on rent, while peer-to-peer carsharing does not include the fleet of vehicles, it only connects owner of the car with the renter with the help of an app.
Features of P2P Carsharing
With Carsharing you can pick and drop-off the car 24/7 . This gives you an opportunity to extend your reservation, using an app.
It offers reservation category in an app that tells you how, where and when you can reserve the car.
Some carsharing service providers also include insurance policy, so customers and passengers feel protected
Rental time feature lets you know how you are charged on the basis of time you reserve the car for.
Car Sharing service also provides option to rate and review for both owners and riders. Here both of them can rate and give review, as this help the service providers to serve better next time
These services also offer vehicle options, that describes what vehicles are offered by the carsharing service provider.
The itinerary includes features that help you to decide on your trip with carsharing service provider. It tells you if you can use the car for the one-way trip, can keep the car overnight or can use the car for round-trips.
Pros
The additional source of income for people who own car, but don't use it often
Car sharing reduces traffic and parking congestion
Reduces use of fuel, resulting in improved air quality and saves environment
Owners have the right to accept and reject request for their cars
It leads to more saving and few worries for renters and owners, as renters just pay the amount for the time they use the car and don't have to bear any cost of maintaining a vehicle. On the other hand, the owner of car, make extra money by renting their car, which is good than keeping it idle for a long time
The peer-to-peer car sharing app make it easy to find right renters for car, as renters driving history is checked before handing over the car
Through user rating and reviews, owner can get an idea to whom he is handing over his car to, and based on this owner can take decision on whether to give the car or not
Peer-to-peer carsharing also replaces managing the typical fleet of vehicles with the virtual fleet made by the vehicles offered for on rent by owners. There is no need for any additional cost to manage and maintain fleet of vehicles, the only thing here to manage is the owner and renter
Cons
It becomes hard to find a car during rush hour
If company is not offering any insurance for vehicle and renter and if any accident or damage occurs, then both the parties have to bear a loss
Sometimes the options are limited, demand is high and lot of times car sharing service providers are not able to keep up with the increasing demand
In most cases before renting a car, renter needs to plan trip in advance and book the car, as it is possible that cars will not be available at the given point of time and can cause delay
Launching the peer-to-peer carsharing service in new market is difficult as the company needs to find owners, who will be willing to offer their car for rent
Trust issue is always there as owners need to trust the company providing service as well as the renter
Insurance is one of the biggest issues, as owner's personal insurance will not cover the damage caused by others driving a car
It's an accelerating market!
The peer-to-peer carsharing market is growing by leaps and bounds. Slowly car sharing will become a game-changer in urban mobility business.
According to Frost & Sullivan's Strategic Analysis of European and North American P2P Carsharing Market report, Peer-to-peer carsharing membership will grow to 9.8 million in 2025.
Is Carsharing different from Peer-to-peer carsharing?
Of course! Traditional Carsharing services and peer-to-peer carsharing are two totally different concepts. Though in both the cases, cars are offered on rent, but in different ways.
Peer-to-peer carsharing is where owner and person who need the car can directly contact each other with the help of an app and make a deal. For example Getaround, an online car sharing platform and Turo
While car sharing is the type of car renting for a short period of time. Car renting is a membership-based service, these members pay monthly or annual membership fee in addition to car reservation charges. For example, Zipcar
Peer-to-peer carsharing is convenient, as you can find a car nearby and book it with a click from your smartphone and they don't have any geographic restrictions. While in the case of car renting it is mostly found in major metro areas.
Peer-to-peer carsharing offers variety of cars to choose from and this is the one thing which car renting companies cannot compete with
Even with some cloudy legal issues, the future of P2P Carsharing looks bright! The concept of peer-to-peer car sharing has emerged as a big solution for people who cannot afford, or those who are not willing to buy a car and also for those who own a car but are not able to use. P2P Carsharing has solved the problem for both the owner and renter. As the owner can make a profit by offering car on rent and renter can use the car without owning it.
Explore our peer-to-peer carpooling app development solution if you are interested in building your own P2P rideshare app platform.
Author's Bio

Nitin Lahoti is the Co-Founder and Director at Mobisoft Infotech. He has 10+ years of experience in Design, Business Development and Startups. His expertise is in Product Ideation, UX/UI design, Startup consulting and mentoring. He prefers business readings and loves traveling. Follow him @nitinlahoti