Self-assessment tools and mobile applications have played a major role in facilitating various aspects of our life. Patients monitoring systems are in the limelight, assisting patients with several self-management features. A recent survey states that 71% of adults in the US are willing to use patient monitoring systems for health emergencies. Thanks to digital health services, it is now possible to implement new tools, methods, and means to the healthcare sector.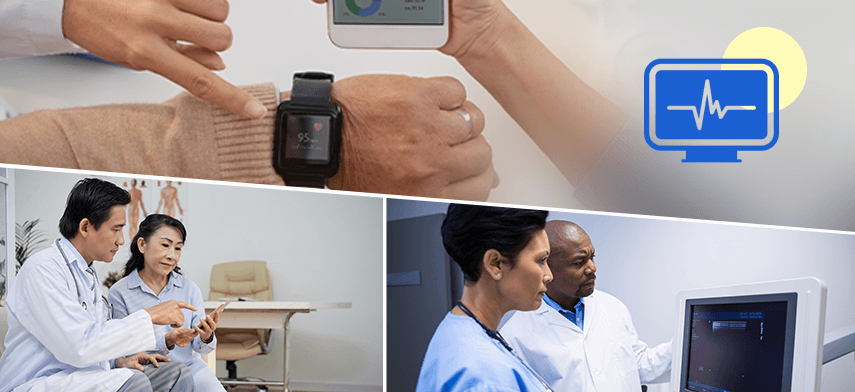 The Aftermath of COVID-19 Boosting Self-service Reporting Devices for both Patients and Providers
Telehealth and electronic health records software have given access to care when people were restricted to their homes. Remote patient monitoring devices may encourage providers to assess and help patients to monitor themselves. With this technology, you can store data in one place, but it will be accessible anywhere. Automated medical services may result in a streamlined health system, minimizing the room for human errors and cutting costs.
The impacts of Covid-19 were so severe that it denied patients some of the essential healthcare support. However, the pandemic has caused a monstrous acceleration in the use of patient monitoring systems.
The first quarter of 2020 witnessed a 50% increase in the use of eHealth tools, which further hiked to a massive 154% in the last quarter. Providers have scaled digital services to see 50 to 175 times more patients via telehealth during the global pandemic. Before the COVID-19 outbreak, the annual revenue of US telehealth was estimated to be $3 billion. This figure has risen to $250 billion post-Covid.
How COVID-19 has Changed the Outlook of Digital Healthcare:
This pandemic has caused the patient monitoring equipment market to reach $10 billion, with an 80% growth of double-digit year-over-year.

Providers are adopting telehealth services to connect patients and doctors remotely to maintain social distancing.

76% of hospitals and other medical institutes in the US now use audio or video call to connect health professionals to patients.

Favorable private and public organizations are including telehealth services in almost every state. Besides, federal reimbursement coverage for remote patient monitoring signifies the uptake of self-monitoring systems.

An increasing number of mobile health applications such as Medici, ClotMD, and Doximity, post-COVID-19, are key growth factors of the US patient monitoring system.

Lab tests at home gained traction during the pandemic as they are convenient and reduce crowding at the hospitals, making it easier for both hospitals and individuals.
Data Reports Collected by Self-Reporting Tools
The accuracy of experimental clinic research depends on patient self-monitoring. While using any medication, it is crucial to report the time, dosage, and aftereffects. The same goes for psychological health, nutrition, health management applications, and many more.
Wellbeing

The self-reporting tool used to measure the overall well-being is referred to as a mood chart. The tool also includes other metrics such as physical activity and pulse tracker. It helps one assess their mental being and practice ways to relieve stress. Guided meditation for better sleep and mindfulness training is provided for the overall health of the individuals. It helps combat stress, gain self-confidence, and overall body health.

Sleep

Sleep quality and duration are associated with disturbances. Distress often causes irregular or poor sleep quality. Irregular exercises may also cause the inability to sleep, which can be measured through a fitness device. Certain wearables can track sleep apnea, bruxism, snoring, and other common symptoms, marking the possibility of a major health issue.

Appetite

When you don't feel the desire to eat or when your food intake is less than normal, it leads to weight loss, depression, and other physical and mental concerns. To keep track of food intake and maintain a balance, the trackers have charts and track calorie intake every day. Appetite is usually measured by asking users to note down how many calories they intake every day. An appetite chart is often used to support these trackers.

Pain

Dedicated devices like self-management applications for chronic pain include an in-built pain tracker. Users need to describe the duration and intensity of the pain when it occurs. Pain trackers would make a helpful add-on to fitness devices, tracking joint or muscle pain after a workout session.

Height and Weight

You may find an indicator to measure height and weight in most fitness devices and healthcare applications. Sudden weight loss or gain indicates extreme hormonal shifts, which are most likely to occur after watching a psychological thriller episode or at the initial stages of an antidepressant course.
Types of Self-Service Reports
Regular reports

These reports are used for medical experiments, diagnosis and crucial in making high-level decisions by the company.

Ad hoc reports

Business organizations are bound to answer a particular set of questions that shall be presented to their management. Ad hoc reports help to prepare these answers in an understandable format.
Benefits and Challenges of Self-Reporting Tools
Benefits of self-reporting tools
1
Easy to Use
The primary object of self-service reporting is to simplify data collection and analytics for various health professionals. These tools are designed for patients, so they are easy to operate even for those who do not have any technical knowledge.
2
Integration
Self-reporting tools are optimized for several data sources. You may integrate these tools to:
The company's cloud SaaS

Internal systems of the company based on supplier owned or proprietary, open-source software

Systems developed within the company

Lastly, external data sources.
3
Interactive Features
Tools that offer interactive and intuitive visual data representation are considered to be efficient self-service reporting solutions. Most self-reporting tools offer data representation in the form of bar charts, tables, and other charts to their end-users.
4
Mobile and Online Accessibility
Self-reporting tools allow users to access reports and dashboards online through mobile devices. A user with an internet connection and permission to access data can generate reports through 100% web-based solutions.
5
Embeddability
The accuracy of dashboards and reports entirely relies on the data, and stale data produce stale reports. Self-reporting tools can auto-update dashboards and reports- another reason it has become so popular.
6
Enterprise Features
Small to large-scale enterprises are turning towards self-reporting tools because of the variety of business features they include. While these tools allow access to everyone, the company can restrict access for new users. These advanced features also help administrators filter upload capabilities for new users not to create improper records accidentally.
7
Collaboration
The best aspect of self-reporting tools is that they are collaborative. It makes it easy for users to share data and other knowledge to create better reports. Businesses can collect data with the help of questionnaires and conduct interviews with the use of these tools. It's easy to share and compile the reports, which helps analyze data and understand the trends.
Advantages of Self Reporting Tools
Researchers find it easy to analyze data and come up with a general solution if not accurate. It is also easy to get an overview of the most common problems faced by individuals.

Self-reporting tools are cost-effective, and it is easier to collect data from thousands of subjects in no time. It saves time and helps researchers get insights into a particular problem.
Challenges
Transparency

Subjects often tend to make more acceptable answers than being honest in the reports. It is natural for users to choose the most suitable solutions rather than the options they truly believe in, but having them answer anonymously can help get more truthful answers. However, one cannot guarantee complete transparency.

Introspective ability

Users may fail to assess themselves accurately. Self-awareness is an aspect that every individual must possess. Though self-reporting tools cannot be blamed for this, it makes the result inaccurate. But asking specific questions rather than generic ones and giving them a detailed analysis, gradually help subjects understand their inner self.

Rating Scales

Numerical scales may be inexact sometimes, and users may give extreme or moderate answers to all questions. On the other hand, answering questions with yes/no is too restrictive. Having descriptive or graphical rating scales will help get better answers.

Why Implement Digital Trackers in Healthcare Applications
Implementing digital trackers in healthcare applications will be beneficial for the patients to observe their recovery rate and measure the impacts of the recovery activities they have performed. Moreover, it would assist hospitals and other healthcare institutions in establishing a constant care process. Patients will be able to inform their concerned physicians about any deviation in their recovery process in real-time. Besides, they can attach supportive data to the message. Overall, it serves to encourage patients to engage with their care practitioners and get in touch with them anytime.
Bottomline,
Talking about the accuracy, only 6% of blood pressure monitors are checked for accuracy, which is an issue for digital trackers. Most people do not evaluate health applications based on efficiency, usability, and value for money. However, most organizations are shifting towards a patient monitoring system- in which COVID-19 has played a significant role. Overall, self-reporting tools come in handy when you cannot visit your care practitioner in person. These tools can help boost your recovery process if you behave responsibly. Self-reporting tools help businesses make data-driven judgments with ease, generating detailed data analysis and making it easy to examine patients' conditions.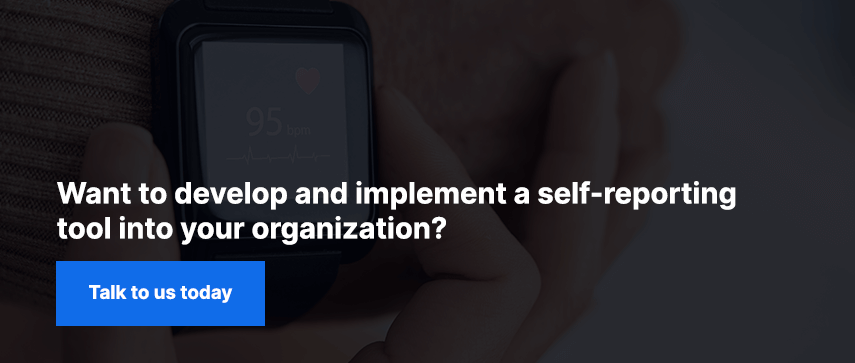 Author's Bio

Shailendra Sinhasane (Shail) is the co-founder and CEO of Mobisoft Infotech. He has been focused on cloud solutions, mobile strategy, cross-platform development, IoT innovations and advising healthcare startups in building scalable products.