Patient-provider communication is crucial and has always been a cornerstone of clinical care, especially in times of the pandemic. It is the improved patient outcomes that are linked to stronger doctor-patient relationships. As the relevance of the patient-doctor interaction grows, it is critical to comprehend the factors that influence this relationship and its significance.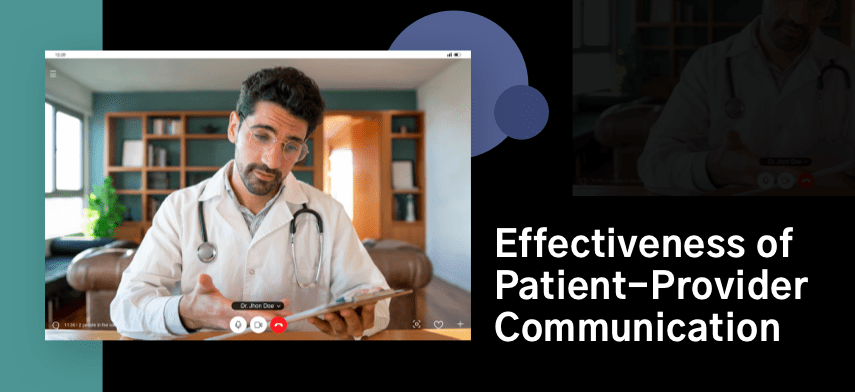 Interpersonal Communication In Healthcare
Interpersonal communication in healthcare is the ability of a healthcare provider to listen and understand a patient's concerns and attend to them. The aspect of decision making through engagement and sharing experiences is also a great process that aid in successful doctor-patient communication. After having interpersonal communications in health care, a few positive results show that there is:
Higher Level of patient satisfaction.

Understanding more on the patient's condition by doctors.

Improved life quality of patient.

Improved adherence to treatments.

Boosts patient's confidence.

Anxiety and depression are reduced.
Benefits of Interpersonal Communications in the Healthcare Industry
As the world slowly adjusts to newer technology and digital tools solutions for bridging the communication gap in healthcare, patient-provider communication built crucial grounds in the healthcare model. Some of these benefits include:
1
Assists patients to feel calm
Patients will have more confidence in their care if the health care practitioner can explain what is occurring to them and what they can expect. Nursing and other fields of medicine use communication and interpersonal skills to help patients feel more in control of their life. A medical expert may need to prescribe several processes for the patient to follow in their lives, such as when to take medication, what to eat, how much to exercise, and what to avoid, depending on their conditions.
2
Patients feel more involved
Patients may feel more involved in the decision-making process if they understand why they need to do certain things. This also provides patients with a sense of hope and optimism, which can aid in their recovery.
3
Improved patient experience
The interpersonal communication between a patient and their provider can be an indirect indication of the improvement of health via active care participation. Proper following of treatment and thorough patient self-management are a few other factors that improve patient satisfaction and experience. The key interactions between patients and providers involve healthy communication the quality of health care received by patients.
4
Reduces readmissions and ED visits
Patient-provider communication benefits in increased accessibility to medical history that help reduce medical errors. Establishing strong communication regarding the discharge protocols of a patient can reduce unnecessary readmissions and ED visits. Hence, patient-provider communication can seamlessly offer patient-centric care services and transition to home-based care by avoiding any readmission requirements.
Factors Influencing Patient-Provider Interactions
Two main factors influence how patients and providers relate, which include:
The dynamics between provider and patients

This kind of dynamism refers to the communication patterns and the level of decision-making between the parties involved. Effective communication has influenced emotional health, pain control, and other psychological measures like blood pressure levels.

Trust level between providers and patient

One of the most critical aspects when it comes to the well-being of a patient is trust. Patients must be comfortable to trust that physicians will work their level best to achieve optimal health outcomes. Trust encompasses a wide range of aspects of physician-patient relationships, including physicians' willingness to listen to patients, patients' belief that physicians value their autonomy and ability to make informed decisions, and patients' feeling the aspect of comfortability enough to express and engage in dialogue about their health concerns.
Other minor factors that should be considered for optimal results include:
Gender differences

Cultural and racial differences

kind of ailment the patient is suffering from

Language differences

Religious differences
Interpersonal Communication with Home-bound and At-risk Patients
Younger adults, racial/ethnic minorities, critical employees, and unpaid adult carers reported significantly worse mental health outcomes, increased drug use, and raised suicide ideation due to mental health disorders linked to COVID-19. As most governments continue to impose stay-at-home policies, these individuals are seeking routine medical attention. The health care community is on the front lines and may play a critical role in assisting mental health issues. Home healthcare agencies can help patients achieve better long-term health outcomes by learning the essential knowledge and communication skills to properly execute therapies for mental health illnesses and drug use disorders.
Patients confined to their homes, whether or not they have mental health problems, are under a great deal of stress. Recent research samples of confined people found anxiety, despair, irritability, insomnia, dread, perplexity, anger, annoyance, boredom, and stigma related to isolation, some of which continued after the quarantine was lifted. Uncertainty, financial difficulty, and unknown prognoses are all factors that can contribute to widespread distress. Interpersonal communication in healthcare can make a difference during this challenging period, resulting in increased patient satisfaction and improved outcomes. The abilities listed below can aid in the fight against the COVID-19 epidemic.
Build a rapport with target patients

: This is where a healthcare provider fosters a relationship by attentively listening to the patient's concerns. During this stage, the doctor should show interest, respect, and demonstrate caring.

Express empathy

: As a healthcare provider, ensure you acknowledge patients' emotions. Avoid making stands or judgments by using statements of appreciation or statements that seek elaboration on patients' feelings.

Ask permission to share a view or idea

: Before making comments or adding to whatever the said, ensure you seek approval.

Don't use buzzwords

: As much as there are many technicalities in the health industry, always ensure you use plain language. Provide information matched to patient need with understandable statements. This ensures that you offer value.

Collaborate on an actionable plan:

After you have listened and had a discussion ensure you outline the necessary steps and assess the willingness of the patient to follow through.

Come to an understanding

– In every step; you should ensure that every communication is clear. Allow the patient to ask questions and seek clarification if any.
Building Effective Patient-Provider Communication through Digital Technologies
Every component and sector must be ready to adapt as technology evolves. Telehealth is one field that has benefited from rapid technological advancements. As this technology becomes more widely used, medical providers will need to create excellent virtual etiquette.
There is still a need to engage with the patient in remote consultations and build trust, despite the physical distance. When you consider that nonverbal communication accounts for up to 90 % of the emotional value of communications like facial expressions, clinicians can digitally communicate with clients without wearing a mask could be perceived as a job chance for interaction. Telehealth visits may be made more positive and productive by improving communication skills.

Top Tips to Improve Effective Patient-Provider Communication
Begin with a friendly greeting. Always enter into a waiting area and identify yourself to the target patient as a physician. This gives patients a sense of importance. It shows that the provider is not in a hurry and is greeting them instead of having them hustled into an empty exam room by office staff.
Begin by addressing the patient by name:

Their formal titles should manage patients. People, by nature, enjoy hearing their words. Stronger alliances and relationships are formed when clinicians know and utilize patients' names while greeting them and throughout the medical process.

Make eye contact with the other person:

This is an essential aspect of interpersonal communication. Patients may conclude that if you don't make eye contact with them, you're thinking about something else or that you're uninterested in their medical problem. Patients want to know that they are in good hands. Therefore eye contact is a show of confidence.

Make an effort to be involved:

Patients can tell when providers are concerned when they are well-prepared and genuinely involved. Communication consistency is a skill. Regardless of whether a practitioner is anxious, tired, or otherwise preoccupied, they must master the skill of being consistently engaged with all patients.

Avoid interrupting the patient:

Allow the patient to finish their explanation. In the middle of a conversation, providers frequently interrupt patients with inquiries. Allow patients to complete their thoughts before asking any more questions. If a patient goes off on a tangent, respectfully interrupt them and refocus them on the message at hand.

Confirm that you understand everything:

Rather than asking patients if they know their health conditions, intervention plans, or any other part of their care, it's often more practical to utilize a simple technique like "teach-back" to ensure complete understanding – have them repeat what they heard.

Patients should be given written instructions:

Patients are frequently overwhelmed by the announcement of a diagnosis or the seemingly complicated plans for home/self-care, which involve drug administration. Preparing and disseminating written instructions will aid in the prevention of treatment and follow-up plans being misunderstood.
Bottomline
The physician-patient communication model is a vital part of the healthcare process. Doctors hold a unique position of authority and respect. Communication between doctors and patients can provide motivation, incentive, reassurance, and support. A positive doctor-patient connection can also improve work satisfaction and support patients' self-confidence, inspiration, and positive perceptions of their health status, all of which can affect their health outcomes.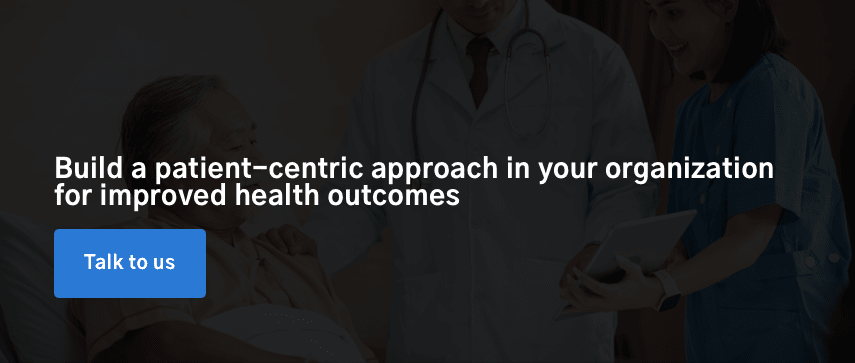 Author's Bio

Shailendra Sinhasane (Shail) is the co-founder and CEO of Mobisoft Infotech. He has been focused on cloud solutions, mobile strategy, cross-platform development, IoT innovations and advising healthcare startups in building scalable products.