About a year ago, in 2021, all of us were looking towards a fresh start in healthcare. It included work-from-home policies, vaccines, including office prospects of getting back to normalcy. Although the reality to go back to normalcy has deferred from the expectations, payers in healthcare technology have kept their focus on long-term strategizing to continue and thrive during these uncertain times. This year, it made a strong impact for health plans to succeed with integrated technology.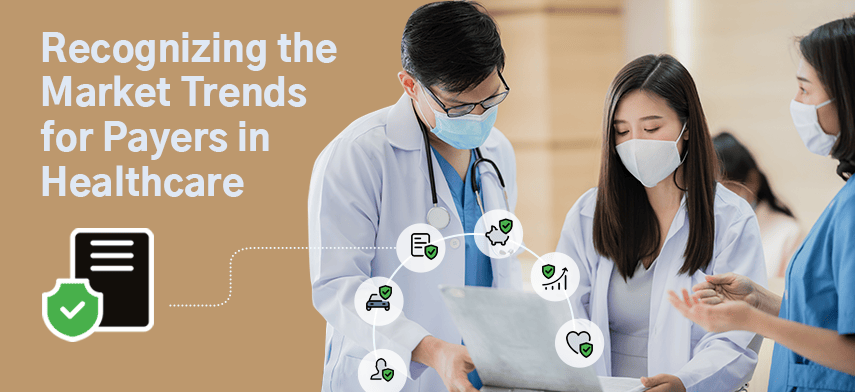 To ensure the proper preparation of your health plan, it is necessary to increase the intensity of strategic planning to keep your organization on the right path. Let's explore the healthcare trends in the industry, the challenges, and the opportunities that will be impacting these strategies in 2022.
Peak Health Plan Motivators in 2022
The pandemic in 2020 and 2021 headlined in the healthcare sector and their trauma responses. It stands to reason that it had an outsize impact on the healthcare sector for the next years. Even though our concentration has shifted to long-term approaches to a pandemic, the requirement for innovation remains highly accelerated.
As we have previously mentioned, the COVID-19 pandemic exposed the gaps in care in our healthcare infrastructure. The gap in digital healthcare for stakeholders has now become the primary source for the peak in healthcare payer technology. Curing these gaps in digital health services, health plans to keep at them imminently to avoid falling behind their competitors.
1
A call for better transparency
In recent times, two new rules have emerged and one law that sees the prediction of health information technology trends in the forefront. Even with the delayed compliance due to the pandemic, 2022 is prepared for seeing these actions become fruitful.
First Rule:

The first rule is against information blocking to emphasize the requirement for better healthcare interoperability.

The Centers of Medicare and Medicaid Systems

have shown their commitment to initiate and publish various updates as health plans continue to push for escalating data-sharing services. The progress on value-based care programs and improvement in care quality and decision-making process will be more enhanced.

Second Rule:

CMS also amped up the reinforcement for price transparency rule. The number of medications, items, services, and procedures requires to be listed with the cost continues to grow as a means for patient safety and delivery of quality care.

Third Rule:

the 'No Surprises Act' by CMS was due effective from 1st of January, 2022. This rule is focused on mitigating the effects of any surprising medical bills patients receive, especially when the care received was from out-of-network healthcare providers. As an outcome of this, providers and payers need to coordinate before the procedure of billing, identify the bills protected by the NSA, and actively communicate with the patients.
The conclusive goal of digital health technology is to break down the barriers and allow information to empower a refined and enhanced healthcare framework. Payers in healthcare have understood the importance of advanced technology is only as good as the data that is fed to it. With better healthcare interoperability, data accessibility, and transparency in healthcare delivery services, health plans can evolve into beginning their interrogation procedures within their businesses, facilities, and organization that exhibits sharing of information.
2
Creating a work-from-anywhere environment
The improvement in data accessibility has been observed to extend for internal operations. The newly implemented work-from-anywhere atmosphere has implemented enhanced technology for completion of work at any remote and urban location. Payers in healthcare and health plans are integrating healthcare information technology to support better service offerings for quality care delivery. Health plans are adopting the 'do more with less' implementation that has invaded more healthcare industries, but manual and other labor-intensive processes burden the administrative segments. The adoption of integrated platforms of digital health technology, health plans, and payers in healthcare can reduce and eliminate data silos and enhance oversight and collaboration. With payers in healthcare starting to reap the benefits of advanced technology, healthcare organizations and facilities can progress towards becoming more proactive with their services.
3
Interoperability as a healthcare trend
Payers in healthcare are being encouraged to recognize interoperability as a healthcare trend for its imperative strategical approach. The Federal Government mandates advances in the data standards, payment reformations, and technology implementation towards value-based care. The interoperability focus aims to continue to cast a long road towards compliance of data in the healthcare technology trends. Payers in healthcare require interoperability integration and strategies to cause an impact for their organizations. The new rule in interoperability requires healthcare organizations to have more accurate medical and patient data. CMS recently announced the exercising of discretion in enforcing the payer-to-payer compliance of healthcare data exchange provisions effective from 1st of January, 2022. Implementing National Patient Identifier or NPIs are becoming mandatory for payers in healthcare.
4
Integration of health data exchange as a payer strategy
The seismical event in the healthcare market has brought to limelight the health data exchange procedures. In today's time, payers in healthcare require modems to exchange healthcare and medical data with each other, providers, and patients. The amount of data and how it will be exchanged is still of paramount importance. In 2022, payers in healthcare are getting started with collecting and sharing new sorts of clinical and patient data, like Social Determinants of Health or SDOH. healthcare payer companies are required to change the way they exchange data. The integration of health data exchange as a payer strategy will create an influx in joining any health information network to exchange the data information on a national and global basis.
5
Changes in healthcare payer services through membership mix
Healthcare payer services and health plans are starting to experience the shift in their business. In recent years, an influx of patients and members are going into Medicare Advantage and Medicaid by enrolling in the Affordable Care Act (ACA). Although commercial and employer-sponsored plans keep being in the norms, the way consumers are viewing and thinking about healthcare coverage is changing for good. Members of these plans are being tasked with owning their healthcare experiences and they are expecting frictionless and fruitful communication with their health payer service providers. With health plans and healthcare payer companies making decisions about technological implementation with their focus on the members can refine the opportunities to improve payment accuracy factors.
6
Competitive landscape transformation
The increase in consolidation amidst the health systems and payer services in healthcare are motivating the companies to invest in digital innovation. They are understanding the reliance on technological legacies that eventually minimize the paper-intensive process and make it more scalable and flexible. Healthcare payer companies are now upgrading their positions. In this competitive and consumer-driven landscape, payers in healthcare with a technology-first mindset will continue to find strategic advantages in this new transformation. Technology will quickly improve the ROI claims on the prevention of overpayment and recovery procedures and ensure a perfect fit for these healthcare payer services.

The Opportunities in Excelling with Healthcare Payer Technology for Payers
While challenges will be abundant in this uncertain healthcare environment, the opportunity for growth is immense. With the transformation in member behavior, technology integration and advancement, employer clients motivation, and cross-functional collaboration provisions, health plans will have a chance to succeed in healthcare payer technology in digital transformation plans.
1
Open to engagement for patients and members
The last two years have been unpredictable, but it has also opened up newer avenues in patient engagement. People are eager to communicate and hear from their providers and have been encouraged to utilize home healthcare and telehealth/telemedicine services. These members and patients have welcomed the integration of technology in the management of their healthcare consultations. The healthcare cost is set to hit a mark of USD 491 billion and maintain a steady growth of 10% throughout the next five years. Payers in healthcare have observed a fact that offering enhanced patient services is a key differentiator in the consumer-driven market. By providing convenience, conveyance, and addressing SDOH, health plans can benefit on a broader scale with a perceived high evaluation while it lowers costs as a healthcare payment trend. With the expansion of health plans in improving and extending their coverage, digital healthcare adoption will continue to find an opportunity to grow.
2
Embracing payment integrity
Several employees have been observed to be under self-funded plans. The estimated growth in self-funded insurance was 64% in 2021, and it is set to have self-insured employer clusters that make up 70-80% of the commercial healthcare plan businesses. With employers around the healthcare, the board has reported a rise in healthcare costs and facing hesitation of passing it down to the employees, payers in healthcare have an excellent opportunity to excel in this segment. By embracing payment integrity employer clients are heavily focused on savings including payment accuracy programs. Payers in healthcare providing better visibility opportunities in payment integrity are positioned at a higher level for offering unique and competitive products and programs to the necessary client bases.
3
Adoption and advancement in technology integration
The advancements in technology continue to grow according to the API standards enacted with the capabilities of artificial intelligence. Healthcare payer companies can leverage surmountable data collected through the enhanced dynamics of data analytics. This has reduced the time of reporting and has empowered real-time decision-making opportunities. Through secure technological integration, data sharing has become a hurdle that can be bypassed easily by health plans as a payer strategy. A majority of health plans will look for third-party vendors to cover gaps in healthcare. But adoption and integration of advanced technology platforms will improve the predictable costing circumstances and make the bearing of these expenditures easier. Offering off-the-shelf- solutions can be easily configured and will keep proving to be more cost-effective than building custom technology.
In conclusion,
Payers in healthcare can be one step ahead of the curve by implementing strategic investments for transformation, especially surrounding the transparency factor. Integrated technology and shifts in approaches for payment accuracy will continue to allow payers to gain focus and ground to become more proactive, particularly when it comes to payment and recovery integrity.
The extension of competitive opportunities transcends healthcare information technology trends by ensuring a provision of comprehensive technology and digital health platform. Digital health tech companies can ensure better coordination amongst health plans and payers in healthcare to offer better services to the patient and provider communities and improve the overall cost of well-being.
Author's Bio

Dr. Kedar has more than 12 years of experience in the healthcare domain. She advises Mobisoft Infotech in healthcare-related matters.