With 88,000 pharmacies nation-wide, the pharmacy industry turnover amounted to 296.56 billion U.S. Dollars in 2019. To provide better quality with high- standard service parameters, pharmacies are getting themselves equipped with the user-friendly prescription management software solution that streamlines medicine dispensing, inventory management, and sales-related processes with accuracy.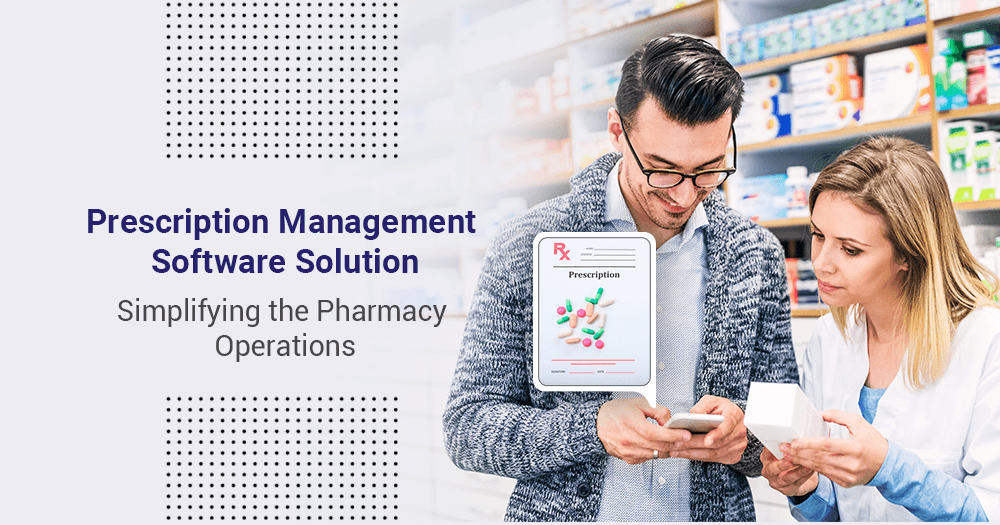 Reconstructing the Process of Prescription Management
Pharmacies are no longer just about providing patients with the medicine they need, but they have changed for the better over time. The market for basic and advanced health care is expanding rapidly, and pharmacy chains are growing and will continue to expand to provide simple, leading, and developed healthcare services.
The role of the pharmacist has evolved continuously, and so has the traditional way of dealing with the consumer. Those days are history now when hospital administrators, nurses, paramedical technicians, and patients themselves used to carry and handle a bunch of prescriptions, advice slips, laboratory reports, X-rays, and many more with them. Now technology has brought all tedious stuff to a halt. Few clicks on smart devices and healthcare customers can easily refill the prescription as per their requirements. Many online pharmacy apps exist in the market, such as medicine ordering app, prescription refill app, etc. to fulfill the demand and service with a hassle-free, monotonous experience to consumer and healthcare service providers.
Integrated with an e-commerce platform, various pharmacies' prescription management software allows customers to refill prescriptions, get notified about refills due dates, upload prescriptions and save for future reference, and other useful features to simplify the process of prescription management.
Key Factors: Growing Acceptance and Popularity of Online Pharmacies Among Masses
In today's fast-paced lifestyle, a toddler or a senior citizen is afflicted with diseases like heredity or chronic ailments. Many patients have doctors' advice to consume certain medicines more or less regularly for years. In this case, online medicine sales have made a viable option for the traditional system of visiting a doctor's office or a pharmacy every time. Moreover, below are the key factors that play a vital role in attracting healthcare consumers.
Time-saving

Placing orders online saves the consumer's time as there is no need to visit the pharmacy and buy the medicines.

Lower Price

The same medicine is available at a lower price than the market, offering discounts and loyalty programs.

Credibility

People are convinced that even though the medicines ordered online are available at low prices, their quality is also up to the mark.

Substitute Availability

Simultaneously provides information on alternatives – if the prescribed medicine is not available or available at a lower price than that of the prescribed one.

Easy Accessibility with Door Delivery

Consumers can get their prescriptions delivered at their home within just a few clicks – updating them about order status, delivery executives details, etc.

Information about Medicines and Adverse Effects

Makes patients or a buyer aware of the adverse effects of drug consumption. It provides medicine-related information, the knowledge of the precautions to be taken to consume the medicine.

Return Policy

Not that much prevalent, but in some cases, some pharma companies allow the clients to return the purchased product if they find some discrepancies or other.
Market Trend of Online Prescription in Pharmaceuticals:
E- pharmacy market volume was 49,727.7 million USD in 2018, which will be 177,794.9 million USD by 2026, with a CAGR of 17.3% in 2019-2026. Simultaneously, e-prescription, having a market turnover of USD 1.2 million in 2020 and will have surpassed USD 3.0 million at a CAGR of 23.3%. Increased acquisition of various digital healthcare solutions like telemedicine apps, EHR, EMR, etc. to avoid medical errors and rising healthcare costs are pushing the e-prescription market at an even higher level.
Besides, today's consumers prefer online medicine ordering and E-prescription over physical stores as an alternative to protect themselves and families from the spread of COVID -19. This epidemic has given a boost to online medicine buying and selling. Alternatively, people can become accustomed to this, and so the practice can continue even after COVID 19.
Evolving Role of Pharmacists in Improving Healthcare Outcomes
Due to its proximity, the pharmacy today seems to be the first and most accessible place for any patient to get in touch with for a mild sickness. Moreover, in recent times, the pharmacists perform core pharmacy-related functions plus provide other healthcare services such as second opinion options, medication therapy management services, expert advice, care provision, counseling, etc. to the patients.
Favorable changes are taking place for better outcomes in the healthcare continuum, and adopting such changes has been proving auxiliary for providers to cope with the increasing competition. Independent pharmacies are the regular primary contact point for patients. Access to one-to-one communication enhances the gamut of personalized service, enhancing the credibility of the business.
COVID-19 has underlined the importance of various establishments working in the field of medicine for the benefit of the entire human race. Authorizing licensed pharmacists to administer COVID-19 tests, the U.S. Department of Health and Human Services acknowledged the importance of pharmacist-patient interactions. To provide improved service to patients and get better overall results, many pharmacies offer immense flexibility in all the services ranging from their daily working hours to the delivery of medicines, doctors' consultation, and much more.
Let's Explore Prescription Management Software Solution
Like other areas of healthcare, pharmacies also handle and deal with a great extent of healthcare data. While offering service with precision and accuracy, independent and retail pharmacies are opting for Prescription Management Software to increase their operational efficiency in a streamlined manner with maintaining quality, convenience, satisfaction without losing a touch of communication.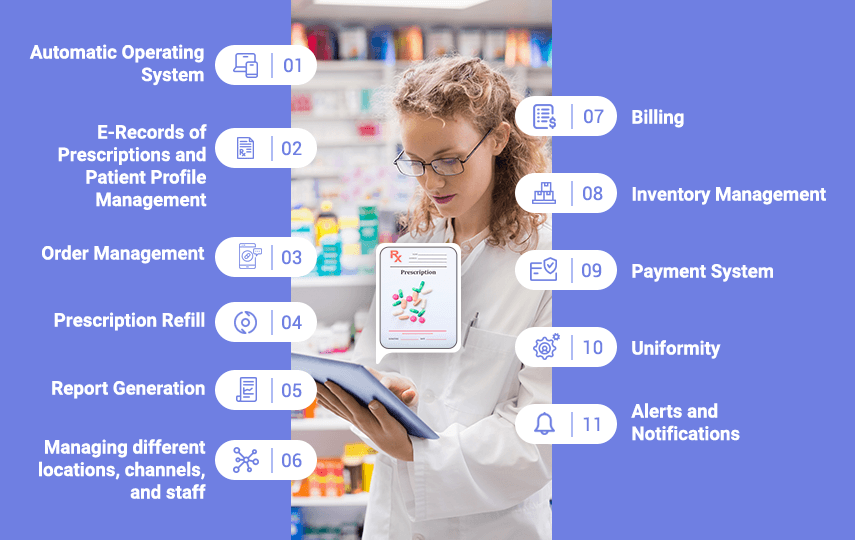 The integrated prescription management software solution enables a single pharmacy or multiple chain stores to offer cost-effective and excellent services. The comprehensive solution breaks down the traditionally complicated process to achieve better health outcomes at a minimal cost.
Features and Functions
The customized prescription management software solution makes medication dispensing simpler, manages inventories, records all prescriptions, and simplifies the sales-related process. A powerful and suitable software brings about the superior return on investment(ROI). Let us have a look at its user-friendly features:
1
Automatic Operating System
It shifts the physically executed process to the automatic operating systems providing few inputs. All operations such as orders-fulfilled, pending and canceled, availability of medicines, prescription management, customer and staff management, keeping an eye on revenues, etc. are digitized.
2
E-Records of Prescriptions and Patient Profile Management
It helps and makes it easy to maintain all prescriptions of a patient at a single place. It avoids the complexities which used to be a part of the traditional workflow – adding new patients with having control over managing their profile.
3
Order Management
Status of online prescriptions-accepted, fulfilled, canceled, and pending with changing status as per the work operation taking place shows the accurate scenario of ongoing activities.
4
Prescription Refill
A valid prescription from a prescriber is only a prerequisite to reorder by just scanning the barcode or adding a prescription number. An easy and hassle-free tool plays an essential role in growing the business and making the patients follow medication adherence.
5
Report generation
The software generates customized reports related to pharmacy operations, providing valuable insights into the business's current scope and future business-related decisions that need to be made accordingly.
6
Managing different locations, channels, and staff
Providing access to multiple chains of pharmacists and staff to make online medicine supply more easily available increases the ROI. Making changes by adding or removing their authority to perform the operational task as per requirement reduces the overhead expenses.
7
Billing
Getting rid of the billing calculations and claims with absolute accuracy is a great relief for the providers.
8
Inventory Management
Analysis of medicine-related demand and sales proportion helps maintain the stock ratio without causing less or redundant quantity. Adding new medicines, new categories becomes uncomplicated.
9
Payment System
Streamlined systems and billing solutions create efficiency in payment management. Multiple gateways for payments gives consumers the choice of suitable options for payments. Tailored discounts and loyalty programs help the consumer stay connected.
10
Uniformity
Irrespective of the attendant at the pharmacy store, a software operating system avoids anomalies and maintains uniformity in overall reciprocity and trade.
11
Alerts and Notifications
Share all the necessary changes and updates to pharmacists and consumers through SMS, Mails, or Push-SMS. Remind patients about a prescription refill.
Benefits of Prescription Management Software
An improvement in any service providing sector brings about the benefit of service providers and consumers. Whether it is independent pharmacies or chains of pharmacy stores, the business reach can be expanded using digital healthcare solutions while simultaneously providing customers satisfying and excellent service experience.
Benefits to Pharmacists:
Business Growth

Reaching the maximum number of customers is the first step to the success of any business. It generates more revenue by increasing the customer base. Traditional methods may have their limitations, but technology has made these things easier. By using effective and powerful software, consumers can reach you easily, which results in the growth of your business.

Medication Adherence

Easy online ordering of medicines through pharmacy apps and time to time prescription refill helps the patient stick to medication adherence. It not only generates sales but plays an important role in achieving better results in healthcare.

Customized offers

Pharmacists can offer special discounted rates and loyalty programs to the customer based on his overall online prescription refill – orders and regular prescription filling.

Easy Monitoring

The use of software tools makes it easy for the pharmacist to keep an eye and tab on ongoing work operations related to dispensing medicines, accepted and rejected orders, delivery status. It enables pharmacists to get insights into performance at individual stores.

Streamlined Workflow

The digitalization of the process streamlines the work, providing a hassle-free experience. Be it tracking a patients' data or checking the availability of prescribed medicines, absolute accuracy.

Staff Management:

Pharmacists can have a precise idea of the total workforce required and manage the staff accordingly. It helps to provide a cost-effective service.

Time-Saving

Billing, taking stock, maintaining records, checking expiry, and availability of medicines has never been so simple and easy before the ingression of technology. It saves a lot of time for customers and sellers.
Benefits to Consumers:
Discounted Rates

Customers can benefit from offered discounted rates and loyalty programs based on their overall online prescription orders and regular prescription filling.

Full-Time Availability

The customer can order the prescription online at any time of the day, even if the shop is closed – no need for a physical visit to the store to place an order of particular medicines or medicines.

Easy to Locate

Consumers can easily locate a drug store in the vicinity. Also, come to know about working hours, contact information, and ratings.

Prescription Awareness

Consumers can be more self -reliant regarding prescriptions like knowledge of medicine ingredients, substitute, side-effects, cost, the importance of medication adherence, the direction of use, and regimens.

Easy to Use

Prescription orders, order tracking, prescription refills, uploading prescription, suitable payment channels, time-to-time notifications and alerts, and many easier-to-use features has brought the pharmacy at consumers' fingertips.
Conclusion
The use of robust and scalable prescription management software solutions can streamline the overall work functionality. The eradication of the workflow complexities provides the opportunity to perform the work operations with comparatively fewer staff requirements. Online order and refill lead to medication adherence and appropriate prescription management help achieve improved results in the healthcare industry. One-time investment can enable pharmacists to generate high revenue, expand the business to provide the right and best quality service to the customers.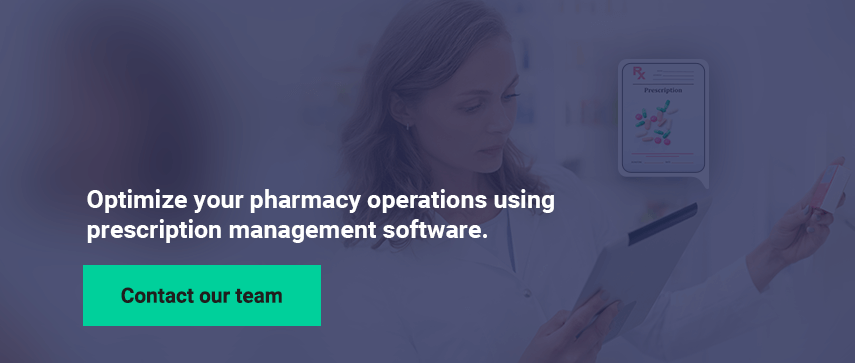 Author's Bio

Shailendra Sinhasane (Shail) is the co-founder and CEO of Mobisoft Infotech. He has been focused on cloud solutions, mobile strategy, cross-platform development, IoT innovations and advising healthcare startups in building scalable products.