With digital transformation initiatives, the retail industry is growing rapidly. Especially after 2020, the retail business models have evolved like never before. To create value for consumers and spur business growth, retailers are making significant improvements in their operating models based on market trends.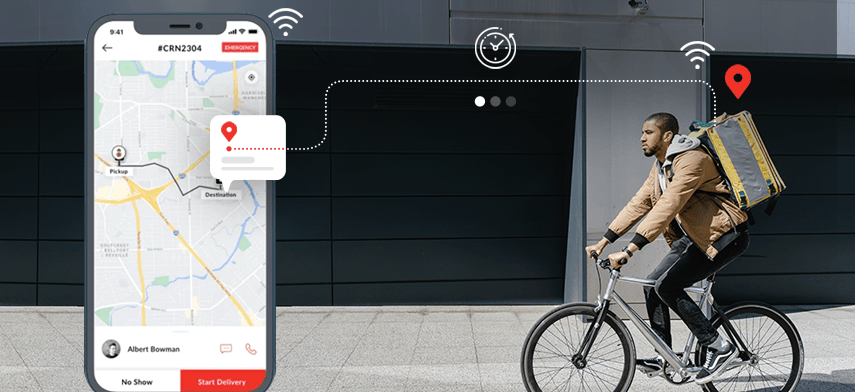 Today's modern consumers value personalization, convenience, quality, speed, better customer service, safety, and brand reputation in the market while purchasing products and services online from any retailer. They no longer want to walk to a local retail store to grab last-minute essentials or drive to a restaurant to get delicious meals every time. They just expect convenient and faster deliveries of essential products at their doorstep. And this is possible with a unified quick commerce solution.
Currently, quick commerce startups are growing fast all around the world. Companies like GoPuff, DoorDash, Weezy, Jokr, Glovo, Delivery Hero, Fridge No More, and Instacart have made their presence known worldwide by adopting quick commerce. So, what is this concept all about? How can this new retail model help your business generate more revenue and establish market dominance? Let us understand in detail.
Quick Commerce – The Next-gen Model of Commerce
The recently coined term in the eCommerce landscape is well known as Quick commerce or q-commerce. It is the combination of traditional eCommerce and last mile delivery service models. Most importantly, it gives an emphasis to micro-smaller product quantities, speed, location, and convenience.
It refers to providing essential items in short to medium-sized orders within a few minutes at consumers' doorsteps. Consumers running short of essential daily items can get orders using the online delivery system as soon as possible. Primarily, in this new retail model, deliveries are managed directly by retailers through a secure online platform.
The quick commerce landscape enables same day delivery from local or third-party retailers. It is ideal for legacy retailers, ultra-fast delivery companies, hyper-local delivery service providers, and other distributed organizations.
Initially, the term appeared in response to the demand for essential household products, staple food items, medical supplies, and personal care products during the lockdown. And later on, adopted by other sectors. It has extended the scope of ordering perishable goods at consumers' convenience.
Key Elements of the Quick Commerce Landscape
To embrace the quick commerce model, retailers need to incorporate the latest digital tools and invest in a warehouse or find a distribution partner in order to serve the instant needs of today's modern customers. They need to focus on the key elements that make quick commerce a successful model. These top five elements are explained below:
1
Small Basket Sized Orders
The quick commerce model encourages consumers to purchase fewer products for faster pick up and delivery. Consumers can place orders in micro to small quantities. In this model, order size should be of small basket size, approx 10-25 items per order. Such that delivery partners can deliver via two-wheeler and beat the traffic of urban areas.
2
Vast Choice of Product Categories
This rapid delivery service model caters to the instant needs of consumers, such as daily essentials, especially unplanned perishable products. Quick commerce empowers consumers to place an order from a list of curated products or product categories such as household essentials, fruits, vegetables, groceries, personal care, health, wellness, baby products, pet supplies, and other unexpected daily essentials.
3
Small Format Dark Stores or Warehouse Facilities
This is one of the important elements of the quick commerce model. To fulfill the orders in a few minutes, retailers must have micro-fulfillment centers or dark stores in densely populated areas closer to the delivery location in order to speed up the hyper-local order fulfillment process. Large retailers can add multiple warehouse facilities at a small scale and cater to instant or unplanned needs.
4
Ultra-fast Delivery Time
Consumers can expect order deliveries within the least possible duration, i.e., 10 minutes, 30 minutes, or within 60 minutes, just after placing an order. Retailers can take advantage of the comprehensive quick B2B commerce solution and optimize warehouse operations, prepare and dispatch orders as quickly as possible, and improve efficiency to complete orders in the least amount of time.
5
Convenience
Consumers can experience a quick and easy shopping experience of essential items through the quick commerce space. Important to mention, retailers can become exceptionally responsive to changing purchase patterns or demands and reimagine their order fulfillment process with quick commerce. This helps them focus on valuable tasks and speeds up the process that enhances customer satisfaction.
How Quick Commerce is Different from eCommerce?
Quick commerce is the next-gen retail business model and is different as compared to eCommerce. Let us discover the key differentiators of the two terms.
First of all, quick commerce provides delivery of products in 10-20 minutes or a maximum of 60 minutes, while eCommerce takes 3-7 working days to deliver an order.
Secondly, quick commerce allows placing an order of the fewest number of items, while there is no product quantity limit in eCommerce order placement.
Thirdly, quick commerce allows real-time, minute-to-minute tracking of orders, whereas eCommerce allows updates on a daily basis.
Next, quick commerce needs a common central warehouse; on the other hand, eCommerce needs regional or local fulfillment centers.
Comparing delivery methods, quick commerce has multiple delivery methods like individual deliveries, individual and pooled deliveries, whereas, in eCommerce, order delivery is possible only through the pool distribution method.
Last but not least, quick commerce is an integral part of eCommerce. And it has been the fastest-growing retail business model since the last decade. Consequently, the quick commerce market will be $5 billion, and eCommerce will be $1 trillion by 2025.

Retailers need to introduce new business models based on the continuously shifting consumer demands, preferences, behavior, competitors' strategy, and future retail trends. New business models represent offering new shopping formats and recalibrating key competencies like logistics, packaging, product offerings, etc. So, how can you identify such opportunities in the first place and embrace change in your business?
Here is the answer. You need to explore the market in detail and understand the key areas; based on that, you can make business-critical decisions. Let us understand the same.
4 Key Growth Drivers of Quick Commerce
Most consumers around the world value convenient commerce delivery services and positive customer experiences. The pandemic has transformed so many things, i.e., Social distancing and the prevalence of work from home have reshaped the habits of shoppers, and hence, they are less likely to visit stores. In such a situation, convenience-based services are the most sought-after than ever before. Here are the four key drivers to embrace the rapid delivery service model:
1
Work from home and busy lifestyle
Work from home is the new normal, and it is going to stay for a long time as a part of hybrid work culture. It makes it difficult for consumers to go out and purchase the products they need while improving or managing work-life balance. They have pushed themselves out of their in-store comfort zone. Moreover, 60% of shoppers seek greater convenience and value for their money. This situation demands convenience-based delivery at their doorstep.
2
Changed Spending Intent
Today's shoppers are changing their spending habits and focusing more on essentials only. 40% of US consumers have stopped spending on non-essential items and will continue to do so. On the other hand, they want to spend more on essential items, including snacks, groceries, over-the-counter medicines, household supplies, personal care products, healthy and nutritional food items. In addition, they want value for their money for these essentials. Retailers need to focus on this spending intent and value offerings by taking advantage of the quick commerce business model.
3
Aging Population and Senior Needs
Senior citizens having health issues or limited mobility usually avoid going out. They prefer to stay in the comfort of their home or senior centers. In case they want to go out and explore more, they prefer to connect with close friends or family members. Sometimes, they step out to get groceries or essential items to nearby local retail stores. However, with limited mobility, it becomes hard for a few of them to prepare meals or go out to get groceries. A report states that 19% of seniors ordered groceries online from a nearby grocery store due to the pandemic. They welcomed new technologies, used them smartly, and cultivated new habits. Quick commerce service providers can tap this lucrative market opportunity and serve their needs.
4
Urbanization & Higher Income
Around 4 billion people live in urban areas currently, and by 2050, more than two-thirds of the world population will live in urban areas. This means higher income and busier lifestyles for most people, who demand more efficient ways of shopping that save their time and money. In fact, unplanned purchase of groceries is higher in metro cities. They are ready to pay higher for superior quality products. Consequently, retailers can contemplate these changes in shoppers' behavior, their instant needs and reshape their business strategy with quick commerce.
"Retailers need to keep an eye on the above-shared information along with fast-changing habits and expectations of modern consumers. And accordingly pivot operations to serve their ever-evolving needs and thrive in highly competitive digital environments."
So How Can Offline and Online Retailers Get Started with Quick Commerce?
In light of the current retail trends, it is high time for retailers to come up with innovative business solutions and product offerings. They need to upgrade the core competencies and strategize multiple ways to reach target customers.
Many retailers may feel overwhelmed to get started with this new business model; however you can plan, well in advance, before launching this new model in the market or go for 'trial and error' as well with quick commerce. Here is the step-by-step process you can follow and start with quick commerce.
1
Finalize a business model
Quick commerce is possible with two business models, vertically integrated companies and delivery platforms. Former one needs to own small product distribution facilities like dark stores and human resources to complete the order fulfillment process on time. And in the latter one, deliveries are possible with the help of delivery operators, as the product inventories are owned by third-party retail stores. You can also opt for a hybrid approach with third-party's delivery capabilities and complete the order fulfillment process directly from dark stores. To proceed further, you need to finalize which model is suitable for your existing retail business.
2
Find a warehouse partner or set up your own warehouse facility
To achieve your sales goal of delivering orders within a few minutes, a warehouse facility/dark store must be in the immediate vicinity. You can find a true workforce partner who has the facility to accommodate your products in a dedicated distribution warehouse space and team members to manage inventories, orders, packaging, pick up, and delivery. And if you have the budget, you can also set up your own micro fulfillment centers (MFCs) that facilitate quick order fulfillment. You can also go for a partnership-based model and associate with local retail stores. Alibaba has set up hundreds of brick-and-mortar stores to deliver in 30 minutes. In the end, what matters the most is speedy delivery to consumers' doorsteps.
3
Finalize the product categories
Retailers can respond to consumers' preferences and analyze their behavior to finalize the products stored in MFCs. Most importantly, the quick commerce model works best for essential items, especially unplanned, daily or weekly routine needs, or other additional items after stocking up. Considering the current work-from-home trend, you can keep groceries, consumable packaged foods, cosmetics, office supplies, household supplies, electronic items, etc., that consumers use every day. Packaging, pick-up, and delivery of such micro-small product quantities are easy and instant at consumers' doorstep.
4
Find a delivery partner
The last-mile delivery is a real challenge for any legacy retailers or retailers having their stores far from customers' locations. If you can not manage in-house deliveries, then you should find the perfect delivery partner who can help you accomplish your business objectives of delivering in a few minutes. Hence, you should consider an ideal delivery operator with intelligent infrastructure, the ability to adjust to changing market needs, and a good industry experience that helps deal with unexpected customer needs. Communicate your expectations with them and hire the best delivery partner who can help you provide the best customer service.
5
Find a digital commerce partner
You can expand your business capabilities by partnering with the right digital commerce partner, who can help you digitize your entire retail ecosystem. From connecting your platform with third-party integrations like GPS tracking, payment system, ERP, leveraging technical expertise, to streamlining your retail operations for higher ROI. They can help you enhance your commerce capabilities as well as supply chain operations. You can take advantage of the same and continue your efforts to exceed customer expectations.
6
Get started with a quick commerce solution
Invest heavily in setting up an intelligent retail infrastructure or update the existing infrastructure with the latest digital tools and technologies. Be clear with your objectives and communicate your message to every partner or associate working with you. Make sure your in-house teams have full control of the quick commerce solution and manage the ever-evolving instant needs of consumers. In short, just focus on distinctive value propositions, automate operations, and just get started with your own highly scalable, safe, secure, and flexible, quick commerce solution.
Business Benefits of Quick Commerce
Retailers can double down their efforts to establish a strong market dominance by responding immediately to consumer needs. With a smart digital platform, it is possible for retailers to offer multiple product categories, quickly expand business reach, ensure harmonious relationships with customers, track real-time visibility into supply chain operations, and drive higher ROI. Apart from this, there are plenty of advantages which retailers can benefit from quick commerce. Let us check them out:
1
Competitive Advantage
Retailers can successfully incorporate a digitized system of q-commerce in every facet of their business and reframe the entire retail landscape. From offering convenience order fulfillment options to ensuring on-time delivery in a matter of hours and expanding supply chain capabilities gives you a competitive edge in today's highly competitive market. The added rapid delivery with automated supply chain operations, convenience, and affordability that come with q-commerce enable you to compete with other retail brands like Amazon or other brick and mortar stores.
2
Customer Satisfaction
As consumer behavior is evolving at a faster pace, retailers need to offer a unified customer experience at every touchpoint. Instant delivery is an excellent way to delight your customers, which is possible through quick commerce. Furthermore, they are likely to come to your online platform to make repeat purchases of essential products. So, ensuring on-time delivery with real-time communication of orders can help you increase sales and foster brand loyalty.
3
Business Flexibility & Efficiency
The launch of your new delivery and fulfillment model with a unified quick commerce platform can boost last-mile efficiency, exceed your supply chain needs and set your business apart from competitors. You can rewire your internal as well as external operations to run your business smoothly, i.e., you can make delivery workflows faster, enable order placement via website or applications, engage with customers directly, get an insight into your business data, manage partnerships, run your business efficiently, and add new value propositions based on market needs by adopting a custom quick commerce solution.
4
Better Supply Chain Management
Through quick commerce, you can improve your supply chain strategy. From automating your orders to managing inventory levels, monitoring your partner performance, and optimizing your supply chain operations, you can lower your costs and better manage your supply chain. By spending more time on important tasks, you can enhance your supply chain operations.
5
Great Margins
Quick commerce holds the potential to yield higher profits than the traditional retail model. Widespread usage of the quick commerce platform by consumers, continuously growing retail sales through this platform, and major retailers tapping the opportunity in the overall quick commerce market share confirms the host of benefits for your business with a great profit margin.
Final Thoughts,
The digital age has presented myriad opportunities for retailers to bring in great value for consumers. Quick commerce is one such model that became known all of a sudden due to covid-driven adoption towards convenience. It caters to the needs related to unexpected purchases or routine consumer goods in a matter of a few minutes. Retailers must adopt this new model as competitive pressure will keep on rising with advanced technology and ever-evolving consumer behavior. You can include quick commerce as a part of your omnichannel business model and create distinctive customer experiences. To get started with the unified quick commerce solution, connect with our team now and thrive in today's competitive era.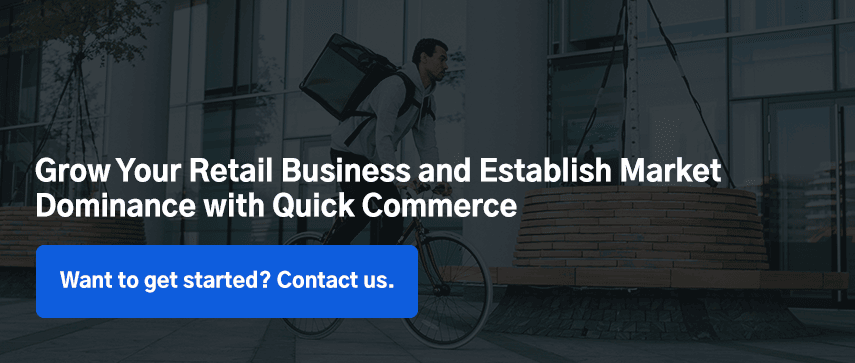 Author's Bio

Nitin Lahoti is the Co-Founder and Director at Mobisoft Infotech. He has 15 years of experience in Design, Business Development and Startups. His expertise is in Product Ideation, UX/UI design, Startup consulting and mentoring. He prefers business readings and loves traveling.