Remote patient monitoring is hardly a new modality of care delivery service, which is evolving quite rapidly due to the spurred increase in COVID-19. Due to this, the regulatory push required for care expansion and the corresponding access to care delivery has predominantly enhanced.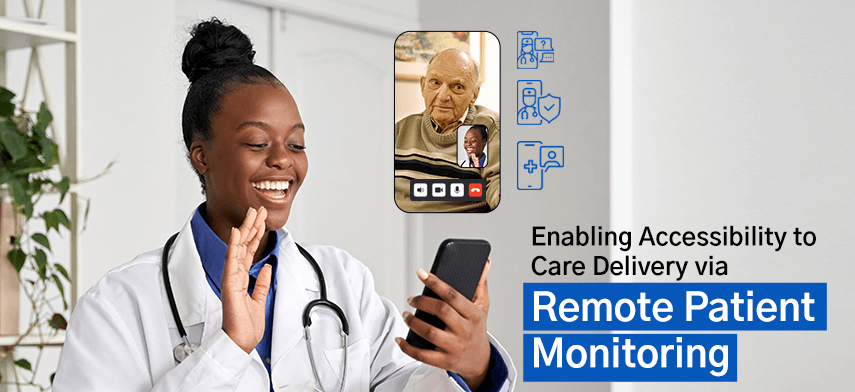 RPM services usually involve the utilization of connected electronic tools for recording the health and medical information of patients in a particular location. These data can be reviewed by providers, residing or allocated in a different location. Health and healthcare systems are increasingly leveraging remote patient monitoring services and providing necessary care to patients suffering from chronic conditions and the pandemic virus. Additionally, the regulatory changes implemented by CMS, have necessitated the importance of remote patient monitoring services as a part of care delivery.
Let's look into how remote patient monitoring expanding in 2022.
Expansion of Remote Patient Monitoring
Remote health monitoring has been experiencing steady adoption, especially in the years leading up to the global pandemic. This pandemic pushed healthcare providers to enhance their telehealth services and remote monitoring systems. Telehealth services improved drastically and made a place in the core of healthcare services in tracking patient health information and with remote patient care.
Telehealth has become a source of hybrid care delivery models utilizing RPM tools like mobile health applications, video calls, remote patient monitoring, storing and forwarding necessary imagings, and other long-distance communication solutions between patients and providers. The global pandemic decreased the crowding in healthcare facilities, as it became extremely unsafe and efficacy in healthcare became even more important during this time. This environment enhanced the possibility of innovation and adaptation extremely mandatory in the healthcare space.
Telehealth and remote patient monitoring services have ensured healthcare providers to offer services to their patients without adding the risk of spreading the disease further.
It is critical to select the right partner for remote patient monitoring providing necessary insights and integrating the key features.
Key Features of RPM Services in 2022
Enhancing care provisions both virtually and remotely has been improving remote patient care offerings. Delivery excellent quality of care, let's see the key features of remote patient monitoring services in 2022.
Accuracy and reliability in data harvesting from AI-based RPM tools

The ideal technology in remote patient monitoring shows capability in collecting, processing, viewing, and interpreting crucial and physiological patient data. RPM tools utilize holistic and advanced algorithms enabling the remote monitoring systems to test, measure, and evaluate necessary solutions. AI-based RPM tools build trust and confidence in the capacity of recording crucial data and securely maintaining this data from further human errors.

Big data analysis at higher levels

RPM is known for identifying, analyzing, and refining available complex data patterns based on its sources. Advancements in algorithms containing a feature-rich visual representation via AI and Machine learning analytics. It utilizes a plethora of sophisticated software applications to resolve complex issues. A high level of big data analysis helps to identify low to high-risk patients depending on the data information gathered through health data storage.

Automating health measurement transmissions

Automatic responses in healthcare measurement transmissions provide immediate responses to urgent commands. It saves a lot of time and offers a quicker evaluation of data that are retrieved from the patient tracking and digital health tools. Automation in healthcare measurements can enable automatically updating the system and providing faster responses to avoid unnecessary drawbacks and delays. With crucial and advanced algorithms, any monotonous or repetitive tasks can be completed in a short period.

Enabling a strong cybersecurity framework

Integrating programs associated with remote patient monitoring involves contributions from various stakeholders. They are responsible for disclosing the private information and locations variables via biometric devices and applications. These directly contribute to the high-risk factor of exposing information and breaching cybersecurity and privacy protocols. It is necessary to have a strong framework for cybersecurity when dealing with RPM. Remote patient monitoring services are compliant with the privacy and cybersecurity guidance, ensuring a secured virtual environment for every stakeholder.

Round-the-clock accessibility

RPM services streamline communication between providers and patients across the globe. Integrating and using software enables the remote monitoring system to gain insight into patient health via patient tracking mechanisms at any time due to the accessibility factor. This enables more interactive and engaging procedures for both patients and providers. Instant access with just a touch can improve and bring clinical and medical information faster and accurately to providers when it is required. Round-the-clock data information accessibility is especially beneficial for post-operative and chronically ill patients residing in rural or underserved locations, with a lack of hospital or healthcare infrastructure accessibility.

Assisting to leverage clinical operations

With the help of remote patient monitoring, providers can leverage the clinical operations, because RPM allows them to perform necessary tasks without offering excessive instructions or tutorials. Care coordinators, medical staff, members of a patient's family, and providers can instantly receive access to the patient's health data. This empowers both parties to detect signs of potential health risks and deteriorations, hence lowering costs of readmissions or ED visits. Providers are allowed to offer faster responses to such uncertain and unexpected health concerns. Thus, enabling them to intervene when it is required.

Faster decision-making with real-time evaluation

Continuous remote patient monitoring allows real-time evaluation that can enhance faster evidence-based decision-making processes. RPM tools and technologies improve and collect data information very easily and save a lot of valuable time required in analyzing, reporting, planning, and improving patient health data through integrity. The speed of RPM systems is precise and accurate, enabling providers to gain maxing performance when they are required to.

Health monitoring at cost-effective expenses

Remote patient monitoring devices help cut off the cost of extra labor and manpower. Having a remote monitoring system can save an immense amount of costs through actual operations via hospitals and clinics with the presence of a provider. It not only improves the cost-effectiveness standards of healthcare delivery, but it also enables efforts provided by medical professionals, reduces travel time, improves participation process, and reduces time and access expenditures.

Expanding the Adoption of Healthcare Monitoring and its Challenges
While providers and patients are improving the rate of medical monitoring with RPM tools in the spectrum of the care continuum, the advantages and benefits have created a positive impact prompting the healthcare market to open its arms to newer opportunities.
The pandemic enabled remote patient monitoring in decentralized clinical trials or DCTs for continuing their services. RPM tools have been registered as one of the most promising health outcomes from the pandemic-driven applications created. It helped in building momentum in the new market. The pharmaceutical and research facilities eventually warmed up to the idea of DCTs and eventually adopted remote monitoring systems to ensure better continuity in the development of drug research and production during such crises.
Although the pharma, clinical, and biotech research professionals are open to the idea of integrating remote patient monitoring for DCTs, the adoption of this does come with its challenges. We must keep educating the potential participants for them to understand the benefits of home health monitoring. It is also important to ensure that logistics are properly deployed for required technology devices and to have an adequate technological framework to support the transmission of healthcare data.
In conclusion
It has been a long journey for us in incorporating RPM services and other modalities of virtual healthcare delivery in the past two years due to the conditions laid out by the pandemic. What has been observed is that people are willing to delve into newer opportunities and be more engaged and involved in their care delivery decisions. Remote patient monitoring does offer a broader spectrum in offering access to patient care, improves cost-effectiveness through telemedicine/telehealth, and has a high output of efficiency. Hence, driving a more value-based care solution in medical monitoring, AI diagnoses, and remote patient monitoring development.
RPM services increase the adoption of its user benefits and additionally providers better home health monitoring solutions, build better healthcare flexibility, and it is more consistent in achieving the goals of providers and patients through treatment, research, and health outcomes.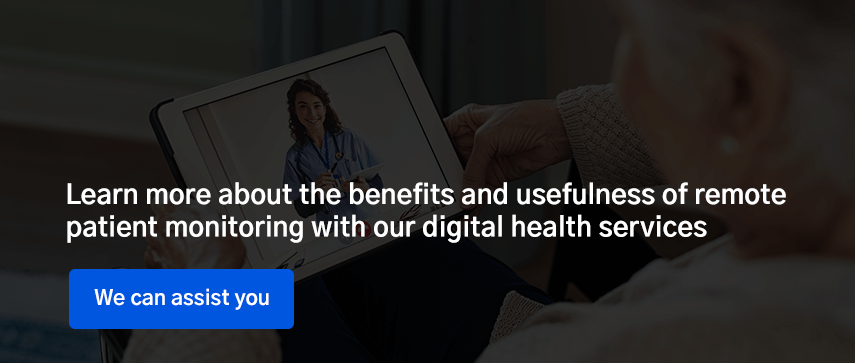 Author's Bio

Shailendra Sinhasane (Shail) is the co-founder and CEO of Mobisoft Infotech. He has been focused on cloud solutions, mobile strategy, cross-platform development, IoT innovations and advising healthcare startups in building scalable products.