Before the pandemic, telehealth was severely underutilized, especially for digital mental health services. There has been a massive spike in telehealth behavioral health services from the beginning of 2020 to the onset of 2021. This spike acknowledges the need and requirement for mental health services.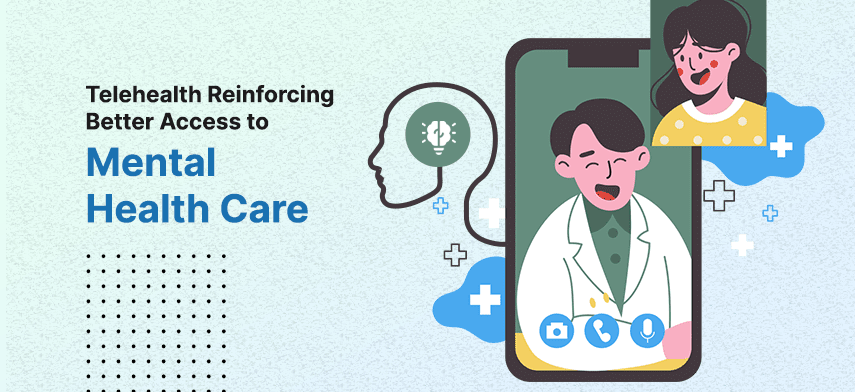 Since the beginning of 2021, healthcare providers are looking to formulate better strategies to be more accustomed to the new normal. They are equipping enhanced digital mental health tools to meet the burgeoning mental health crisis. While raising awareness of telemedicine's importance in mental health.
Let us take a look at the increase in telehealth behavioral health services and how it is leveraging mental health improvement.
A Brief Synopsis on Telehealth Mental Health Services
COVID-19 saw a declining mental and behavioral health rate due to the lack of therapy and counseling spaces. Understanding the influence of COVID-19 on mental health technology and telehealth services is derived from report tracking data.
According to reports provided by Healthcare Dive suggested the report data tracking from eight key metrics that included visits for anxiety, substance abuse, and depression. This report particularly found that patients are seeking mental and behavioral services during the pandemic. Here's a synopsis of the report provided by them, where telehealth behavioral health was the primary focus:
The telehealth claims for behavioral health services saw an increase of 6,500%.
The telehealth visits corresponding to anxiety concerns increased by 3,000%.
Telehealth visits for depression saw an expansion of 2,500%.
For substance abuse care in telehealth rose to 1,400%.
The pre-Covid telehealth services perceived an average visit of patients at 16,000, which drastically increased to 1,020,000 per month during the pandemic. Healthcare organizations are re-examining their telehealth services efforts and adjusting accordingly to the uncertainty in patient volume in 2021.
As telemedicine in mental health services is seemingly increasing in number, the present population is trying to adjust to the various virtual digital mental health tools. These tools are offering providers a wider range of telehealth services and reshaping the future of mental health technology.
Learning the Valuable Prospects of Digital Mental Health Implementation
The healthcare sector has delved deeper into the understanding and learning of virtual counseling services and mental healthcare. COVID-19 being the instigator in learning this model of care delivery to the patients globally. Moving forward from the pandemic, the demand for virtual mental health services and telehealth behavioral health services has become the new norm. Providers are still in the process of learning new and effective ways to deliver quality digital mental health services.
So what should providers expect in the future corresponding to digital behavioral healthcare solutions?
1
Embracing a variety of digital mental health assessment tools
The younger group of patients is eager to try out different online mental health counseling tools to interact with their provider or clinician. The basic breakdown is that the younger an individual is, the preference for voice-activated or chat-based communication is more. It's not always specific to video-conferencing or virtual video mode tools. The younger population is quick to embrace the variety of digital mental health tools available in their grasp.
2
Assists patients in addressing concerns via virtual mental healthcare
With assistance from virtual counseling services or virtual communication spaces, patients can now inform their providers of any concerns they're facing currently. Therapists or psychologists can address these problems via guided virtual counseling sessions and/or chat-based communication platforms. They can record the event in real-time and bring these concerns up during in-person encounters.
3
Providers require strategies for escalation
In healthcare, the digital front door works as the first step towards accessing the healthcare system. It is the same for mental healthcare services, where patients can start off a conversation through chatbots or chat-activated virtual services for virtual counseling sessions. Providers can later escalate these services to a higher level, for example, video consultations followed by in-person sessions.
4
Destigmatizing mental health care through virtual care services
Patients and individuals have shown keen interest in virtual counseling as they avoid being noticed when entering a therapist's office or counseling chamber. Virtual counseling services and online mental health counseling leverages better outcomes engaging patients due to its in-home comfort provision compared to in-person visits.
Even though there is a high consideration for the digital divide, members in underserved areas are finding it difficult to access digital mental health services or have no access to digital mediums to access virtual care services. Providers, payers, healthcare facilities are looking into health equity so that they can offer these virtual services and close the digital divide in mental health accessibility.

Providers Focusing on Expanding Digital Mental Health Services Post-COVID-19
With the subsidence of the pandemic, provider facilities, and organizations are continuing to primarily focus on expanding digital mental health services through telehealth access. The recent decline in COVID cases and the rise in vaccinations have been encouraging several telehealth trends.
The behavioral health service sector is acutely aware of the COVID-19's impact. The year of quarantine witnessed heightened attention towards people who suffer from higher levels of depression, anxiety, stress, and more during the pandemic.
Telemental health or telehealth services are assisting in removing the obstacle and bridging the gap in mental healthcare services with digital mental health care tools. Patients residing in underserved areas with access to digital modes of communication can use these digital mental health tools to consult licensed mental health professionals without having to drive long distances for their appointments.
Mental health assessment tools can be administered through virtual sessions and still provide enhanced mental health outcomes for providers and professionals. Mental health professionals can offer patients coping techniques, information, and appointment reminders through low-bandwidth modes of communication like text messages, and phone calls. Therefore helping patients to learn more about their behavioral health and mental stresses.
Telemedicine for mental health includes remote patient sensors that enhance real-time patient symptom monitoring through telemedicine in mental health applications. Telemental health is destigmatizing the taboos surrounding mental health services.
Value of Telehealth Expanding Access to Behavioural Health Services
According to the American Psychological Association survey, three-quarters of psychologists treating anxiety disorders saw an increase in demand. Simultaneously, there was an increase in treatment related to trauma, stress, depression, and sleep-wake disorders. The global telehealth market for virtual counseling services and therapy is fueled by the pandemic, and the trajectory is expected to grow further.
Beyond digital mental health and therapy, telehealth is expected to reach USD 312 billion by the year 2026, it is four times more than projected in 2019. In 2020, healthcare organizations and facilities invested USD 1.8 billion in virtual healthcare businesses.
Addressing the residents residing in rural or underserved settings, the majority of them receive mental and behavioral services through integrated care models. These care models in primary settings increase efficiency in accessing psychological services. With evidence-based mental health assessment tools, providers can determine the evaluation, treatment, prevention, and diagnosis in rural settings. Thus, addressing various barriers to access mental healthcare and providing necessary solutions.
The value of telehealth in expanding behavioral health services emphasizes more on catering to mental well-being. People who can access telemental health and telecommunication for mental health are always looking for virtual counseling services and therapy. Telehealth has made access more simplified. With CMS permanently making behavioral health services a priority post the pandemic, virtual therapy, and psychological analysis will keep gaining new heights in the healthcare sector.
Wrapping Up,
Digital mental health has primarily taken its turn to make mental healthcare accessibility more resonant. Not only for urban citizens, online mental health counseling, and telehealth behavioral health but people living in rural or underserved areas and people of color, as well as other minorities, are also now capable of accessing these mental health assessment tools vigorously. With Mobisoft's digital healthcare solution, implementing mental healthcare services into your existing system can be amplified. Therefore, providing a wide range of mental healthcare services to people across all community strata.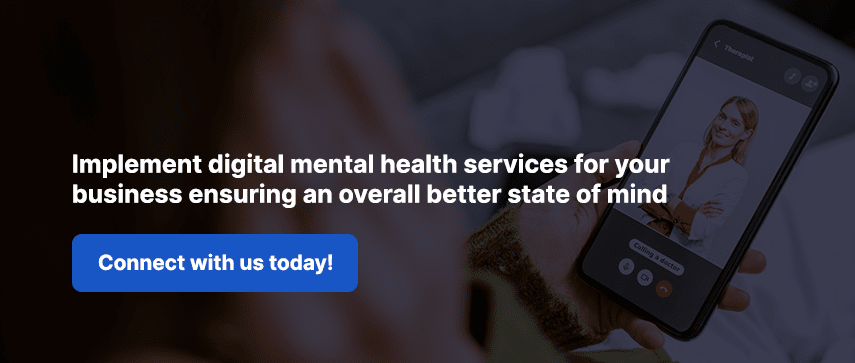 Author's Bio

Shailendra Sinhasane (Shail) is the co-founder and CEO of Mobisoft Infotech. He has been focused on cloud solutions, mobile strategy, cross-platform development, IoT innovations and advising healthcare startups in building scalable products.