As a matter of fact, mental health is now considered an equally important aspect of healthcare, like any other physical aspect. With technological advancement, it is now possible to consult a doctor without scheduling in-person visits. Telemedicine for mental health is gaining traction rapidly as people find it much easier to communicate virtually. Undoubtedly, one can easily communicate with the doctor remotely from any corner of the world.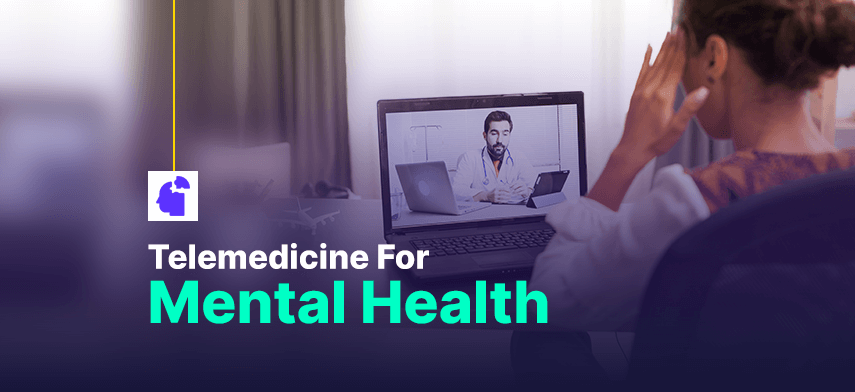 Although, mental health treatment is still nascent, as people are hesitant to talk about it openly. The stigma is slowly and gradually dissolving as more people are coming forward and talking about it. The healthcare system is consistently working on analyzing behavioral health and spreading awareness among people about mental health.
Key Factors Affecting Mental Healthcare
Telemedicine for mental health is also named as telepsychiatry; whereas a patient can consult a doctor through telecommunication technology. Considering the increasing need for improved mental health, the industry is rapidly developing in the mental health sector. The key factors responsible for industrial growth are:
Telemedicine for mental health helps people overcome the stigma and get the proper treatment, keeping their privacy and anonymity intact

In fact, telemedicine for mental health still remains a taboo for a wide section of society.

F

or them, a

ccepting the need to have a treatment related to mental h

ealth

issues is a big challenge

. Hence, it is also hard to convince them to visit the doctor for treatment.

In such a scenario, telepsychiatry has been of great help.

The patient can get help without an in-person visit with a doctor and can access the treatment remotely.

S

ubsequently, t

his also keeps the patient's identity anonyms for those who are not comfortable sharing their details.

The overall scenario of addiction treatment is changing due to telemedicine

Telemedicine for mental health is also effective for the opioid epidemic.

It encourages reform the addiction treatment. Opioid addiction is majorly found in rural areas that have a lack of mental healthcare access.

Owing to this, the federal government is investing and planning to make telemedicine for mental healthcare easily accessible in these areas for the patients in need.

Telepsychiatry reduces the widespread lack of mental healthcare experts

There is a shortage of psychiatrists across the word. Telepsychiatry has emerged as a boon, where one doctor can interact and treat multiple patients sitting at a remote location. In rural areas where healthcare accessibility is low, telemedicine for mental health is a much-needed solution.

Mental healthcare facilities are now more convenient and easily accessible for the people

Telemedicine for mental health is a more convenient and easily accessible option for people struggling with mental illnesses. This has brought the healthcare system to them; they can discuss their issues unhesitantly and the required treatment or therapy.
Key Domains For Telemental Health Care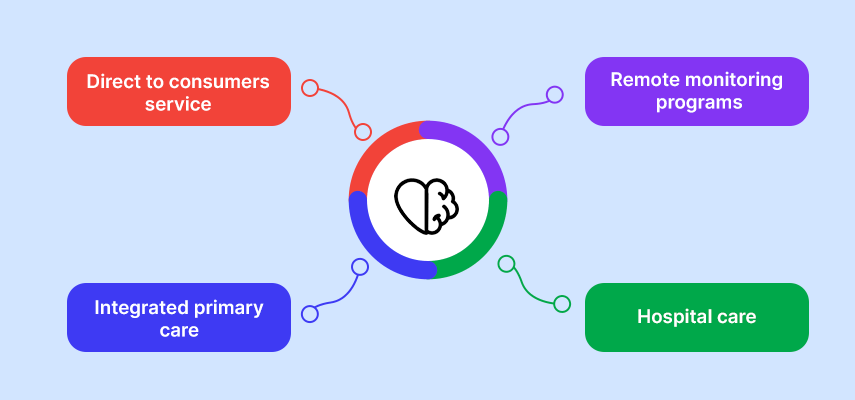 Rural areas refer to telemedicine for mental care as telebehavioral health or telemental health. Telemental health programs improve access to mental health in the areas where there is a lack of proper healthcare services. The four important domains of telemedicine for mental health are mentioned hereunder:
i
Direct to consumers service
These services provide a direct connection to mental and behavioral health service providers through on-demand mental health software virtually.
ii
Integrated primary care
This domain provides basic mental and behavioral health services to patients by primary healthcare settings, for instance, live video-call between a doctor and patient. A patient directly explains his/her symptoms or problems and gets counseled remotely.
iii
Remote monitoring programs or Mobile healthcare applications
These types of programs help support long-term patient's mental health or behavioral management conditions, for example, patients in rural areas use mobile phones, tablets to monitor their symptoms, progress charts, track medication adherence, and educate themselves on self-management.
iv
Hospital care
Hospitals in rural areas collaborate with mental and behavioral health experts for telemedicine. The healthcare experts can communicate with the patients through video-calls to diagnose the illness and observe the symptoms. This helps them in planning the treatment methods for them.
Benefits of Telehealth For Mental Health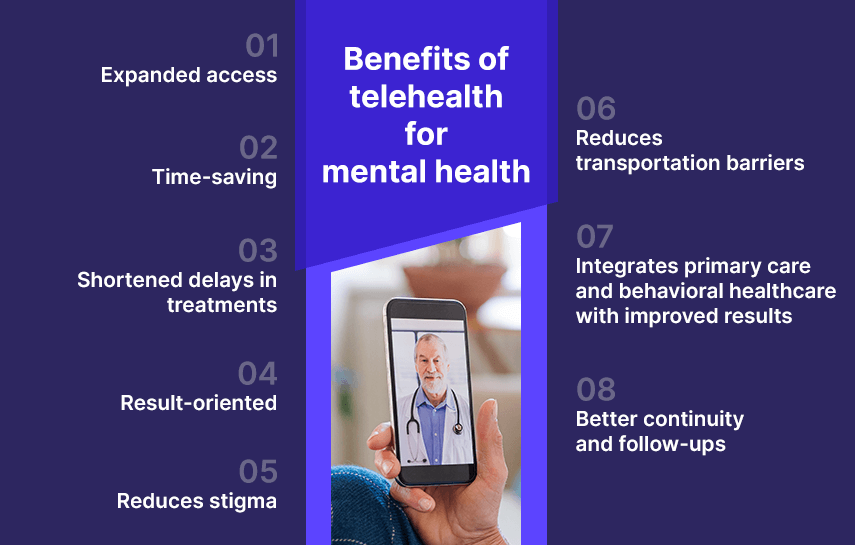 Although, telehealth for mental health has several benefits that cannot be overlooked. This is one of the important healthcare aspects that needs a lot of attention at present. Let us discuss the key benefits of telepsychiatry:
1
Expanded access
Mental health telemedicine has provided huge healthcare service opportunities for people living in faraway areas and inaccessible places. Now, the healthcare industry, through its various ways, is reaching its patients remotely.
2
Time-saving
Communicating with the psychiatrist virtually – over a phone call, text messages, or voice calls saves time for both the individual. Actually, telemental health is also a cost-effective option for healthcare expenditure point-of-view.
3
Shortened delays in treatments
As psychiatrists are available remotely all the time through telemedicine for the patients, the treatment delays are reduced to a great extent. The patients get the consultation immediately, which saves the rush to the emergency room and, at times, loss of lives.
4
Result-oriented
This telehealth service is result-oriented and effective, as the patient's progress and reviews can be tracked digitally. The healthcare experts can monitor the patient's status through the doctor's app; the patient can see the doctor's details like availability, emergency contact, etc. through their module.
5
Reduces stigma
The mental health issue is yet a stigma among people. It will require its own time and pace to fade out. It even needs proper awareness and discussions between patients and doctors. The telemedicine for mental health will lessen the stigma; as people could keep their treatment a low key affair, and only reliable people would know about it.
6
Reduces transportation barriers
There is a lack of transportation services in many places. People are unable to reach doctors. Here, telemedicine services had made it easy for them. The telemedicine or telehealth services provide medical assistance at the patient's doorstep while saving the hassle of transportation and its sources.
7
Integrates primary care and behavioral healthcare with improved results
Telemedicine for mental health comprises of initial primary care along with behavioral healthcare. This results in improved outcomes and better patient satisfaction.
8
Better continuity and follow-ups
Because of the capacity of constant tracking of patient's symptoms and progress through telemedicine software, round-the-clock availability of the psychiatrists keeps the continuity of service going and improves the follow-up process.
Challenges In Telemedicine For Mental Health
Although the telemental health industry is in its developing stage, it has several challenges to face and overcome. A few of them are not only on the technological front but also ethical and communal.
Legal barriers

Different states have different regulations related to telemedicine services and telepsychiatry. When providers plan to provide their services in more than one state or region, it creates an obstacle; in terms of approval from the authorities for telepsychiatry, to abide by the medical regulations of the particular state. Furthermore, the types of services are quite branched like a social worker, psychologists, family and marriage therapists, psychiatrists, etc. Selecting servicing from these options is also difficult for the patients. Some state laws are lenient, whereas some states ask for detailed and informed intent to provide the service.

Ethical issues

The telepsychiatry service providers face ethical hindrances such as confidentiality and privacy concerns of patients. Some patients are not comfortable revealing their identity during treatment; while some do not wish to discuss their case openly. Besides, data security also plays a key role in making telemedicine for mental health success. In addition, defining the cogent role of the expert servicing a patient remotely are also some of the ethical challenges in telepsychiatry.

Stigma

A large section of the society is still far from accepting mental illness as common; like any other illness and hesitates about discussing it and seeing a doctor. If other challenges are overcome, this one remains a key issue. On the one hand, where people are becoming more aware of the mental illnesses and treatments, it is a long way to go, to let all of them accept the normalcy and importance of recognition.

Cost

Telemedicine for mental health is a cheaper option as compared to visiting the doctor in-person; because it saves travel time.

However, there are other cost factors that need to be considered while checking for cost-effectivenesses, such as the need for the services, health outcomes, accessibility, utilization, and qualit

y.

Usage Of Telehealth In Rural Communities To Provide Mental Health Services
Telemedicine for mental health is beneficial not only for urban people but also it has turned out to be a great treatment opportunity for mental and behavioral health in rural areas. The patients can now connect to a consultant or an expert remotely from inaccessible areas as well. Here are some of the ways rural communities using telepsychiatry:
Case consultation:

Patients can consult the consultant about their current situation and take the suggestions. For this psychologists and psychiatrists are available for the patients, with communication options like

Medication management:

It helps rural people to follow their prescribed medicines and their routine. Some of the treatments that use medication adherence are mHealth apps, in-home dispensing, tele-counseling, etc.

Evaluation and diagnosis:

The telepsychiatry healthcare providers can use the technology to evaluate the patient's situation, make a diagnosis, and prescribe the treatment path. It helps in assessments and screening of patient's behavior.

Education/awareness purpose:

The rural providers can opt to receive training for behavioral health treatment through long-distance or get webinars and telemetered to improve their skills.

Continuing care:

A few rural telepsychiatry programs provide case management services with improved patient results. For example, some patients need care after a traumatic episode and the treatment. Thus, nurse care can be quite beneficial in such cases.
Wrapping up,
With increasing cases of people with mental illnesses, the need to spread awareness to treat the stigma is more than ever. Thus, the healthcare industry is trying to bridge the gap between the psychiatrist and patient; so as to come out with their mental issues, and talk about it openly.
On the technological front, the lack of access to mental health is also looked over; and everyday innovations are implemented for the growth of the industry. Other services like telemedicine services, virtual consultation, video assistance, etc. have also been adopted widely by the people in the past few years. Apart from this, the quality of care, new treatment methods, and therapies are being experimented for the betterment of the people; which only aims at customer satisfaction and improved clinical results.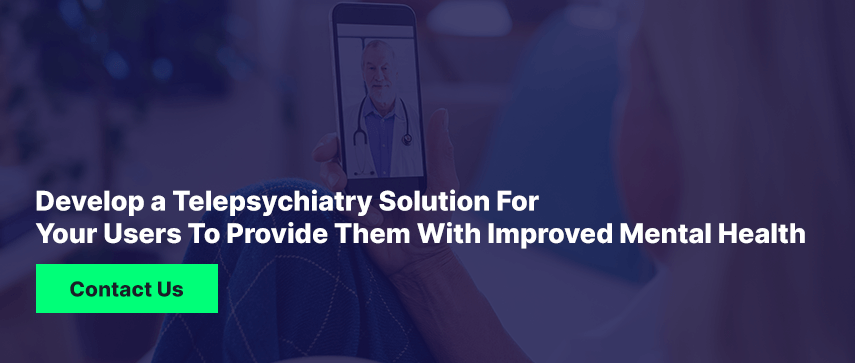 Author's Bio

Ravindra Waghmare is the Co-founder and COO at Mobisoft Infotech. He is an expert in solutioning,software consultancy, process definition and improvements, business analysis,and project execution. He has 11+ years of experience in software development,consulting, delivery, company operations, talent acquisition, processes and sales.