Telemedicine primary care and doctor-patient interactions have shifted dramatically since the pandemic began. With the risks associated with in-person visits to doctor's chambers, telehealth paved the way for better access to healthcare. It has been observed that telehealth visits have increased and amplified rapidly in the past year, and it is expected to keep growing in the coming years. Patients are connecting with doctors on video calls, along with follow-up visits and remote patient monitoring.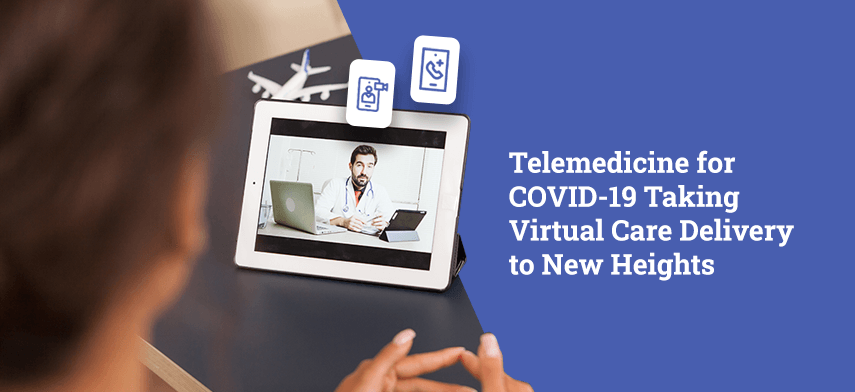 The question lies in whether or not telehealth will continue to be in-demand post-COVID-19. It's important to understand the impact of telehealth during the pandemic especially people with different social, and behavioral needs that may need immediate attention.
Rapid Implementation of Telemedicine during COVID-19
The onset of COVID-19 has seen telemedicine in healthcare gain traction due to its ease of access and cost-effectiveness. The biggest advantage for payers and providers with telehealth for COVID-19 was the timely delivery of services. Here is how telemedicine in healthcare has transformed healthcare facilities:
Easy monitoring and tracking

Monitoring of blood pressure with the help of WiFi, fertility tracking with the data generated by the patient, use of smartphones for bladder diary tracking, and follow-ups online were implemented to avoid in-person meetings.

Storing and accessing patient records

By keeping patients' health records online, physicians could access past data and make informed decisions on the current issues. Online report sharing such as blood test reports, X-rays, and scans are simplified services offered via telemedicine in healthcare.

Use of RPM

Remote Patient Monitoring or RPM made healthcare services easily accessible. With the help of medical devices, critical patients have access to constant support from primary health care services. Telemedicine especially for the primary care services led by physicians and other specialists is similar to clinical and organizational settings. Therefore, enhancing remote patient monitoring through digital healthcare solutions.

Online prescription management

Paper-based prescription methods were replaced by email-based prescriptions where patients can instantly get their hands on the prescribed medications. Online prescription management helps patients upload their prescriptions on healthcare apps, which can help them set reminders for refills and suggest alternatives when the one prescribed, isn't available.
Utility of Telemedicine in Accessing Primary Care Services
Through telehealth, access to primary health care services has shot up to 4000% from 1000% in May 2020. The pandemic backslid in-person clinical meetings by 52% in a month, and when patient visits were barely reaching 100 per day before COVID-19, it skyrocketed to 3000 to 4000 visits in a single day.
One major reason for such huge numbers is the risk of in-person meetings and the rise of physical and mental health concerns. Another reason is the usage of digital devices. Over 75% of people use laptops, while 81% use smartphones on a day-to-day basis.
In terms of safety and instant slot bookings, telemedicine services for a non-emergency are the go-to for patients, especially those residing in America. With the rise in mental health needs and the limited access to mental health professionals, telehealth technology and services enabled quick access and support in these trying times. Non- Emergency Medical Transportation services help Medicare and non-Medicare patients get timely access to essential and non-essential services.
Patients with chronic illness can contact doctors online for follow-up visits and instructions regarding medication changes. Coronavirus patients were monitored remotely through check-ins by physicians and tracing oxygen levels regularly. Big data in telehealth has enabled forecasting risks by analyzing patients' historical data and continued assessment for better health. With personalized and real-time health care to patients, telemedicine in healthcare is one of the biggest boons during these outbreaks.
Barriers in Implementing Telehealth Services before COVID
Telemedicine primary care since its inception was not recognized due to several barriers and challenges. Before COVID-19, hospitals and healthcare organizations faced trouble in implementing telehealth or telemedicine services. Here's why:
Patient-provider relationships

In-person visits add a personal touch and help providers diagnose patients better. Primary care telemedicine services providing an online space were considered devoid of creating patient-provider relationships, hence affecting diagnosis processes. Therefore, it was deemed redundant because of its complex nature of implementation.

Confidentiality of patient records

Privacy and confidentiality of the data were a cause of concern due to security risks and online breaches. So, protecting health records was thought to be done better with in-person meetings.

Multistate licensure

Physicians had to get licensed before practicing in multiple states, which posed a barrier to serving beyond their geographical location. The lack of multistate licensing was a major barrier to providers for a long time.

Fear of misdiagnosis

Inaccurate patient data by technological concerns lead to misdiagnosis. The fear of dealing with wrong clinical decisions barred patients from using telemedicine primary care before the pandemic. But due to the implementation of policies, standards, and advanced technology such as AI, cloud technology, and big data, diagnosis is now accurate.
Transformational Experience in Telemedicine Primary Care Services
Digital primary healthcare delivery systems faced challenges initially as hospitals saw an overwhelming number of patients occupying the bed capacity for patients who may non need hospital-level care. The ones who did not switch to the online medium found it hard to accommodate patients. With the rapid implementation of technology, the situation was handled both in the hospital and to meet the needs of all patients remotely. Online primary care management services rose significantly when the positive cases were rising. Even with the decline in COVID cases, telemedicine services continued to serve patients due to the risks involved with clinical meetings. This was both a challenge and an opportunity for providers to offer better health accessibility to their patients.
With the rapid response by the telehealth home care systems, telemedicine visits catapulted beyond the expected figures due to the implementation of the primary care telemedicine system. Online medical platforms, digital healthcare solutions, and healthcare apps made it easier to access and navigate while also maintaining the security and confidentiality of the patient's records. HIPAA compliance implemented in these systems allows for user's data to be safeguarded when any data breach manifests.

Preparation to Provide Telehealth Services Post-Pandemic
Telemedicine during covid has benefited appreciably for both the payers and providers. It's an opportunity to build a better healthcare system for enhanced telehealth services post-pandemic. To grasp the opportunities, powerful techniques and easy implementations of systems and devices can scale healthcare services. This, in turn, will provide better care and health outcomes for payers and providers in less time.
Build staff awareness

One of the major concerns lies in training the staff and the patients in using telehealth services. The lack of awareness steers them clear of using the benefits to the maximum potential. It's highly favored for healthcare workers to be tech-savvy, but it will be beneficial for both the payers and the providers in the long run with the right training. This factor should be worked upon to provide enhanced healthcare services post-COVID-19.

Easy implementation of applications

Integrating and implementing healthcare applications right now is complex. To deliver digital healthcare services effectively, deploying, configuring, and maintaining the systems need to be improved. Since each healthcare application is customized based on the service and the clinical setting, the need to have robust implementation systems is increasing.

Establish efficient resources

Resources to support telehealth technology and service need to be improved with advanced equipment. Better RPM systems with no uncertainty to access and monitor are crucial to building more reliable telemedicine primary care platforms. It should also facilitate advanced technology for faster and accurate results. Only then will the healthcare system be able to deliver better outcomes.
Expectations from Telehealth Services in the 2nd Year of the Pandemic
Improvement in the quality of care is of priority for telehealth technology and services. Patients are accepting telehealth home services to avoid in-clinic visits and receive quality care from the comfort of their homes.
Continued efforts by physician-led groups to stay in touch for follow-up medications with the help of telehealth services are assisting the healthcare systems effectively.
Adopting the latest innovations is expected to improve the entire digital healthcare service offerings and make it more human-centric without losing the quality of care delivery.
You can expand your reach with telemedicine and scale your business easily with Mobisoft's easy and simplified accessibility to digital healthcare solutions. Revamp your medical practice with smart healthcare services and provide nothing but the best for your patients by switching to a digital platform.
Bottom Line,
Telemedicine primary care is changing, especially with the pandemic making its visibility more clear. In-person visits will only become a critical necessity as telehealth and telemedicine provide better gauging, diagnosis, and prognosis for patients. Telehealth has massively changed the healthcare system dynamics, making virtual health a possibility in improving health outcomes for seniors, the chronically ill, and people of various backgrounds.
Easy accessibility, connectivity across all spheres and modes, NEMT services, pharmacy or prescription management services, and more have taken to digital platforms to offer enhanced healthcare possibilities. Therefore, COVID-19 has successfully paved the way for telehealth and telemedicine in revolutionizing the healthcare system and will continue to offer rejuvenating provisions for patients, providers, and payers in the years to come.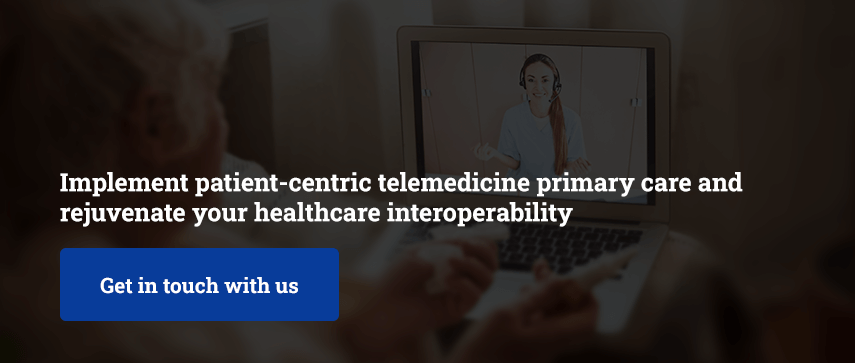 Author's Bio

Shailendra Sinhasane (Shail) is the co-founder and CEO of Mobisoft Infotech. He has been focused on cloud solutions, mobile strategy, cross-platform development, IoT innovations and advising healthcare startups in building scalable products.