These are the 140+ on-demand startups shaping the global on-demand industry, including companies in categories and subcategories of transportation & logistics, delivery, home services, healthcare, and more.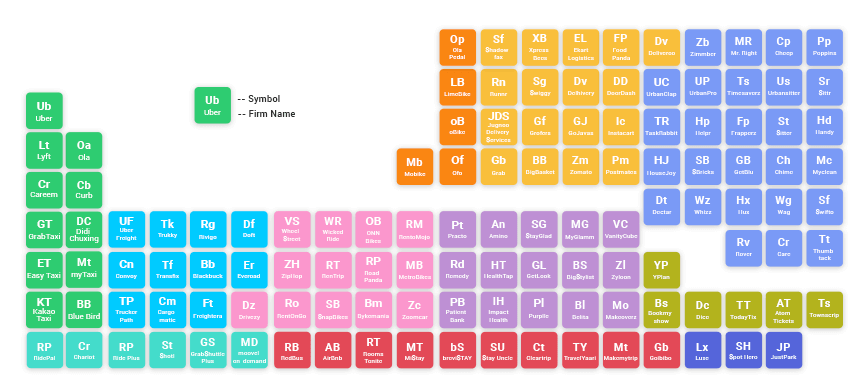 This is an era of shifting lifestyles and choosing the more convenient ways to fulfill our everyday tasks. There is no denying the fact that the on-demand economy is 'here to stay'.
According to Harvard Business Reviews, on-demand startups engage around 22.4 million customers annually and $57.6 billion in spending. The largest category includes online marketplaces. Besides that, the industry consists of transportation, delivery, healthcare, travel, home services, grocery, and several other hyperlocal services.
The rise of the on-demand economy has made people leverage the benefits at their comfort. As a result, many established on-demand startups are attracting more players in the industry.
Here, we have put together a periodic table to highlight the top on-demand startups according to the different industry categories and investors. This table is meant to help you as a guide to finding the key players in the on-demand space. The 148 companies and investors in the table have been thoroughly researched and segregated.
Check the full periodic table below.
Note: Click on the image to enlarge.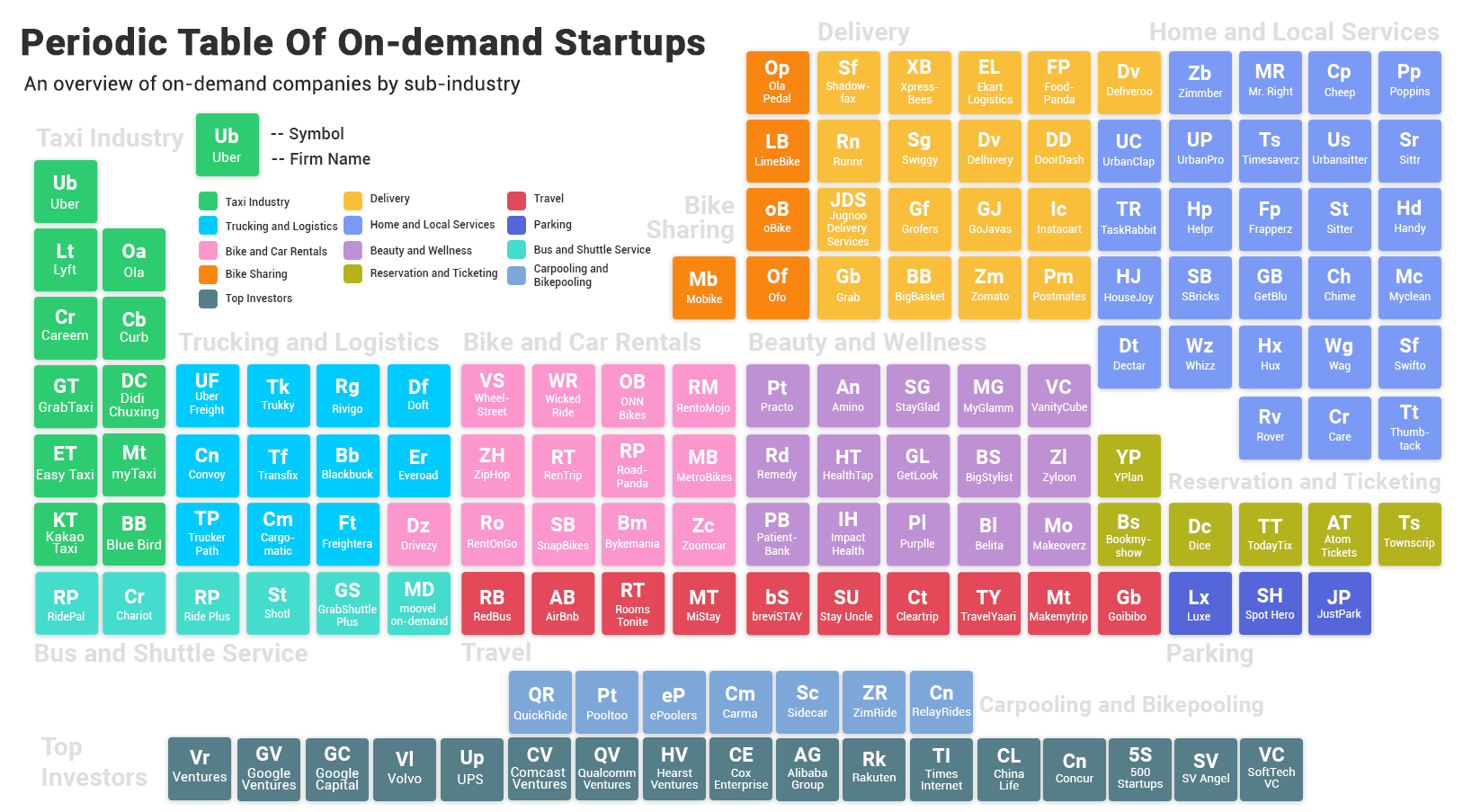 Analyzing the Periodic Table of On-demand Startups
The top sections of the table display some eminent on-demand startups, while the bottom row shows top investors. Some of the prominent VC investors names include Google Ventures, Google Capital, 500 Startups, Volvo, and Alibaba Group.
We have broken down down this table into several different categories to diversify the on-demand industry:
-Taxi: This category consists of the companies providing a platform for on-demand ride-booking services to passengers. It helps commuters to easily book a nearby taxi through an app and the major players include Uber, Ola, and Lyft.
-Trucking: The companies in this category deals in the transportation of commercial products. They provide an on-demand platform to seamlessly connect shippers with truck drivers. Uber-freight, Convoy, and Cargomatic are a few of the leading names in this category.
-Bike and Car Rentals: These companies give you an ease of booking a self-driving car and bike on an hourly, daily or monthly basis through an app. ZoomCar, Drivezy, and WheelStreet are the popular names in this category.
-Bike Sharing: This category encompasses companies that specialize in on-demand dockless bike sharing for a nearby commute. Some well-known names are Ola Pedal, Mobike, and Ofo.
-Carpooling and Bikepooling: These companies arrange one-time shared rides on a shorter notice for the passenger traveling through a similar route. Some famous names include Uber, Lyft, QuickRide, and SideCar.
-Bus and Shuttle Service: This category includes startups like RidePal, Chariot, and Ride Plus that cater to on-demand booking services for the buses and shuttles riding towards a passenger's route.
-Delivery: This category includes the on-demand delivery platforms leveraging thousands of local delivery people to bring products to customers immediately. Zomato, EKart Logistics, and Swiggy are a few well-known names.
-Beauty and Healthcare: This category provides the platforms to the customers to schedule an appointment for visiting a healthcare center and salons. Some popular names are Practo, Makeoverz, and MyGlamm.
-Home and Local Services: This category has some of the well-established names in its list such as UrbanClap, TaskRabbit, and HouseJoy that provide a simple way to customers for booking professional services like house cleaning, plumbing, beauty services, etc.
-Reservation and Ticketing: This category includes famous tickets and event booking startups like Bookmyshow, Dice, and TodayTix.
-Travel: Companies such as RedBus, Airbnb, and Cleartrip allow the customers to book bus, flights, hotel rooms, etc., on demand for a convenient travel.
-Parking: The on-demand parking services are provided by companies like Luxe, DropCar, and Spot Hero. These platforms let the customers book a spot for parking in advance to save their time of finding a perfect parking space.
We Help Businesses Build On-demand Solutions
Here, at Mobisoft Infotech, we have a vast experience in building high-quality on-demand service apps and solutions. It has helped us gain the expertise in understanding the latest technologies behind any on-demand platform. Our skillful developers have equipped the base technology solution with everything that will revolutionize the way on-demand service is built.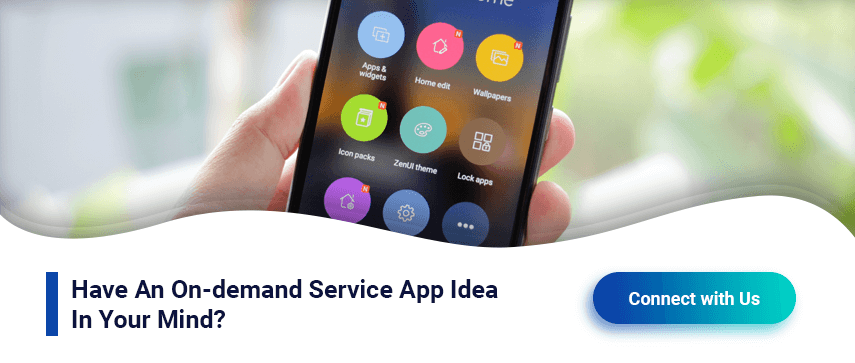 Author's Bio

Nitin Lahoti is the Co-Founder and Director at Mobisoft Infotech. He has 15 years of experience in Design, Business Development and Startups. His expertise is in Product Ideation, UX/UI design, Startup consulting and mentoring. He prefers business readings and loves traveling.