We are sure that you are looking at your child's safety while considering a school for them. And one of the many things you need to take a look at is how able the school is when it comes to offering protection to your kids and keeping them safe.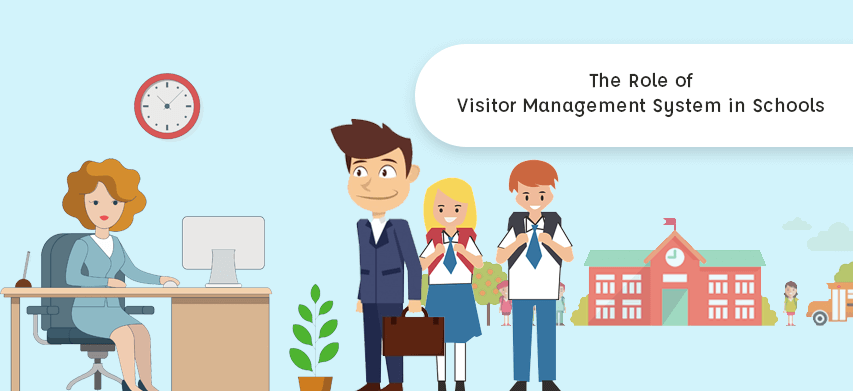 Perhaps one of the first things to look at as a parent, in that regard, is whether the school has a comprehensive visitor screening and managing system. Schools get numerous guests and visitors each day including parents, guardians, approved pickup persons, guests, contractors, volunteers, salesperson, and more.
Keeping a tab on all the visitors or verifying their identification is impossible in the current paper-based sign-in procedure. Anyone can provide false identity information and walk in to achieve their ulterior motives.
You need an electronic visitor management system for schools which lets your administrators verify every guest and know what they are doing in the building while keeping a track on them in real-time.
A school visitor management software ensures that your kids are in the safe hands!
Visitor Management for Schools: The Top Challenges Today
All schools need to keep visitor logs. And while schools do understand the need today, 80% of them still use the traditional pen and paper approach, where guests enter their details in a paper log or registry.
But this method is highly inefficient and can be easily manipulated leading to disastrous consequences for your students, staff, and faculty. You have no way to manage or keep track of guests compromising the security of your school.
The challenges in managing visitors could be many, and here are just a few of them.
Guests are not screened as it is not possible to do it manually for each and every one

There is no database to check offenders and banned visitors

Paper-based records can be illegible and contain false or inaccurate information

Reporting and analysis require laborious efforts and time as each page of the logbook has to be screened manually

Paper-based visitor management provides a false sense of security without any practical benefits
Now let's see how school visitor management software enhances security and protects your students and staff.
Benefits of Implementing a Visitor Management System for Schools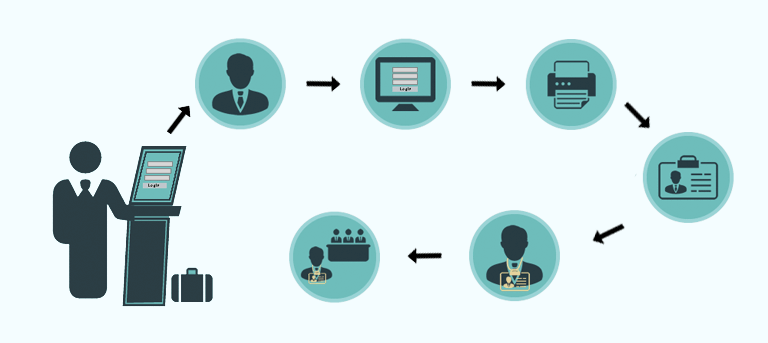 Acts as a Front Line of Defense
With a proper visitor management solution, you can stop unwanted visitors from entering the school the moment they view your entrance.
With paper-based visitor log books, anyone can write false information and walk in, and you have no way to check its credibility. Many times there is no one manning the process, making it optional and easy for anyone to bypass by walking past.
But imagine this-
The main entrance of your school has a visitor management kiosk which has to be used to sign in. You can also set up checks like scanning verified IDs to enter information automatically in the school system.
Anyone who is considering entering the school with bad intuitions will have to think twice when you have such a comprehensive screening process. Your school doesn't just get professional; the visitor management system will surely stop unwanted people by discouraging them.
Provides Safety by Tracking Every Guest
Crucial information like time of sign-in, intended host, purpose of visit, area of school visited, and car license plate number can be entered in the system when a guest signs in using the visitor management software.
You can track all the details from your dashboard along with the guests present in your building. In case of an emergency, the safety team will quickly create an evacuation list based on the data from the visitor management software.
The system lets you know who is in your school right now, where they are going, and when they will be leaving, making it easy to respond to emergency situations. You can protect your guests, contractors, or volunteers along with your students and staff more effectively.
Stop Unwanted Guests
Visitor management system for schools can prevent unwanted entry through many ways right from acting as the front line of defense we talked about a while back.
Visitors can be instantly screened against criminal databases like the sex offenders list and other blacklists enabling you to know the real identity of the guests.
You can also set the system to generate custody alerts when angry parents walk up to your reception. A visitor management software can also store electronic documents like court orders which can be instantly accessed for verification.
Apart from that, you can scan IDs like driving license and passport to check the accuracy of information.
The guests can have their rights revoked anytime and you can easily modify the banned lists to include or exclude people.
Authorized guests can be given a professionally printed visitor badge which contains their photo, name, the person they are visiting, and other details. You can easily identify guests from intruders and call for security in case of any threats.
The visitor badges can have the expiry status which lets you control how long a guest stays in your school.
Increased Accuracy and Efficiency
Your school visitor management software will increase the accuracy of the visitor records, making them foolproof. Using various techniques like ID scanning, photo verification, and electronic signature capture can ensure you all visitor data is accurate and valid.
There are no human errors, illegibility issues or threats of data being erased. The background check and database screening will add another layer of efficiency to your security strategy.
Having an automated system for guest sign in makes process fast without any need of employing someone to manage the same. You would save time, work, and expense of hiring human labor with your visitor management system. Visitors are also pleased as you cut down on the long queues or waiting time for them.
The speed with which you can generate reports and analysis guest data also cannot be compared to manual paper-based approach.
Key Features in a School Visitor Management System
To achieve the benefits and advanced security, a reliable school visitor management software should have the following features-
Quick and Efficient Guest Sign-in and Tracking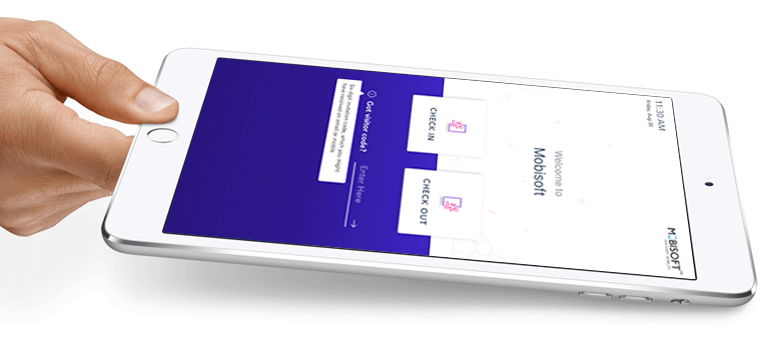 The guest can quickly sign in with the ID scanning or through pre-registering with time and date stamp. All details like the image, host, location, intended time of visit can be recorded in the system.
A dashboard lets you track each and every visitor along with the associated details.
Instant Criminal and Sex Offender Screenings
The solution should be able to verify the identity of guests against local criminal databases, sex offender lists, and notify if it finds a match. You can also create your own banned list of people and have visitors screened against it.
If a match occurs, the system will show additional details like criminal act committed, mug shot, and other information which helps in identification of the visitor.
Visitor Badge with Automatic Expiry Status Display
Any reliable visitor management system will print a visitor badge with the photo, name, and other details. But some of them use a time-expiring technology which automatically displays an expiry sign after the scheduled period runs out.
It prevents the badges from being misused and guests past expiration period can easily be identified just by glancing at their badges.
Electronic Legal Document Storage
The school visitor management system can store any form of electronic document in the system. You can include legal documents like restraint orders and custody documents, and match it with your banned or potential alert list.
You can view the document and take a print out from any kiosk or device running the software.
Time-sensitive documents have a system to automatically notify you when they expire so that you stay up to date with happenings.
Track Late and Early Leaving Students
Students who come late or leave early can be tracked with the visitor management solution. The system automatically updates the minutes or hours by which the student is late which makes it easy to track them.
You can also generate reports of tardy students any moment you want.
Third Party Integrations
School visitor management software can be integrated with third-party applications to increase the effectiveness and gain a smooth workflow.
For example, you can integrate your visitor managing software with Student Information System to facilitate the exchange of data. You can easily connect student data and guardian lists with your school visitor management solution and eliminate the need for sourcing information manually.
Verified Student Pickups
Your system should be able to identify approved guardians coming to pick up kids electronically. You can also create pickup schedules and send notifications to the front office as the time of pickup draws near.
The staff can identify and streamline the pickup process to save time and increase security by ensuring kids are picked up only by approved persons.
School Emergency Alert
The visitor management system can send automatic alerts in form of text messages or emails to staff and other predefined people once a threat is detected at the front end. There is also an alert function which notifies the authorities with details like time location, and reason code.
Electronic Signature Capture
Visitor management systems can capture digital signatures when the guest signs in. The signature can be used for verification purposes by matching with the original signature stored in the system.
The digital signature can also be used to sign documents and other agreements, saves time. Through third-party integration, you can use the signature anywhere.
Wrapping Up,
Just going for a visitor management solution will not help. You have to get a solution customized for the needs and environment of your school. Mobisoft Infotech brings you the latest and advanced school visitor management system which can be controlled using smartphones and iPads.
If you want parents to trust your establishment, install school visitor management software at the earliest.
Author's Bio

Nitin Lahoti is the Co-Founder and Director at Mobisoft Infotech. He has 15 years of experience in Design, Business Development and Startups. His expertise is in Product Ideation, UX/UI design, Startup consulting and mentoring. He prefers business readings and loves traveling.