Machine Learning and Artificial Intelligence aren't concepts of the future anymore. Today, more industries are looking at them to improve productivity and gain better insights about their business. The one industry the Artificial Intelligence and machine learning can make a significant mark though is in Healthcare. Wondering about the applications of AI in Healthcare? Let's take a look.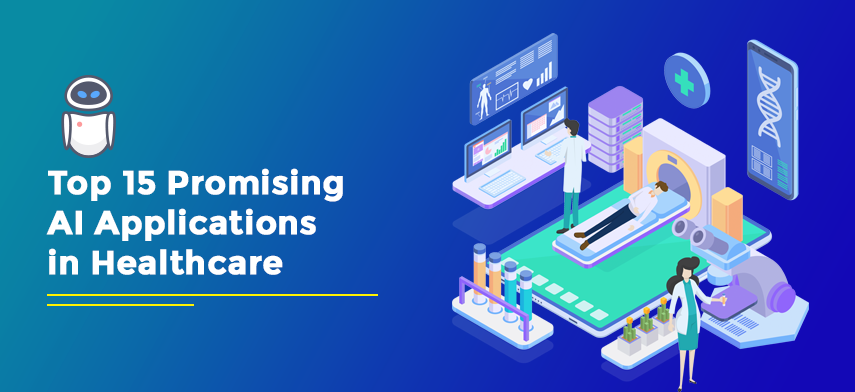 Artificial intelligence can change how we look at the world today, and according to a report by Rock Health, the venture capital firm highlights machine learning and 121 health AI organization made $2.7 billion in over 200 deals.
How AI Is Gaining popularity/Reshaping in healthcare Industry?
Artificial Intelligence in healthcare has a wide scope. Scientists are devising new ways to use it properly every day. AI in healthcare can take care of wellness, diagnostics, and even operational technologies. The only limitation of health AI applications is that they are able to perform one task at a time.
Plus, AI in healthcare can help frontline clinicians become more efficient and productive. They also play a significant role in ensuring that the back-end processes are effective. According to stats, the AI market in healthcare will increase up to tenfold by 2025. It will become an enormous $13 billion industry, based on the data given by Global Market Insights.
AI can also play a role in aiding hospitals to save money in their administration processes, and that will make it easier for health system leadership to prioritize better.
A 2016 report from CB Insights showed that 86% of healthcare provider organizations, technology vendors to healthcare and life science companies are already using AI technology. These organizations will have spent an estimate of $54 million on Artificial Intelligence in Healthcare by 2020.
List of Applications:
There are some excellent applications of AI in Healthcare that you need to know about if you are heading a medical institution.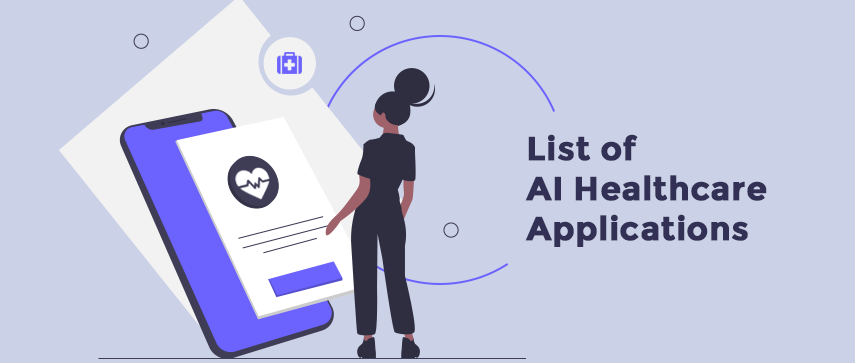 1
Robot-assisted Surgery Process
Cognitive surgical robotics can use information from actual surgical encounters so as to improve the existing surgical techniques. Medical teams can collect data from pre-op medical records getting insights of real useful data. This technique can reduce the treatment time and the scope of error.
2
Virtual Assistants for Nursing
With the help of virtual nursing assistants, hospitals will be able to reduce sudden hospital visits and reduce the load on medical professionals. AI virtual assistants are great for nursing, and they are able to keep healthcare providers and patients in touch with each other all the time.
3
AI Assistant for Administration and Workflow
This application will help healthcare providers deal with critical matters. It will help to maximize the time given by nurses, doctors to their jobs, and make their daily tasks easier. It allows for an easier integration process with the existing technological infrastructure. It can help keep a record of all treatments and patients to allow predictive diagnosis.
4
Cybersecurity
As a hospital, it is your duty to keep all your patient data safe and secure so that nobody can misuse them. If you have noticed that your system is prone to breaches, then the AI cybersecurity application will come to your rescue. Intuitive and careful, it will give that extra layer of safety.
5
Automated Image Diagnosis
Artificial intelligence (AI) has helped in the progress of medical imaging over the last few years. The storage of medical images is becoming an issue. Moreover, the complexities of deciphering images and conducting analysis have led to applications which are more efficient.
6
Fraud Detection
As people are becoming desperate for better medical services at a lower cost, the number of fraud cases is also increasing. Both patients and medical institutions can suffer damage because of fraud. This AI application will help to navigate through elaborate payment and service fraud attempts.
7
Dosage Error Reduction
Even a little drop of medicine can make a huge difference. So it is important to keep the dosage of a patient absolutely perfect, or else there might be reparations to pay. The application is designed to reduce the margin of medical errors that may occur when giving medicines to patients.
8
Treatment Design
There are elaborate artificial intelligence systems which exist in the healthcare sector that are designed to store and analyze data. Whether it be notes and reports from a patient's file, clinical expertise or external research, the application will help you to narrow down the correct and customized treatment path for a patient.

9
Digital Consultation
Some AI-based applications can offer medical consultation on the basis of personal medical history combined with common medical knowledge. Users are supposed to enter their symptoms into the app, which then uses the speech recognition technology to compare the received data with a database of illnesses. Then the applications suggest treatments.
10
Health Monitoring
Different applications use AI technology to keep track of a patient's health. They monitor the heart rate and the activity levels of the body to ensure that a person is healthy. These applications can also send alerts and notifications to the user about improvements.
11
Medication Management
AI applications can be used to monitor the use of medication by patients. There is a webcam arrangement which automatically relays information regarding how a patient is taking their prescription medicines. This also helps in better management of the condition if it is serious.
12
Drug Creation
Creating different avenues of pharmaceuticals with the help of clinical trials can consume a lot of time and money. AI applications can make the process faster and cheaper. By scanning the existing medicines, the application will be able to redesign them so that they can fight the disease.
13
Connected Machines
Medical institutions today largely function on a variety of connected devices which are able to relay information to one another. Artificial Intelligence can make this process safer and more intuitive. It also helps in consolidating data for further analysis.
14
Clinical Trial Participation
Clinical trials collect a plethora of data which needs to be organized in order to get the correct theory. The AI applications facilitate the outcomes-driven approach of clinical trials.
15
Preliminary Diagnosis
Correct diagnosis is the cornerstone of practising machine. The sooner the diagnosis, the better the treatment will be. AI applications use data architecture to improve the accuracy of the preliminary diagnosis.
Demand & Future Scope:
Artificial Intelligence in Healthcare has shown progressive growth over the last five years. It is predicted that AI will continue to perform well in the Healthcare industry from 2019 to 2028. The impact of AI on healthcare can be truly life-changing. It extends from hospital care to drug development, insurance, and clinical research. The development of more and more AI applications is increasing the opportunities for the health sector to improve their patient care and give out better services.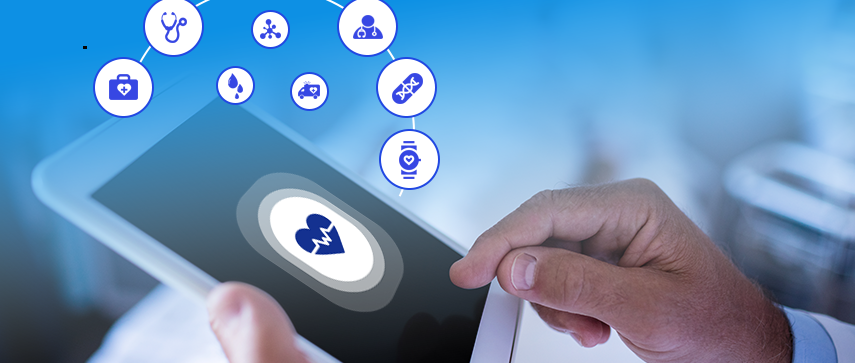 There has been tremendous public and private sector investment in Artificial Intelligence in Healthcare. The total is expected to be $6.6 billion by 2021. The industry is coming out with better and more efficient AI applications now that they are testing them out in real life situations.
The use of AI in Healthcare can lead to the development of automated operations, preventive intervention, and precision surgery. All in all, the applications of AI in Healthcare can change the entire medical landscape if they are used correctly.
Conclusion:
AI applications can potentially aid to solve the problem of the "iron triangle" in the healthcare sector. It involves three interlocking factors which are, namely, access, affordability, and effectiveness. They are often involved in inevitable trade-offs which often give negative results. The dilemma is that trying to improve one factor usually ends up degrading the other. AI in Healthcare is the solution that the world has been waiting for. It can help short-circuit the old methods, and hence cut down on costs and introduce better treatment methods, while also increasing the accessibility of the services.
The ideal way of balancing the current healthcare system's cost-structure would be to shift the time-consuming manual tasks to machines. Patients should also be allowed to use the self-service option wherever possible. This reduction in human labour can lead to further developments.
Experts are sure that the major impact of the investments will first show itself in the operational and administrative aspects of the healthcare system instead of the clinical side. Only high-quality AI services will be used in the clinical sector. Since AI is an abstract concept, customers may not realize its impact at first but they will soon be able to spot the improvement.
Conduct your own research and take advantage of the applications of AI in Healthcare. At Mobisoft, we can help design just the right solutions for you. Come, take a look at what we offer.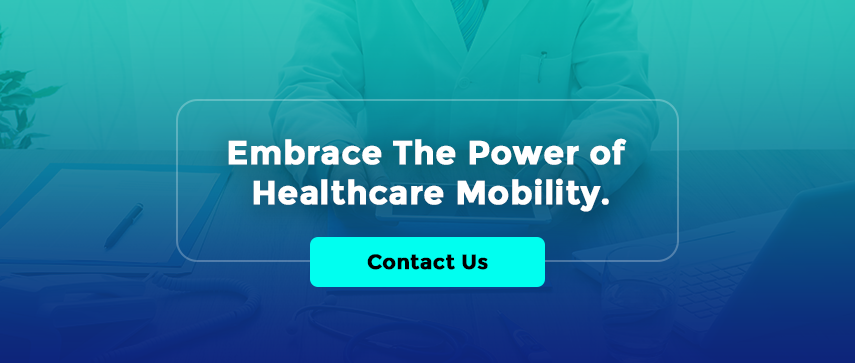 Author's Bio

Shailendra Sinhasane (Shail) is the co-founder and CEO of Mobisoft Infotech. He has been focused on cloud solutions, mobile strategy, cross-platform development, IoT innovations and advising healthcare startups in building scalable products.